Does Chelsea have the edge over Champions League final opponent Manchester City?
Match statistics: Manchester City 1-2 Chelsea
In terms of the bigger picture, there is nothing more important for Chelsea in the final weeks of the season than securing a top-four finish.
Ensuring the club will be in the Champions League next season was a must for Thomas Tuchel when he took the job in January, and after victory over Manchester City on Saturday, the Blues find themselves sitting third with three games to play.
And yet, the narrative around the last-gasp win at the Etihad Stadium will be framed around one thing: what it means for the upcoming Champions League final meeting between these two sides.
This was meant to be the day that City sealed the Premier League title, and after Raheem Sterling had opened the scoring late in the first half it seemed like the fans who had gathered outside the stadium would have something to cheer at full time.
Instead, it was Marcos Alonso's scuffed finish two minutes into second-half stoppage time that decided the game, leaving City's champagne on ice while sowing more seeds of doubt over whether it can take down Chelsea in Istanbul on May 29.
Of course, Pep Guardiola will not play the same lineup in Turkey as he did here. The Catalan made nine changes from the side that beat Paris Saint-Germain on Tuesday, with only Ederson and Ruben Dias keeping their places.
That said, Chelsea has now beaten City twice in a matter of weeks. Time will tell just how much of a psychological impact that will have on both Guardiola and his players come the end of the month.
In that first game — the FA Cup semifinal at Wembley Stadium — it was Chelsea's impregnable defense that led it to a much-deserved 1-0 win.
Here, though, the Blues found themselves in the unusual position of chasing a game after falling behind to Sterling's strike, and they really should have been 2-0 down at half time, only for Sergio Aguero's fluffed attempt at a Panenka penalty to land in the arms of Edouard Mendy.
Given how strong it has been defensively since Tuchel took the reins, Chelsea has generally led from the front under the German coach, and though it too was without key players, the fact that the Blues turned this game around will give them huge confidence for both the remainder of the domestic campaign and their next meeting with City.
Mason Mount, Ben Chilwell and Thiago Silva were all missing from the squad following Wednesday's win over Real Madrid, but others stepped up in their place.
Like at Wembley, Hakim Ziyech got himself on the scoresheet, this time with a long-range drive to equalize, before Alonso's late intervention.
On the opposite flank from the Spain international, Reece James ran City ragged in the second half, while Billy Gilmour was rewarded with a huge hug from his manager at full time after a mature display from the 19-year-old midfielder in a rare start.
Timo Werner, too, troubled the City back line with his pace and willingness to run in behind, even if he does need to work on remaining onside as he saw two more goals chalked off via an assistant referee's flag.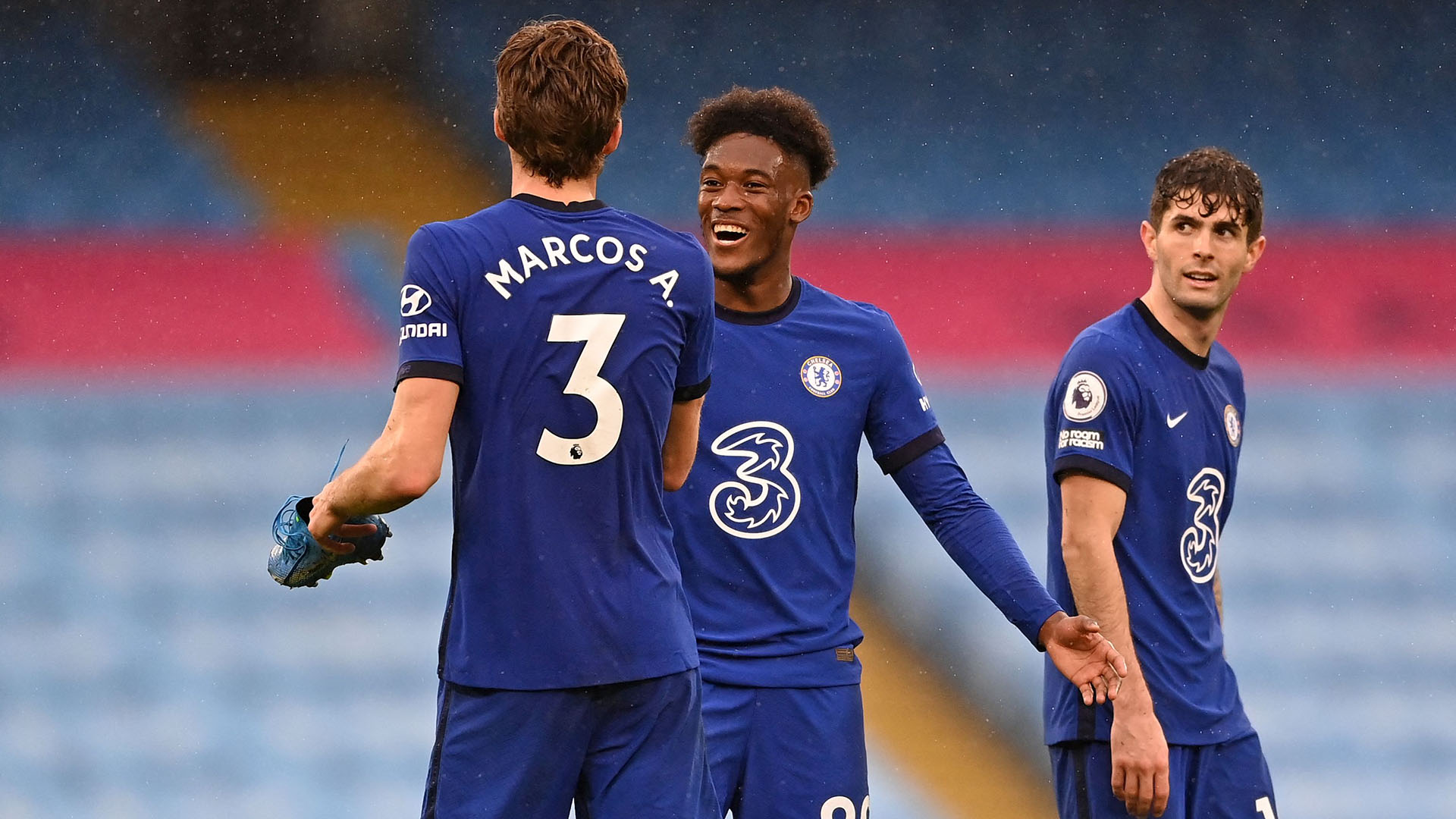 Tuchel had a terrible record against Guardiola when the pair were in opposing dugouts across the Klassiker divide in Germany, but now the former has the tools within his squad to compete with the one-time Bayern Munich boss.
Certainly, it is these two teams that, on paper, have the deepest squads in the Premier League, and that Chelsea has now come out on top twice against City suggests the title race will be much closer next term.
That, though, is for the future. Right now, Chelsea remains focused on closing out the Premier League season strongly, as well as next week's FA Cup final meeting with Leicester City.
Soon though, it will join the rest of the footballing world in turning its attention toward the showpiece event of the European season, and its third meeting with City since the start of April.
Only three months ago, Chelsea would have been a huge underdog when facing City.
Now, after two wins from two games, its potential to become Guardiola's kryptonite is suddenly very real.
Why did Rick Carlisle return to Pacers? Roster, familiarity — and the money helps, too
Rick Carlisle is the head coach of the Pacers … again.
The championship-winning coach who recently parted ways with the Dallas Mavericks has reportedly signed a four-year, $29 million pact to return to Indiana's bench, per ESPN's Tim MacMahon.
Sources: The Pacers are hiring Rick Carlisle as head coach. He will sign a 4-year, $29 million contract.

— Tim MacMahon (@espn_macmahon) June 24, 2021
Carlisle signing this quickly with a team was a mild surprise, signing with the Pacers even moreso. While the Pacers parted ways with head coach Nate Bjorkgren soon after the final whistle blew on Indiana's season, no real reports suggested Carlisle's candidacy before news of his hiring broke on Thursday.
Here's what we know about the hiring:
Why did the Pacers hire Rick Carlisle?
While the money certainly helps — the deal keeps Carlisle in the top 10 highest paid coaches in the Association — familiarity helped play into the decision, as well. Carlisle has two prior tenures in Indiana; First, between 1997 and 2000, when he was an assistant coach under Larry Bird. The second stint was as the team's head coach between 2003 and 2007.
During his tenure, Carlisle helped guide Indiana to a central-division crown in 2003, and in four total seasons, the Pacers made the playoffs three times and the Eastern Conference finals once (2003).
Carlisle figured to be the hottest coaching commodity on the market for any number of teams looking for a new head coach, but the Pacers acted "quietly and quickly" to get Carlisle in their building, per Adrian Wojnarowski, putting off several other interviews to bring him and ink him to a deal.
Pacers worked quietly and quickly to get a deal done with Rick Carlisle. Team had planned to start interviews with several candidates in Chicago this week. Carlisle was a top assistant to Larry Bird early in his coaching career with Pacers. https://t.co/Hf1POaqEFp

— Adrian Wojnarowski (@wojespn) June 24, 2021
The landing spot was attractive to Carlisle, as well: Speaking with ESPN's MacMahon, Carlisle liked the roster built by GM Kevin Pritchard and what they could be moving forward.
Rick Carlisle to ESPN: "It's a team of skilled, unselfish guys that play hard. It's always possible that moves could be made before the season, but I think [GM Kevin Pritchard] and I are both very excited about getting the roster healthy and seeing what this team can be." https://t.co/71436q6iac

— Tim MacMahon (@espn_macmahon) June 24, 2021
"It's a team of skilled, unselfish guys that play hard," Carlisle said to MacMahon. "It's always possible that moves could be made before the season, but I think [GM Kevin Pritchard] and I are both very excited about getting the roster healthy and seeing what this team can be."
Carlisle and the Mavericks agreed to part ways on June 17 after another early-playoff exit, losing in seven games to the Clippers. Carlisle spent 13 years patrolling the bench for Dallas, winning an NBA championship in 2011. In all, Dallas made it to the playoffs nine times under Carlisle, losing in the first round in seven of those trips.
Multiple reports indicated organizational turmoil within Dallas' front office, though owner Mark Cuban vehemently denied the rumors. The Athletic detailed the dysfunction in June. 
MLB world unites to slam hideous All-Star Game jerseys: 'Worst baseball uniforms I've ever seen'
A swing and a miss.
MLB All-Star Game uniforms oftentimes have some kind of tie-in to the town in which its played. Or, at least, it used to be that way.
This year, MLB and Nike paired up for new All-Star Game unis and they look like they were ripped from a late 1800s game of polo, with a middle-school student slapping some generic clipart font on the front with team abbreviation.
MORE: 7 players we want to see in the Home Run Derby
According to Chris Creamer of SportsLogos.Net, the uniforms will be worn during the All-Star Game, while players uniforms of their natural team will be worn during the Home Run Derby.
The hats, on the other hand, are fine, utilizing the purple (Purple Mountain's Majesty, and all) on the star highlighting the team logo on the front.
This year's All-Star Game shifts from Atlanta, Ga. to Colorado after MLB pulled out amid the introduction of Georgia's controversial new voter laws, which many see as a clear attempt at voter supression.
MLB fans and analysts alike took to the Tweet machine on Thursday to crack jokes and voice their displeasure with the uniforms:
Of course, these are all terrible. MLB continues to be laughably, embarrassingly bad at knowing its audience. It's basically performance art, but I suppose I can respect the commitment to the bit. https://t.co/f220P3yR9K

— Jason Foster (@ByJasonFoster) June 24, 2021
Ugh. One of the cool things about the MLB All-Star Game is that the players would wear their own jerseys. It's such a small, small thing, but thanks, Manfred. https://t.co/hJD9qihLxs

— Geoff Magliocchetti (@GeoffJMags) June 24, 2021
Cigarettes and beer: Islanders fans show appreciation for Game 6 overtime win in unique way
Whose tab is this on?
With the Islanders potentially playing their last game in historic, fan-favorite Long Island dump Nassau Coliseum on Wednesday night, Isles fans showed appreciation for the 3-2 overtime win over the Lightning the only way Long Islanders truly know how: Beer cans.
Soon after Anthony Beauvillier netted the overtime game-winner to even the series at 3 games apiece, Isles fans showered the sheet with hats, rally towels and (some presumably empty) beer cans. Thankfully, no Isles players were hit with the celebratory cans.
SPIEGEL: Islanders thrill their home fans one more time (at least)
While some analysts and media took offense to the sight, Isles players took it all in good fun. 
"That building coming into overtime was smelling like cigarettes, and now it smells like beers. That place was going crazy" – Anthony Beauvillier on the scene at Nassau Coliseum pic.twitter.com/IhoDUNieeZ

— Islanders Videos (@SNY_Islanders) June 24, 2021
"That building coming into overtime was smelling like cigarettes, and now it smells like beers," Isles winger Beauvillier said following his overtime winner. "That place was going crazy. Everyone's happy we're going back to Tampa."
Trotz: "I love this group, the character of this group. And the building, these fans. Going off the ice, everybody's hugging each other, there's beer cans all over the ice. These are great memories to have. But we've got to get another one."

— Arthur Staple (@StapeAthletic) June 24, 2021
It's not the first headline to feature the hoppy nectar at Islanders games: Jets offensive lineman Dan Feeney has become a cult hero of Isles fans, with his mulleted, beer-swilling ways on display at several Isles playoff matchups this offseason.
The Islanders' new turf, UBS Arena, is scheduled to open in time for the 2021-22 NHL season. Before the Isles head down the Southern State Parkway to get to their new digs, though, they take a plane ride south to Tampa for Game 7 on Friday night.
No hockey players were injured in the hurtling of the cans.