Derrick Henry's unreal high school football career: The stats, the highlights and the story
So many ridiculous numbers are tied to running back Derrick Henry, the primary author of the Titans' improbable run to the AFC championship game in 2019. In Tennessee's stunning playoff upsets over New England and Baltimore, the 26-year-old became the first player with at least 180 rushing yards in consecutive postseason games in NFL history.
Yet no matter what he accomplishes at the professional level, he might always be better known for the absurdity that was his high school football career.
MORE: How Henry dominates vs. stacked boxes
Many have called Henry the greatest running back in the history of high school football on the basis of anecdotal evidence, like the amusing visual of his barreling though teenage opponents like the Incredible Hulk would through a crowd of civilians. But the legend is rooted in fact.
In November of 2012, Henry, then a senior at Yulee High School outside of Jacksonville, Fla., broke the national career high school rushing yards record. He did it on a 52-yard touchdown run during a playoff game in which he posted 482 yards and 6 touchdowns on 58 carries.
"Breaking this record means a lot to me," Henry, who at that point already had picked Alabama over Georgia and Tennessee as his college destination, told ESPN. "I'm glad I could share it with my coaches, my teammates and all of Yulee. They all helped me get to this point. I don't think it will really hit me until I'm done with football."
The record Henry broke, Ken Hall's 11,232 yards for Sugar Land High School in Texas in the early 1950s, had stood for 51 years.
Of course, Henry's 482 yards in that playoff game wasn't even the best total of his senior season.
Derrick Henry high school stats
The clearest evidence of Henry's high school dominance is the collection of mind-numbing stats he produced over four years at Yulee.
Below is a year-by-year breakdown of Henry's rushing totals in high school, followed by his career numbers.
(All stats via Max Preps)
| | |
| --- | --- |
| Carries | 313 |
| Rushing yards | 2,465 |
| Rushing yards per game | 224.1 |
| Yards per rush | 7.88 |
| Rushing touchdowns | 26 |
| | |
| --- | --- |
| Carries | 313 |
| Rushing yards | 2,788 |
| Rushing yards per game | 232.3 |
| Yards per rush | 8.91 |
| Rushing touchdowns | 38 |
| | |
| --- | --- |
| Carries | 309 |
| Rushing yards | 2,610 |
| Rushing yards per game | 217.5 |
| Yards per rush | 8.45 |
| Rushing touchdowns | 34 |
| | |
| --- | --- |
| Carries | 462 |
| Rushing yards | 4,261 |
| Rushing yards per game | 327.8 |
| Yards per rush | 9.22 |
| Rushing touchdowns | 55 |
| | |
| --- | --- |
| Carries | 1,397 |
| Rushing yards | 12,124 |
| Rushing yards per game | 252.6 |
| Yards per rush | 8.7 |
| Rushing touchdowns | 153 |
That senior season is something to behold.
In 2015, Bleacher Report's Adam Kramer posted on Twitter the game-by-game rushing totals for Henry in 2012. Beyond the aforementioned absurd playoff game against Taylor County, it includes a 510-yard night against Jacksonville Jackson, a state record for Florida.
Derrick Henry high school highlights
Sit back, relax and laugh hysterically as you watch Henry embarrass opposing players in high school.
This video might be considered by some to be NSFW.
Henry was still in middle school when Bobby Ramsay took over as Yulee's head football coach in 2008, his first such role after years as an assistant at nearby First Coast High School. Ramsay assumed he was in for a rough ride as the leader of a program that had struggled to compile wins; the Hornets went 2-8 in 2007.
"I was like, 'I don't know if I can do this," Ramsay told TitansOnline.com in 2016. "We were bad. My running backs coach kept telling me to hang in there, that there was this kid, Derrick, in middle school. And I would think to myself, 'We're about to go 0-10, and there's this nice little eighth grader down there in middle school I'm supposed to get excited about?' I'd never seen Derrick."
Soon after that, of course, Ramsay saw the middle-school version of Henry for the first time: "All of a sudden, out of this group, is this towering kid. I always equate it to a stock having a good month on a chart. It was way, way above the others."
Cole Willis, who played basketball against Henry in middle school, gave Yahoo! Sports an estimate of 6-2 and "at least" 215 pounds when asked about Henry's size at that age. Ramsey, though, said Henry was 205 pounds as a high school freshman and a bit taller at 6-3.
Needless to say, the exact measurements were irrelevant.
"From the very beginning of every game we played from his ninth grade on, he was probably the best football player on the field every game he played throughout high school, and that is even in the ninth grade," said Ramsay. "As a coach, it was like having a big, comfortable chair to rest in everywhere you went because you knew you'd always have this guy who would produce 200 and 300 yards and four to six touchdowns a game."
Yahoo! recently spoke with a handful of former high school athletes who competed against Henry at that level. (The full article is worth your time.) Below are a few examples of what was a similar experience for all who faced him, including opposing coaches.
— Dalton Delano, linebacker, West Nassau High School: "He was almost like a machine … You just kinda step in there, and get ran over, and accept your fate."
— Michael Dudzinski, linebacker, West Nassau High School: "It felt like you were tackling a big four-wheeler. … Usually when you tackle someone, it doesn't hurt you. Tackling him hurt. … Everyone was really sore after the game."
— Travis Hodge, head coach, Fernandina Beach High School: "If you got him right at the line of scrimmage, or behind the line of scrimmage, (players) would be more aggressive. But the kids knew, when he got to the second level, and it was you and him — all of a sudden, they might trip, or take a (bad) angle, or mistime their angle. They'd make a decision: I got a date with my girlfriend tomorrow. I don't want to get hurt."
— James Thomson, head coach, Gainesville High School: "You know, as a coach, I don't get infatuated with players. I'm never really starstruck. But with Henry? I remember, distinctly, telling him after the game: 'You're going to win a Heisman.'"
By the time Henry was a senior, according to The Washington Post, he was able to bench press 365 pounds, clean-jerk 315 pounds, squat 500 pounds and dead lift 550 pounds. He ran a 4.5-second 40-yard dash.
Those numbers combined with his game tape led Henry to be recruited by a ton of colleges. After initially committing to Georgia, he eventually chose Alabama over top options Tennessee, Florida, Clemson, Miami, Notre Dame, USC and Florida State.
All he did with the Crimson Tide was win the Heisman Trophy, the Doak Walker Award and the Maxwell Award as well as the Walter Camp Player of the Year in 2015. He also helped 'Bama win a national title that year, his junior campaign.
"I've always been grateful to Derrick that he's allowed me to do a lot of stuff I never would have done had I not coached him," Ramsay said. (Ramsey left Yulee in 2017 for the head-coaching job at Mandarin High School in Jacksonville.) "Not only did I get to coach him in high school, but to be able to go to the Heisman, and then seeing him drafted and watching him at Alabama and seeing him in the NFL, it's a lot of fun.
"As for Derrick, he was always just one of the guys when he was here. Obviously he stood out physically and he was the guy at the forefront, but he was a leader and one of the guys. And he sure left his mark here."
From Henry's bio page on Alabama's football site, below are additional accomplishments and stats that put in perspective how dominant he was at Yulee.
Rated a five-star prospect by ESPN, 247sports and Scout.com
Nation's No. 1 athlete and No. 4 running back prospect
Member of the 2012 All-USA Football Team, chosen by USA Today
2012 Maxwell Football Club National High School Player of the Year
Parade Magazine All-American and the publication's National Player of the Year
MaxPreps National Player of the Year and first-team All-American
Ranks fifth all time with 153 rushing touchdowns in high school
2012 first-team All-State selection by the Associated Press and was the Player of the Year on the All-First Coast team
2012 Columbus (Ohio) Touchdown Club National High School Player of the Year
Lil Wayne releases 'Green and Yellow' remix ahead of Packers playoffs push
Packers superfan Lil Wayne has released a remix of his "Green and Yellow" hype track ahead of the Packers' playoff push and — no surprise — it slaps.
Lil Wayne originally released the song with the same title in 2011, days before Green Bay's Super Bowl 45 matchup with the Steelers. In a moment of artistic appreciation — and gamesmanship — he sampled Pittsburgh fan Wiz Khalifa's song "Black and Yellow" to make the track. Both teams used the respective tracks as their fight songs for the game, but it was the Packers who prevailed, 31-25, to win their first Super Bowl since the 1996 season.
The new rendition includes nods to several Packers legends and players on the team's 2020 roster, including running back Aaron Jones, receiver Davante Adams, offensive lineman David Bakhtiari, tight end Robert Tonyan, linebackers Preston Smith and Za'Darius Smith, safety Darnell Savage — even kicker Mason Crosby.
Lil Wayne also includes several references to quarterback Aaron Rodgers, including his ability to draw teams offside, his penchant for Hail Marys and the State Farm Rodgers Rate commercial.
MORE: Who is Aaron Rodgers? This Packers quarterback is getting an opportunity to host 'Jeopardy!'
Here's the song in all its cheesehead glory:
Lil Wayne discussed his production of the remix in a Friday episode of "Undisputed," saying he spent three days on the song where normally it would take hours — a testament to his Packers fandom:
.@LilTunechi on the theme song he made for the Packers playoff run:

"I want them to hear it and be ready to run through a wall. Me and Coach Matt been cool. I put a lot of time into it. I worked on it for 3 days and I usually don't do that." pic.twitter.com/yd5IkvKSD0

— UNDISPUTED (@undisputed) January 15, 2021
Whether Rodgers and Co. can win another Super Bowl with the "Green and Yellow" song at their back remains to be seen. The Packers (13-3) are the top seed in the NFC playoffs and have the second-best odds (+500) to make Super Bowl 55. They only trail the 14-2 Chiefs (+190).
Green Bay begins its playoff push on Saturday against Jared Goff and the Rams at 4:35 p.m. ET on FOX.
Dest, Cannon, Reynolds: How USMNT's position of weakness became a strength
Steve Cherundolo is one of the best players American soccer has ever produced.
However, 'The May or Hannover', as he was affectionately known due to his long career with the Bundesliga club, was among the most underappreciated members of the U.S. men's national team.
His importance only became more apparent in the years that followed his retirement from international football in 2012, because the U.S. struggled to replace the right-back.
For years, the USMNT simply made do, shifting players to fill the gaps amid a revolving door of new faces coming in and out of the team.
But that is changing. What was once a position of weakness is now arguably American soccer's biggest strength. For the first time in recent memory, there's not just one top-level fullback in the U.S. player pool; there are several.
There's Sergino Dest at Barcelona, a Swiss Army knife that can feature on either side. There's Reggie Cannon at Boavista, a player bound for higher levels of the game sooner or later. There's Antonee Robinson, starting at Fulham, and Bryan Reynolds, the soon-to-be Juventus signing who will have his say at one point or another
And they're not the only ones. Suddenly, the U.S. has legitimate depth at outside back.
"Sometimes, it's a generational thing, but a lot of times, it's just timing," Cherundolo said when asked about how his old position suddenly became one of strength. 
"I wouldn't use the word luck. I just think it's maybe a combination of, when a position opens on a national team, a lot of players gun for that position, and some players adapt to that position.
"It's a number of things coming together at once. And it's great that things don't happen like clockwork."
This coming together follows years of difficulties out wide. At the 2014 World Cup, the last one the U.S. participated in, converted wingers Fabian Johnson and DaMarcus Beasley were the primary fullbacks. Those two very much remained in the picture in the following years, while Graham Zusi, Tim Ream and Matt Besler were converted to play out wide at one point or another.
Players like Jorgen Villafana, Justin Morrow and Eric Lichaj were also involved, but none truly shined like the current crop. The one player who really stood out was DeAndre Yedlin, who earned a Premier League move after going toe-to-toe with Eden Hazard at the 2014 World Cup.
But none have locked down the position as steadily as Cherundolo, who currently works as a youth coach for the German federation and is charged with helping educate the next generation of stars. Most of German soccer's top players call the Bundesliga home, at least at the start of their career, and that gives clubs in big countries an advantage.
"One of the challenges the U.S, national team has is that we have players in Europe, we have players all around the world," Cherundolo said. "And one of the advantages, maybe, the DFB has or the [English] FA has is that you have all of your top talents already playing in your country.
"It's very easy to keep tabs on clubs, moving forward to say, 'Hey listen, we need an outside back, maybe we can push this player', and that's something that the U.S. national team has always battled. It's always been difficult. So, I think these generational gaps are only natural because one half of our team plays on the other side of the globe and one half plays in the States."
Knowing that, the USMNT's current core of right-backs is, for lack of a better word, astounding. Dest, Cannon and Reynolds aren't anywhere near the primes of their careers and are already playing at or headed to the highest level.
And, as the saying goes, a rising tide lifts all boats. Julian Araujo, who started on the right in a December win over El Salvador, has been linked to Tottenham and Juventus in recent weeks as teams overseas are beginning to eye America's top defenders more and more.
Yedlin, at just 27, is the elder statesman of this group. Just a month or two ago, it appeared Yedlin was pretty far out of the picture at Newcastle but, in recent weeks, he has battled back, pushing his way back into Steve Bruce's starting XI in the Premier League.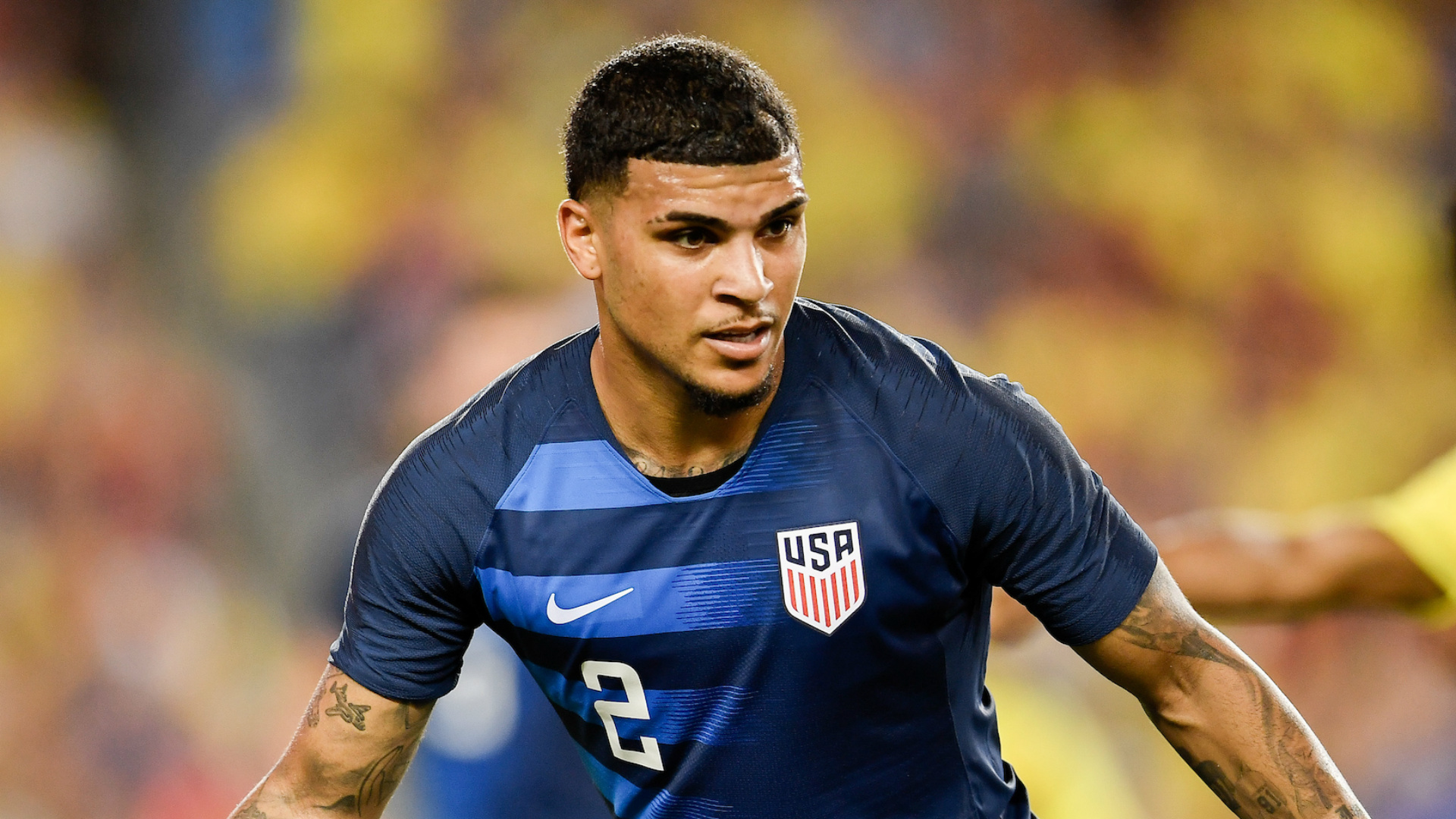 With his contract set to expire this summer, Yedlin's future remains uncertain, but his performances over this last month have served as evidence that he still may have a part to play, even if it is just as a game-changing super-sub due to his still-electric pace. 
Left-back, meanwhile, isn't quite as strong. Robinson is the front-runner, having been a bright spot for Fulham this season, while Dest may shift out to that side given the depth on the right. Sam Vines, who started against El Salvador, is a young option as well, at just 21.
While there are certainly more names on the right than the left, there are still plenty of options to choose from when it comes to arranging this puzzle, and virtually all of them are Olympic-eligible, which is very good news for U.S. U-23 boss Jason Kreis.
"I'm a little unsure of how it could have all happened at the same time, as far as fullback is concerned… I look at it a little bit more globally and say that that the amount of young super, super high potential players that have been produced in our soccer system right now is fantastic," Kreis said.
He added: "I think that we've done a lot of complaining over the past, however long it is, about lack of development and lack of good coaches in our country, et cetera, so I think, when we can, we need to take a moment and say all of the people out there that have been involved in our youth development program have done an amazing job, in my opinion, to get all of these players to the level they're at right now."
With several of these top fullbacks playing at top clubs, Cherundolo says they already do have one advantage on players like him.
During his time at Hannover, Cherundolo's teams were never among those competing at the top of the Bundesliga. Instead, they were more often the team fighting to survive. And, with that, comes a more defensive style of play.
With the USMNT, though, fullbacks will need to be attacking more often than not. Aside from a few big games a year, the U.S. will almost always be on the front foot, especially in World Cup qualifying.
Having that extra player in the attack that can make something happen could be the difference between escaping Central America with extra points or being left out of the World Cup fun altogether like in 2018.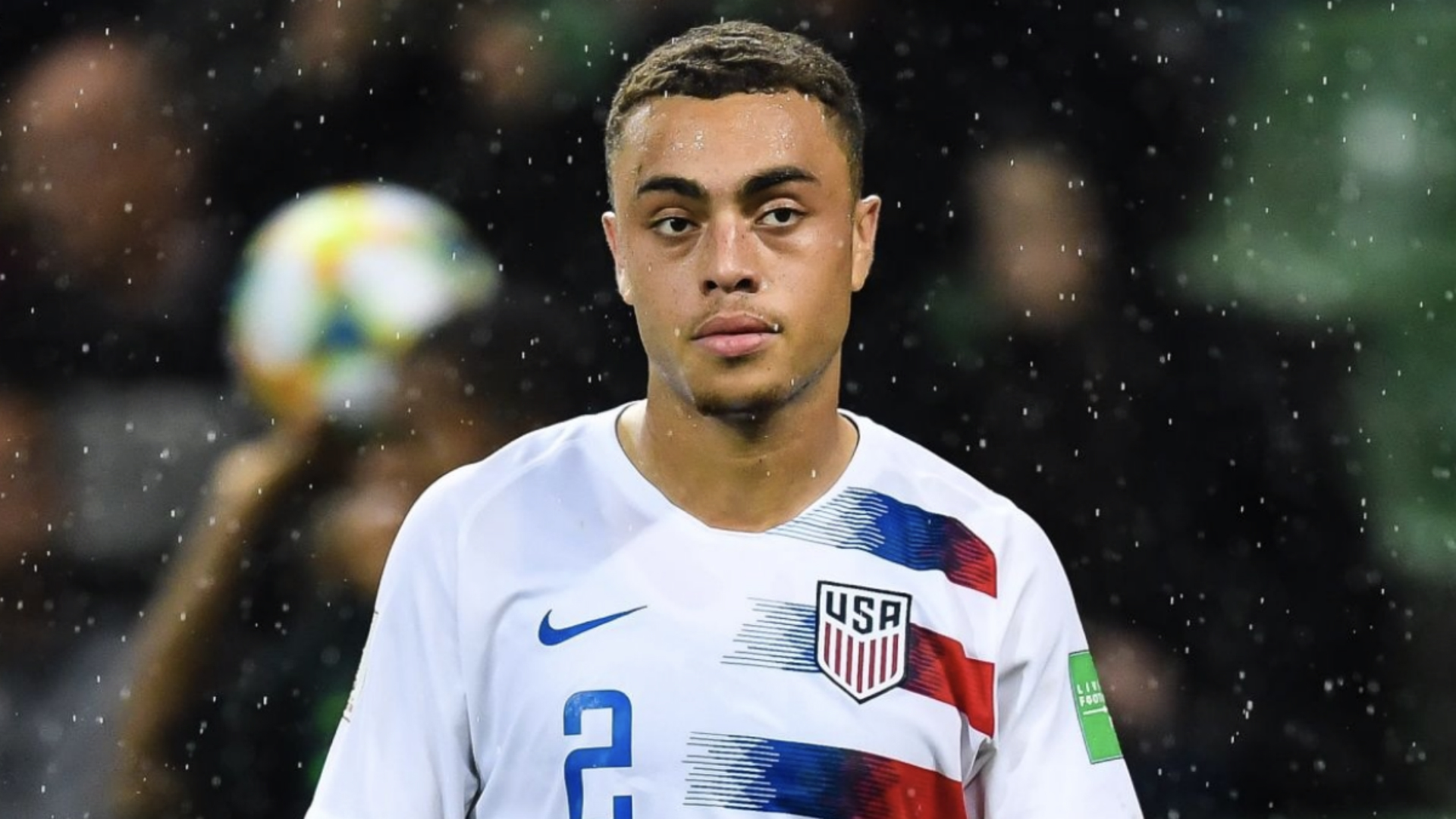 "My job as an outside back was mostly defensive," Cherundolo explained, "and going into the national team, aside from playing in World Cups, playing against Mexico and friendlies in Europe, it's mostly offensive.
"It's really a very different position. I think it's unique for outside backs in the United States for the U.S. national team because you're going to need those more offensive players. I know Gregg [Berhalter, USMNT head coach] and how he wants to play.
"You look at Sergino Dest, who grew up in Holland, his soccer career in Holland playing for Ajax, it's certainly a very offensive way to interpret that position. It fits in perfectly with the U.S. national team."
Fullback isn't the USMNT's only strength. You only have to turn on the Champions League to see players like Christian Pulisic, Gio Reyna, Weston McKennie and Tyler Adams starring at the highest level the game has to offer. 
But the rise of the American fullback has been particularly sweet given the struggles of years past. For years, the U.S. has been crying out for a Cherundolo replacement, and they'll have a few to spread around during a loaded 2021 with World Cup qualifiers, the Gold Cup, Nations League and the Olympics all on the schedule.
"Looking back on my own career, I didn't think I was a complete player until I was 31," Cherundolo said, "where I was physically still able to run with the best, but mentally and tactically I had kind of seen everything and I was mentally ready for everything. My best soccer was played when I was 31, so sometimes these things take time."
Robinson is 23. Cannon is 22. Dest is 20. Reynolds? Just 19. Time is very much on the USMNT's side.
After waiting nearly a decade to find an heir apparent, it appears there are now several ready to set a new standard in the decade to come.
USWNT star Abby Dahlkemper joins Manchester City
Manchester City have announced the signing of Abby Dahlkemper from the North Carolina Courage, with the defender signing a two-and-a-half-year deal.
Dahlkemper won the Women's World Cup with the United States in the summer of 2019 and is a three-time NWSL Championship winner, picking up two of those titles with the Courage.
The 27-year-old, who ranked at No.20 in last year's Goal 50, joins USWNT team-mates Rose Lavelle and Sam Mewis at Man City, with the pair having joined the Women's Super League club last summer. She is the club's first signing of the January transfer window.
"I am so excited to join Manchester City. It's a world-class club full of incredible players and I can't wait to get started," Dahlkemper, who will take the No.13 shirt for her new club, said.
"With all the talent in the WSL, I know that each game will present a new challenge and the opportunity to grow both as a player and as a person in England is going to be amazing, alongside having the chance to play Champions League football too.
"Sam and Rose have been saying nothing but brilliant things about the club and hearing them speak so highly about the facilities, the staff and the players as well as their experience of a new technical and tactical challenge is something that was really appealing to me.
"I just can't wait to get over and help the team in whatever way I can and be successful on the field."
Dahlkemper won the NWSL Shield three times with the Courage, as well as the Championship twice in 2018 and 2019, adding to the 2016 title she collected during her time with Western New York Flash.
The USWNT star has also been named in the last three NWSL Best XIs and was named the league's Defender of the Year back in 2017.
She has won 62 caps for her country since making her debut in October 2016, winning two SheBelieves Cup titles, the Concacaf Women's Championship and the World Cup in that time.
"We're delighted to welcome Abby to Manchester City, another exciting addition to our squad," Gareth Taylor, City's head coach, said.
"She is a very talented defender who has been successful both domestically and internationally – with her desire and hunger for victory, we know she'll fit into our team ethos perfectly.
"We're really looking forward to working with her over the coming seasons."
Man City are currently fourth in the WSL table and progressed to the last 16 of the Women's Champions League with a victory over Swedish champions Goteborg in December.
The club also won the Women's FA Cup earlier this season, with Dahlkemper's compatriot Mewis scoring in the final at Wembley as they beat Everton 3-1 after extra-time.