Debenhams reveals six stores will not reopen with 320 jobs affected | Business News
Debenhams has revealed that six of its stores will not reopen, with 320 jobs to be affected.
The department store chain said its administrator FRP Advisory is still in talks with "a number of third parties regarding the sale of all or parts of the business".
But, meanwhile, plans are going ahead for the winding down announced last month.
Employees at stores in Portsmouth, Staines, Harrogate, Weymouth and Worcester, have been told these stores will not reopen after the end of coronavirus restrictions.
Debenhams also said it had been unable to agree a lease extension with the landlord of its Oxford Street store in central London and, as a result, this store would also remain closed.
Geoff Rowley, joint administrator to Debenhams and Partner at FRP Advisory, said: "We continue to engage with interested parties over alternative proposals for the future of Debenhams, but inevitably the latest lockdown has had an effect on our plans for the wind-down of the business.
"We regret the impact on those colleagues affected by today's announcement and would like to thank all those who continue to keep the business trading in very difficult circumstances."
The insolvency firm said it still intends to reopen as many stores as possible to sell off stock, despite coronavirus restrictions keeping non-essential retailers shut.
The chain is also continuing to sell stock online.
The 242-year-old department store started a liquidation process last month after failing to secure a last-minute rescue sale.
Debenhams has been in administration since April last year but its problems pre-date the coronavirus crisis that has hurt so many high street retailers.
For much of its history, Debenhams was highly profitable and was an established anchor tenant on many UK high streets and shopping centres.
It relisted on the London stock market in 2006 following a spell in private equity ownership that proved lucrative for CVC Capital Partners and TPG but which left its balance sheet saddled with what proved to be unsustainable debts.
After its first spell in administration, Debenhams launched a company voluntary arrangement (CVA) to secure agreement for store closures and rent cuts.
COVID-19: Saga says cruise customers will need vaccines before boarding | Business News
Over-50s holiday and insurance specialist Saga is to require customers to be fully vaccinated before boarding cruises, the company has announced.
It also said it had pushed back the restart date for its travel business from April to May – to allow customers time to receive the jab.
Holidaymakers will have to be vaccinated at least 14 days before travelling and also take a pre-departure COVID test according to the Financial Times, which first reported Saga's announcement.
The company's position is in contrast with that of tour operator TUI.
TUI's chief executive Fritz Joussen has rejected the idea of turning away customers who do not have the vaccine.
Elsewhere, the boss of Qantas – based in Australia, which has some of the world's toughest travel restrictions – has said it would insist in future that international travellers have a jab before they fly.
Last week it emerged that holiday firms had seen a spike in bookings from older people planning long-awaited trips as the coronavirus vaccine is rolled out.
Operators said they were seeing demand for breaks both home and abroad, partly to make up for holiday plans not fulfilled last year.
Many firms in the travel and hospitality sector are on their knees after coronavirus restrictions crushed demand – and thousands of jobs have gone.
A number of cruise ships were caught up in the early stages of the coronavirus crisis, resulting in quarantines and in some cases a number of deaths.
Shake-up of further education in England to focus on needs of businesses | Business News
A planned shake-up of further education and training in England will tie courses to the needs of employers in local communities, under government plans.
The Department for Education (DfE) said the Skills for Jobs White Paper, broadly welcomed by business groups, aims to put an end to the misconception that a degree is the only route to a rewarding career.
It demands that the existing links between post-16 colleges and employers are bolstered to develop tailored plans to meet local skills needs – replacing the current 'one size fits all' approach.
This would be done with support from a £65m Strategic Development Fund, the government said, alongside improved oversight to ensure training is relevant to the demands of companies.
The White Paper also plans to allow people of any age access to flexible student finance from 2025 and seeks to bolster the numbers of technical education specialists through a recruitment campaign.
However, a union for school and further education heads warned the proposals had to be backed up with some serious investment after years of "severe under-funding" of the post-16 education sector.
The plans build on Boris Johnson's Lifetime Skills Guarantee, revealed last autumn.
A £2.5bn scheme already announced promises to give adults without an A-level or equivalent qualification the chance to take a free vocational college course.
It is due to get underway in April as the economy looks to recover from the effects of the coronavirus crisis and build a new post-Brexit future, with green energy and wider technology among the areas deemed critical.
The government's separate Plan for Jobs has, since August last year, offered financial incentives to employers for each apprentice they take on under the age of 25 as part of the COVID fightback.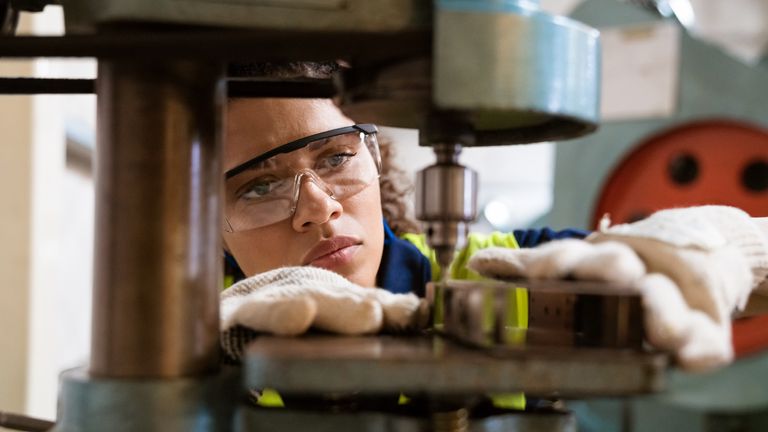 But, despite the furlough scheme, it is predicted that the worst is far from over for employment prospects given continuing lockdowns and their effects on education.
The PM said of the latest announcement: "Our Lifetime Skills Guarantee means that everyone will be given the chance to get the skills they need, right from the very start of their career.
"In the years ahead, the reforms we have announced today will deliver high quality technical education across the country – and help people retrain and secure better paid jobs."
The director general of the British Chambers of Commerce, Adam Marshall, said a partnership was crucial if good jobs were to be created.
He said: "We welcome these ambitious plans to put the skills needs of businesses at the heart of the further education system.
"As local business leaders look to rebuild their firms and communities in the wake of the coronavirus pandemic, it is essential to ensure that the right skills and training provision is in place to support growth."
Geoff Barton, general secretary of the Association of School and College Leaders, responded: "We continue to be concerned about the severe underfunding of the post-16 sector, which plays such a vital role in delivering
the technical and vocational education that the government says it is so keen to boost, as well as academic routes which are also of the utmost importance."
'Strong smell of cannabis' near Bank of England leads to drugs factory | Business News
More than 800 plants have been seized after a tip-off about a "strong smell of cannabis" led to a raid on a building close to the Bank of England.
City of London Police said it was the first find of its kind in the financial district – currently largely deserted because of the COVID-19 crisis.
A statement said: "This is the first cannabis factory in the City, no doubt being set up in response to fewer people being out and about during the pandemic who might have noticed any unusual activity.
A total of 826 cannabis plants were found and destroyed a week ago, it added, though there was no information on exactly where the raid took place.
Two suspects were arrested.
News of the police operation drew attention from Bank of England governor, Andrew Bailey.
He told an online event hosted by the Bank on Wednesday: "We are now going to be the subject of endless jokes about now we know what the Bank of England has been on.
"I'm sure there will be many other jokes. It is very quiet around the Bank of England, I should say."