COVID-19: US faces 'bleak future' unless swift action is taken on aid bill, Biden warns | US News
Joe Biden has said he will not force Americans to take any vaccine – but did warn the country faces a "bleak future" unless swift action is taken to agree on a coronavirus aid bill.
His comments come as the country in engulfed in a nationwide spike in the virus that is hampering its economic recovery.
The president-elect also expressed concern that so far he has seen "no detailed plan" from the Trump administration on how to distribute an approved coronavirus vaccine.
Mr Biden did confirm he and his team are working on their own proposal to fill in the gaps.
He also described November's national jobs report as "dire" and said it "shows the economy is stalling," but added quick action from Congress would halt some of the damage.
"If we act now – I mean now – we can begin to regain momentum and start to build back a better future," he said.
"There's no time to lose."
Surging cases of the virus have led states and municipalities to roll back their reopening plans and more restrictions may be on the way as lower temperatures and holiday travel lead to records for confirmed cases and deaths.
While he does not support a nationwide lockdown, Mr Biden plans to ask Americans to commit to 100 days of mask-wearing to help combat the virus as one of his first acts after being inaugurated.
And in sharp contrast with Donald Trump, Mr Biden is planning a scaled-back event for safety's sake during the pandemic.
:: Subscribe to Divided States on Apple podcasts, Google Podcasts, Spotify, and Spreaker
The Democratic former vice-president said he does expect to be sworn in on 20 January on the platform already being constructed on the steps of the US Capitol, but wanted to avoid the crowds that typically gather on the National Mall and along Pennsylvania Avenue to view the ceremony and parade.
"My guess is there probably will not be a gigantic inaugural parade down Pennsylvania Avenue. But my guess is you'll see a lot of virtual activity in states all across America, engaging even more people than before."
The pandemic has killed more than 273,000 people in the US and cases and hospitalisations are surging as the winter months approach.
Winter tightens its grip on the UK: More sub-zero temperatures and treacherous conditions | UK News
The icy weather is not over yet, with Britain warned to expect sub-zero temperatures and treacherous conditions in the early days of this week.
It comes after a Sunday during which much of the country was covered in snow, bringing some relief for Britons bored with the stay-at-home rules of the coronavirus pandemic.
The Met Office said parts of the Midlands should prepare for -10C (14F) going into Monday, with the rest of the country expected to see between -4C (24.8F) and -6C (21.2F).
An amber weather warning for snow is in place between Nottingham and Stoke On Trent, with the threat of power cuts, travel disruption and rural communities being cut off.
There are also five yellow warnings for snow and ice in the southern part of England, eastern Scotland and Northern Ireland.
The snow is likely to continue for parts of the Midlands, where up to 15cm could fall by the end of the day.
Even places without snow are likely to see widespread frost with icy roads and other wintry hazards.
Meteorologist Simon Partridge said: "The band of snow that came through overnight stalled over the Midlands and will then track its way back over southeast England.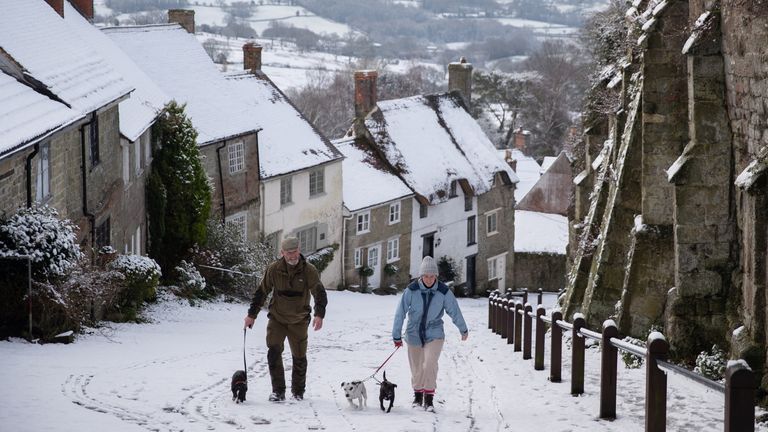 "Our main focus is that it is going to be a really cold night, particularly across central and southern parts of the UK – so the whole of Northern Ireland, all of Wales, most of the southern half of England from the Midlands and southwards."
On Sunday, the snow forced four vaccination centres in Wales to close and some centres in England needed specialist vehicles to clear access paths.
Temperatures are expected to be milder next week, however, with England's south likely to reach between 10C (50F) and 12C (53.6F).
Mr Partridge said: "It's a bit of a rollercoaster from cold and wintry conditions to wet and windy ones.
"We are keeping an eye on rainfall totals because there are some areas that are very sensitive to rainfall and there is further possible flooding as we go through the second half of the week."
COVID-19: Joe Biden to reimpose travel ban on UK and European Union – reports | US News
US President Joe Biden is set to reimpose a number of travel bans that were repealed by his predecessor, according to the Reuters news agency.
Mr Biden is also set to put a travel ban in place to arrivals from South Africa, apparently over fears of the new coronavirus variant discovered in the country.
Donald Trump lifted travel restrictions between the US and Brazil and Europe two days before he left office – a decision Joe Biden will imminently rescind through an executive order.
Speaking to the Reuters news agency, anonymous sources said the new president will announce the move on Monday, that will stop entry into the US from European Union countries, the UK, Brazil and South Africa.
The move has been confirmed to the news agency by the principal director of the Centre for Disease Control (CDC), Dr Anne Schuchat, who said: "We are adding South Africa to the restricted list because of the concerning variant present that has already spread beyond South Africa."
She added the agency was "putting in place this suite of measures to protect Americans and also to reduce the risk of these variants spreading and worsening the current pandemic".
The CDC is concerned that vaccines may be less effective against the COVID-19 variant discovered in South Africa, adding it is up to 50% more infectious than other versions of the virus.
Mr Biden has been seen as taking swift action on COVID-19 in the early days of office, and has already signed executive orders imposing mandatory mask wearing and social distancing on government properties across the US.
Subscribe to the Daily podcast on Apple Podcasts, Google Podcasts, Spotify, Spreaker
The UK has also been mulling the idea of full border closures as part of the current lockdown, in an effort to limit the introduction of further variants into the country.
At the moment, flights arriving in to the UK from South America and Portugal are banned, with all other arrivals required to quarantine for 10 days.
Keon Lincoln death: Three more arrested over murder of Birmingham teenager | UK News
Three more arrests have been made as the investigation into the murder of a Birmingham teenager continues.
West Midlands Police say 15-year-old Keon Lincoln was set upon by a group of youths with weapons in the Handsworth area of Birmingham on Thursday.
A 14-year-old boy was arrested at his home in Birmingham on Saturday night, while two others, aged 15 and 16, were arrested at a property in Walsall in the early hours of Sunday morning.
All three were detained on suspicion of murder and have been questioned throughout the day.
Another 14-year-old boy, who was arrested on Friday evening, has been released under investigation, with detectives being granted extra time to question another boy of the same age who was arrested on Friday morning.
The force added that Keon Lincoln died of gunshot and stab wounds following the attack in Handsworth.
Detective Chief Inspector Alastair Orencas from the force's homicide unit said: "There has been no let-up in our quest to find those responsible for Keon's murder and these are significant arrests.
"We are gathering a substantial amount of evidence which will take time to analyse, but we must be thorough to get justice for Keon's family. They have been fully updated with the latest developments."
West Midlands Police is still looking for information with regards to the attack – you can contact the force via the live chat on its website, call 101 or visit the dedicated portal to upload footage. You can also contact Crimestoppers anonymously on 0800 555 111