COVID-19: UK coronavirus deaths surpass 80,000 with another 1,035 reported | UK News
The UK has now reported more than 80,000 coronavirus-related deaths, after another 1,035 were added to the total.
The total number of deaths within 28 days of a positive COVID-19 test now stands at 80,868.
Another 59,937 coronavirus cases have also been recorded, compared to the record 68,053 on Friday, when the highest number of deaths was also posted with 1,325.
Live COVID-19 updates from the UK and around the world
As is the case with each update, it is important to note that deaths can occur days or even weeks before they are announced and added to the government's data dashboard.
However, the seven-day average as of 9 January shows deaths are up 51.3% on the week before, while the number of people testing positive is up 22.1%.
There are growing fears that people have not been observing social distancing rules, as case numbers surge, hospitals become swamped and deaths continue to rise, with one in 50 people in England now thought to have COVID-19, according to the Office for National Statistics.
One top doctor has told Sky News that the NHS is "breaking" as a result of the increase in hospital admissions, and urged the public to adhere to the current restrictions.
Analysis by Sky News' technology correspondent Rowland Manthorpe shows people are moving about more in this current lockdown, than they did in the first – with the public seemingly used to bending the rules to suit them.
The government has launched a new public awareness campaign in order to encourage Britons to stay at home and comply with lockdown rules.
Meanwhile, experts have said it is in the "public's hands to take control" of the UK's pandemic, urging them to "behave as if you're trying to protect your brothers, your sisters, your parents and your friends".
As the country is starting to see the effects of household mixing over Christmas and the emergence of the new variant of coronavirus, government officials and scientists are calling for individuals to take responsibility to help bring down cases.
COVID-19: 'Real-world' analysis of vaccine in Israel raises questions about UK strategy | World News
The first real-world analysis of the Pfizer coronavirus vaccine suggests it is matching its performance in clinical trials, but raises serious questions about the UK's decision to delay the second dose.
Scientists in Israel – which is leading the COVID-19 vaccination race – have told Sky News that they are "very hopeful" having studied preliminary data from 200,000 vaccinated people.
But crucially they say their results do not show efficacy at a level close to that used by the UK to justify delaying the second dose of the Pfizer jab.
Professor Balicer is a physician, epidemiologist and chief innovation officer for Clalit, the largest health care provider in Israel. He is also an adviser to the World Health Organisation.
"We compared 200,000 people above the age of 60 that were vaccinated. We took a comparison group of 200,000 people, same age, not vaccinated, that were matched to this group on various variables…" prof Balicer said.
"Then we looked to see what is the daily positivity rate… And we saw that there was no difference between vaccinated and unvaccinated until day 14 post-vaccination.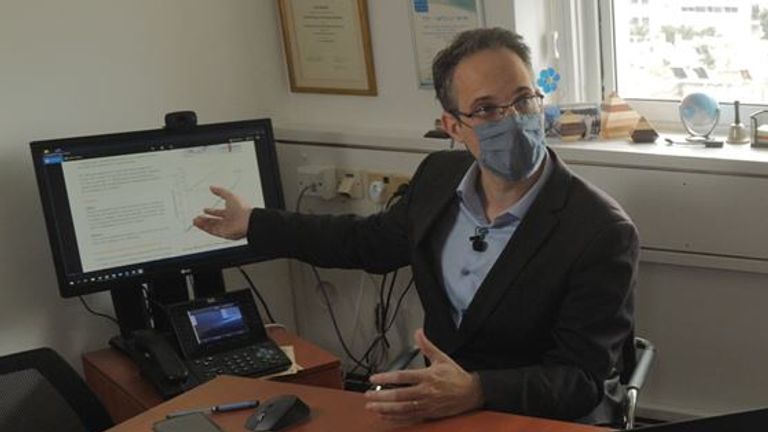 "But on day 14 post-vaccination, a drop of 33% in positivity was witnessed in the vaccinated group and not in the unvaccinated… this is really good news."
However, UK scientists said in December that trial data had suggested it would be 89% effective after one dose.
A document issued by the UK government's vaccine advisers, the Joint Committee on Vaccination and Immunisation, to justify delaying the second dose for up to 12 weeks said: "Using data for those cases observed between day 15 and 21, efficacy against symptomatic COVID-19 was estimated at 89%, suggesting that short term protection from dose 1 is very high from day 14 after vaccination."
This is much more optimistic than the new real-world Israeli data suggests.
Responding to the UK government strategy, prof Balicer said: "The data and estimates I gave are what we have.
"We could not see 89% reduction in the data we reported. Further data and analyses will be released in peer reviewer scientific format."
He added: "The practise in Israel is to provide the second vaccine at three weeks.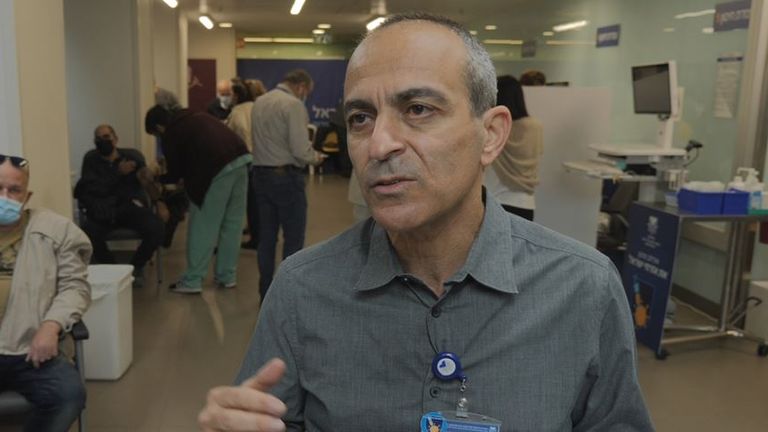 "And so it is impossible for us to tell what would be the impact of not providing the second dose…"
Israel is following Pfizer protocol in giving the second dose of the coronavirus vaccine three weeks after the first.
It has a smaller population and a regular supply from Pfizer. In return it's providing detailed data to Pfizer.
In contrast, the UK with a much larger population is prioritising the first jab – arguing that one dose given to as many people as possible is better than two to fewer people.
"We have already covered some 25% of our population and over 75% above the age of 60 in the last four and a half weeks.
"And so we are one of the first countries to be able to witness the sheer impact in big numbers of vaccinating such a large proportion of the population," prof Balicer said.
"By being able to manipulate this data in real time, to clean it and to use proper epidemiological methodology, we are able to provide answers to the most pertinent questions right now."
The Israeli scientists believe their 33% figure will rise when data is compiled from younger age groups and the fact that the data is real-life adds to their confidence.
"This is not the ideal setting of a randomised controlled trial where everything from coaching maintenance to selection of the population of interest is done in a very meticulous way.
"This is the real-world. And so by seeing the real world impact so early on in the same direction and in the same timing as we've seen in the clinical trials is something that makes us very hopeful."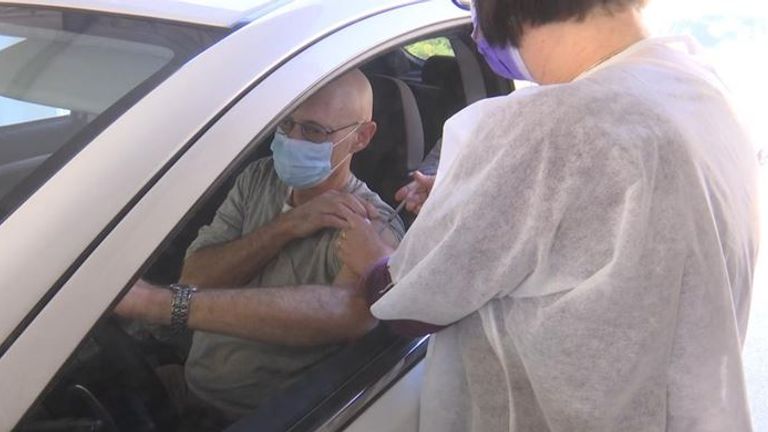 Tel Aviv's Sourasky hospital, one of hundreds of vaccination centres, is inoculating hundreds of people an hour.
Ronni Gamzu is the hospital director. He served as the government "corona tsar" – a rotating advisory role – until last month.
"I believe, truly believe, this is the beginning of the end because the vaccine creates the immune response.
"We see that clearly and we see a change in the people that are becoming severely ill with coronavirus and moderately ill. People that have got the vaccine are more protected," professor Gamzu said.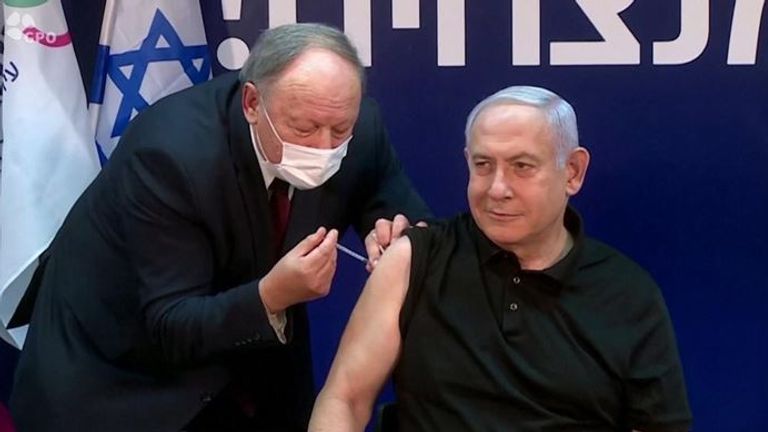 Asked about the UK strategy of delaying the second dose, he said the 89% figure seemed "very optimistic" but understood why compromises needed to be made.
"If you are short of vaccines, this is a good idea… We believe that if you take the booster shot, even after six weeks, then you will have an effect, the effect is coming and growing gradually.
"We do not know that for sure because the studies were done for 21 days for Pfizer and 28 days for Moderna. But there is a clear logic behind postponing it when you are short on vaccines."
In a previous statement on the decision, the JCVI said: "With most vaccines an extended interval between the prime and booster doses leads to a better immune response to the booster dose.
"There is evidence that a longer interval between the first and second doses promotes a stronger immune response with the AstraZeneca vaccine.
"There is currently no strong evidence to expect that the immune response from the Pfizer-BioNTech and AstraZeneca vaccines differ substantially from each other.
"The committee advises initially prioritising delivery of the first vaccine dose as this is highly likely to have a greater public health impact in the short term and reduce the number of preventable deaths from COVID-19."
Sky News has contacted the JCVI for comment.
Mitch McConnell: Capitol rioters 'provoked' by Donald Trump | US News
One of the most senior US Republicans has accused Donald Trump of feeding supporters lies that led to the deadly Capitol riot.
Mitch McConnell, leader of the GOP in the Senate, accused the outgoing president on his last full day in office of having "provoked" those who stormed the building where legislators narrowly escaped a baying mob.
And in a further snub to Mr Trump, who has claimed without evidence held up in court that last November's election was rigged, Mr McConnell vowed the inauguration of Joe Biden on Wednesday will be "safe and successful".
The intervention comes ahead of tomorrow's transfer of powers in the White House, with a markedly different ceremony than usual planned for Mr Biden and Vice President-elect Kamala Harris.
Coronavirus and the serious security breaches that led to five deaths two weeks ago mean participation at the event in Washington DC will be drastically reduced.
Ahead of it, Mr McConnell opened the Senate on Tuesday – also his final day as Majority leader, before Ms Harris takes over and swings its political make-up in favour of the Democrats.
"The mob was fed lies," he declared about the Capitol riot.
"They were provoked by the president and other powerful people, and they tried to use fear and violence to stop a specific proceeding of branch of the federal government."
Mr McConnell added that "we'll move forward" after Mr Biden's inauguration on the Capitol's West Front – what he noted former president George HW Bush has called "democracy's front porch".
COVID-19: 'Saving lives is an act of worship' – leading scholar urges Muslims to have COVID vaccine | UK News
A leading Islamic scholar is calling on Muslims to ignore disinformation campaigns aimed at discouraging them from taking the COVID-19 vaccine. 
Sheikh Muhammad Tahir ul-Qadri says a series of conspiracy theories circulating on social media is leading to vaccine hesitancy in Muslim populations, which goes against the tenets of Islam.
"Saving lives is an act of worship," he told Sky News in an exclusive interview. "At the start of the pandemic, Muslims around the world were among those in the forefront.
"They put their maximum efforts into saving lives, providing people with food and every kind of necessary support. In the same way, they should come forward now."
Live COVID news from UK and around the world
Canadian-based Sheikh Tahir seeks to reassure his three million followers on social media, in an effort to counter the spread of fake news about the COVID-19 vaccines.
"Some people are saying that there is alcohol in it, or pork or other things forbidden (in Islam). Some say these vaccines may affect certain parts of the brain. What can I say? These are totally baseless claims."
"This is a matter of medicinal development, of life, and it is just the same as when we take paracetamol, antibiotics, or aspirins despite their side effects.
"Believing in the medical process is one of the basic teachings of Islam. Islam and the teachings of the Koran the Prophet Muhammad, peace be upon him, is focused on reason, intelligence, scientific research, and intellectual development."
Vaccine hesitancy is increasingly being seen as one of the reasons why groups described as BAME, many of who are Muslim, may not receive the COVID-19 vaccine at the same level as the rest of the population.
Dr Winston Morgan, a leading researcher in medical outcomes based on race and ethnicity, says this is yet another way COVID-19 is harming BAME communities.
"What is described as vaccine hesitancy is more a lack of enthusiasm or faith in the system that has failed certain groups in the past," he said.
"If you do not believe from past experiences that medical treatments will work well for people like you and in certain cases could actually harm you, not because of genetics linked to race, but because of structural disadvantages, you are unlikely to be enthusiastic when a new, and what could be described as a controversial, vaccine comes along."
Dr Morgan cites research which shows that BAME groups generally say they are less likely to take the vaccine. In one study 72% of black people said they are unlikely or very unlikely to be vaccinated. He warns against overstating the case about hesitancy.
"The temptation will be to blame hesitancy rather than the structural problems based on class and race which have always plagued healthcare delivery to BAME communities.
"Based on the government's past records, it is likely they will also fail to meet vaccination targets. Having a ready-made excuse like vaccine hesitancy amongst BAME groups would be a convenient excuse."
Much was made of the Muslim husband and wife scientists behind the German company BioNTech, which teamed up with Pfizer to produce one of the world's leading COVID-19 vaccines.
Doctors Ugur Sahin and Ozlem Tureci are children of Turkish migrants who moved to Germany in the late 1960s.
The British Islamic Medical Association (BIMA) has urged Muslims to take the vaccine on the advice of their medical practitioners and following informed consent.
"It is important to make sure they participate in the vaccine campaign. This is a health issue, not a faith issue." said Dr Sharif Kaf Al-Ghazal, president of BIMA.
Muslims who want to travel to Saudi Arabia for pilgrimage are being advised by the country's Hajj and Umrah Minister Mohammed Benten to take the coronavirus vaccine before traveling. Dr Al-Ghazal agrees this could help convince more Muslims.