COVID-19: Trump's lawyer Rudy Giuliani tests positive for coronavirus, says president | US News
Donald Trump has said his lawyer Rudy Giuliani has tested positive for coronavirus.
The US president tweeted: "@RudyGiuliani, by far the greatest mayor in the history of NYC, and who has been working tirelessly exposing the most corrupt election (by far!) in the history of the USA, has tested positive for the China Virus. Get better soon Rudy, we will carry on!!!"
Mr Giuliani has travelled extensively to battleground states in recent weeks in an effort to help Mr Trump challenge his election defeat.
The lawyer made an appearance on Fox News on Sunday to speak about his legal challenges in several states on behalf of Mr Trump.
He has also spent the last four weeks repeating baseless claims that fraud was a factor in Joe Biden's victory last month.
.@RudyGiuliani, by far the greatest mayor in the history of NYC, and who has been working tirelessly exposing the most corrupt election (by far!) in the history of the USA, has tested positive for the China Virus. Get better soon Rudy, we will carry on!!!

— Donald J. Trump (@realDonaldTrump) December 6, 2020
The 76-year-old said at a news conference in November: "The most important thing here is that this has been a massive attack on the integrity of the voting system in the greatest democracy on Earth.
"The people who did this have committed one of the worst crimes that I have ever seen or observed."
Dark brown streaks of hair dye were seen running down Mr Giuliani's face at the same conference as he mopped sweat from his brow.
It was the latest in a series of embarrassing events for the former mayor of New York City.
Mr Giuliani hosted a news conference at Four Seasons Total Landscaping in Philadelphia in November – with the site being opposite a crematorium and next to a sex shop.
The unusual location led to speculation Mr Trump's campaign had meant to the book the nearby Four Seasons Hotel.
Mr Giuliani was also the target of a prank in the new Borat film, where he was lured into a hotel room by a 24-year-old actress.
He is later seen lying on a bed in the room with his hands down his trousers.
Mr Giuliani's positive coronavirus test comes months after Mr Trump and his wife Melania each tested positive for the illness in October.
Incoming president Joe Biden said on Saturday he will not force Americans to take any vaccine – but did warn the country faces a "bleak future" unless swift action is taken to agree on a coronavirus aid bill.
His comments come as the country is engulfed in a nationwide spike in the virus that is hampering its economic recovery.
The president-elect also expressed concern that so far he has seen "no detailed plan" from the Trump administration on how to distribute an approved coronavirus vaccine.
COVID-19: Number of positive tests in England down 17% to lowest number since 23 December, Test and Trace figures show | UK News
The number of people who tested positive for COVID-19 in England is down 17% and is at its lowest level since the week to 23 December, new Test and Trace figures show.
A total of 274,898 people tested positive for coronavirus at least once in the week to 20 January, following a decrease the previous week.
Some 2,813,445 people were tested at least once between 14 January and 20 January – that figure is down 5% on week before.
The stats show that 470,950 people were identified as coming into close contact with someone who had tested positive in that period.
For those where communication details were available, 96.5% of close contacts were reached and told to self-isolate in the most recent week. Taking into account all contacts identified, 93.2% were reached – the highest ever figure.
The latest figures suggest the national lockdowns are having an impact and people are heeding the "stay at home" message.
Daniel Pearl murder: British-born man acquitted over journalist's killing to be released from Pakistan prison | World News
The Supreme Court in Pakistan has ordered the release of British-born Ahmed Omar Saeed Sheikh who was convicted, and later acquitted, over the beheading of a US journalist in 2002.
Mr Sheikh has been on death row since his initial conviction for Daniel Pearl's murder 19 years ago, but his lawyer argued that his client "should not have spent one day in jail".
Lawyer Mehmood A Sheikh added that the court also ordered the release of three other Pakistanis who had been sentenced to life behind bars for their part in Mr Pearl's kidnapping and murder.
Mr Sheikh was formally acquitted of his involvement in April 2020.
The court also dismissed an appeal by the family of Mr Pearl and the Pakistani government over the acquittal of Mr Sheikh.
In statement released by their lawyer, Mr Pearl's family said: "Today's decision is a complete travesty of justice and the release of these killers puts in danger journalists everywhere and the people of Pakistan."
The country's three-judge Supreme Court ruled two to one in favour of upholding Mr Sheikh's acquittal and ordered his release, Pearl family lawyer Faisal Siddiqi said.
The US government has previously said it would demand that Mr Sheikh be extradited to the US to be tried there.
"We urge the US government to take all necessary actions under the law to correct this injustice. We also hope that the Pakistani authorities will take all necessary steps to rectify this travesty of justice," the Pearl family said.
Mr Siddiqi said that the only legal avenue left to pursue would be to ask for a review of the court's decision, but added that would be carried out by the same court that upheld the appeal, meaning "in practical terms" there is no further legal route in Pakistan.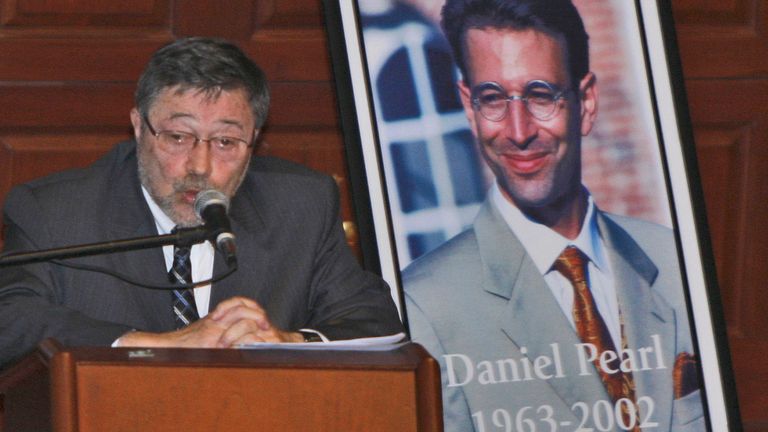 Mr Sheikh was convicted of helping to lure Mr Pearl to a meeting in the Pakistani city of Karachi before the journalist was kidnapped.
Mr Pearl had been looking in to the link between Pakistani militants and Richard C Reid – the "shoe bomber", who tried to blow up a flight between Paris and Miami with explosives in his shoes.
He went missing on 23 January, with his body being found in a shallow grave shortly after a video of his beheading was sent to the US consulate in Karachi.
COVID-19: Tony Blair says UK should lead global push for immunity passports | Politics News
Tony Blair has called for immunity passports to be rolled out and urged the UK to take advantage of its upcoming position chairing the G7 to push other countries to do the same.
The former prime minister said it was "inevitable" the idea will be developed by other nations, as the global race for inoculation against coronavirus gets under way.
A report by his non-profit organisation the Tony Blair Institute said the "only way to navigate allowing people to travel internationally again" is creating a global travel pass showing each individual's COVID-19 status.
Live COVID updates from the UK and around the world
The idea has been mooted before but was rejected by Cabinet Office minister Michael Gove just last month, when he told Sky News: "I certainly am not planning to introduce any vaccine passports, and I don't know anyone else in government who is."
Since then, the Sunday Telegraph reported the government is funding at least eight separate firms to develop such a product, which is already in use in countries in the Middle East and Asia.
Mr Blair has made multiple interventions during the pandemic, and recently suggested the idea of pushing back the second dose of coronavirus vaccines to dramatically increase the number of people offered at least some protection.
The idea gained traction and is now government policy, helping boost the UK's global standing in the race to administer jabs.
Turning his attention to what happens next, Mr Blair's institute said the UK should "place the creation of a global COVID-19 travel pass as a key item on the G7 agenda", when leaders from the US, France, Germany, Italy, Japan and Canada congregate in Cornwall later this summer.
It added Prime Minister Boris Johnson's approach to international travel is "disjointed" and "unco-ordinated" – costing hundreds of billions in exports, foreign investment and tourism.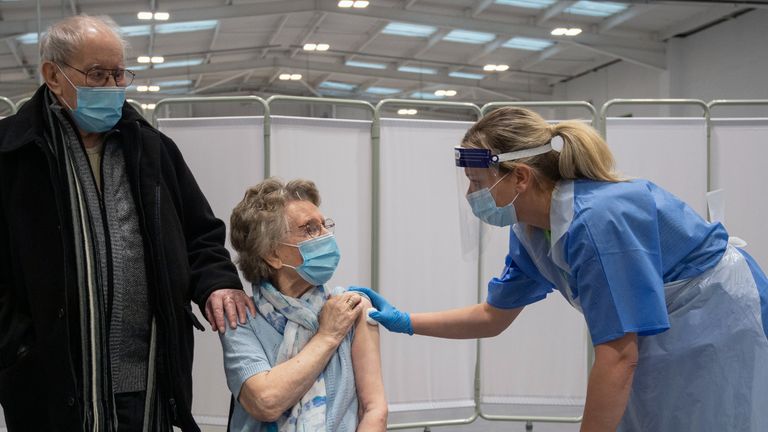 The report released on Thursday said: "The UK faces a choice: lead or be led. If we choose to wait, a confusing array of different passports await our citizens.
"We can avoid this and the complications of multiple passes and varying travel requirements if the UK takes the lead on developing a single, global COVID pass.
"In the year of the UK's G7 presidency, there has never been a more momentous opportunity – or need – for the government to show global leadership."
Zurab Pololikashvili, the UN World Tourism Organisation's secretary-general, last week said at an event in Madrid: "Vaccines must be part of a wider, co-ordinated approach that includes certificates and passes for safe cross-border travel."
The leaders of Spain, Italy, Greece, Cyprus and Malta have called for the introduction of certificates which designate if a traveller has been vaccinated or not.
In Australia, education minister Alan Tudge said on Monday planned "digital vaccine certificates" would allow international students to return to study in the country without the need for them to hotel quarantine.
Over three nights Sky News will host a series of special programmes examining the UK's response to the pandemic.
Watch COVID Crisis: Learning the Lessons at 8pm on 9, 10 and 11 February