COVID-19: The 'devastating' impact of 'life-changing' virus deaths in one of London's most deprived boroughs | UK News
London has entered a new phase of its battle against coronavirus after mayor Sadiq Khan declared a major incident over the numbers of patients in the capital's hospitals.
The east London borough of Newham – one of the most deprived in the city – also has the highest number of coronavirus infections since the pandemic began with more than 23,500, according to local government data.
During the first wave it had a higher mortality rate than anywhere else – and it has recorded 5,000 positive COVID-19 cases in the last week alone, council officials said.
The impact is being felt by the likes of the Sheikh family.
On 7 April, Abdul Karim Sheikh, 82, developed a temperature and was admitted to hospital.
Five days later, he died there.
His son Naeem said: "It was devastating not being able to be there for his last moments and to comfort him. It really was devastating.
"My dad was a long-standing councillor, a ceremonial mayor, a man who loved the people in his community. The community loved him too.
"His loss is life-changing and we are having to step up to the plate to stick together to fill his massive boots, which we will never fill, but we are going to try. The virus has hit us hard. I don't know how this is going to end."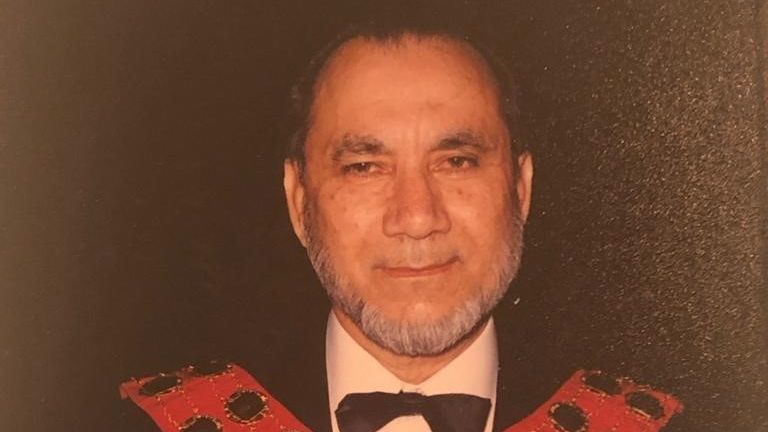 To add to his grief, Naeem believes that in the early stages of the coronavirus pandemic, he may have unwittingly infected his father.
"My wife [Aisha] and I are both teachers and we were still providing frontline services to children in our schools. I'm sure in travelling to and from work, maybe somewhere along the line we may well have been infected," he said.
"We may have been asymptomatic and didn't notice it. But we did try our best to follow all the rules, but this is something we now have to live with."
While it is impossible to know how the virus passes from one person to another, many family members hold themselves accountable, questioning decisions they made in the days when there was very little information.
Born in Jalalpur Jattan in Pakistan's Punjab province, Mr Sheikh settled in Britain in the late 1960s and became a central member of the community.
He helped found one of Newham's first mosques in one of the capital's most racially-diverse boroughs.
In 1990, he became a local councillor and in 1998 the ceremonial mayor of Newham.
He was awarded a British Empire Medal for his services to the Muslim community.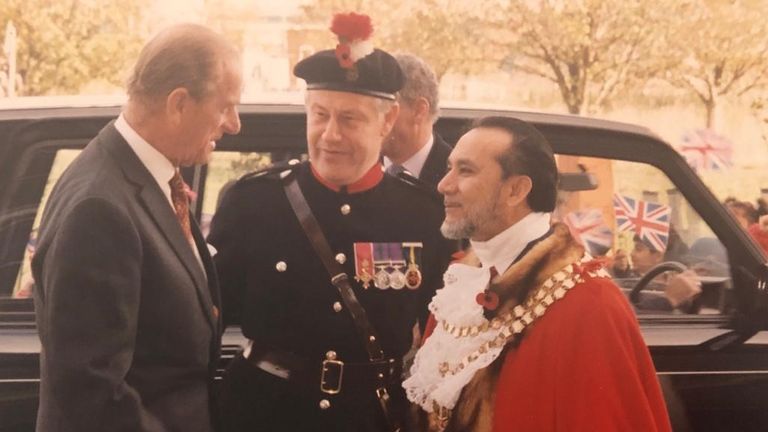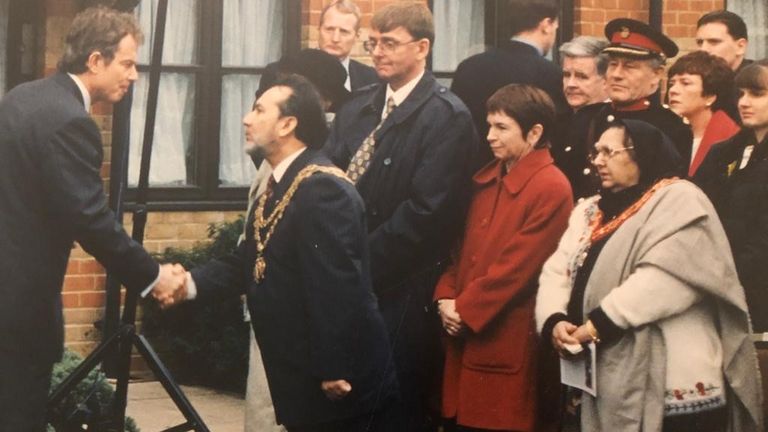 On the road where Mr Sheikh lived, many of his friends and neighbours have died after contracting coronavirus.
Newham is densely populated and many people live in multi-generational households.
"We had a call this morning from someone we know who told us their loved one is in intensive care," said Naeem's wife, Aisha.
"This entire street has been affected and people are scared. Our area is the worst in Newham for infections and it's so devastating when you look at what is happening. Twenty-three percent of people [in this council ward] tested positive here last week."
Aisha lost her mum, Parveen Fayyaz, 76, just seven days before her father-in-law, Mr Sheikh.
"I was mourning my mum then my father-in-law died. She had underlying health issues, but it was still so sad for me. The last year has just been so horrible."
Council officials are concerned that some people are not taking the virus seriously, and that a combination of financial hardship, deprivation and unemployment has allowed the disease to prey on the area's mainly black and Asian population.
Zulfiqar Ali, Newham Council's cabinet member for health and adult social care, said: "I hope this second wave does not lead to the level of mortality we saw in the first wave.
"But with hospital admissions going up, the likelihood is that deaths will go up if people do not start following the procedures."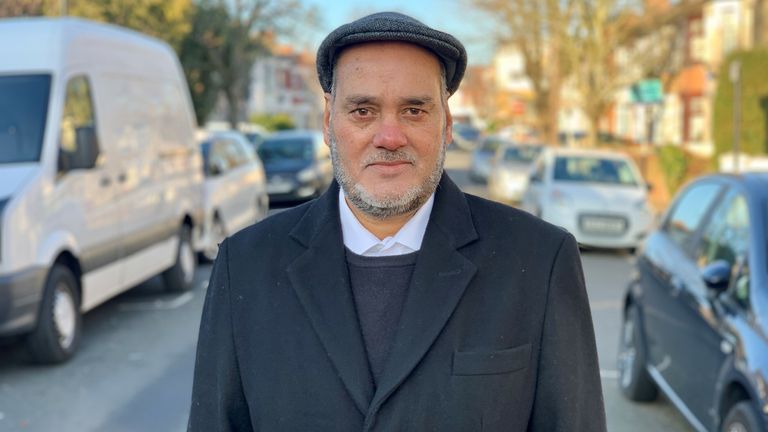 While older people have disproportionately been affected by coronavirus, young people are also among those dying, according to Mr Ali.
Nothing should be "taken for granted" at this stage, he said.
"This strain is spreading so fast – unless we do something quickly then people will start losing their loved ones.
"There is a degree of non-compliance among young people who seem to think they are immune, and they are not.
"Unfortunately, they are putting themselves at risk and their loved ones. The likelihood is things are going to get worse if we don't continue to follow the rules."
Donald Trump's farewell address: 'Our movement is only just beginning' | US News
Donald Trump will say he will "pray for the success" of Joe Biden's administration in his farewell address later but that the political movement he created "is only just beginning".
Before he leaves office tomorrow, the outgoing president said everyone in the US had been "horrified" by the rioting at the Capitol in Washington DC earlier this month.
In extracts released by the White House, he said: "Political violence is an attack on everything we cherish as Americans. It can never be tolerated."
He added: "As I prepare to hand power over to a new administration at noon on Wednesday, I want you to know that the movement we started is only just beginning."
Live updates on the final preparations for Joe Biden's inauguration
Biden inauguration: Watch and follow events on Sky News from 1pm on Wednesday, with the ceremony starting at 4pm
Mr Trump also said he would pray for the success of the new administration in keeping America safe and prosperous, but he did not mention Joe Biden by name.
"We did what we came here to do – and so much more," he claimed.
He went on: "Our agenda was not about right or left, it wasn't about Republican or Democrat, but about the good of a nation, and that means the whole nation."
He said his administration had "restored American strength at home – and American leadership abroad", and it "built the greatest economy in the history of the world".
Under his leadership, Mr Trump claimed the US had "revitalised our alliances and rallied the nations of the world to stand up to China like never before".
And he said: "As a result of our bold diplomacy and principled realism, we achieved a series of historic peace deals in the Middle East. It is the dawn of a new Middle East and we are bringing our soldiers home."
He also said he was "especially proud" to be the first president in decades who has "started no new wars".
Mr Trump will not attend tomorrow's inauguration – the first outgoing president to skip the ceremony since Andrew Johnson more than a century and a half ago.
Before leaving Delaware for Washington DC, Mr Biden addressed dozens of supporters in an emotional sendoff in the state where he was a senator for decades.
As the US exceeded 400,000 coronavirus deaths, the president-elect said: "These are dark times. But there's always light."
The president-elect flew to Joint Base Andrews in Maryland on a chartered plane.
This was in contrast to his predecessor, who arrived at the base in 2017 on a government aircraft.
COVID-19: 'Real-world' analysis of vaccine in Israel raises questions about UK strategy | World News
The first real-world analysis of the Pfizer coronavirus vaccine suggests it is matching its performance in clinical trials, but raises serious questions about the UK's decision to delay the second dose.
Scientists in Israel – which is leading the COVID-19 vaccination race – have told Sky News that they are "very hopeful" having studied preliminary data from 200,000 vaccinated people.
But crucially they say their results do not show efficacy at a level close to that used by the UK to justify delaying the second dose of the Pfizer jab.
Professor Balicer is a physician, epidemiologist and chief innovation officer for Clalit, the largest health care provider in Israel. He is also an adviser to the World Health Organisation.
"We compared 200,000 people above the age of 60 that were vaccinated. We took a comparison group of 200,000 people, same age, not vaccinated, that were matched to this group on various variables…" prof Balicer said.
"Then we looked to see what is the daily positivity rate… And we saw that there was no difference between vaccinated and unvaccinated until day 14 post-vaccination.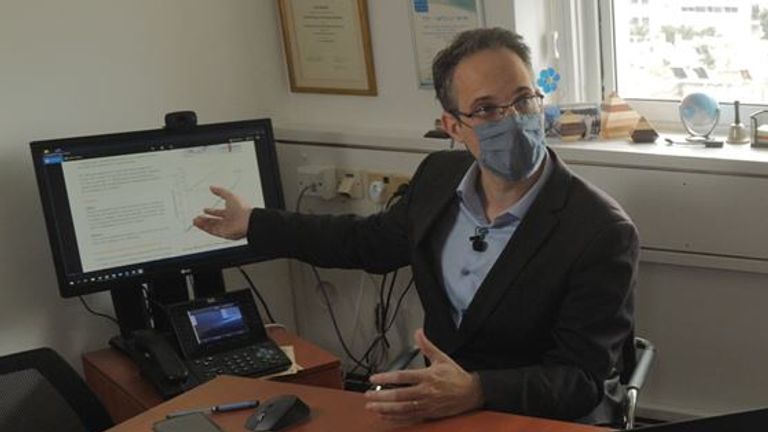 "But on day 14 post-vaccination, a drop of 33% in positivity was witnessed in the vaccinated group and not in the unvaccinated… this is really good news."
However, UK scientists said in December that trial data had suggested it would be 89% effective after one dose.
A document issued by the UK government's vaccine advisers, the Joint Committee on Vaccination and Immunisation, to justify delaying the second dose for up to 12 weeks said: "Using data for those cases observed between day 15 and 21, efficacy against symptomatic COVID-19 was estimated at 89%, suggesting that short term protection from dose 1 is very high from day 14 after vaccination."
This is much more optimistic than the new real-world Israeli data suggests.
Responding to the UK government strategy, prof Balicer said: "The data and estimates I gave are what we have.
"We could not see 89% reduction in the data we reported. Further data and analyses will be released in peer reviewer scientific format."
He added: "The practise in Israel is to provide the second vaccine at three weeks.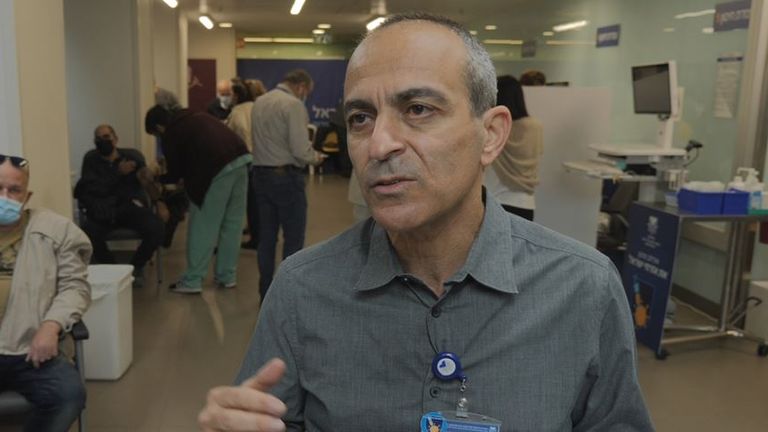 "And so it is impossible for us to tell what would be the impact of not providing the second dose…"
Israel is following Pfizer protocol in giving the second dose of the coronavirus vaccine three weeks after the first.
It has a smaller population and a regular supply from Pfizer. In return it's providing detailed data to Pfizer.
In contrast, the UK with a much larger population is prioritising the first jab – arguing that one dose given to as many people as possible is better than two to fewer people.
"We have already covered some 25% of our population and over 75% above the age of 60 in the last four and a half weeks.
"And so we are one of the first countries to be able to witness the sheer impact in big numbers of vaccinating such a large proportion of the population," prof Balicer said.
"By being able to manipulate this data in real time, to clean it and to use proper epidemiological methodology, we are able to provide answers to the most pertinent questions right now."
The Israeli scientists believe their 33% figure will rise when data is compiled from younger age groups and the fact that the data is real-life adds to their confidence.
"This is not the ideal setting of a randomised controlled trial where everything from coaching maintenance to selection of the population of interest is done in a very meticulous way.
"This is the real-world. And so by seeing the real world impact so early on in the same direction and in the same timing as we've seen in the clinical trials is something that makes us very hopeful."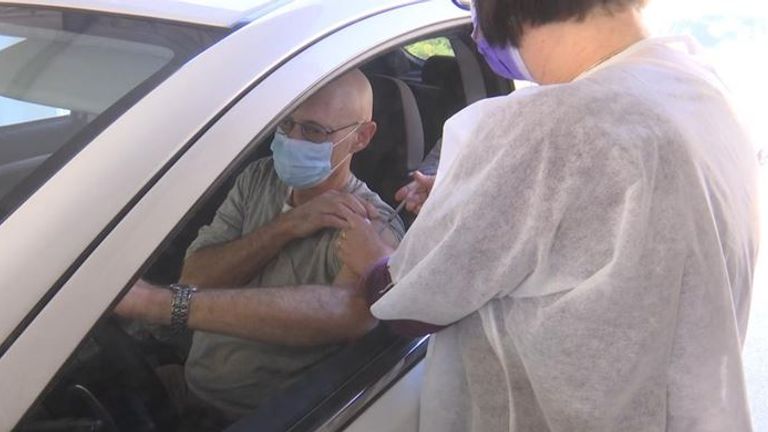 Tel Aviv's Sourasky hospital, one of hundreds of vaccination centres, is inoculating hundreds of people an hour.
Ronni Gamzu is the hospital director. He served as the government "corona tsar" – a rotating advisory role – until last month.
"I believe, truly believe, this is the beginning of the end because the vaccine creates the immune response.
"We see that clearly and we see a change in the people that are becoming severely ill with coronavirus and moderately ill. People that have got the vaccine are more protected," professor Gamzu said.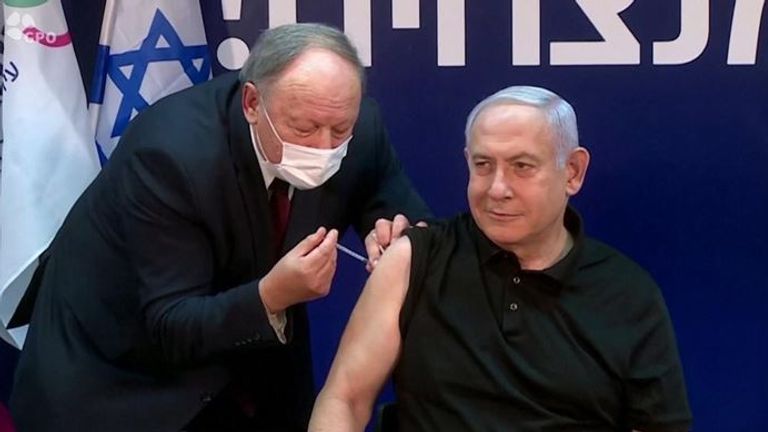 Asked about the UK strategy of delaying the second dose, he said the 89% figure seemed "very optimistic" but understood why compromises needed to be made.
"If you are short of vaccines, this is a good idea… We believe that if you take the booster shot, even after six weeks, then you will have an effect, the effect is coming and growing gradually.
"We do not know that for sure because the studies were done for 21 days for Pfizer and 28 days for Moderna. But there is a clear logic behind postponing it when you are short on vaccines."
In a previous statement on the decision, the JCVI said: "With most vaccines an extended interval between the prime and booster doses leads to a better immune response to the booster dose.
"There is evidence that a longer interval between the first and second doses promotes a stronger immune response with the AstraZeneca vaccine.
"There is currently no strong evidence to expect that the immune response from the Pfizer-BioNTech and AstraZeneca vaccines differ substantially from each other.
"The committee advises initially prioritising delivery of the first vaccine dose as this is highly likely to have a greater public health impact in the short term and reduce the number of preventable deaths from COVID-19."
Sky News has contacted the JCVI for comment.
Mitch McConnell: Capitol rioters 'provoked' by Donald Trump | US News
One of the most senior US Republicans has accused Donald Trump of feeding supporters lies that led to the deadly Capitol riot.
Mitch McConnell, leader of the GOP in the Senate, accused the outgoing president on his last full day in office of having "provoked" those who stormed the building where legislators narrowly escaped a baying mob.
And in a further snub to Mr Trump, who has claimed without evidence held up in court that last November's election was rigged, Mr McConnell vowed the inauguration of Joe Biden on Wednesday will be "safe and successful".
The intervention comes ahead of tomorrow's transfer of powers in the White House, with a markedly different ceremony than usual planned for Mr Biden and Vice President-elect Kamala Harris.
Coronavirus and the serious security breaches that led to five deaths two weeks ago mean participation at the event in Washington DC will be drastically reduced.
Ahead of it, Mr McConnell opened the Senate on Tuesday – also his final day as Majority leader, before Ms Harris takes over and swings its political make-up in favour of the Democrats.
"The mob was fed lies," he declared about the Capitol riot.
"They were provoked by the president and other powerful people, and they tried to use fear and violence to stop a specific proceeding of branch of the federal government."
Mr McConnell added that "we'll move forward" after Mr Biden's inauguration on the Capitol's West Front – what he noted former president George HW Bush has called "democracy's front porch".