COVID-19: Teachers to be considered for next vaccination wave | Politics News
Teachers could be next in line for the second wave of COVID-19 jabs, a member of the group advising on the vaccine rollout has suggested.
Professor Adam Finn told Sky News' Sophy Ridge On Sunday programme that while no decisions had been taken on future prioritisation of the coronavirus injections, the "critical role" played by the profession would "figure in the discussions" of the Joint Committee on Vaccination and Immunisation (JCVI).
The professor of paediatrics at the University of Bristol said committee members had been instructed to come up with a plan by the middle of February to determine the priority order of who should be vaccinated against COVID-19 next.
Vaccination of teachers would help pave the way for schools to fully reopen, with the education of many youngsters already severely disrupted by the pandemic.
Primary and secondary schools in England have moved to remote learning for most pupils due to tighter restrictions, but remain open for the children of key workers and those deemed vulnerable.
It comes as the health secretary told Sky News that more than 200,000 people were getting a COVID-19 jab every day and the government was "on course" to reach its target of two million vaccinations a week.
This would enable the goal to be met of dosing more than 13 million of the over-70s and the most vulnerable by mid-February.
On the future prioritisation of vaccine, Prof Finn told Ridge: "As you can appreciate these considerations start to be social values in a way more than the criteria we normally use, which is pressure on the health service."
Asked about the position of teachers on the list, he said: "I can't predict exactly what will be prioritised but I can say that we will be discussing this and coming up with a plan, and I can also say that when it comes to teachers I think we all appreciate the critical role that they all play and so that really will figure in the discussions."
Meanwhile, the NASUWT teachers' union has warned too many children were returning to school despite the national lockdown, resulting in a high risk of the virus being transmitted.
Matt Hancock told Sky News: "It's always been the guidance that schools are there for key workers' children where key workers need to have their children in school in order to be able to get to work."
He added: "For instance, if you're a key worker and your partner doesn't work then you shouldn't be sending your children to school. That's clear in the guidance. But of course the reason that we keep schools open for key workers' children is that this is important.
"It is important – for instance – that key workers in the NHS but not just the NHS – can get to work and so it's a very difficult balance to strike."
Subscribe to the Daily podcast on Apple Podcasts, Google Podcasts, Spotify, Spreaker
Mr Hancock also defended his cabinet colleague Education Secretary Gavin Williamson, who has faced calls to resign over his handling of the crisis.
He told Sky News: "I think Gavin's been doing a brilliant job in very difficult circumstances.
"And actually it's incumbent on all of us – frankly the whole country – to pull together as much as possible."
COVID-19: Town's rapid coronavirus testing centres close as snow sweeps across parts of England | UK News
All three rapid COVID testing centres in Luton have been shut because of snow in the area, the council has said, while other parts of England have also woken up to snowfall.
Confirming the decision on Twitter, the council said it would be closing the centres "for the safety of the public and our staff".
But social media users have complained of a lack of snow, with some branding the council's move "utterly embarrassing".
"Just been to the shop….more 'snow' in a snow globe!!!" wrote one Twitter user, while others said closing the testing sites was a "bizarre decision".
Luton had a rate of new COVID cases in the seven days to 11 January of 808.3, according to Public Health England data. That was down from 961.7 on the previous week.
It comes after the Met Office warned that parts of southeast England and East Anglia will continue to see further snow on Saturday, with between 2cm and 4cm falling over the coming hours.
An amber snow alert was put in place for the east of England until 2pm, with yellow snow warnings for the South East until 8pm.
A further yellow snow and ice warning has been issued in a band stretching from the Midlands to the top of Scotland until 6pm on Saturday.
The Met Office said there was a likelihood of "delays or cancellations to rail and air travel, possible travel delays on roads stranding some vehicles and passengers".
TikTok video showing car parked across live railway line investigated by police | UK News
Police are appealing for information after a video posted on TikTok showed a car parked across a live railway track for a photoshoot.
The short clip shows the vehicle across the tracks in Bolton, Greater Manchester, with the caption: "Would you take the risk to get the shot no one else would?"
Network Rail's North West route director has condemned the behaviour as "sheer stupidity at a staggering level".
British Transport Police is investigating the footage.
Inspector Becky Warren from the force said: "No picture or video is worth risking your life for.
"There is simply no excuse for not following safety procedures at level crossings. The behaviour shown by the individuals in this video is incredibly dangerous and reckless."
The video showed the car across tracks at The Oaks level crossing, at Bromley Cross near Bolton.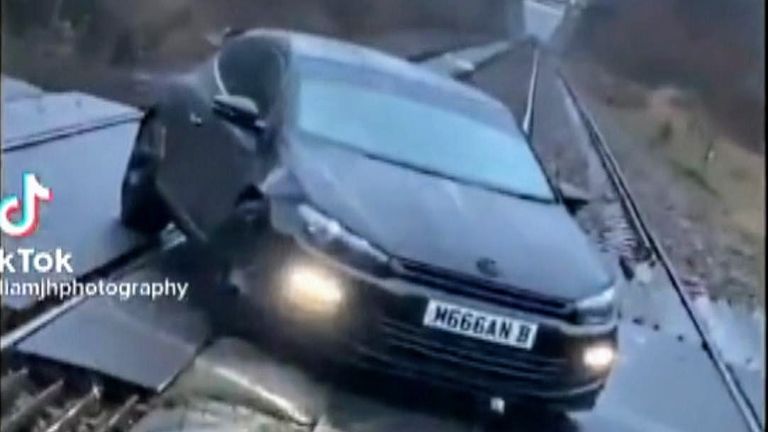 Phil James, Network Rail's North West route director, said: "The danger this person has put themselves and passengers in is sheer stupidity at a staggering level.
"Trespassing on the railway is a crime, as is endangering the lives of rail users.
"No-one should ever trespass onto the railway – so for it to be used as a backdrop for a photo shoot beggars belief.
"Lives could so easily have been lost by this reckless behaviour and we will be working closely with British Transport Police to make sure the person responsible for the video is brought to justice."
Anyone with information is asked to contact the British Transport Police on 61016 quoting the reference number 122 of 14/01/21.
Alexey Navalny: Poisoned Putin critic faces jail on return to Russia | World News
Alexey Navalny is flying back to Russia and straight into the hands of the authorities.
Not only does he face a slew of fresh criminal charges against him but he will also once again be at the mercy of Russia's domestic spy agency, the Federal Security Service (FSB), which he says tried to poison him.
It is an extraordinarily brave and risk-filled undertaking. It is also true to form.
Arrest for Alexey Navalny is nothing new. Nor is carving out a life of activism between court appearances, house arrest and prolonged periods in detention.
He has repeatedly said he would return to Russia after his convalescence in Germany.
Had he not been poisoned by a novichok nerve agent, with treatment abroad the only way to keep him alive, he never would have left in the first place.
He is now on the Federal Wanted List and is implicated in a number of criminal and administrative cases which give law enforcement broad scope to keep him under prolonged investigation, most probably well beyond September's parliamentary elections which the powers that be in the Kremlin do not want him around for.
Russia's Federal Penitentiary Service has submitted a request to revoke a three-and-a-half-year suspended sentence which wrapped up in December and imprison him instead.
They say he "systematically and repeatedly violated" the terms of his probation both whilst he was in Germany and on a number of occasions before.
If the court agrees, he could serve three-and-a-half-years in jail, minus a few months already spent under house arrest.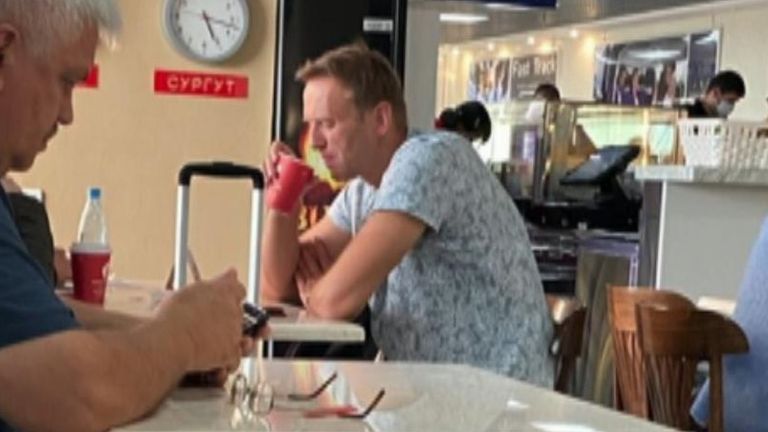 On top of that, Russia's investigative committee has opened a new criminal case accusing him of the supposed misallocation of crowd-sourced funds at his RBK anti-corruption foundation.
"If they really want to go after him, this would be the worst case scenario," says his lawyer Vadim Kobzev.
"Three-and-a-half-years and then 10 years on top of that which is the maximum he can get for this new criminal case."
He thinks a jail term of that length is unlikely. Recent cases against Mr Navalny have all resulted in suspended sentences, "but we're all trying to read the tea leaves here," Mr Kobzev says.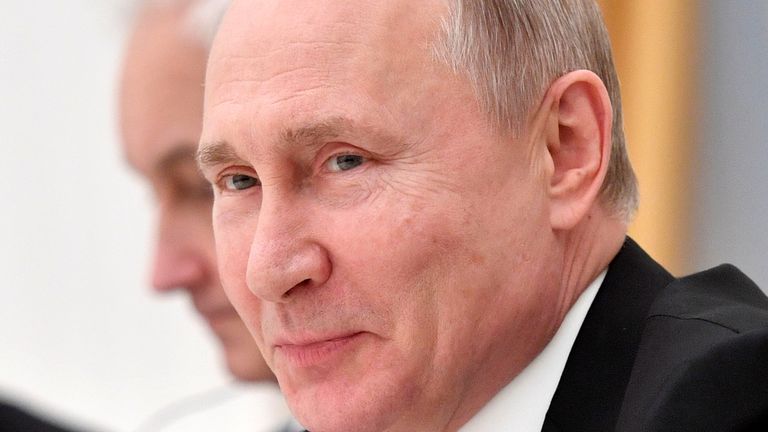 The authorities' most likely course of action – at least in the medium term – will be extended periods under house arrest with restrictions placed on, for example, his use of the internet.
Mr Navalny off-line is far less of a threat to Mr Putin's cronies than the anti-corruption investigations he posts to his YouTube channel. His team will endeavour to keep those going but it is not the same.
And suffice to say, despite the slew of investigations into Mr Navalny's own alleged wrong-doing, authorities have still refused to open any kind of inquiry into how exactly the symbol of Russia's democratic opposition ended up fighting for his life on a work trip to Siberia, with a deadly novichok nerve agent coursing through his veins.
:: Subscribe to Into The Grey Zone podcast on Apple Podcasts, Spotify, Spreaker
President Vladimir Putin's glib comment that the FSB would have finished the job if they had really wanted him dead is no substitute.
Nor, as Mr Navalny so convincingly proved in a telephone call with one of the FSB officers tasked with cleaning up the evidence of his poisoning, is it true.