COVID-19: Scotland's COVID restrictions tightened – here are the six new rules | UK News
Nicola Sturgeon has tightened COVID restrictions in Scotland, laying out six changes which will come into effect on Saturday.
Subject to approval by the Scottish parliament, the rules are:
• Click-and-collect services limited to essential shopping such as clothing, baby equipment and books
• Customers no longer allowed to collect takeaways from inside restaurants – food must be handed over through a hatch or doorway
• Now against the law to drink alcohol outside in public in all Level 4 areas
• Statutory guidance on working from home – anyone who worked from home during first lockdown should do so again
• Working within homes now limited to the essential upkeep, maintenance or functioning of the home, by law
• Scots may only leave home for essential purposes – and may not stay out for other purposes afterwards
It comes as new figures showed 7,074 people have died in Scotland with confirmed or suspected coronavirus since the pandemic began.
The Scottish first minister said: "Don't think in terms of the maximum interactions you can have without breaking the rules.
"Think instead about how you minimise your interactions to the bare essentials to remove as many opportunities as possible for the virus to spread.
"In everything you do, assume that the virus is there with you – that either you have it or any person you are in contact with has it – and act in a way that prevents it passing between you.
"All of this means staying at home except for genuinely essential purposes – including working from home whenever possible.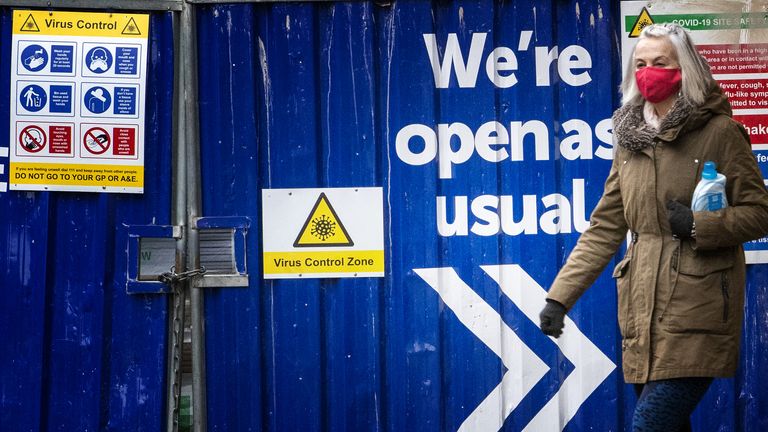 "Except for essential purposes, do not have people from other households in your house and do not go into theirs."
While the list of essential reasons for leaving home will not change, Ms Sturgeon said: "It does mean that if the police challenge you for being out of the house doing something that is not essential, it will not be a defence to say you initially left the house to do something that was essential."
Between 4 and 10 January, 384 deaths were registered which mentioned COVID-19 on the death certificate, up 197 on the previous week.
These figures differ from the lab-confirmed coronavirus deaths announced daily by the Scottish government because the National Records of Scotland figures include suspected or probable cases of coronavirus.
Ms Sturgeon said there are signs that the lockdown might be having an effect but that there was "no room for complacency".
Following the tightening of the click-and-collect services, Tracy Black, the director of CBI Scotland, said such services were "a lifeline to many businesses, particularly smaller firms" and that the new restrictions could cause some businesses to collapse.
"It's really important that the Scottish government sets out compelling evidence that these services are a source of transmission and provides additional, urgent support to compensate for what would be a further loss of revenue in increasingly challenging times," she said.
Scotland went into lockdown on 5 January with people only allowed to leave their homes for essential purposes.
All schools have moved to remote learning for the whole of January, except in the case of vulnerable children and those of key workers.
Sky's political correspondent Kate McCann said there are now "big questions about what might happen next in England".
"What we clearly are seeing is that Nicola Sturgeon feels that now is the right time to introduce some extra measures," she said.
"It's interesting that they are the very same things that have been discussed by the media in England this week, that they are things that are being talked about behind the scenes in Westminster, like the potential for changing the rules on click-and-collect, like stopping people from going inside to get a takeaway."
COVID-19: Medics call for emergency law to protect them from 'unlawful killing' cases | UK News
Medics are calling for emergency legislation to protect them from "inappropriate" legal action over COVID-19 treatment decisions made under pressure of the pandemic.
A group of health organisations has written to the government urging it to update the law to ensure medical workers do not feel "vulnerable to the risk of prosecution for unlawful killing" when treating COVID-19 patients "in circumstances beyond their control".
Hospitals in all NHS regions in England are already at, or near, the 92% bed capacity that NHS Improvement deems as being the safety threshold, and hospital admissions are rising in many areas.
The medics have argued there is no legal protection for COVID-related issues such as when there are "surges in demand for resources that temporarily exceed supply".
The letter is addressed to Health Secretary Matt Hancock and was co-ordinated by the Medical Protection Society (MPS), and signed by the British Medical Association, Doctors' Association UK, the Hospital Consultants and Specialists Association, the Royal College of Surgeons of Edinburgh, the British Association of Physicians of Indian Origin and Medical Defence Shield.
Prime Minister Boris Johnson warned this week there was a "very substantial" risk of hospital intensive care units being overwhelmed as more people are admitted than during the latest wave of coronavirus cases.
The medics' letter says Mr Johnson warned in November of a "medical and moral disaster" if the NHS was overwhelmed and "doctors and nurses could be forced to choose which patients to treat, who would live and who would die".
The health groups wrote: "With the chief medical officers now determining that there is a material risk of the NHS being overwhelmed within weeks, our members are worried that not only do they face being put in this position but also that they could subsequently be vulnerable to a criminal investigation by the police."
They said current guidance covering decisions on whether to administer or withdraw treatment "neither provides nor claims to provide legal protection".
"It also does not consider COVID-19-specific factors such as if and when there are surges in demand for resources that temporarily exceed supply," the letter adds.
"There is no national guidance, backed up by a clear statement of law, on when life sustaining treatment can be lawfully withheld or withdrawn from a patient in order for it to benefit a different patient, and if so under what conditions.
"The first concern of a doctor is their patients and providing the highest standard of care at all times.
"We do not believe it is right that healthcare professionals should suffer from the moral injury and long-term psychological damage that could result from having to make decisions on how limited resources are allocated, while at the same time being left vulnerable to the risk of prosecution for unlawful killing."
The groups acknowledged that no healthcare professional should be "above the law" and emergency legislation should only apply to decisions "made in good faith" and "in circumstances beyond their control and in compliance with relevant guidance".
They agreed the emergency law should be temporary and apply retrospectively from the start of the pandemic.
Many medics have been working outside their usual practice as hospitals struggle to cope with rising numbers of patients.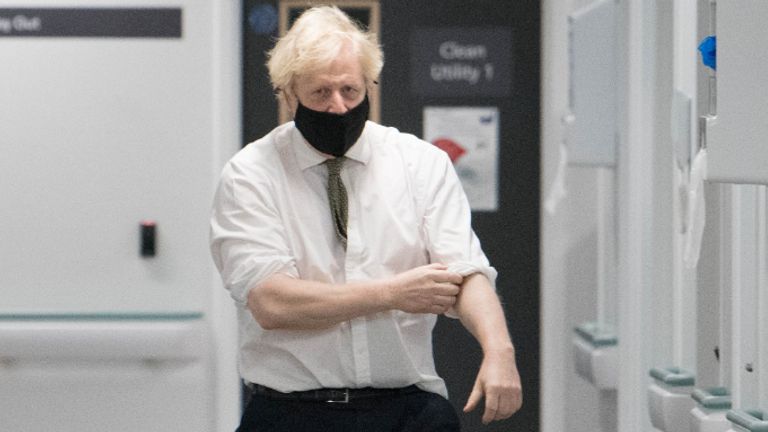 In November, the UK's four chief medical officers, the NHS, the General Medical Council (GMC) and medical royal colleges wrote to doctors saying regulators would "take into account" the environment doctors are working in, while "due consideration" would be given to difficult circumstances" they might face.
A survey of 2,420 MPS members between 8 and 12 January found 61% were concerned about facing an investigation as a result of a clinical decision made in a high pressured environment.
And 36% were specifically concerned about following a decision to "withdraw or withhold life prolonging treatment due to capacity and resource constraints during the pandemic".
A Department of Health and Social Care spokesman said: "Dedicated frontline NHS staff should be able to focus on treating patients and saving lives during the pandemic without fear of legal action.
"We have reassured NHS staff that existing indemnity arrangements will rightly continue to cover the vast majority of liabilities which may arise, and we have made specific arrangements so any member of staff not covered by existing indemnity schemes will be protected under the Coronavirus Act.
"Health and care professional regulators have issued a joint statement making clear any concerns raised will be considered in the context of the challenging circumstances staff are operating in."
Felicity-May Harvey: Family pay tribute to baby girl after murder arrest | UK News
The family of a two-week-old girl who died in hospital say she "melted the hearts of everyone who met her" after a man was arrested on suspicion of her murder.
Felicity-May Harvey, from Heywood, Greater Manchester, died in hospital on 11 January.
Three days earlier, medics at the hospital called police to report their concern for her.
A 24-year-old man was arrested on suspicion of murder and has since been released on bail pending further inquiries, Greater Manchester Police said.
In a tribute released on Saturday, the little girl's family said: "Our hearts are broken after losing our precious baby girl, Felicity-May.
"She was a gorgeous baby and always so alert, looking around with her big blue eyes.
"She was absolutely beautiful and incredibly brave and she melted the hearts of everyone who met her.
"What made her extra special was her cleft lip and palate and despite the challenges of this she was the most happy and content little girl.
"She was and always will be loved by her mum, sisters and family and there is a huge void in all our hearts and lives now that she has been taken from us.
"She was our special star, and it is not fair that she shone brightly for only a short time. When we look up at the sky, we will look through the clouds and know that the brightest star shining is our Felicity-May.
"Rest in peace baby girl. Sleep tight. Until we meet again, our precious angel."
Laurence Fox criticised after showing off mask exemption badge 'he bought online' | Ents & Arts News
Actor Laurence Fox has been criticised after posting a photo of himself wearing a mask exemption badge which he says he bought online.
The 42-year-old has been a vocal critic of the government's coronavirus face covering rulings and social distancing regulations.
Along with a selfie showing him wearing his new purchase, Fox wrote: "After a long period of consultation with myself, an extended review period and proper due diligence conducted with myself, I've received the badge that I ordered from Amazon. Thank you for being there for me."
After a long period of consultation with myself, an extended review period and proper due diligence conducted with myself, I've received the badge that I ordered from Amazon. Thank you for being there for me. #anxiety pic.twitter.com/D3bp3M7kY9

— Laurence Fox (@LozzaFox) January 15, 2021
The blue and yellow laminated badge, worn on a green lanyard, reads: "I am exempt from wearing a face covering".
Smaller print below also reads: "Be kind. Keep your distance. Thank you for understanding".
Fox signed off his post with the hashtag "anxiety".
A pack of two similar badges with two lanyards costs around £7.99 on Amazon.
Some social media users questioned his decision as Fox did not say whether he had bought the badge due to a medical condition.
One person wrote: "Not sure at all why you (are) taking this stance Laurence but I think it's disappointing.
"Let's all get with the programme and not undermine the best efforts of the (government) and our people for doing the right thing. Try sending the right message out."
However others backed up Fox's stance, pointing out that face coverings do not have to be worn by everyone.
Face masks must be worn in the majority of indoor settings and on public transport, unless you are exempt or have a reasonable excuse.
Those who are exempt from wearing a face covering include children under 11, those with a physical or mental impairment which stops them from using a mask and those who need to communicate with someone who relies on lip reading.
People not wearing a mask do not need to show any form of evidence by law, but the government says they may "feel more comfortable" showing proof exemption. It also says a home-made sign is an acceptable exemption card.
:: Subscribe to the Backstage podcast on Apple Podcasts, Google Podcasts, Spotify, Spreaker
Earlier this month, Fox criticised the government for shutting schools, and in November he ignored lockdown rules by throwing a dinner party.
The controversial actor has recently entered the world of politics himself, launching the Reclaim political party late last year after raising large sums from ex-Tory donors.
He says the party will "fight the culture wars" and "reclaim" British values.
Fox is the ex-husband of actress Billie Piper, and the son of actor James Fox and part of the Fox acting dynasty along with his brother, Jack, and cousins, Emilia and Freddie.