COVID-19: Number of businesses currently trading lowest since June as lockdowns bite | Business News
The proportion of UK businesses currently trading has fallen to 71%, its lowest level since the end of the first lockdown, new figures show.
Office for National Statistics (ONS) data covering 29 December to 10 January showed the figure has fallen from 84% just before Christmas as new COVID restrictions took effect.
The figure had been at more than 80% since the end of the summer after many businesses reopened, apart from a dip to 77% in November's month-long lockdown.
"This decrease in the percentage of businesses currently trading is likely because of changes in coronavirus restrictions over the reference period," the ONS said.
It was last lower than its current level in June, the month when non-essential retailers were allowed to reopen their doors after the initial coronavirus restrictions were eased.
The latest figures showed that 27% of firms had "temporarily closed or paused trading" while 2% had closed permanently.
They showed hotel, restaurants and pubs were the worst hit, with just 37% of firms in that sector operating at the start of this year, even lower than in June when the data series began.
A third of businesses within accommodation and food and other services – including hair and beauty operators – had little or no confidence they would survive the next three months, the ONS said, echoing earlier findings.
Estate agents and education businesses were the least likely to have stopped trading.
The figures also showed that the proportion of employers' workforces on furlough leave had climbed from 11% to 14% over the Christmas period.
In addition, businesses have had to contend with trade disruption at ports, which intensified last month when France imposed a ban on travel from the UK.
Figures for 14-27 December showed that 25% of firms involved in overseas trade had reported that the border disruption had affected their ability to import goods or services, while 18% said it had affected exports.
The ONS data comes as Britain faces the prospect of a double-dip recession with experts predicting lockdowns are likely to have pulled the economy into reverse over the last three months of 2020 and the first quarter of this year.
Monthly GDP figures due on Friday are expected to show it shrank by 5.7% in November.
Britain suffered its worst recession on record earlier in the year as the first COVID-19 lockdown crushed economic activity.
An official forecast in November suggested GDP fell by more than 11% over the year as a whole, which would make it the biggest annual collapse in three centuries.
Chancellor Rishi Sunak has extended furlough measures – subsidising wages for temporarily laid-off workers – into the spring and announced billions more pounds worth of grants to help the hardest hit firms but there have been calls for the government to do more.
Nissan blames COVID for Sunderland production line disruption | Business News
Nissan says it is to "pause" a production line at its Sunderland plant on Friday because of coronavirus disruption.
The Japanese carmaker said delays to the shipping of parts from its European and global supply chain meant it would not produce Qashqai or electric Leaf models.
It affects one of two production lines operated at the factory.
A spokesman said: "Production on Line One at the plant has been paused due to supply chain disruption caused by the COVID-19 pandemic.
"We anticipate that production will resume on Monday next week."
It is not the only carmaker, let alone firm operating in the UK, to report supply chain disruption over the past few months.
Honda has blamed "global supply delays" for several shutdowns at its Swindon plant in the run-up to, and after, Christmas.
The government has denied that recent delays at UK ports this year have had a Brexit link despite hauliers, fishermen and meat suppliers being among firms complaining of additional red tape over exports to both the EU and Northern Ireland since the end of the transition period on 1 January.
Nissan was also among the most vocal in warning that any tariffs arising from the UK's vote to leave the EU would place Sunderland's future competitiveness in jeopardy.
Global shipping has been hit by the pandemic, with containers and goods stuck in the wrong ports.
Stocks of government PPE (personal protection equipment) purchases were blamed for a perfect storm of congestion at Felixstowe in the run-up to Christmas as they coincided with the Christmas rush and pre-Brexit stockpiling.
Next ditches TopShop offer amid bidding frenzy for high street titan | Business News
Next has pulled out of the bidding for TopShop as the auction of Sir Philip Green's former high street empire enters its closing stages.
Sky News has learnt that a consortium comprising Next and Davidson Kempner Capital Management, a US investment firm, have withdrawn from a process being run by Arcadia Group's administrator.
The surprise move comes days after Next and a handful of rivals tabled final offers for TopShop, with a separate process being run for other Arcadia brands such as Burton and Dorothy Perkins.
In a statement issued to Sky News on Thursday evening, a Next spokesman said: "Next plc announces that it has withdrawn from the process to acquire any, or all, of the Arcadia Group from the administrator, as our consortium has been unable to meet the price expectations of the vendor.
"Next was bidding as part of a joint venture with Davidson Kempner.
"Next wishes the administrator and future owners well in their endeavours to preserve an important part of the UK retail sector."
The withdrawal of Next may clear the way for Shein, a Chinese online fashion retailer, to buy one of the best-known brands on the high street.
Shein is said to have tabled an offer worth well over £300m for TopShop and TopMan.
Other bidders include Boohoo, Asos and Authentic Brands Group, which is working with JD Sports Fashion.
Up to 13,000 jobs are at risk from Arcadia's collapse.
The demise of Sir Philip's empire follows the failure of retailers such as Cath Kidston, Oasis and Warehouse and Debenhams as the coronavirus crisis has exacerbated the financial pain being experienced across the British high street.
It is Arcadia's appointment of administrators that is likely to emerge as the most enduring symbol of the pandemic's impact on the economy.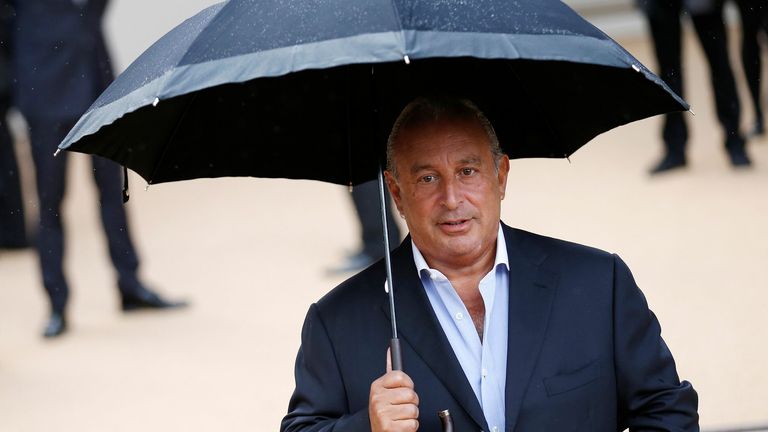 Sir Philip bought the high street group in 2002 for £850m, and just three years later paid what remains one of the largest-ever dividends – £1.2bn – to Arcadia's registered owner, Lady Christina.
For years, he was feted as a high street colossus, advising David Cameron on public sector waste during his period as prime minister.
In 2012, he sold a 25% stake in TopShop's immediate holding company to Leonard Green & Partners, a private equity firm, valuing the fashion chain at £2bn.
Sir Philip was later to buy it back for just $1.
COVID-battered Cineworld faces blockbuster revolt over bosses' pay | Business News
Cineworld is facing a furious investor backlash next week over plans to hand its top executives more than £30m in share awards despite it receiving taxpayer funding to help it survive the pandemic.
Sky News has learnt that three major advisory groups are recommending that the cinema operators' shareholders vote against the adoption of a new remuneration policy and the bumper share awards at a specially convened meeting on Monday.
The EGM could turn into one of the biggest confrontations over boardroom pay of 2021 to date, following closely behind a big revolt at the high street retailer WH Smith.
Institutional Shareholder Services (ISS), Glass Lewis and the Investment Association's IVIS service have all highlighted concerns about Cineworld's proposals, which involve big new long-term incentive awards to chief executive Moshe Greidinger and his deputy, Israel Greidinger.
"The new LTIP raises significant concerns on multiple fronts, with the main issues being the quantum of the awards and vesting being subject only to share price performance," ISS said in a report to clients.
"It is also a matter of exceptionally poor practice in the UK market that awards would automatically vest upon a change of control.
"Based on the currently issued share capital, the CEO and Deputy CEO's estimated awards are c. 17.2 million nil-cost options each (1.25% of the issued ordinary share capital).
"Using a share price of GBP 1.90, the maximum target, would therefore imply a face value of c. GBP 33 million (excluding the impact of any potential dividends), with any additional appreciation pushing the valuation further upwards."
Cineworld's shares have plummeted during the coronavirus crisis, with its sites in the UK and US closed since October.
A source close to Cineworld insisted that the targets set in relation to the LTIP payouts were "stretching", adding that the Greidingers would "only receive 100% of the overall bonus if the share price trebles from its current level".
A Cineworld spokesman declined to comment.