COVID-19: Number 10 contradicts Home Secretary Priti Patel over lockdown rules on exercise | Politics News
Downing Street has contradicted Home Secretary Priti Patel after she claimed people in England should only exercise alone during the current national lockdown.
In a TV interview Ms Patel said people in England should be "exercising on your own" as she tried to provide "clarity" on COVID restrictions.
Live COVID updates from UK and around the world
"The clarity is exercising on your own and not socialising," the home secretary told ITV's This Morning, when asked if the coronavirus rules were clear.
She added: "The point to make about any exercise – yes, it should be local, people exercise differently.
"But exercise on your own and don't use it for a social meeting.
"There's a fundamental difference there, because the point about the spread of the virus is that it spreads people to people.
"Cycling is fine, because you are on your own, you should not be cycling with other cyclists.
"Running, exactly in the same way because you are on your own, walking on your own and keeping distance away from people and not going out to socialise. That is absolutely clear."
However, the government guidance on the current lockdown states that people in England can exercise outdoors once per day in a local public place.
This is either by themselves, or with the people they live with, with their support bubble, with their childcare bubble where providing childcare, or – when on their own – with one person from another household.
The guidance adds: "This includes but is not limited to running, cycling, walking, and swimming.
"Personal training can continue if participants are from the same household or support bubble.
"It can also continue if it is one on one, although this should only take place in a public outdoor place, and not in someone's private home or garden."
Subscribe to the Daily podcast on Apple Podcasts, Google Podcasts, Spotify, Spreaker
Asked about Ms Patel's comments, Prime Minister Boris Johnson's official spokesman said: "We've been clear that if people exercise they can do so with one other person from another household but we're asking them to socially distance while they're doing that."
In her TV interview, Ms Patel also defended Mr Johnson after he was recently spotted cycling seven miles from Downing Street.
Asked what was considered "local" under the COVID rules, Ms Patel said: "If you're in a London borough then, clearly, London boroughs are big places in terms of cycling and walking."
When it was highlighted Mr Johnson had left his own London borough, the home secretary added: "London is a big geography in terms of cycling – five miles, 10 miles, many people cycle big distances and that's normal to them."
Sidelined Dr Fauci admits life as Trump's medical adviser was 'uncomfortable' | US News
Chief immunologist Dr Anthony Fauci has returned to the White House under the new administration – and admitted it feels better than the old days.
After former president Donald Trump continually contradicted and sidelined him, President Joe Biden has placed the infectious diseases expert firmly front and centre of his new COVID strategy – and asked him to address the World Health Organisation on its details.
And at his first press conference under the 46th president today, Dr Fauci admitted life under the new regime was "liberating".
He told the gathered press at the White House that it had been difficult to stand besides former president Donald Trump and hear him talking publicly about when he contracted coronavirus and took hydroxychloroquine – a drug experts had warned could be dangerous.
On another occasion Mr Trump suggested drinking disinfectant might be a suitable treatment.
He made what appeared to be a couple of veiled jokes at the start of the press conference alluding to the fact that he preferred life under the new president to the old days – and one American journalist couldn't resist asking him to elaborate.
Hesitantly, he asked Dr Fauci if he could explain the "difference" between the two experiences and to clarify what he had been joking about.
But Dr Fauci laughed: "You say they were jokes – they weren't. I was serious!"
He went on: "It's very clear that there were things that were said – be it regarding hydroxychloroquine and other things like that – that was uncomfortable because they were not based on scientific fact.
"I take no pleasure at all of being in a situation of contradicting the president. It was really something you didn't feel you could actually say something and there wouldn't be repercussions.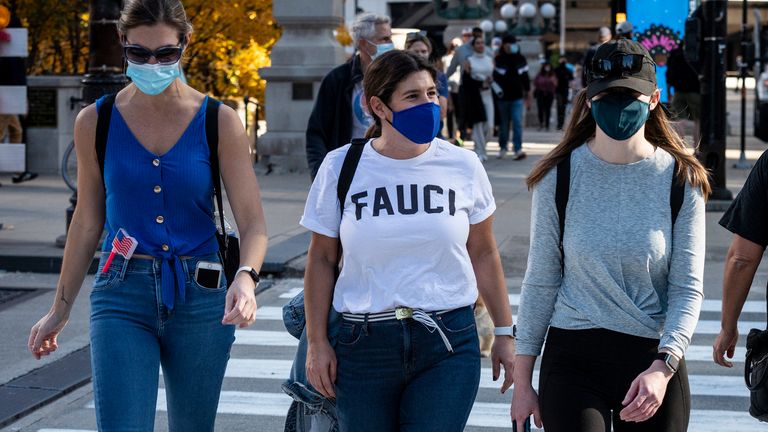 "The idea that you can get up here and talk about what you know, what the evidence, what the science is, and know that's it, let the science speak…it is somewhat of a liberating feeling."
President Biden has outlined a series of executive actions to combat the disease as the US braces for its death toll to reach 500,000 lives lost.
One of his new rules, is the requirement to wear a mask and social distance in all federal buildings, on federal lands and by federal employees and contractors.
All White House staff were wearing masks today.
COVID-19: The nightmare of one father as coronavirus hit his family | UK News
Imagine being told to prepare for the worst: your pregnant partner and the unborn baby inside her, are unlikely to survive. 
That is exactly what Tommy Larkins was told.
The young father rushed his wife Elsa to Kingston Hospital just after Christmas.
She was critically ill with COVID-19.
Elsa is just 34 years old. She has no underlying health issues – but she was heavily pregnant.
"It was a life-threatening situation for her and our unborn baby.
"It was terrifying, the most terrifying thing I've been through", Tommy tells me. "To potentially lose the pair of them on the same night was terrible.
"I'd never wish it on anybody else."
Once in hospital, Elsa's health deteriorated quickly. She was moved to one of the hospital's two intensive care units.
Here she was put into a coma and intubated and Tommy was told to prepare for the worst.
"She was really sick. I'd been told to say my last goodbye to my other half – and to my unborn baby as well. Your world comes crashing down," he said.
These painful, difficult, heart-breaking conversations are happening all the time.
Rene Coles, a 74-year-old grandmother, has spent a week on one of Kingston Hospital's high dependency wards.
She coughs heavily into the oxygen mask strapped to her face before telling me she has been to hell – and she is not sure she is back.
"I thought I was dead," Rene says. "I've never felt like that in my life.
"For these nurses to get me through it, and the doctors, I cannot believe what they did to me.
"I'm 76 and I have COPD and I still got through – they are marvellous people."
But at one stage it was feared Rene might not make it.
"My daughter was asked to come up the hospital to say goodbye to me with my son because I might be dying," she said.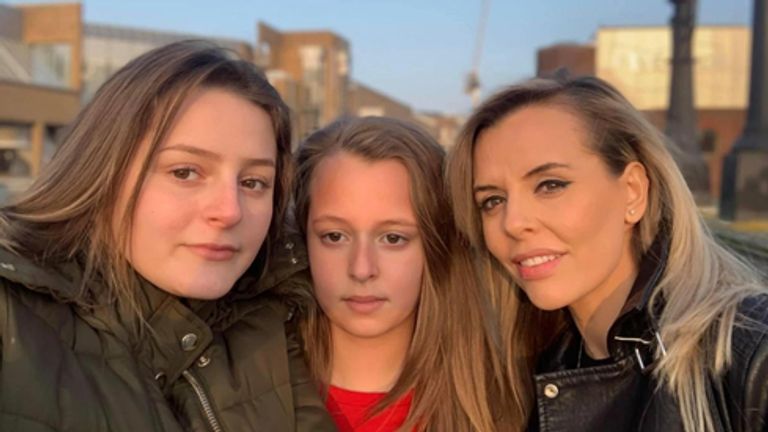 Tommy had the same devastating conversation with the rest of his his family. He broke the news to his young daughters Melisa and Alba.
He told the girls: "Mummy's on a knife edge. I'm sure she is going to be okay, but she's on a knife edge. We all need to hope."
Gags Sekhon, an ICU nurse, was one of the critical care nurses who cared for Elsa.
He said: "Thankfully, we have not seen many pregnant women, but Elsa was particularly sick when she came in.
"She was struggling to breathe. I think the difficulty with that was because she was heavily pregnant.
"The big bump she had was pushing on her lungs. As COVID had infected her lungs she was finding it difficult to breathe anyway and then with the added pressure of baby squeezing on the bottom of her lungs it was making it even more difficult.
"So she did require quite a lot of support all the time she was here."
On 5 January the decision was taken to deliver Elsa and Tommy's baby by emergency C-section: a full two months before the baby was due.
The operation could save Elsa's life but it carried a huge risk.
Tommy said he was "absolutely petrified".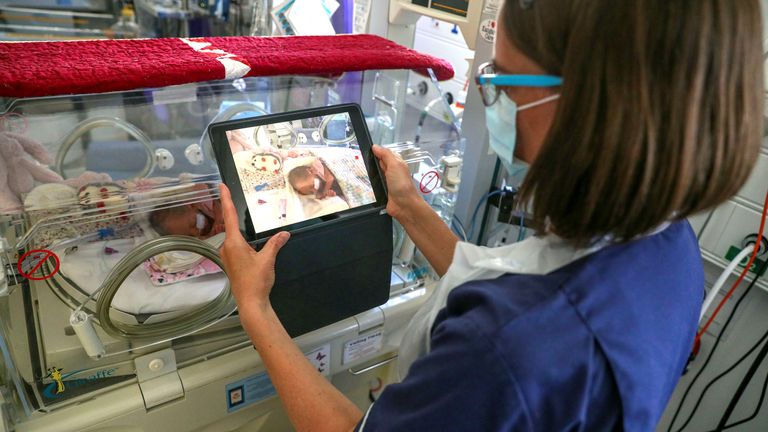 "The baby was due the second week in March. To have an emergency C-section, and a baby potentially born with COVID – it was awful.
"It was all very dark. A horrible place to be in."
The operation to deliver the baby was successful.
Elsa and Tommy's daughter weighs just 1.4kg and needed life support in those first critical few weeks of her birth.
Tommy was allowed to visit his daughter in hospital on compassionate grounds for the first time yesterday but Elsa is still COVID positive and has yet to meet her beautiful, tiny, fragile daughter.
It could be weeks before all three are together.
Tommy said the first few hours were the most difficult. " It was day-by-day, hour-by-hour. She had ups and downs.
"She's tiny and is still tiny. Basically a ventilator the same size as her body attached to her. And seeing her like that is heart-breaking.
"When doctors and clinicians tell you it could be the worse, you could lose everything here, to worry about the kids, to worry about everything, home life, work, everything we had planned, to lose all of that in one fell swoop for everything to be cut short was really difficult.
"To come through and to see that light at the tunnel, it was amazing.
"We still have little way to go.
"Hopefully we will keep pushing forward and she'll keep fighting."
The pandemic baby who survived against all odds has a name.
She's called Florence – a tribute to the nurses and doctors who saved her and her mother's life.
COVID-19: London and East of England lag behind rest of nation in vaccinations, figures show | UK News
The East of England has recorded the biggest jump in first vaccinations for the over-80s – although it joins London in continuing to lag behind the rest of the nation.
New data released by NHS England for the week ending 17 January showed the East of England saw the number of first doses administered rise by 45%, the biggest among the regions compared to the preceding seven days.
The increase in coronavirus vaccination rate will be welcomed as it has one of the lowest proportions of its 80+ population inoculated against COVID-19 since 8 December, at only 53% – with London on just 50%.
The North East and Yorkshire showed the smallest rise in the number of over-80s being vaccinated over the week, but has still vaccinated the largest proportion of that age group in the region since the start of the programme's rollout – at 67%.
It comes as it was reported that the North East and Yorkshire would have its vaccine supply cut next week to ensure other regions catch up with the vaccination programme.
Health Secretary Matt Hancock told the Commons that vaccine supply must be fairly distributed across the country when questioned about the Health Service Journal (HSJ) report on Thursday.
"We have got to make sure that the vaccination programme is fair right across the UK, and some parts of the country, including parts of the North East and parts of Yorkshire, have gone really fast early on which is terrific," he said.
"And we do have to make sure that the vaccination programme is fair everywhere so that everyone in the top four groups can receive that offer of a vaccine by the February 15."
However, the situation remains the same in the capital even a week after its Mayor Sadiq Khan called on the government to increase the supply of vaccines to the city.
Meanwhile, it emerged that a total of 363,508 first coronavirus vaccinations were administered on Wednesday, the highest daily figure to date.
But although almost five million people across the UK have now received a first jab, the latest figures show an average of 401,070 would need to be administered each day in order to meet the government's target of 15 million initial doses by 15 February.
NHS England has also released provisional figures showing the number of administered first doses by the nation's 42 STPs (sustainability and transformational partnerships) – which are each comprised of local authorities, NHS trusts and clinical commissioning groups.
Data suggests that Gloucestershire STP has given 85.3 first doses per 100 people aged 80 and over, the highest figure for any sub-regional area of England.
Gloucestershire STP had the highest proportion of people aged 80 and over who had received their first jab, followed by Northamptonshire (78.2%) and Hereford & Worcestershire (76.2%).
The STPs with the lowest proportions were Suffolk & North East Essex (36%) and Nottingham & Nottinghamshire Health and Care (43.2%).