COVID-19: LA approaching 'devastating tipping point' as California imposes new lockdowns | US News
New lockdowns have been ordered in America's most populous state in the face of what its governor has called the "final surge" of COVID-19.
Gavin Newsom announced new modified stay-at-home orders for 40 million residents of California after a dramatic rise in coronavirus case numbers.
The orders kick-in when a region's hospitals has fewer than 15% of its ICU beds available.
It extends an order already in place in Los Angeles where the mayor Eric Garcetti has warned the city is approaching a "devastating tipping point" after a record-breaking surge of cases this week.
Leaders have urged the public to abide by new restrictions in the hope of suppressing new infections before the anticipated arrival of widespread vaccination.
In March, early lockdowns in California were credited with the state avoiding the fate of places like New York.
The new rules are less restrictive and full of exemptions and there is evidence that a weariness with lockdowns is affecting compliance.
At the weekly farmers' market in Santa Monica, the number of shoppers is limited but there is still the feel of bustle in the warmth of a southern California winter morning.
The new rules have received a cool reception from farmers.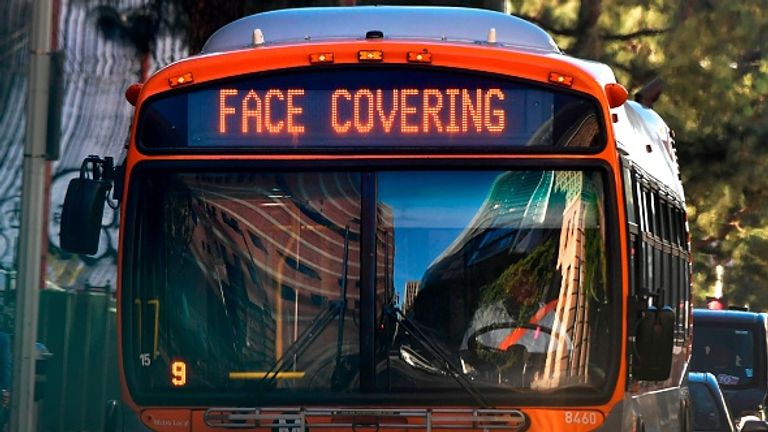 "I don't think it is justified," Greg Nauta said. "Step back, in a space shuttle and look down on the Earth and see what's happening. They're destroying the economy."
The sentiment of shoppers could not have been different. "Just wear the freaking mask," one said.
But 30 miles to the south, in Long Beach, hundreds of people marched in protest at the impact of new lockdowns on businesses, in particular a new ban on outdoor dining.
Among the marchers, with an American flag over her shoulder, restaurant owner Jennifer Mlouk said: "We've all spent thousands and thousands of dollars to be compliant and then to be shut down in this way.
"It's not just about the owners, my husband and I have 30 employees we've had to let go for the second time in eight months."
But there is equal frustration among public health officials at the risks of people not complying.
Anne Rimoin, a renowned virus hunter and professor of epidemiology at the University of California Los Angeles, said: "History, when they talk about the pandemic, they're going to write about this moment when we lost so many lives when we didn't need to, when this virus just spiralled out of control, and that's what's happening."
The Centres for Disease Control has warned that the next few months will be the grimmest public health crisis the US has ever faced.
But the public could be forgiven for struggling with some mixed messages.
More than 500 people who had booked COVID tests at a pop-up centre in Los Angeles were later told it would be closed so a movie could be filmed nearby.
The closure was later reversed but it caused unnecessary confusion on the very day the city recorded its highest number of new cases.
British Virgin Islands: Inquiry into claims of corruption and political interference – all with the public purse | World News
Claims of widespread corruption and fraud involving millions of pounds of public money are being investigated on the British Virgin Islands.
The governor of the islands, a British territory, has ordered an independent inquiry into the allegations and is supported by both the prime minister and the foreign secretary.
One of the claims is that $40m (£29m) set aside for struggling families during the COVID pandemic might have been channelled to political allies.
Announcing the Commission of Inquiry, Governor August Jaspert said there were "wide concerns over the possible mismanagement of some public projects".
He said successive audit reports had set out practices of "political interference, inflated pricing and conflicts of interest" and added: "These may have cost the public purse millions of dollars in recent years, with no sign of improvement.
"In the past months, the community has had many open and honest conversations about this. For the first time, many have felt confident to raise their voice. This is an important conversation for us to have, albeit difficult as those who speak up are too often silenced."
In a written statement to parliament, Foreign Secretary Dominic Raab said: "The UK is extremely concerned about the state of good governance in the British Virgin Islands.
"A consistent and deeply troubling array of concerns have been put to the governor by local institutions and the community.
"Successive attempts have been made to address these concerns through local institutions, many of which have done commendable work to bring them to light.
"However, the scope and seriousness of the concerns are now beyond local capacity to address."
It is the first inquiry of its kind in more than 10 years – the last took place in 2008 to investigate corruption on Turks and Caicos.
It was felt that the British Virgin Islands themselves lack the ability to investigate allegations of this breadth, scope and seriousness.
Among the claims are ones of political interference in appointments and the criminal justice system – and the misuse of public money on infrastructure and transport projects including $7m (£5m) to an airline that did not exist and more than a million dollars spent on a school fence.
There have also been claims of intimidation towards people in the media and community leadership.
In November 2020, two tonnes of cocaine with a street value of almost £190m was seized, underlining the extent of criminal behaviour on BVI.
The inquiry is set to formally begin in the coming days and is expected last at least six months.
It will be led by the Right Honourable Lord Justice Gary Hickinbottom, an experienced High Court judge.
He will have the power to seize evidence and force witnesses to give evidence.
COVID-19: 4 million jabs delivered but Boris Johnson warns there will be no 'open sesame' of lockdown easing | Politics News
Four million people have now received a coronavirus jab, the prime minister has revealed, as he warned the public there will be no "open sesame" of lockdown easing.
Speaking during a visit to the manufacturing facility for the Oxford/AstraZeneca vaccine, Boris Johnson said the UK was rolling out COVID-19 vaccines "as fast as we can".
Live COVID news from UK and around the world
"I think we've done more than half of the over-80s, half of the people in care homes, the elderly residents of care homes," he said.
According to the latest figures from Public Health England, a total of 4,062,501 people in the UK have received the first dose of a vaccine.
Those over the age of 70 and any adult classed as being clinically extremely vulnerable will, from today, also start being offered a jab.
And Vaccines Minister Nadhim Zahawi told Sky News earlier that 24-hour vaccination sites will be piloted in London before the end of the month.
Asked about when restrictions could begin to be relaxed, the prime minister said it would be a gradual process and would depend on successfully rolling out the vaccine and no new concerning variants of the virus emerging.
"I understand completely that people want to get back to normal as fast as we possibly can. It does depend on things going well," Mr Johnson stressed.
"It depends on the vaccination programme going well, it depends on there being no new variants that throw our plans out and we have to mitigate against, and it depends on everybody, all of us, remembering that we're not out of the woods yet."
The prime minister said the government would be able to "take stock of what we've achieved" in the middle of next month – the deadline set to offer a first dose of the vaccine to the most vulnerable.
"That's the time to look at where the virus is, the extent of the infection and the success that we've had," said Mr Johnson.
"It's only really then that we can talk about the way ahead and what steps we can take to relax.
"I'm afraid I've got to warn people it will be gradual, you can't just open up in a great open sesame, in a great bang, because I'm afraid the situation is still pretty precarious."
Mr Johnson again maintained that things would look "very different" by spring.
He said: "That doesn't mean we are not going to be living with the consequences of the arrival of the coronavirus pandemic for a while to come – the economic consequences and the threat to our health as well.
"We have to remain vigilant about this for a long time."
US Capitol Complex put in lockdown due to 'external security threat' | US News
The US Capitol Complex has been put in lockdown with no entry or exit due to an "external security threat".
US Capitol Police issued a warning to all buildings within the complex.
A notice sent to House and Senate offices read:  "All buildings within the Capitol Complex: Due to an external security threat located under the bridge on I-295 at First and F Streets SE, no entry or exit is permitted at this time.
"You may move throughout the buildings but stay away from exterior windows and doors.
"If you are outside, seek cover."
The Capitol Complex on the National Mall in Washington DC, is a group of 20 buildings and offices surrounding the Capitol building itself, that are used by the federal government and its departments.