COVID-19: 'I'm 38 and I can't walk unaided' – Young medics describe 'horrendous' effects of long COVID | UK News
Young frontline health workers who are living with long COVID have described the debilitating and life-changing effects of the condition.
They have shared their experiences with MPs in a bid to increase support for sufferers and to warn those who think they are "invincible" and won't be severely impacted by COVID-19.
Painful palpitations, chronic diarrhoea, brain fog and only being able to walk very short distances are just some of the symptoms described by three people in their 30s.
Long COVID is used to describe the effects of coronavirus that continue for weeks or months beyond the initial illness.
Speaking at the All-Party Parliamentary Group on Coronavirus, Dr Nathalie MacDermott, 38, said neurologists believe COVID has damaged her spinal cord.
She can only walk about 200 metres unaided, has suffered damage to her bladder and bowel, she gets pain in her arms and has weakness in her grip.
Dr MacDermott, a clinical doctor sub-specialising in paediatric infectious diseases in the NHS, said: "I'm 38 and I wonder if I'll ever be able to walk properly without crutches again. Will this continue to get worse? Will I end up in a wheelchair?"
She told MPs there needs to be "better recognition" from employers that long COVID is a "genuine condition" and that people may need to be off work for a significant period.
She added: "And I think we need better recognition in the public, particularly the younger public who think that they're invincible."
Dr Linn Jarte, a 33-year-old anaesthetist, said even just taking a couple of steps would make her feel "absolutely horrendous", at the start of her experience with the condition, and that she suffers from pins and needles.
"I felt as if my whole body was just filled with lead, but at the same time I had this sort of painful burning situation, and it also made my heart rate just shoot through the roof."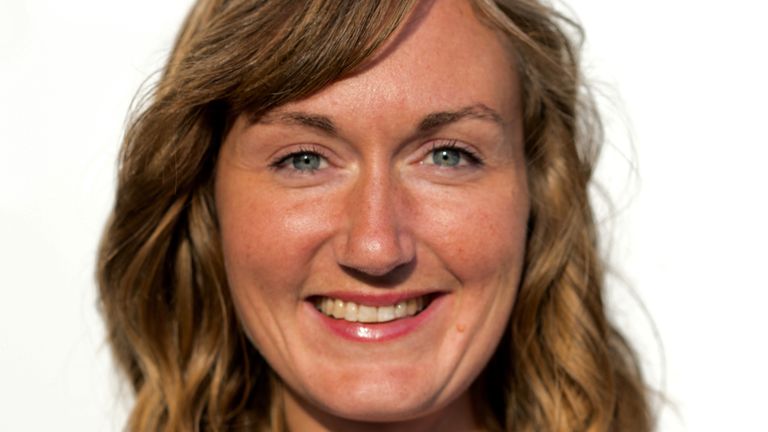 Dr Jarte said she has such bad brain fog it "fills" her brain leaving her unable to think.
She said she could not tolerate stimulation, with even soft music being too much for her.
"I spent a lot of time during those first few months when I was the sickest just sort of staring into thin air," she said.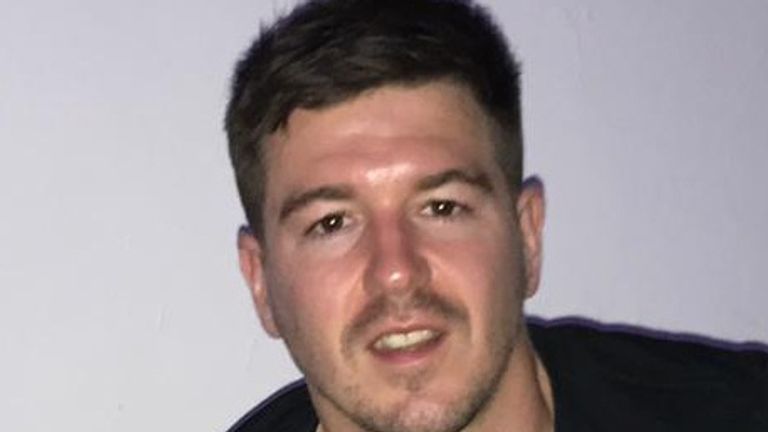 Geraint Jones, 30, an advanced pharmacist specialising in HIV and homecare, described "crying on the floor" of his living room after medics were unable to figure out what was wrong with him.
He told MPs that he suffered from chronic diarrhoea and abdominal pain for seven or eight hours per day at one point – a symptom which went on for 14 or 15 weeks.
This continues to be an ongoing issue and he has also been left with brain fog where he is unable to recall the most basic of words or phrases.
He said he also has tinnitus in one ear and painful palpitations.
Medics have been unable to determine the cause of his multiple and ongoing symptoms.
The work lives of all three long COVID sufferers have been impacted, with Dr MacDermott telling MPs she does not know how she will return to clinical work.
"There will need to be quite significant modifications in place for me to be able to be on the wards," she said.
Dr Jarte said she has been unable to work at all since she became ill, due to physically not being able to and the brain fog.
While, Mr Jones said he worked from home from July to September "just out of stubbornness" and a desire to keep going.
But he added: "I woke up one morning in September and I just thought, 'How long can I live like this? How long can I sustain this for?'"
Danny Altmann, professor of immunology at Imperial College London, told MPs Britain probably has more than 300,000 cases of long COVID.
He said it is a case of "Russian roulette" because people do not know whether they are going to be one of the people who is better in two weeks, or one of the people who is going to be on crutches or in a wheelchair "for months or years or forever".
Prof Altmann said: "How many of us want to take that risk?"
COVID-19: Scientists cast doubt over claim UK variant is more deadly | UK News
Scientists have cast doubt over claims the COVID-19 variant first identified in the UK is more deadly than the original virus.
Prime Minister Boris Johnson told the British public on Friday there was "some evidence that the new variant may be associated with a higher degree of mortality".
Early evidence suggested the variant could be about 30% more deadly, the government's chief scientific adviser Sir Patrick Vallance said, alongside Mr Johnson.
Live COVID-19 updates from the UK and around the world
It followed a report by the government's New and Emerging Respiratory Virus Threats Advisory Group (NERVTAG), which concluded there is "a realistic possibility" that the new variant "is associated with an increased risk of death".
But the report warned there were "limitations" in the data "that it may not be possible to resolve".
Dr Mike Tildesley, who advises the government's Scientific Advisory Group for Emergencies (SAGE), said it was "possibly a little bit presumptuous" of the prime minister to present the findings "in the very early stages".
As more data is collected over the next two weeks, it is possible that the variant may prove to be less deadly than the original virus, he added.
Dr Tildesley told Sky News: "It's somewhat unclear that this 30% is really reflective of what we are seeing.
"I would certainly approach this is with an element of caution at the moment."
He added: "[The data] could continue to reflect what we are seeing already, that it's more transmissible and more deadly, but it's possible as we get more data that it could go the other way."
Dr Tildesley suggested the government may have decided to present the early data to encourage people to follow the COVID restrictions.
The UK recorded another 1,348 coronavirus deaths on Saturday, taking the total to more than 97,000.
"We are seeing our hospitals still under severe pressure," Dr Tildesley added.
"We are seeing sadly record number of deaths in the last week per day which is really worrying.
"Maybe it serves as a reminder to all of us that we need to keep adhering to the rules.
"Even if the data are a little bit uncertain right now, that might be one good reason to report on this a little bit earlier – as a reminder to people that we still need to batten down the hatches and do what we have been doing."
At a Downing Street news conference on Friday, Sir Patrick said with the initial variant, 10 out of 1,000 people over the age of 60 who were infected would be expected to die.
With the UK variant, the available data suggests that 13 or 14 people out of 1,000 from the same age group would die, he added.
Professor Calum Semple, a member of SAGE and NERVTAG, said it was a "small but important change".
"The headline figure of 30% is dramatic but it's not particularly helpful because the actual risk of death for any individual is actually quite small," he told Sky News.
"If you are a person in your 80s and you've got multiple underlying problems, then yes the risk is much higher.
"If you're a 20-year-old, the risk is infinitesimally small to start with so you won't notice an increase in risk."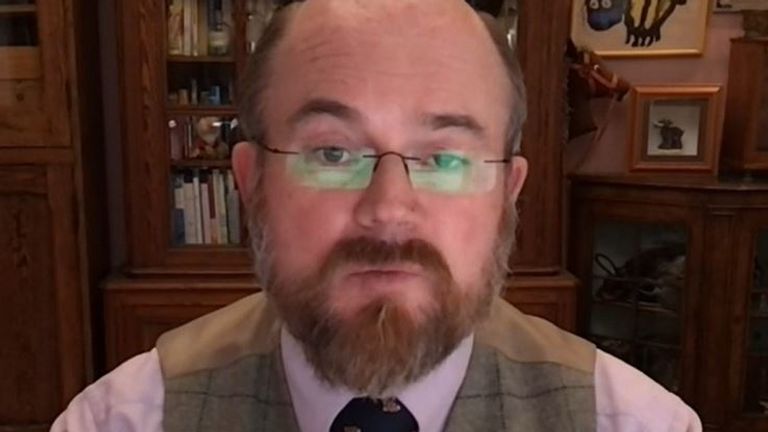 Prof Semple defended the government's decision to present the mortality data, saying ministers would have been accused of a cover-up had they not revealed the findings to the public.
"I think it's really good that science and policy are on the same page in being transparent, sharing data early, and making people aware of the situation," he said.
"And perhaps if that's been used to reinforce the importance of getting vaccinated and importance of self-isolating if you feel unwell, and not breaching regulations, then that's a good use of the data.
"From my position, the data is early. We cannot be completely confident in it. In fact, we've said in the reports that we have low confidence in it.
"But we would be criticised far more if we didn't share this information and three weeks later we say; 'Oh by the way, this is happening and we knew about it three weeks ago but didn't tell you'."
The co-author of the NERVTAG report, Professor Graham Medle, said it clear the new variant is more transmissible than the original.
However, he acknowledged that it remains an "open question" whether it is more likely to lead to death.
"The question about whether it is more dangerous in terms of mortality, I think, is still open. There is evidence it is more dangerous but this is a very dangerous virus," he told Radio 4's Today programme.
"In terms of making the situation worse, it is not a game-changer. It is a very bad thing that is slightly worse."
COVID-19: Lebanon's health service close to collapse with case numbers beyond 'wildest predictions' | World News
The head of Lebanon's main coronavirus hospital has said the country's health system is close to collapse – with not enough beds, drugs, oxygen, ventilators or staff.
In a stark interview with Sky News, Dr Firas Abiad said the government decision to relax coronavirus restrictions over a few fateful days at Christmas and New Year has led to a huge increase in cases and deaths over the past few weeks.
He allowed our cameras into the casualty department and the intensive care unit of the Rafic Hariri University Hospital in Beirut to see the pressure he and his staff are under.
Dr Abiad said all hospitals were reporting full, or almost full, intensive care units – and many have patients stuck in emergency wards, waiting for a bed.
"Some patients are not able to find a bed and there's been several cases where patients have died in their homes," he said.
"If you look at the sharp rise in cases you see that Lebanon is really seeing unprecedented COVID numbers which is even beyond our wildest predictions.
"The number of daily new cases has almost quadrupled since where we were almost a month ago," said Dr Abiad.
"At the same time we've seen that the number of deaths has also tripled and the number of patients in ICU has gone up by almost 100%."
On 17 December, four days before a nationwide lockdown was due to end, the government decided to ease a series of restrictions for the holiday period.
Under intense pressure from businesses, they allowed nightclubs, bars and restaurants to open at 50% capacity while urging people to wear masks and maintain social distancing.
But videos on social media over Christmas and New Year showed packed clubs and bars. No attempts were made to crackdown on the violations.
"It's clear that those were catastrophic [decisions] and what has happened is they've thrown the whole healthcare system of the country into a major abyss," said Dr Abiad.
In the casualty department, the pressures are obvious. There is a shortage of beds, drugs, oxygen, ventilators and staff.
It is a relatively modern hospital but it looks sparse, except for the number of patients.
A nurse strokes a patient's head.
"I am passing out… I am passing out," he tells the nurse.
"No, no! You're doing very well. Don't be scared. Your oxygen is good. 99%. Honestly it's very good," she reassures him.
In the next bed is 53-year-old Aida Derawi. She first began to feel unwell 15 days ago. Her family had hoped she would recover at home, but this week things got worse.
"Yesterday I felt I couldn't take it anymore," she says. "My back and lungs were aching. My kids took me around to find a hospital but not a single one would accept me."
Eventually space was found and she is improving slowly.
Nurse Hussein al Khazn tells us that in this wave of the virus, the patients are no longer predominately elderly.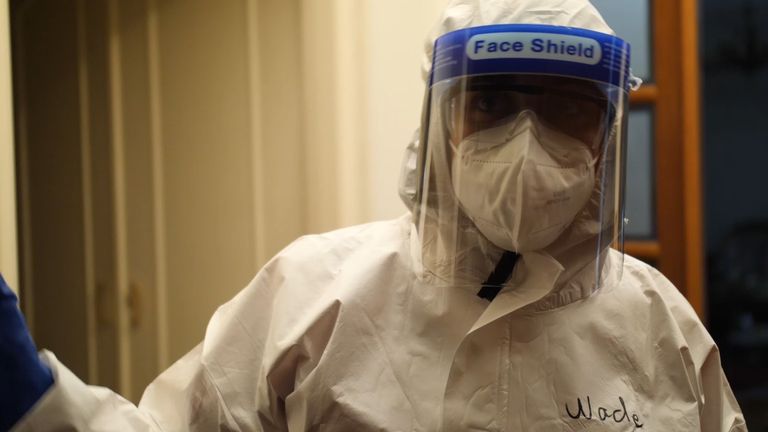 "Much younger now," he says. "Before we had 50, 60-year-old patients.
"Now it's 20, 25, 30-year-old patients and they're very, very critical – all of them."
On the other side of the city, we're given access to the Lebanese Red Cross coordination centre.
In a well-organised control room, a team of volunteers is juggling telephone calls from patients' families with radio calls to the ambulance teams on the ground.
"So, she's ill with coronavirus?" a volunteer asks down the line. "So she's got shortness of breath?"
A radio message is sent to one of the dispatch teams.
"We're dispatched to a patient that tested positive for COVID and she's currently suffering from desaturation and vomiting," volunteer medic Waad Abdulaal says from the passenger seat of the ambulance.
"So we're going to go ahead, assess her and see if there's a need to take her to the hospital."
Lebanon was already in a critical state economically.
Years of accumulative economic mismanagement has led to a slow collapse in every sector of society.
That was then exacerbated by the pandemic and the devastating port explosion last year.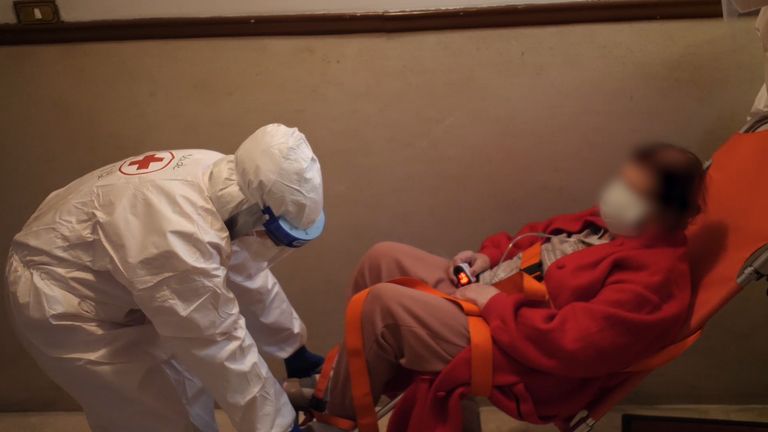 Up several flights of a stairwell, in darkness because of yet another power cut, the Red Cross team reaches its patient.
Madame Imad is 80 years old. She tested positive last week and her diabetes is complicating her condition. She needs to go to hospital, but there is an issue finding a bed for her.
The positivity rate across the country this past week has been at 21% (the 14-day rolling average).
That means the community spread of the virus is out of control. It needs to be at 5% before there is any chance of regaining a grip of the crisis.
Calls are made and they think space has been found at a hospital nearby.
Madame Imad is carried down the stairs as her daughter Sophie looks straight into our camera and pleads: "Show them that there are people dying before they reach the hospital."
The elderly woman did make it to the hospital. But she was sent home again. There were no beds. Her family has told us her condition this weekend has worsened.
COVID-19: UK records another 1,348 coronavirus-related deaths and 33,552 cases | UK News
The UK has recorded another 1,348 coronavirus-related deaths and 33,552 cases, according to the latest government figures.
A total of 5,861,351 people have also had a first dose of a vaccine, with another 468,617 people so far receiving their second inoculation against the virus.
It comes after the UK reported 1,401 coronavirus deaths and an additional 40,261 infections on Friday. The total number of deaths in the UK is now 97,329.
Live COVID news from UK and around the world
The R number – the average number of secondary infections produced by a single infected person – currently stands at between 0.8 and 1, with a daily infection growth rate range of -4% to -1%, the figures show.
The seven-day rolling average on positive tests shows that infections are now falling, which suggests that lockdown may be having an effect on case rates.
The latest figures come as senior doctors called on England's chief medical officer to halve the gap between the first and second doses of the Pfizer coronavirus vaccine.
The British Medical Association (BMA) has said the gap between doses being given to patients should be cut from 12 weeks to six.
Meanwhile, the introduction of "COVID hotels" and other curbs on international travel are to be discussed by senior ministers on Monday.
It follows Prime Minister Boris Johnson hinting that further border restrictions were needed to stop dangerous new coronavirus variants entering the country.