COVID-19: How mortality rates in 2020 compare with past decades and centuries | UK News
How bad has this pandemic been? How does it compare with other decades and centuries? Where does it stand in relation to the seasonal flu pandemics of the 20th century, or indeed the flu, smallpox and cholera epidemics of the 19th century? Is this really a worse period for mortality, as some have suggested, than in the world wars?
Up until now, it has been hard to get even close to an answer to these questions. Most obviously, this is an ongoing pandemic, from which thousands of people are still dying each week. We do not yet know the final toll, and it will take some time before we do.
That goes, by the way, for the economic as well as the direct mortality consequences. We can be pretty sure that, in at least one sense, this pandemic has been like no other in history: while other diseases have sparked sporadic restrictions and changes in behaviour, we have never experienced the kinds of lockdowns implemented over the past year. Never. This is completely without precedent.
Bearing all this in mind, however, we are nonetheless now able to draw some early conclusions about the scale of what we are living (or indeed dying) through. This is not an enjoyable exercise, but it is important.
Some have suggested that COVID-19 is barely more dangerous than the flu – and others say that this represents danger of an order that we have rarely seen before.
Now we have pretty much all the data for the first calendar year of the pandemic, we can start to draw some meaningful comparisons.
In this case we are looking at data for England and Wales, collected by the Office for National Statistics (ONS) since 1960, and contained in the Human Mortality Database for between 1841 and 1960.
It's worth pointing out that the numbers for Scotland have been broadly similar, if slightly less severe than for England and Wales. And note that we're talking here not about "COVID-19 deaths" but about all deaths from all causes in England and Wales during a given year.
Now, there is no single definitive measure of mortality – especially when one attempts to compare different periods of history. But let us begin with the simplest of all numbers: the sum total of people who died in 2020.
In the 52 weeks to Christmas Day, 604,045 deaths were registered in England and Wales. It's worth saying this almost certainly understates the likely 2020 total, since it includes a few days of late 2019, when deaths were running at far lower levels than they were this winter.
Even so, this number is nonetheless nearly without precedent. If you look at civilian deaths, the only other year in which more than 600,000 people died in England and Wales was 1918, when the final year of World War One coincided with the Spanish Flu.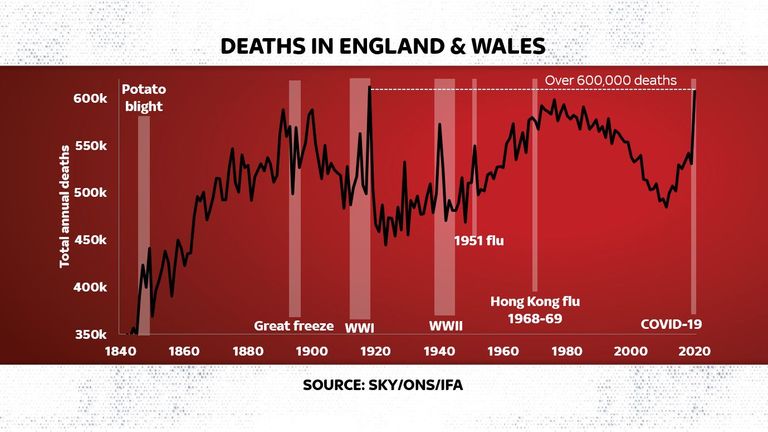 In other words, this is more than in any year of the Second World War or any other pandemic – ever. (Records for the Black Death are very shaky, but save for years of military conflict that might be the only other contender in terms of sheer numbers of deaths.)
However, it's worth underlining that these historical numbers are only civilian deaths – so do not reflect the enormous military loss of life during the world wars.
You've probably already realised the main problem with comparing these two numbers: the UK population is far bigger today than it was in 1918, or indeed any year of any previous century.
To get a more comparable number, we need to divide the number of deaths by the total population in England and Wales. When we do so, we come to a less terrifying number. In fact, the number of deaths per 1,000 is 10.2. This is significantly up from the levels of previous years (in 2019, for instance, it was 8.9), but it's still only the highest crude mortality rate since 2003.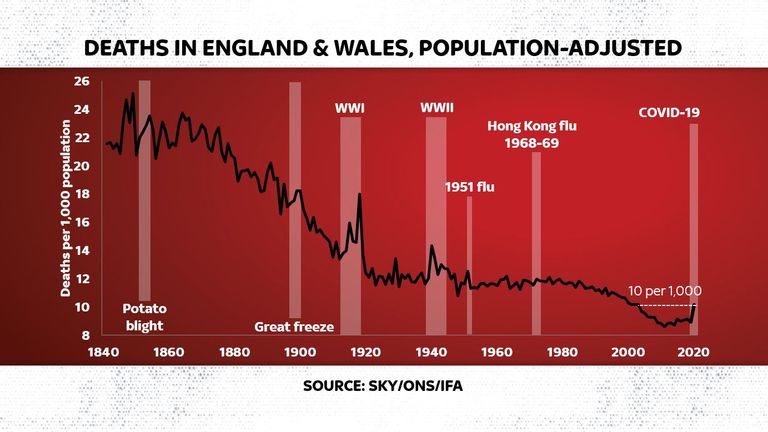 This doesn't quite sound so bad does it? Fewer people dying per 1,000 than in 2003, and pretty much any year before. But there's a clue here as to why this isn't an especially meaningful comparison.
Crude mortality rates, which is what we're talking about here, have been falling for most of the 20th and 21st century as medical science has advanced and people have lived longer. So casting this number as telling us "it's only as bad as 2003" isn't quite right.
A far better yardstick (since we're trying to judge this year versus similar years) is to see how this crude mortality rate compares with the years before it. Are things getting better or worse, in other words? These are what the ONS calls excess death rates (a term you're doubtless already familiar with), and when you look at these population adjusted excess death rates, a very different picture presents itself.
In 2020 the number of excess deaths, as a proportion of the population, rose by 12.1% compared with the average of the previous five years.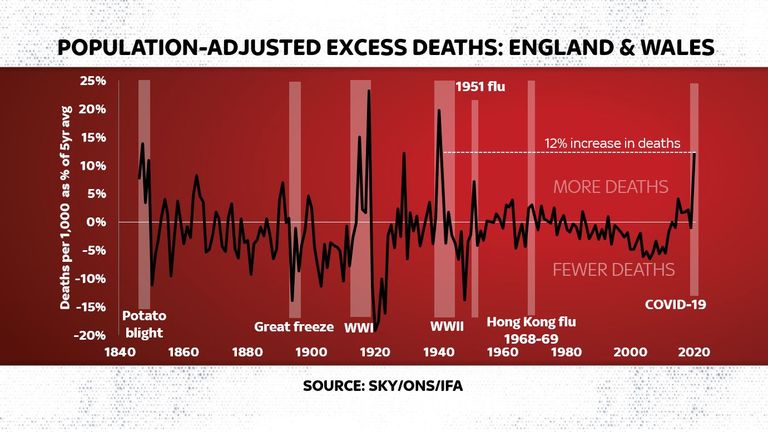 To put that in perspective, that's the biggest leap in any year since 1940. Bigger than during the 1951 flu epidemic. Bigger than during the Asian flu in the 1950s or the Hong Kong flu in the 1960s. In fact the only other years that come close – save for 1940 – are 1929, in which there was a global flu pandemic on top of an economic crash; 1918, year of the Spanish flu; and 1915, during the First World War.
It's worth underlining that these are not projections and these are not numbers dependent on diagnoses – they are cold hard numbers of those who have died of all causes. And they underline that even though this pandemic is still not over, it has already exerted an extraordinary cost in terms of lives lost.
However, excess deaths are not really the most comprehensive way of comparing these deaths, as while we've adjusted for the growing population size, we haven't adjusted for the fact that the population is ageing.
This really matters. Consider two imaginary countries: one where the majority of the population is over 80, the other where the majority is under 30. Now, you would always expect the country with an older population to see more people dying each year – even if the people there are comparatively healthier and have comparatively longer lives than those in the younger country.
So actuaries have devised a measure called age-standardised mortality. This is perhaps the gold standard of mortality measurements – so what happens when one examines 2020 in terms of standardised mortality?
Well, according to analysis carried out for Sky News by the Continuous Mortality Investigation of the Institute and Faculty of Actuaries, the deterioration in mortality during 2020 was almost without parallel.
In this case, we're measuring mortality improvements, so anything in negative territory is bad. And the fall in mortality during 2020, compared with the previous year, was the single biggest annual drop since 1929. In fact, if you were to put together a list of the worst years for annual changes in mortality going all the way back to 1842, 2020 would be the third biggest annual fall in mortality, after the Great Freeze of 1895 and the flu pandemic of 1929 (and somewhat worse than 1847, during which there was a severe cholera outbreak, and 1915, the midst of the Great War).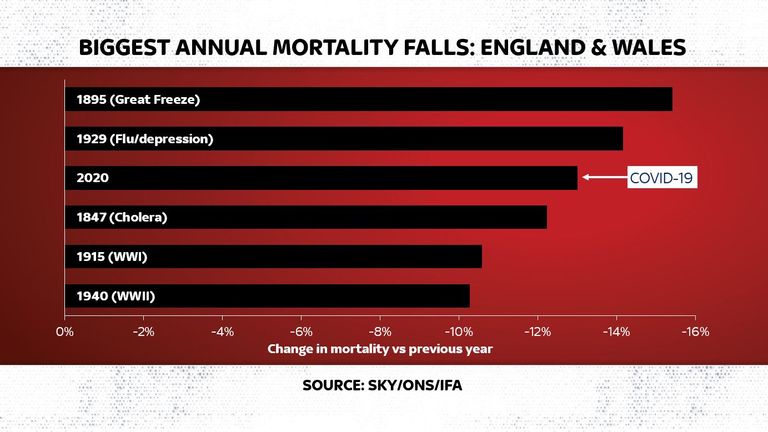 It's worth underlining again: this is only one prism through which to view these numbers. None are altogether definitive. And annual numbers such as these sometimes underplay pandemics that straddle more than one year – or indeed which come amid other periods of human loss, such as the world wars. However, it is plain, even with much of this pandemic still playing out, that this is already a moment of near unparalleled loss of life.
That this has happened in spite of some of the most severe lockdown restrictions ever endured by this country makes these numbers doubly striking. Some will ask whether they would have been many times higher were it not for the restrictions. Others will argue that mortality could be affected by these indirect decisions for many years to come. Either way, the toll of COVID-19 is becoming clearer, and the numbers are thoroughly depressing.
Appeal after 'gentle soul' road safety officer Allan is 'kidnapped' | UK News
Road safety officer Allan has been "kidnapped" from his post and residents of Braemar are appealing for his return.
The mannequin has been stationed on the A93 in Aberdeenshire for two months reminding drivers to slow down for the village's 30mph speed limit.
Geva Blackett, councillor for Aboyne, Upper Deeside and Donside, said Allan was last seen at 1.30pm on Saturday before disappearing "not of his own volition".
In a Facebook post, she wrote: "Allan took great pride in his role of reminding people driving into Braemar from Glenshee on the A93 that they were in a 30mph speed limit.
"Children, elderly folk and red squirrels are all at risk if people forget. Now he has gone – and not of his own volition.
"Someone has taken him!
"Have you seen Allan?
"Whoever kidnapped him, please give him back – he was last seen at 1.30 this afternoon (Saturday) and is a gentle soul, never offends anyone and well liked here in Braemar."
Ms Blackett said she had initially asked the local police inspector if a cut-out police officer could be placed at the roadside to warn the speedsters.
But there were none spare, so Allan was drafted in.
There is no word on a replacement during Allan's unplanned absence.
Biden-Johnson call: The 'special relationship' is off to a good start | US News
The state of the special relationship between Britain and America under a Biden presidency has been the focus of intense speculation.
Joe Biden and Boris Johnson are not political bedfellows. Mr Biden has referred to Mr Johnson as the physical and emotional clone of Donald Trump and is no fan of Brexit.
But Saturday's phone call and its timing will be encouraging news for Downing Street.
President Biden did contact Mexico's President Andrés Manuel López Obrador and Canadian Prime Minister Justin Trudeau on Friday and only got round to Mr Johnson the following evening but American presidents always contact their immediate neighbours first.
The fact the prime minister is the first world leader outside of North America to be called by President Biden suggests the so-called special relationship is in better shape than some had feared.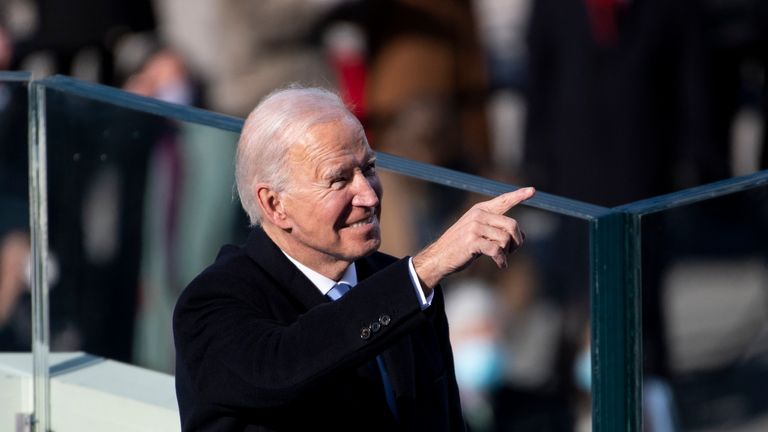 It was a wide-ranging call and focussed on what the two leaders can agree on, primarily tackling COVID-19 and climate change. Both leaders have made it clear they regard the two crises of paramount importance.
In a statement after the call, the White House said: "The president conveyed his intention to strengthen the special relationship between our countries and revitalise transatlantic ties, underscoring the critical role of NATO to our collective defence and shared values."
And it stressed the need for co-operation on shared challenges including "combatting climate change, containing COVID-19 and ensuring global health security".
Notably absent from the White House readout was any mention of discussion of a free trade deal.
A Downing Street spokesman put the emphasis on COVID-19, saying the leaders "noted the significant challenges facing the world during the pandemic, but also the unparalleled opportunities to build back better and greener together".
"The prime minister warmly welcomed the president's decision to re-join the Paris Agreement on climate change, as well as the World Health Organisation and the COVAX programme to ensure equitable access for vaccines."
Security, defence, human rights and protecting democracy were also discussed, we are told.
In contrast with the White House readout, Downing Street says the two men talked about "the benefits of a potential free trade deal between our two countries, and the prime minister reiterated his intention to resolve existing trade deals as soon as possible".
Subscribe to Divided States on Apple podcasts, Google Podcasts, Spotify, and Spreaker
Mr Johnson is hoping for a free trade deal in the wake of Brexit – something he had pursued with president Donald Trump. Both White House press secretary Jen Psaki and Treasury Secretary Janet Yellen have in the last week poured cold water on hopes for a free trade deal, saying the administration would be too busy dealing with COVID-19 to make it a priority.
Fears of tensions in the special relationship may have been exaggerated, however.
Those who know President Biden well say he is not a vindictive man and is keen to start afresh with allies at the outset of his administration. Mr Johnson may have more to worry about with the people around Mr Biden who resent his description of president Barack Obama as part-Kenyan in a newspaper article.
The omens from this call are good. The two leaders have decided to focus on what they can agree on. The world is in too parlous a state to let minor differences get in the way. The two men can continue developing their own special relationship when they meet at the G7 summit in June.
'Incredibly selfish' people attending parties during COVID lockdown | UK News
Police have criticised party-goers for making "incredibly selfish" decisions during the coronavirus lockdown.
Superintendent Michael Walsh, of the Met's Central West Basic Command Unit, was speaking after a series of late-night parties in the London borough of Kensington and Chelsea.
On Sunday, 17 January police found more than 200 people at an illegal gathering in Knightsbridge.
When told to go home, the attendees became hostile and pushed past officers in an attempt to avoid being fined, police said.
Two officers were injured, around 30 fixed penalty notices were issued, and a three-month closure order is being prepared for the establishment, which had already been fined for a previous breach of COVID legislation.
On Saturday, 16 January more than 30 people were found socialising in a venue in Ladbroke Grove, police said.
The venue's owner is being considered for a fixed penalty notice amounting to £10,000 and those who attended were told to go home.
Last month, an illegal gathering at a commercial property in Knightsbridge resulted in the venue being closed for three months, following previous breaches of COVID legislation.
Superintendent Michael Walsh, of the Met's Central West Basic Command Unit, said the incidents showed "flagrant breaches of COVID legislation and could potentially have put multiple people at risk of contracting or spreading the virus".
He added: "Attending or organising such parties during this critical period is an incredibly selfish decision to make and we will continue to take action against those who flout the rules.
"My officers continue to work incredibly hard to uphold COVID legislation in order to keep people safe. While the majority of breaches have been resolved without incident, it deeply saddens me that some individuals have chosen to assault police officers who are simply doing their part in the collective battle against this deadly virus.
"We will absolutely not tolerate assaults on police officers. It goes without saying that anyone who harms an emergency worker will face the full force of the law."