COVID-19: How did coronavirus begin? If our journey is anything to go by, China won't make it easy to find out | World News
We've come to Yunnan province, in southwest China, with a question: after all this time, after so many dead, how do we still not know where COVID came from?
The mountains here, hollowed by caves, represent many scientists' best guess. Inside those caves are bats and those bats carry coronaviruses – including relatives of SARS-CoV-2, the virus that causes COVID-19.
There's one location in particular we want to visit – an old mining cave. In 2012, several workers there fell ill with pneumonia-like symptoms. Three of them died.
Investigators from the Wuhan Institute of Virology sampled the patients and found a SARS-related coronavirus – a strain labelled RaTG13. It shares 96.2% of the genetic identity of SARS-CoV2, making it the virus's closest known relative to date.
We drive hours through the jutting mountains without incident, until we approach the road to the mineshaft.
A car blocks the way. As we pull up, a man gets out and starts to make phone calls. He refuses to move his car or explain why, and then more men show up.
They tell us there is no mining cave and that we cannot go further because of COVID prevention regulations – regulations that have not been apparent in any of the other villages on our route.
We try a different path, but the men block our car. More cars arrive, so we double back to try and find a different way.
One vehicle follows us all the while. Another road has been blocked by motorcycles. The car keeps following us until we are stopped by the police, who are lying in wait for us. They take our details and order us to leave.
This is a system that doesn't care for questions – and it is one that the experts from the World Health Organisation (WHO) must now navigate.
They arrived today in Wuhan, COVID's ground zero, and will spend two weeks in strict quarantine.
China says it has COVID firmly under control but is taking no chances. It's worried about recent outbreaks and, today, recorded its first death from the virus in eight months.
Once quarantine is over, the WHO experts will tour Wuhan, visiting the wet market that formed the first known cluster of COVID-19.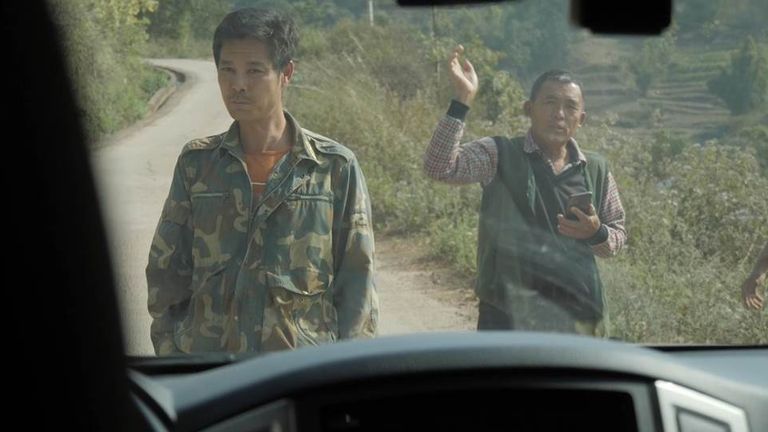 Absent from the official itinerary is the Wuhan Institute of Virology, which sampled RaTG13 along with hundreds of other types of coronaviruses found in the caves of Yunnan. US officials have claimed, without offering proof, that the most credible origin for COVID-19 was a leak from this lab – a claim China squarely denies.
The WHO has said its mission is to investigate the origins of COVID-19, not to lay the blame. But it is taking place in a tense geopolitical environment, with many countries willing to point the finger.
Those countries include China itself. For months, its officials have been suggesting that COVID-19 originated elsewhere – brought by US soldiers visiting Wuhan, or from frozen food imports, or elsewhere.
In Beijing, I asked a spokesperson for the Ministry of Foreign Affairs, Hua Chunying, whether the Chinese government accepted that China was still the most likely origin of the pandemic.
"As you can see from multiple media or reports, the COVID-19 pandemic broke out in various places around the world in the second half of 2020, and the timing of first case reported is constantly updated," she told me.
"This, I believe, will in turn provide more clues to scientists. So we give full support to the expert team, led by WHO, to trace the origin across borders through scientific research, in the hope to find out the truth as soon as possible so that we could better address similar public health emergencies in the future."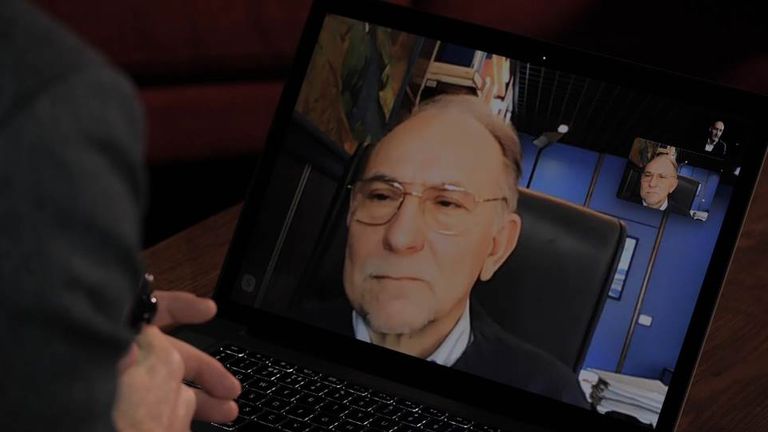 One of the pieces of evidence for that theory comes from Dr Giovanni Apolone, the scientific director of the National Cancer Institute in Milan. His team discovered COVID-19 in historical samples from Italian patients as far back as September 2019 – months before the first cases in China.
Independent labs are still working to confirm those startling results.
He told me there is one question he is asked because of his findings: "If it is true that some cases were positive in October or September, it means the virus circulated much earlier than expected, and maybe it means that the origin of the virus is different than China?"
"The only one thing that I can say according to this kind of information is that the virus circulated in China much earlier than December," he says.
"At the very beginning, the Chinese health authorities were not able to identify these cases, because they don't know anything about the possibility of the existence of the virus. This was the first part of the delay.
"The second part of the delay, in my personal opinion, was due to the fact that they waited to declare this kind of situation for some kind of geopolitical reasons."
Dr Apolone said it was only his personal belief, but "the origin of the virus is almost 100% in China…. In which part of China, I don't know".
He said as much to Xinhua, a Chinese state media agency, when they interviewed him. It was the only part of the interview not published.
Subscribe to the Daily podcast on Apple Podcasts, Google Podcasts, Spotify, Spreaker
The investigation into the origins of COVID-19 always faced hurdles, on the scientific facts alone.
Unlike SARS or Ebola, it is a disease that can be transmitted by patients who don't even know they have it, making any tracing effort very difficult.
But there are plenty of man-made, political obstacles in the way, too. An authoritarian government that guards information jealously and does not suffer criticism kindly. A fractious geopolitical climate that produces evidence-free accusations. And huge public sorrow – and anger – for the nearly two million people who have died.
More than a year on, we still don't know where this came from. And we won't, not for sure, for a long time to come.
Daniel Pearl murder: British-born man acquitted over journalist's killing to be released from Pakistan prison | World News
The Supreme Court in Pakistan has ordered the release of British-born Ahmed Omar Saeed Sheikh who was convicted, and later acquitted, over the beheading of a US journalist in 2002.
Mr Sheikh has been on death row since his initial conviction for Daniel Pearl's murder 19 years ago, but his lawyer argued that his client "should not have spent one day in jail".
Lawyer Mehmood A Sheikh added that the court also ordered the release of three other Pakistanis who had been sentenced to life behind bars for their part in Mr Pearl's kidnapping and murder.
Mr Sheikh was formally acquitted of his involvement in April 2020.
The court also dismissed an appeal by the family of Mr Pearl and the Pakistani government over the acquittal of Mr Sheikh.
In statement released by their lawyer, Mr Pearl's family said: "Today's decision is a complete travesty of justice and the release of these killers puts in danger journalists everywhere and the people of Pakistan."
The country's three-judge Supreme Court ruled two to one in favour of upholding Mr Sheikh's acquittal and ordered his release, Pearl family lawyer Faisal Siddiqi said.
The US government has previously said it would demand that Mr Sheikh be extradited to the US to be tried there.
"We urge the US government to take all necessary actions under the law to correct this injustice. We also hope that the Pakistani authorities will take all necessary steps to rectify this travesty of justice," the Pearl family said.
Mr Siddiqi said that the only legal avenue left to pursue would be to ask for a review of the court's decision, but added that would be carried out by the same court that upheld the appeal, meaning "in practical terms" there is no further legal route in Pakistan.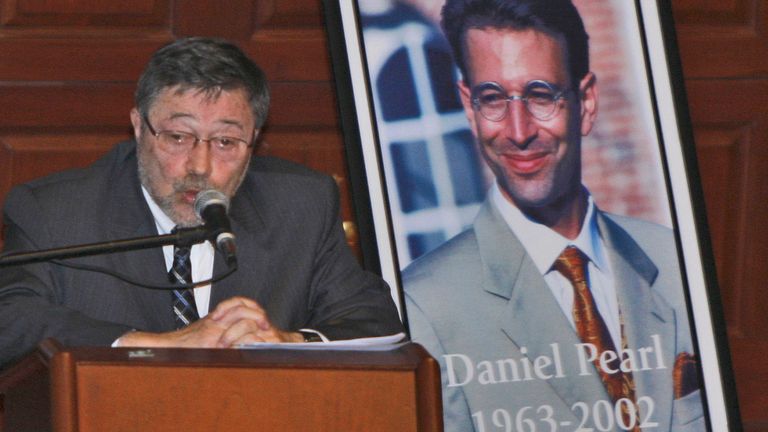 Mr Sheikh was convicted of helping to lure Mr Pearl to a meeting in the Pakistani city of Karachi before the journalist was kidnapped.
Mr Pearl had been looking in to the link between Pakistani militants and Richard C Reid – the "shoe bomber", who tried to blow up a flight between Paris and Miami with explosives in his shoes.
He went missing on 23 January, with his body being found in a shallow grave shortly after a video of his beheading was sent to the US consulate in Karachi.
COVID-19: Tony Blair says UK should lead global push for immunity passports | Politics News
Tony Blair has called for immunity passports to be rolled out and urged the UK to take advantage of its upcoming position chairing the G7 to push other countries to do the same.
The former prime minister said it was "inevitable" the idea will be developed by other nations, as the global race for inoculation against coronavirus gets under way.
A report by his non-profit organisation the Tony Blair Institute said the "only way to navigate allowing people to travel internationally again" is creating a global travel pass showing each individual's COVID-19 status.
Live COVID updates from the UK and around the world
The idea has been mooted before but was rejected by Cabinet Office minister Michael Gove just last month, when he told Sky News: "I certainly am not planning to introduce any vaccine passports, and I don't know anyone else in government who is."
Since then, the Sunday Telegraph reported the government is funding at least eight separate firms to develop such a product, which is already in use in countries in the Middle East and Asia.
Mr Blair has made multiple interventions during the pandemic, and recently suggested the idea of pushing back the second dose of coronavirus vaccines to dramatically increase the number of people offered at least some protection.
The idea gained traction and is now government policy, helping boost the UK's global standing in the race to administer jabs.
Turning his attention to what happens next, Mr Blair's institute said the UK should "place the creation of a global COVID-19 travel pass as a key item on the G7 agenda", when leaders from the US, France, Germany, Italy, Japan and Canada congregate in Cornwall later this summer.
It added Prime Minister Boris Johnson's approach to international travel is "disjointed" and "unco-ordinated" – costing hundreds of billions in exports, foreign investment and tourism.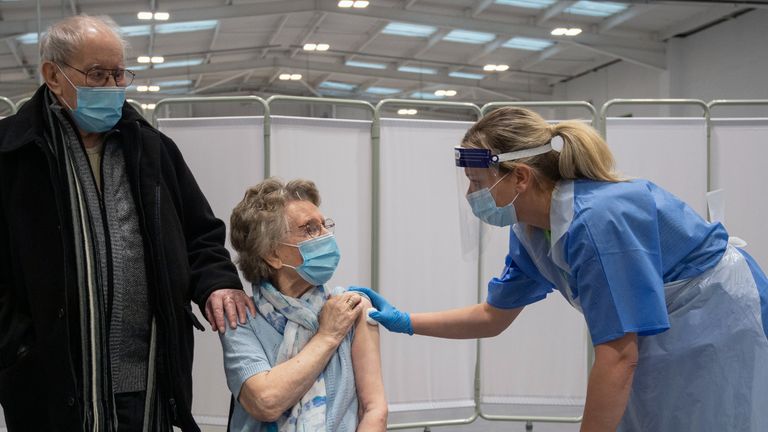 The report released on Thursday said: "The UK faces a choice: lead or be led. If we choose to wait, a confusing array of different passports await our citizens.
"We can avoid this and the complications of multiple passes and varying travel requirements if the UK takes the lead on developing a single, global COVID pass.
"In the year of the UK's G7 presidency, there has never been a more momentous opportunity – or need – for the government to show global leadership."
Zurab Pololikashvili, the UN World Tourism Organisation's secretary-general, last week said at an event in Madrid: "Vaccines must be part of a wider, co-ordinated approach that includes certificates and passes for safe cross-border travel."
The leaders of Spain, Italy, Greece, Cyprus and Malta have called for the introduction of certificates which designate if a traveller has been vaccinated or not.
In Australia, education minister Alan Tudge said on Monday planned "digital vaccine certificates" would allow international students to return to study in the country without the need for them to hotel quarantine.
Over three nights Sky News will host a series of special programmes examining the UK's response to the pandemic.
Watch COVID Crisis: Learning the Lessons at 8pm on 9, 10 and 11 February
COVID-19: Michael Gove says Tory MP 'out of order' to tell anti-vaxxers to 'persist' against restrictions | Politics News
A Tory MP who urged anti-vaccination campaigners to keep going with their fight against coronavirus restrictions and told them NHS capacity figures were being "manipulated" is "wrong" and "completely out of order", a senior minister has said.
Michael Gove told Sky News that Sir Desmond Swayne should apologise and retract his comments.
However, the Cabinet Office minister would not be drawn on whether he should lose the Conservative whip.
Sky News revealed Sir Desmond's comments in an exclusive story on Wednesday.
Sir Desmond told Sky News he would not apologise for telling a group – who say vaccines are dangerous – to "persist" with their campaign against COVID-19 restrictions.
During an interview in November with Save our Rights UK, obtained by Sky News, he said: "It seems to be a manageable risk, particularly as figures have been manipulated… We're told there is a deathly, deadly pandemic proceeding at the moment.
"That is difficult to reconcile with ICUs (intensive care units) actually operating at typical occupation levels for the time of year and us bouncing round at the typical level of deaths for the time of year."
He also told the group, which has previously advanced false claims about COVID vaccines, in the interview: "As the last (House of Commons) Speaker used to say, (John) Bercow, he'd say 'Persist! Persist!' That's my advice – persist.
"And I'll persist too."
There is no evidence of data being manipulated, and at the time of the MP's comments, deaths were 14% above the five-year average – according to the Office for National Statistics.
Over three nights Sky News will host a series of special programmes examining the UK's response to the pandemic.
Watch COVID Crisis: Learning the Lessons at 8pm on 9, 10 and 11 February