COVID-19: Hospitality and retail businesses face 'tidal wave' of evictions in New Year | Business News
Hospitality and retail businesses face a "tidal wave" of evictions in the New Year if the government fails to extend a moratorium on landlords collecting rents, industry experts have warned.
Commercial rent arrears are estimated to have grown by £1.5bn every quarter this year following a ban on evictions imposed to cushion the blow of the pandemic for high street traders.
With that set to expire in January, business owners have told Sky News that landlords who refuse to negotiate new leases despite a collapse in tenants' revenues will force otherwise viable companies out of business.
Landlords' representatives meanwhile, say the moratorium has allowed tenants that can afford to pay to withhold rent, leaving property owners bearing even greater losses during the pandemic.
The warning comes as Sir Philip Green's Arcadia Group became the highest-profile retailer to consider administration as a consequence of the COVID squeeze on revenue.
Ranjit Mathrani, owner of the Masala Zone chain and fine-dining restaurants including Chutney Mary in Mayfair, says landlords have to be flexible if they want tenants to survive.
"Rents are a fixed cost, on average for a restaurant it might be over 10% on average of turnover, it might even be higher for some. But if your turnover is 30% of last year's [because of the pandemic], it means that your rent becomes 30% of what turnover you have, and that is almost unaffordable."
Mr Mathrani, a director of UK Hospitality, says some landlords have become used to easy money in a rising market.
"The challenge we face with some landlords is they have been in a bubble where they've had no shortage of tenants coming to them in the past, and they believe, I think naively, that if we were to surrender back the lease to them they will get some other person willing to take it on.
"At this point in time clearly they're mistaken. So it is baffling as to why some of the landlords are as intransigent, and I can only put it down to years of the rent escalator in London churning on and giving them a sense of a never-ending growth of rent."
Rent matters because it is a fixed cost businesses have had to bear despite being unable to trade or facing vastly reduced revenues during the pandemic.
Government support has focused on helping workers, via the furlough scheme, and offering some grants, rates and VAT relief, but beyond the moratorium, rent has been left to landlords and tenants to negotiate.
Businesses argue that landlords should share some of the pain of the pandemic, perhaps offering reduced rents in line with turnover while companies recover.
But consequences of a collapse in rental values would be significant, threatening the foundations of a commercial property market that has boomed over the last two decades, particularly in big city centres.
With many properties heavily leveraged or backed by investment funds, a major write down in incomes could leave funding models in question, and potentially trigger a property crash.
:: Subscribe to the Daily podcast on Apple Podcasts, Google Podcasts, Spotify, Spreaker
David Abramson of restructuring specialists Cedar Dean says the rental model needs fundamental reform. He points to the existence of "upward-only rent reviews", in which rent can only rise, as a factor in driving even pro companies to consider administration.
He said: "Things are at a very critical pass right now. I would say we are probably facing the biggest commercial property crash, for many generations. We did a survey of 2,000 locations in retail and hospitality which showed that over 70% of businesses are facing insolvency, and of those 86% need to renegotiate their rental terms.
"So, either they're going to do it through an insolvency process, or they're going to do it through amicable means. So, that is the key point there. It's very serious."
The British Property Federation says landlords are suffering from the moratorium and argue that while many are trying to help their tenants, the administration process is being abused to evade reasonable demands.
"It's disappointing on both sides if these conversations aren't happening and people aren't coming to the table," said chief executive Melanie Leech. "I've seen many, many examples of landlords who can ill afford it and are borrowing money to support tenants themselves, trying to reach agreements, but their ability is limited.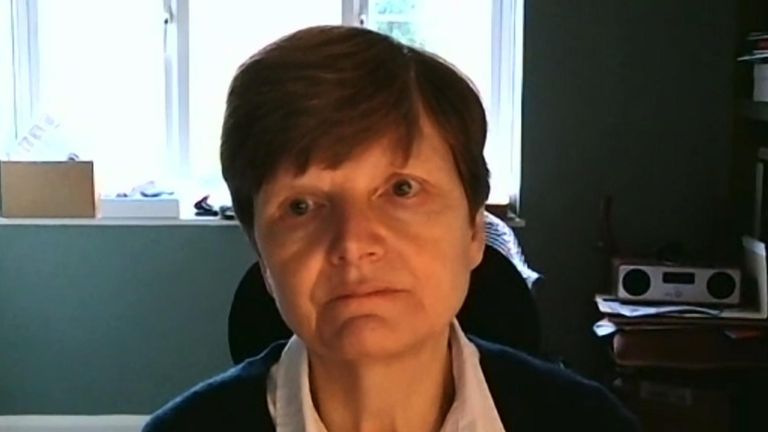 "Some companies who have traded through lockdown, received government support but are not paying, and that limits the ability of landlords to support those who need it. Retail, hospitality and leisure are at the sharp end of the pandemic and landlords of those properties have seen rental arrears growing at £1.5bn a quarter.
"That's an unsustainable burden to manage, and while they're trying to support tenants where they can, they have their own challenges and lending obligations to meet. Quite often that's you and me, because our pensions are invested."
Nick Rubins, chief executive of garden centre and discount retail group QD Retail, says something has to give.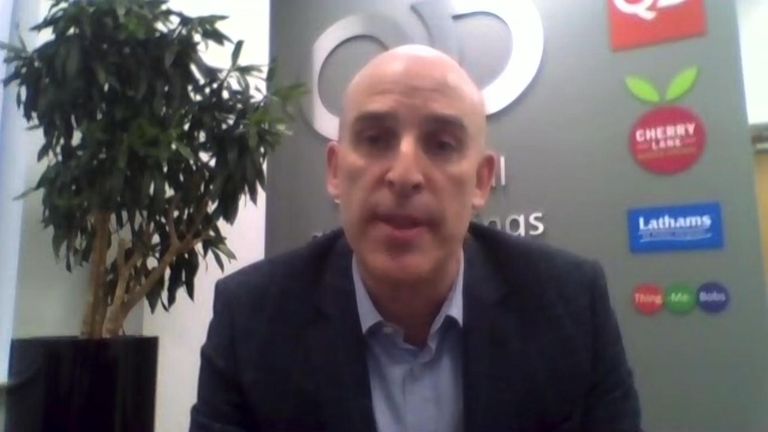 "The system we currently have just doesn't make sense and it's unsustainable for the level of trade today and high street stores. If you look at a typical town, landlords are still charging the rents as they have been almost back to 2008 [before the financial crash]. And that just doesn't reflect the turnovers today.
"Going forward, with the pressures of increased costs, e-commerce, living wage increases, with no recognition from landlords to reflect today's turnover then it just won't work."
Boohoo Group set to acquire collapsed Debenhams department store chain | Business News
Online fashion retailer Boohoo Group is set to acquire troubled department store chain Debenhams.
The cut-price deal will result in the closure of Debenhams' remaining stores, according to a report in the Financial Times which has been confirmed by Sky News.
The purchase price is expected to be about £50m, the newspaper said.
Both companies declined to comment.
It comes just days after Debenhams administrators FRP Advisory said they were still in talks with "a number of third parties regarding the sale of all or parts of the business".
At the time, they announced that six stores would not reopen, including the flagship Oxford Street shop in central London.
The 242-year-old department store started a liquidation process last month after failing to secure a last-minute rescue sale.
Debenhams has been in administration since April last year but its problems pre-date the coronavirus crisis that has hurt so many high street retailers.
For much of its history, Debenhams was highly profitable and was an established anchor tenant on many UK high streets and shopping centres.
In the 1950s, Debenhams had 110 stores, making it the country's largest department store group.
It listed on the London stock market for the third time in 2006, following a spell in private equity ownership that proved lucrative for CVC Capital Partners and TPG but which left its balance sheet saddled with what proved to be unsustainable debts.
And while customers increasingly moved their shopping online, Debenhams was opening new stores as recently as 2017 and its large physical presence came with high costs – rising rents, business rates and maintenance.
Hollywood Bowl faces being skittled by investors in pay row | Business News
The boardroom pay chief at Hollywood Bowl is facing a shareholder backlash this week after the company decided to ignore the coronavirus crisis in its decision about incentive payouts to top executives.
Sky News has learnt that Hollywood Bowl has been trying to appease top investors in recent days in order to prevent an embarrassing revolt at its annual general meeting on Friday.
Institutions have been angered by the tenpin bowling operator's move to assess executives' performance under a long-term incentive scheme until February, rather than September, 2020.
Like other leisure groups, Hollywood Bowl was forced to close its 64 UK sites – which also trade under the AMF and Puttstars mini-golf brands – for much of last year because of the pandemic.
The company's decision to move the goalposts in relation to its LTIP has, however, infuriated investors which supported the company by injecting nearly £11m in a share placing last year.
Hollywood Bowl also received taxpayer funding through the furlough scheme, while shareholders were hit by the suspension of its dividend.
The change to the share scheme performance period meant that targets were met in full, paying out 81% of the maximum on a pro rata basis.
If the plan was assessed across the originally planned period concluding in September, it would not have paid out at all.
Hollywood Bowl's decision to "exercise discretion" by shortening the performance period risks inflaming tensions around boardroom pay, with companies such as the publisher Future and cinema operator Cineworld also in the line of fire.
The tenpin bowling group's shares have slumped by nearly a third over the last year, leaving it with a market capitalisation of just over £320m.
Institutional Shareholder Services (ISS), an influential proxy adviser, has recommended that shareholders vote against both Hollywood Bowl's remuneration report and the re-election of non-executive director Claire Tiney, who chairs the pay committee.
"While shareholders will note that awards will be subject to a two year holding period and continuous employment, they may question whether such payments are appropriate, given the company's circumstances, the government help received, furloughing 98.6% of staff (it will be noted that unlike the case in other companies, the directors did not reduce their salaries to reflect reductions for the furloughed staff, but deferred a portion of their salaries until October 2020) and suspending dividends," ISS said.
"It may therefore be questioned how the payment of awards to directors is commensurate with experience of other stakeholders."
In a statement, a Hollywood Bowl spokeswoman said its board had "received external advice to ensure that its remuneration policy strikes the right balance between the interests of shareholders and the ability to incentivise and retain senior management, which is undoubtedly in the best interests of all of our stakeholders".
"The board's new holding conditions on the LTIPs vesting further align management to shareholder interests while recognising that management comfortably exceeded the challenging EPS targets set in 2017 prior to the pandemic, and the significant shareholder value created by since IPO.
"No new LTIP targets are being set until the board has greater visibility on outlook."
A source close to the company said its management had delivered a £1.4m profit for the financial year despite the nationwide lockdowns and COVID-19 operating restrictions.
Asos emerges as surprise frontrunner to clinch TopShop crown | Business News
Asos, the online fashion retailer, has emerged as the surprise frontrunner to buy TopShop from the administrators to Sir Philip Green's former high street empire.
Sky News has learnt that Asos has moved into pole position to buy the brand for more than £250m, days after a consortium led by Next withdrew from the race.
If successful, it may renew fears for the future of most of TopShop's workforce, given Asos's status as a pure-play digital retailer.
Asos is not holding any talks about buying TopShop stores, according to insiders, although it is also keen to acquire Arcadia's Miss Selfridge brand alongside TopShop and TopMan.
A source close to Asos cautioned on Saturday night that a deal had not been struck and that there was no certainty that an agreement would be reached to acquire one of Britain's best-known clothing brands.
Asos is competing against rivals including Boohoo; the American retailer Authentic Brands Group, which is working in tandem with JD Sports Fashion; and Shein, a Chinese fashion group.
Asda, which is itself in the process of being taken over by the petrol stations giant EG Group and private equity firm TDR Capital, is also said to have been among the bidders during the process.
A deal could be struck by the end of the month, although a person close to another bidder warned that the situation remained "fluid" and could yet result in another outcome than an acquisition by Asos.
Other parties remain in talks with Deloitte, although none are said to have the logic that Asos possesses because of its existing wholesale relationship with TopShop and the strategic importance of its growing presence in the US market.
Earlier this week, Next and its partner, Davidson Kempner Capital Management, a US investment firm, pulled out of the sale process, citing the elevated price expectations of Arcadia Group's administrator, Deloitte.
A separate process is being run by Deloitte, which was appointed as administrator to Arcadia in November, for the group's other brands.
Up to 13,000 jobs are at risk from Arcadia's collapse, with brands including Evans, Wallis and Outfit seen as less likely to attract bidders.
The demise of Sir Philip's empire follows the failure of retailers such as Cath Kidston, Oasis and Warehouse and Debenhams as the coronavirus crisis has exacerbated the financial pain being experienced across the British high street.
It is Arcadia's appointment of administrators that is likely to emerge as the most enduring symbol of the pandemic's impact on the economy.
Sir Philip bought the high street group in 2002 for £850m, and just three years later paid what remains one of the largest-ever dividends – £1.2bn – to Arcadia's registered owner, Lady Christina.
For years, he was feted as a high street colossus, advising David Cameron on public sector waste during his period as prime minister.
In 2012, he sold a 25% stake in TopShop's immediate holding company to Leonard Green & Partners, a private equity firm, valuing the fashion chain at £2bn.
Sir Philip was later to buy it back for just $1.
Asos and Deloitte declined to comment on Saturday night.