COVID-19: Government 'to look at' prioritising shop workers for vaccine, says Matt Hancock | Politics News
The government will look "very carefully" at prioritising shop workers – as well as teachers and police officers – for COVID vaccines, Health Secretary Matt Hancock has told MPs.
The government and NHS are currently aiming to offer the first dose of a coronavirus vaccine to 15 million of the most vulnerable people by 15 February.
Live COVID updates as Britons warned over lockdown
These include older care home residents and staff, everyone over 70, all frontline NHS and care staff, and those who are clinically extremely vulnerable.
The first groups to be prioritised for the vaccine were recommended by the Joint Committee on Vaccination and Immunisation (JCVI).
And, as those most at-risk are inoculated over the coming weeks, the government is due to decide on who might be prioritised next under the second phase of the UK's vaccination programme.
In the House of Commons on Tuesday, Conservative MP Andrew Percy urged Mr Hancock to "bear shop workers in mind" when setting out who will be next in line for a vaccine.
The health secretary replied: "I want to thank shop workers in essential shops who've got to be there for all of us, even in these difficult times when the virus is widely spread.
"We'll be looking very carefully at those professions that will need to be prioritised in phase two of the prioritisation programme.
"We'll look at, of course, teachers and police and others, but also we'll look at shop workers and we'll make those decisions based on the data."
Responding to Mr Hancock's remarks, Paddy Lillis, the general secretary of Usdaw – a trade union for shop workers – said: "Retail staff are working with the public every day and are not only suffering increased abuse, but are also deeply worried about catching COVID-19.
"That must be taken into account by the government when assessing risk levels and priority for vaccines and testing.
"We are calling for retail workers and delivery drivers to be prioritised, because they provide the essential service of keeping the nation fed."
Subscribe to the Daily podcast on Apple Podcasts, Google Podcasts, Spotify, Spreaker
In its vaccine delivery plan, which was published on Monday, the government stated that "phase 2 of the roll-out may include further reduction in hospitalisation and targeted vaccination of those at high risk of exposure and/or those delivering key public services".
So far, more than 2.6 million COVID vaccine jabs have been given to almost 2.3 million people.
Labour's shadow health secretary Jonathan Ashworth urged Mr Hancock on Tuesday to ensure frontline NHS staff receive a vaccination in the next two weeks, as he noted how thousands are currently off sick with COVID.
The health secretary replied in the Commons: "He is absolutely right to raise the challenges that the NHS is facing today.
"And it is very important that whilst the rollout of the vaccine is proceeding well, and we are on track to hit the targets that we have set, we must also stress to everybody the importance of following the rules which are in place in order to control this virus and reduce the pressures on the NHS, which are very considerable at this moment."
Tuesday's session of health questions in the House of Commons saw many of those MPs who were present in the chamber abide by the new directive to wear face coverings, except when speaking, to reduce the chance of infections.
Speaker Sir Lindsay Hoyle said: "Staff and MPs are already strongly encouraged to wear face coverings when moving around the estate – these should also be worn in the chamber."
Jack Ma appears in public for the first time since October | Business News
Chinese tycoon Jack Ma has appeared in public for the first time in nearly three months – after speculation about his whereabouts following a clampdown by Beijing on his business empire.
The founder of e-commerce giant Alibaba was seen on Wednesday speaking by video in an online ceremony for an annual event for rural teachers.
The 50-second video made no mention of his disappearance.
He had last appeared publicly on 24 October when he took aim at China's regulators in a Shanghai speech, saying they had an old-fashioned "pawnshop mentality" and were hampering innovation.
In November, authorities pulled the plug on plans for what would have been a record-breaking £26bn stock market float for finance giant Ant Group – founded by Mr Ma – with two days to spare.
Last month, anti-monopoly regulators warned executives at Alibaba and five other tech giants not to use their dominance to block new competitors.
More recently, Mr Ma was replaced in the final episode of a reality TV show on which he had been a judge.
The events had prompted online speculation about whether the ruling Communist regime wanted to make an example of the 56-year-old tycoon.
Hong Kong-listed shares in Alibaba – known for its annual Singles Day sales extravaganza – rose 8.5% after Mr Ma resurfaced.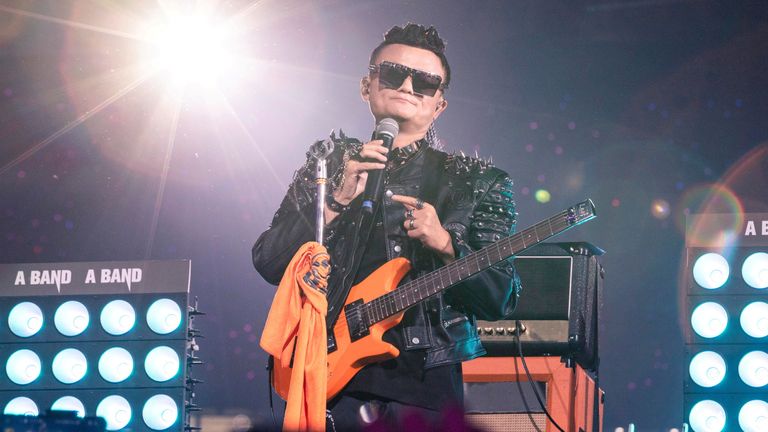 The tycoon had previously often appeared in public to speak at conferences and other events, though less frequently than in 2019 due to the coronavirus pandemic.
Alibaba and Mr Ma's charitable foundation both confirmed that the businessman, a former English teacher, had participated in the event on Wednesday.
The video also contained footage, dated 10 days ago, of him meeting staff at a school in Hangzhou.
The topic "Jack Ma makes his first public appearance" and his video address to teachers began trending on Chinese social media.
Mr Ma has stepped down from corporate positions at Alibaba and Ant Group but retains significant influence over the companies.
Inflation ticks higher as clothes prices edge up | Business News
Inflation rose to 0.6% last month as clothing prices edged higher following extended Black Friday discounting the month before.
The consumer price index (CPI) measure of inflation was up from 0.3% in November and a little higher than the expected figure of 0.5%.
Clothes prices increased fractionally during December over a period when they usually fall.
Price movements "have been unusual" in 2020 "and appear to have been affected by the impact of coronavirus", the ONS said.
"The overall price rises in December 2020 follow increased discounting in November 2020, as Black Friday sales may have spread further across the month," it added.
Also contributing to the uptick in inflation were higher air fares – despite travel restrictions – as well as increased petrol prices, according to the ONS.
Jonathan Athow, ONS deputy national statistician for economic statistics, said: "Clothing prices put upward pressure on inflation in December, despite some evidence of continued discounting.
"Transport costs, including air, sea and coach fares, as well as petrol prices, rose as some travel restrictions eased during parts of the month.
"These were partially offset by falling food prices, most notably for vegetables and meat."
Inflation remains well below the Bank of England's 2% target but some experts think it could climb above that level later in the year as the economy reopens while supply chains remain under pressure.
However the Bank is unlikely to want to raise interest rates to tackle price rises for fear of choking off the recovery from the COVID-19 crisis that has crushed activity over the past year.
Jeremy Thomson-Cook, chief economist at Equals Group, said: "We are going to be talking a lot more about inflation in 2021 than we did 2020.
"Both Brexit and COVID-19 are factors that have caused substantial pain for businesses and their supply chains.
"Rising prices as demand works against supply constraints is already being seen in certain imports."
Yellen urges Congress to 'act big' on virus stimulus and not worry about debt | Business News
President-elect Joe Biden's choice as US Treasury secretary has urged Congress to "act big" and ignore surging national debt in the face of the continuing coronavirus crisis.
Janet Yellen, the former chair of the US central bank, made her remarks at a Senate finance committee hearing to confirm her appointment as the Trump administration nears its end.
She told lawmakers that the incoming administration would focus on winning quick passage of its $1.9trn pandemic relief plan, which is to be funded by borrowing, on top of the near $3trn in support delivered during the crisis to date.
Republicans on the committee argue the package, which includes sending cheques of $1,400 (£1,030) to individual Americans earning less than $75,000 annually, is too big given the size of the US budget deficit.
That hit a record $3.1trn last year with US national debt standing at $27trn (£19.8trn).
Critics also pointed to fears that the package of measures, which need the approval of Congress, would also include Mr Biden's plan for a $15-per-hour minimum wage.
Ms Yellen dismissed suggestions the wage proposal could spark a wave of redundancies, saying she expected little to no effect.
She added that many of the lowest-paid had done the most to keep the country's supply chain functioning during the COVID-19 pandemic.
On the broader issue of financial support for consumers and businesses she said: "More must be done.
"Without further action, we risk a longer, more painful recession now and long-term scarring of the economy later."
She said of budget concerns: "Right now, with interest rates at historic lows, the smartest thing we can do is act big.
"In the long run, I believe the benefits will far outweigh the costs, especially if we care about helping people who have been struggling for a very long time."
Ms Yellen, set to be the first woman to become Treasury secretary, is expected to win confirmation of her appointment on Thursday following a vote in the Democrat-controlled Senate.
In financial disclosure forms filed with the committee ahead of Tuesday's hearing, she listed more than $7m in speaking fees she had received from several Wall Street firms including Goldman Sachs and Citigroup since leaving the Federal Reserve two years ago.
Ms Yellen has agreed to recuse herself from Treasury matters involving firms that have paid her for talks.
Biden inauguration: Watch and follow events on Sky News from 1pm on Wednesday, with the ceremony starting at 4pm