COVID-19: Donald Trump suggests he won't sign $892bn coronavirus relief package | World News
Donald Trump has suggested he may not sign the $892bn (£665bn) coronavirus relief package that was approved by Congress.
The US president said in a video shared from his Twitter account that the bill was delivering too much money to foreign countries and not enough to US citizens.
The bill allows for most Americans to receive a $600 (£450) payment.
Mr Trump said he is asking Congress to amend the bill and to "increase the ridiculously low $600 to $2000 (£1870)".
The president also said the package was put together after Democrats "cruelly-blocked" coronavirus relief legislation during the summer "in an effort to advance their extreme left-wing agenda".
He added the bill allocates money for "stimulus cheques for the family members of illegal aliens, allowing them to get up to $1,800 each".
Mr Trump also suggested he is not yet prepared to concede defeat in November's election as he said: "I am asking Congress to get rid of the wasteful and unnecessary items from this legislation and to send me a suitable bill, or else the next administration will have to deliver a COVID relief package and maybe that administration will be me."
The package was part of a hard-fought compromise bill that includes $1.4tn (£1.05tn) to fund government departments until September.
It also contains money for an increase in food stamp benefits and about $4bn (£3bn) to help other nations provide a COVID-19 vaccine for their people.
The Senate cleared the package by a 92 to 6 vote after the House approved it by a vote of 359 to 53.
Those votes totals would be enough to override a veto should Mr Trump decide to take that step.
The outgoing US president made his remarks on Tuesday having earlier pardoned 15 people including his 2016 campaign adviser George Papadopoulos.
The former aide was jailed after he admitted lying to the FBI during its investigation into the Trump team's possible collusion with Moscow.
Mr Trump also pardoned Alex van der Zwaan, a Dutch lawyer who was sentenced to 30 days in prison for lying to investigators during special counsel Robert Mueller's investigation.
Republican Representatives Duncan Hunter of California and Chris Collins of New York were also pardoned.
Collins, the first member of Congress to endorse Trump to be president, was sentenced to two years and two months in prison after admitting he helped his son and others dodge $800,000 in stock market losses when he learned that a drug trial by a small pharmaceutical company had failed.
Subscribe to the Daily podcast on Apple Podcasts, Google Podcasts, Spotify, Spreaker
Hunter was sentenced to 11 months in prison after pleading guilty to stealing campaign funds and spending the money on everything from outings with friends to his daughter's birthday party.
Four former government contractors convicted over a 2007 massacre in Baghdad that left more than a dozen Iraqi civilians dead were also pardoned.
Trump also commuted the sentences of five other people.
Donald Trump issues flurry of pardons as he leaves office | US News
Former White House adviser Steve Bannon and rapper Lil Wayne are among the people being pardoned or granted clemency by Donald Trump in the final hours of his presidency.
The outgoing president granted clemency to 143 people on Wednesday.
Wayne pleaded guilty last month to possessing a loaded, gold-plated handgun on a private flight in 2019. He faces a sentence of up to 10 years in prison at a hearing next week.
Biden inauguration: Watch and follow events on Sky News from 1pm, with the ceremony starting at 4pm
The president met the rapper during his election campaign last year, with the artist later praising some of Mr Trump's policies such as proposed justice reforms.
Controversial former White House adviser Bannon, who was fired by Mr Trump, has also been granted clemency.
"Bannon has been an important leader in the conservative movement and is known for his political acumen," the White House said in a statement.
He was charged last year with swindling Trump supporters over an effort to raise private funds to build the US-Mexico border wall, and pleaded not guilty.
Bannon was appointed chief executive of Mr Trump's successful presidential campaign in 2016, leaving his role at conservative website Breitbart News.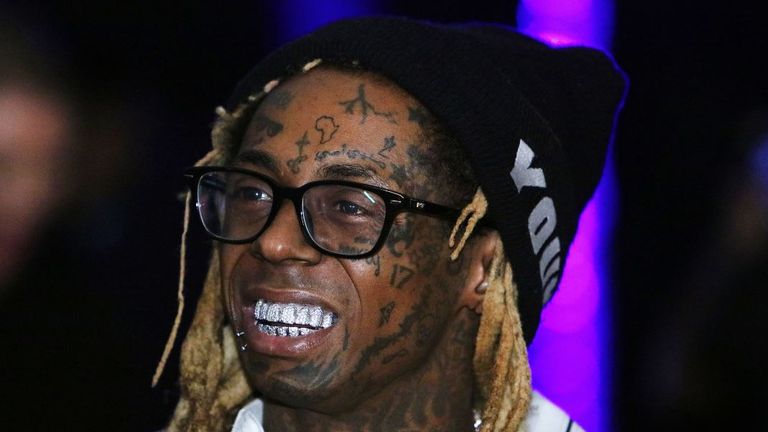 He became chief strategist for Mr Trump after his inauguration, but clashed with others in the White House and was pushed out in August 2017.
Bannon was recently banned from Twitter after he called for the beheading of top government doctor Anthony Fauci and FBI director Christopher Wray.
Others reportedly among the dozens of people being pardoned are Kodak Black – a rapper also sentenced over weapons charges, and former Detroit mayor Kwame Kilpatrick who is seven years into a 28-year sentence for corruption and racketeering.
Mr Trump has previously pardoned several of his closest confidantes such as Michael Flynn, the former national security adviser who lied to the FBI, and commuted the prison term for Roger Stone – who was convicted of lying to Congress during its probe into Russian interference in the 2016 election.
Super Bowl LV: First woman official chosen for showpiece American Football game | US News
A woman will officiate at next month's Super Bowl for the first time, the NFL has announced.
Sarah Thomas, 47, will be a down judge at the world's biggest annual sporting event.
"Her elite performance and commitment to excellence has earned her the right to officiate the Super Bowl.
"Congratulations to Sarah on this well-deserved honor," said NFL executive vice president Troy Vincent.
Ms Thomas became the league's first full-time female official in 2015, making her regular season debut in September that year.
She will join a male-dominated staff of officials for the big game in Tampa, Florida, on 7 February.
Home town side Tampa Bay Buccaneers are due to play Green Bay Packers for a place in the game, while their opponents will be either Buffalo Bills or defending champions Kansas City Chiefs.
NFL bosses have yet to reveal how many fans will be able to attend due to the coronavirus pandemic.
Reports have suggested it could be around 20%, with fans sitting in groups and having to wear masks.
The half-time show comes from Canadian singer The Weeknd.
US says China is committing genocide against Uighurs and other ethnic minorities | World News
The US State Department has declared that China is committing genocide and crimes against humanity in a campaign targeting Uighurs and other ethnic minorities in Xinjiang. 
In a statement, outgoing Secretary of State Mike Pompeo said: "I believe this genocide is ongoing, and that we are witnessing the systematic attempt to destroy Uighurs by the Chinese party-state."
The designation was made in the dying hours of the Trump administration. But the incoming Biden team had previously voiced its support for such a definition, labelling the repression of Uighurs genocide in August last year.
And although Joe Biden's nominee for secretary of state, Antony Blinken, has pledged to reverse a host of President Trump's foreign policy measures, he said that he agreed with Mr Pompeo's determination.
In his determination of crimes against humanity, Pompeo cited "the arbitrary imprisonment or other severe deprivation of physical liberty of more than one million civilians, forced sterilisation, torture of a large number of those arbitrarily detained, forced labour, and the imposition of draconian restrictions on freedom of religion or belief, freedom of expression, and freedom of movement".
Beijing is likely to react furiously. At a press conference held last week in the Chinese capital, Communist Part official Xu Guixiang said: "This utterly untethered fabrication of 'genocide' regarding Xinjiang is the conspiracy of the century."
Analysis: Condemnation of China might be the only point of consensus between Biden and Trump
The US labelling China's treatment of Uighurs and other minorities as genocide is the most significant intervention on the issue. It might get lost in the pageantry of today's inauguration, and the pressing domestic concerns of the US, but it will reverberate for months and years to come.
China's reaction is guaranteed to be apoplectic. But it will seek to portray the genocide designation as motivated by politics, the last gasp of an outgoing administration and the personal vendetta of Mike Pompeo – public enemy number one in Chinese propaganda.
Critics elsewhere might agree with some of that. The Trump administration was not well known for its protection of minorities and human rights, whether at home or abroad. The US ignored calls to declare Myanmar's treatment of the Rohingya as genocide, for example.
And President Trump previously sidestepped human rights issues in his dealings with China, preferring initially to focus on trade. His former national security adviser John Bolton alleged that in July 2019 President Trump told Chinese President Xi Jinping that he was correct to build detention centres for Uighurs.
The designation isn't too much of a curveball for the Biden administration, which has voiced its agreement – perhaps the only point of consensus between two vastly different administrations. For all the division in the US, it is united on China.
But it might make things more difficult for America's allies. The British government narrowly defeated an amendment to legislation that would have added a genocide clause to trade bills, a clause aimed squarely at China. And the EU has recently concluded its own massive trade deal with China. The Biden administration may take a dim view of all that, and the genocide designation adds more moral heft.
In practical terms, the designation legally allows the US to take some new measures, although none of those are massive. The power is in the symbolism. And that symbolism may be most apparent in a year's time, when the 2022 Winter Olympics begin in Beijing.
It's hard to imagine Team USA competing in a country the US government accuses of ongoing genocide. Would other countries join that boycott?