COVID-19: Do the vaccines stop transmission? How can I volunteer to help? Your questions answered | UK News
Three COVID-19 vaccines have now been approved for use in the UK, as the government seeks to hit its target of offering a jab to all of the most vulnerable people by mid-February.
As more people receive the vaccine, more questions are being raised.
Sky News gathered the most Googled vaccine queries – and came up with some of our own questions – to put to Professor Stephen Evans, professor of pharmacoepidemiology at the London School of Hygiene & Tropical Medicine.
1. Does the vaccine stop transmission?
Prof Evans, a clinical trials and drug and vaccine safety expert, said: "We aren't absolutely sure of that and we will need to follow up the use of the vaccines in practice to be more sure.
"The Oxford vaccine took samples from people so they've been able to look at asymptomatic cases, so we are fairly confident that they will at least reduce transmission once they are effective.
"They will start to have some efficacy 14 days after the first jab so will probably reduce transmission, but not totally prevent it before you have your second jab.
"Pfizer didn't do any tests but you can be fairly sure they will prevent asymptomatic cases and transmission."
2. Will we have to have the vaccine every year?
"I don't know, and nobody knows, as we don't know the full protection of it yet," Prof Evans said.
"The way the data looks, you probably won't need a new vaccine every year because of declining efficacy.
"We may, and that's a big 'may', have to if we get new variants that aren't amenable to the vaccine.
"But the indications are it will last at least a year and possibly longer."
3. When will I get the vaccine?
The government has set out a plan to vaccinate the over-70s, healthcare workers, and those required to shield by mid-February – including care home residents and workers.
By spring, it wants millions more vulnerable people to be vaccinated, including: people aged 65-69, then those aged 16-64 with underlying health conditions, followed by 60-64-year-olds, those aged 55-59, and then 50-54-year-olds.
The next phase of the roll-out has not yet been announced.
4. Can the vaccines be mixed?
Prof Evans said: "We don't have the data on mixing them so it's certainly not ideal.
"No one would give one of the vaccines then another if we had an option so if you can avoid it you will.
"But, if somebody has had one of the vaccines and there is none of it at the centre and they are getting towards the end of the 12-week period and they won't be able to get that vaccine, then the consensus of opinion is it's better to give them another vaccine then to leave them unprotected.
"There is going to be a trial of this in the UK and there are theoretical grounds for thinking it could be even more effective doing it that way, but we don't know yet and we wouldn't do it routinely until we knew that.
"There are no grounds for thinking it would be less effective."
5. Which vaccine is the best?
"The problem is we haven't done trials comparing one with another and the evidence is that the mRNA vaccines (Pfizer and Moderna) are not different to one another in efficacy," Prof Evans said.
"They may be more efficacious than the Oxford vaccine but the trials were done in different situations.
"They're not doing trials at the moment, but they will be doing that when they look at the heterologous prime boost trials to see if they can mix them.
"The mRNA vaccines (Pfizer and Moderna) seem to be better but that's much more uncertain.
"We'll fairly soon have a Johnson and Johnson vaccine as well – none have been trialled against each other.
"What is likely to happen is that going forward into 2021 it becomes quite difficult, ethically, to introduce a new vaccine with placebo controls because you would normally only do that when there is no vaccine available.
"In some areas in the world there may be no vaccine available, so some people may want to go for the 50% chance there, but it's unlikely in the UK.
"Going forward, new vaccines will most likely have to be looked at against an approved one, which makes it easier in some respects."
6. Are there adverse effects?
Prof Evans said: "There are undoubtedly the usual short-term effects of vaccines – sore arm, feeling nauseous, getting a temperature or rash. Those can happen quite readily.
"There are no – as far as I know, there's no evidence – there are no serious adverse effects to the vaccines.
"Moderna, there is a very clear directive on the EU website about the sort of things that happen there.
"With any vaccine, you can have a serious allergic reaction, like anaphylaxis, so you have to monitor everyone for 15 minutes and put adrenaline into anyone who gets those.
"Those are quite rare but they can happen, even if you've never had anaphylaxis, but I don't want to scare anyone as it's unlikely.
"You can get minor blood clotting, bruising – you can get that from any vaccine, or lymph nodes slightly raised. The duration is usually pretty short. Most people will get over it within 24 hours.
"I'm part of the Oxford vaccine trial. With the first dose I had a sore arm, but it was so transient I thought I might have been given the meningitis vaccine instead.
"But it turns out older people have the sore arm less than others.
"When I got my second dose I didn't really have a sore arm at all. If you didn't get something like that in the trial then you'd be concerned."
7. Is the vaccine safe if you are pregnant/breastfeeding?
"They weren't tested on pregnant women," Prof Evans explained.
"We have no evidence from those animal studies completed that we see any effects of any of the vaccines on pregnancy outcomes.
"For humans, we haven't had the opportunity to see that yet.
"There's no doubt, pregnant women, if they get COVID they are at slightly higher risk of getting it more severely.
"But these are relative risks. Women of childbearing age are at very low risk of getting COVID and getting it severely.
"I would personally be a bit cautious before advocating pregnant women get the vaccine. But if they have it [and] then find out they're pregnant, I wouldn't say it's bad.
"So many healthcare workers are getting the vaccine and some may be pregnant so we will see that.
"My judgment is unless someone is of very high risk of COVID, I would be very cautious indeed so I would not give it as a blanket policy.
"If it were my granddaughter who was pregnant I would say no, avoid the vaccine, because they're not in grave danger of the disease.
"But I can envisage somebody who is in great danger of the disease, it would be a difficult decision and has to be a difficult decision.
"I'm passionate about women's health and I want women to be protected but you're very unlikely for a new vaccine to include pregnant women in trials until you've got the data.
"I'd be quite cautious, but if there's a situation where getting the disease would be devastating for you, then you'd have to make that decision. It is difficult."
8. Does the vaccine cause infertility?
"No, not a shred of evidence to say that," Prof Evans said.
"There's no obvious mechanism for it having adverse effects on the foetus or mother, or fertility."
9. Is the vaccine live?
Prof Evans said: "They're not what you would call live vaccines, live virus, in the same way as a measles vaccine.
"With the Oxford vaccine, where the carrying element is technically live, it has been modified so it cannot be replicated.
"So no, they're not live in the usual way.
"With a live vaccine, like yellow fever, it is possible to get yellow from the vaccine – although it happens very rarely.
"With these, there's no way you'll get COVID from the vaccines."
10. How many people have had the COVID vaccine?
On 7 January, Boris Johnson said nearly 1.5 million people had had the first dose of the vaccine.
The NHS is aiming to ramp up vaccinations by giving up to two million a week to ensure all people over 70-years-old, the most clinically vulnerable, and frontline health and care workers are immunised by mid-February.
11. How do you volunteer to help administer the COVID vaccine?
St John Ambulance is signing up volunteers who are part of its network already to carry out clinical roles.
They have now opened this up to members of the public who have not previously volunteered with the charity.
NHS Volunteer Respond, set up by NHS England and the Royal Voluntary Service, is recruiting volunteers for a variety of roles that do not need medical training.
The public can sign up to become stewards at vaccination centres, as well as helping with food or medication deliveries, transporting people to medical appointments, or "check-in and chat" phone calls.
:: Subscribe to the Daily podcast on Apple Podcasts, Google Podcasts, Spotify, Spreaker
For both options you will need a smartphone, as tasks are sent through an app, and you will need to pass identity checks.
Retired clinicians who did not apply to help the NHS last year can apply to administer the vaccine and/or lead a vaccination team by going to the NHS Professionals website.
They will have to go through vaccine training and the prime minister has now dropped the need for training on issues such as conflict resolution, human rights and counter-radicalisation before they can start.
COVID-19: UK to look 'very carefully' at vaccine dosing after concerns raised over level of protection | Politics News
The UK will need to look "very carefully" at the protection provided by the first dose of the Pfizer/BioNTech vaccine, the government's chief scientific adviser has told Sky News, amid concerns its effectiveness is significantly lower than had been found in trials.
Sir Patrick Vallance said the government would "just need to keep measuring the numbers" as the vaccine is rolled out across the UK.
Live COVID news from UK and around the world
Answering questions from Sky News viewers, Sir Patrick was asked about an analysis from Israel, where the Pfizer jab has been rolled out the fastest.
That study suggested the effectiveness of the vaccine after a single dose was as low as 33% – rather than the 89% that had initially been thought.
The 89% figure – pointing to high short-term protection – was used to help justify the UK's decision to delay giving a second vaccine dose to people for up to 12 weeks, as part of a push to get as many people as possible in the UK vaccinated with an initial first dose.
Sir Patrick said: "We need to look at this very carefully, we just need to keep measuring the numbers."
He admitted that "in practice" the protection provided by one dose of a Pfizer vaccine probably won't be as high as 89%, but he pushed back against the suggestion it could be as low as 33%.
"What we know from a clinical study is… if you take everything from day zero, the moment you get the vaccine, to day 28 then the overall figure is something like 50% protection," Sir Patrick said.
"But, of course, you don't expect to get any protection in the first 10 days, because it hasn't had a chance for the immune system to build up.
"And some people may have been infected before they had the vaccine.
"So, if you take from day 10 up towards day 21 and beyond, then it looks much more like the 89% figure that the Joint Committee on Vaccination and Immunisation said.
"That's the clinical trial data and we also know that when you get into real world practice, things are seldom quite as good as clinical trial.
"So I think the 89% or so is the figure you see post-10 days, so that's the basis of the recommendation.
"It probably won't be as high as that in practice, but I don't think it will be as low as the figures you've just given."
Sir Patrick said the UK would get more "real world" data from both Israel's and the UK's vaccination programme over the coming weeks to "get a better handle on exactly how effective this is in the real world, rather than in the conditions of a clinical trial".
But he stressed it was "quite important not to assume this protects in the first 10 days, because it doesn't".
Scientists in Israel studied preliminary data from 200,000 vaccinated people.
Professor Ran Balicer, who works for the largest health care provider in Israel and who is an adviser to the World Health Organisation, told Sky News there was "no difference" between infections of vaccinated and unvaccinated people until 14 days after a Pfizer jab.
But he added that, on day 14 after vaccination, "a drop of 33% in positivity was witnessed in the vaccinated group and not in the unvaccinated".
Prof Balicer said the data did not show an 89% reduction in positivity rates, but said further data and analysis would be provided after being peer-reviewed.
Israel is providing a second dose of the Pfizer vaccine at three weeks, which Prof Balicer said means it is "impossible" for them to analyse the impact of not providing a second dose for a longer period of time.
Donald Trump issues flurry of pardons as he leaves office | US News
Former White House adviser Steve Bannon and rapper Lil Wayne are among the people being pardoned or granted clemency by Donald Trump in the final hours of his presidency.
The outgoing president granted clemency to 143 people on Wednesday.
Wayne pleaded guilty last month to possessing a loaded, gold-plated handgun on a private flight in 2019. He faces a sentence of up to 10 years in prison at a hearing next week.
Biden inauguration: Watch and follow events on Sky News from 1pm, with the ceremony starting at 4pm
The president met the rapper during his election campaign last year, with the artist later praising some of Mr Trump's policies such as proposed justice reforms.
Controversial former White House adviser Bannon, who was fired by Mr Trump, has also been granted clemency.
"Bannon has been an important leader in the conservative movement and is known for his political acumen," the White House said in a statement.
He was charged last year with swindling Trump supporters over an effort to raise private funds to build the US-Mexico border wall, and pleaded not guilty.
Bannon was appointed chief executive of Mr Trump's successful presidential campaign in 2016, leaving his role at conservative website Breitbart News.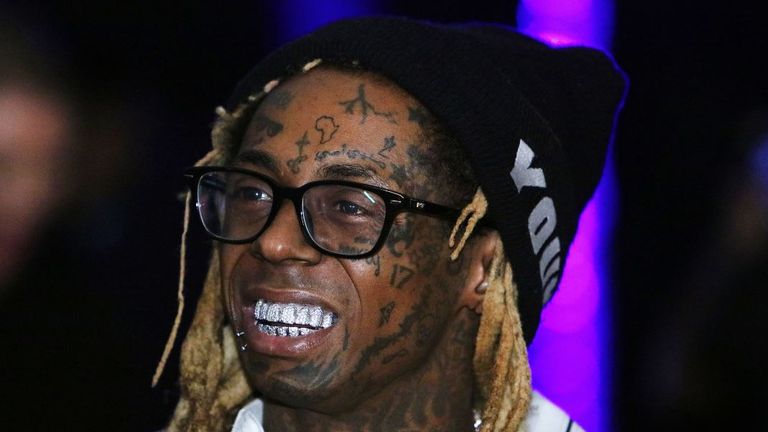 He became chief strategist for Mr Trump after his inauguration, but clashed with others in the White House and was pushed out in August 2017.
Bannon was recently banned from Twitter after he called for the beheading of top government doctor Anthony Fauci and FBI director Christopher Wray.
Others reportedly among the dozens of people being pardoned are Kodak Black – a rapper also sentenced over weapons charges, and former Detroit mayor Kwame Kilpatrick who is seven years into a 28-year sentence for corruption and racketeering.
Mr Trump has previously pardoned several of his closest confidantes such as Michael Flynn, the former national security adviser who lied to the FBI, and commuted the prison term for Roger Stone – who was convicted of lying to Congress during its probe into Russian interference in the 2016 election.
Super Bowl LV: First woman official chosen for showpiece American Football game | US News
A woman will officiate at next month's Super Bowl for the first time, the NFL has announced.
Sarah Thomas, 47, will be a down judge at the world's biggest annual sporting event.
"Her elite performance and commitment to excellence has earned her the right to officiate the Super Bowl.
"Congratulations to Sarah on this well-deserved honor," said NFL executive vice president Troy Vincent.
Ms Thomas became the league's first full-time female official in 2015, making her regular season debut in September that year.
She will join a male-dominated staff of officials for the big game in Tampa, Florida, on 7 February.
Home town side Tampa Bay Buccaneers are due to play Green Bay Packers for a place in the game, while their opponents will be either Buffalo Bills or defending champions Kansas City Chiefs.
NFL bosses have yet to reveal how many fans will be able to attend due to the coronavirus pandemic.
Reports have suggested it could be around 20%, with fans sitting in groups and having to wear masks.
The half-time show comes from Canadian singer The Weeknd.