COVID-19 deaths prompt call for two weeks' paid bereavement leave | UK News
Britons should be entitled to two weeks' paid bereavement leave following the death of a partner or close relative, campaigners say.
The government is facing calls to introduce statutory bereavement leave for grieving employees amid the coronavirus pandemic, which has claimed the lives of more than 83,000 people in the UK so far.
A group of MPs, business owners and charities is calling on ministers for "a more compassionate approach" and say annual leave is "not appropriate" in cases of bereavement.
Currently workers are only entitled to paid leave if they lose a child.
While the government claims the change would come at too much of a cost at a time when COVID-19 is already crippling the economy, bereavement charity Sue Ryder says grief among employees already costs £23 billion a year in reduced tax revenues and use of NHS resources.
The charity's chief executive Heidi Travis said: "Bereavement is not a holiday.
"Moreover, it is often the lower paid and those in less secure employment who are unable to take time off to start processing their pain – they may not have the option of flexible working, cannot call in sick and unpaid leave is not a viable alternative.
Subscribe to the Daily podcast on Apple Podcasts, Google Podcasts, Spotify, Spreaker
"Coronavirus has already led to an increase in bereavement across the UK, devastating thousands of families.
"At this time of national crisis, introducing a more compassionate approach to bereavement leave is paramount."
The group calling for the change also includes the charities Hospice UK and Cruse Bereavement Care, as well as the Royal College of Physicians, business leaders and senior MPs.
Carl Ennis is the UK head of engineering firm Siemens and is also part of the coalition.
"As the government looks to 'build back better', we believe that introducing statutory bereavement leave for an immediate family member or partner is a clear example of a bold, compassionate and caring commitment to UK workers, particularly after the devastating year we had in 2020," he said.
A government spokeswoman said: "Family bereavement is an extremely personal and difficult issue which people deal with in different ways.
"We are the first country in the world to have introduced a right to time off specifically for the loss of a child and we urge employers to also display compassion and flexibility towards employees facing the ordeal of losing a partner or close family member."
Birmingham: 15-year-old boy killed in gang attack named | UK News
A teenager killed in a street attack in Birmingham has been named as 15-year-old Keon Lincoln.
The teenager was "set upon" by a gang of youths in Handsworth just after 3.30pm on Thursday, according to police.
He was taken to hospital but died of his injuries shortly afterwards, the West Midlands force added.
A post-mortem examination to establish the cause of death is due to be held.
A 14-year-old boy was arrested on Friday morning on suspicion of murder and is currently in custody.
The scene remains cordoned off while investigators continue to carry out a forensic examination.
Witnesses said they heard gunshots being fired and the suspects were armed with knives.
Officers believe the group fled in a white car which crashed into a house in Wheeler Street, in the Lozells area of the city.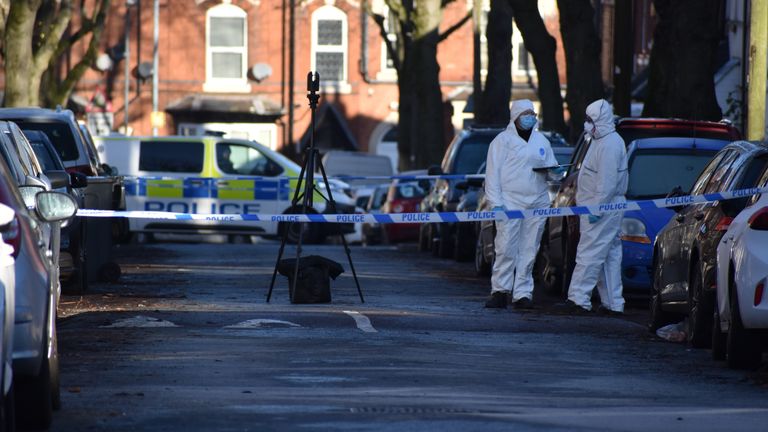 They are appealing for witnesses and anyone with information to come forward.
Detective Chief Inspector Alastair Orencas said: "The death of Keon has shocked the whole community and we have increased our patrols in the area.
"We are determined to apprehend those responsible for his death and bring them to justice, so I would personally appeal to anyone who is withholding information out of misguided loyalty to the offenders, to come forward.
"A teenage boy has died in the most violent of circumstances and we urge you to give us any information you have."
Witnesses and anyone with information can contact police on 101, or call Crimestoppers anonymously on 0800 555 111.
COVID-19: England's COVID infection rate decreases slightly but remains high – ONS | World News
The percentage of people testing positive for COVID-19 in England has decreased slightly but remains high, according to latest figures from the Office for National Statistics (ONS).
Around 1 in 55 people who are not in care homes, hospitals or other institutional settings had the virus in the week ending 16 January.
In the last full infection survey published two weeks ago, 1 in 50 people had the virus – showing there has been a small decrease, although infection rates still remain high.
Worryingly, infection rates in Northern Ireland jumped from 1 in 200 in the previous survey to 1 in 60.
Rates in Scotland and Wales have levelled off, with 1 in 100 and 1 in 70 people infected respectively.
In England, London and the North East still have the highest infection rates, with about 1 in 35 people estimated to have the virus in the capital.
However, there was some good news as the percentage of people infected with the new variant has fallen in London, the South East and the East of England.
Suspected shark attack in Australia as pieces of diving equipment found in search for missing man | World News
Rescuers trying to track down an Australian man, who went missing while snorkelling, believe he may have been taken by a shark after they found pieces of diving equipment.
The man went missing late on Thursday while snorkelling near Port MacDonnell off Australia's south coast.
His unexplained disappearance sparked an air and sea search, but this was later scaled back when rescuers pulled a damaged wetsuit and flippers from the water.
The man has been named as 32-year-old Duncan Craw, according to News.com.au
His family, who spoke to the news site, described him as "extremely hard-working" and "the best father", saying he had been due to celebrate his 33rd birthday on Saturday.
South Australia Police Limestone Coast operations manager Campbell Hill told ABC that no remains have been found but a shark had been seen in the area the previous day.
"There are a few remaining areas of interest that we are just looking to explore but the information from the experts at this time is that the search I should say, will be scaled down and unfortunately this will become a matter that will become the subject of an investigation report for the coroner," he said.
If confirmed, it would be Australia's first recorded shark attack this year.
Last year saw a spike in fatal shark attacks in the country with eight people killed, up from zero the previous year, according to the Taronga Conservation Society.