COVID-19: David Attenborough becomes latest celeb to get vaccine | Ents & Arts News
Sir David Attenborough has become the latest national treasure to get the first dose of the COVID-19 vaccine.
The naturalist and broadcaster has received his initial jab, following in the glamorous footsteps of Dame Joan Collins and the Queen at the weekend.
Follow live COVID-19 updates from the UK and around the world
Other stars to have been vaccinated include actor Sir Ian McKellen, 81, Great British Bake Off judge Prue Leith, 80, entertainer Lionel Blair, 92, and singer Sir Tom Jones, 80.
Attenborough, 94, has previously spoken of the "immense suffering" caused by the pandemic, but also raised concerns that the crisis would take concentration away from the issue of climate change.
Speaking in September, Sir David said: "If there is hope that can come out of it, then that may arise from the whole world having experienced a shared threat and found a sense that we are all in it together."
It is not known which of the vaccines currently in use in the UK – one from Pfizer/BioNTech, the other from Oxford/AstraZeneca – Attenborough has been given.
Dame Joan, 87, said her jab was "painless and seamless" after getting the injection on Saturday morning.
The Queen, 94, and the Duke of Edinburgh, 99, also received their first dose of the jab over the weekend, making the news public in an unusual announcement on Saturday.
After he received his jab in December, Sir Ian McKellen said he felt "euphoric", while Lionel Blair said he was happy to finish 2020 "with hope".
Backstage podcast: It's A Sin, The Investigation and The White Tiger | Ents & Arts News
This week on Backstage – Bethany Minelle, Stevie Wong and Gemma Peplow get stuck into some seriously good new TV and film releases.
In other news, we find out why 2021's looking like a positive year for rapper Lil Wayne, but not so bright for any British musicians hoping to tour Europe in the near future.
:: Listen to the Backstage podcast on Apple Podcasts, Google Podcasts, Spotify, Spreaker
We also look at Russell T Davies's latest drama It's A Sin, and the truly different real crime drama The Investigation, based on the submarine murder of 2017.
Priyanka Chopra-Jonas tells us why she chased down her role in big budget Netflix movie The White Tiger, and Dan Stevens is back for a second podcast visit where he reveals to Stevie that he could soon be stepping behind the camera to try his hand at directing.
Plus, we review baby comedy Baby Done with comedian Rose Matafeo and Trekkie animated spin-off Star Trek: Lower Decks.
Enjoy! Please do subscribe if you like what you hear and do get in touch using [email protected] – we love emails!
COVID-19: Release date for new James Bond film No Time To Die pushed back again | Ents & Arts News
The new James Bond film No Time To Die has been delayed for the third time due to the coronavirus pandemic.
Daniel Craig will make his final appearance as 007 on 8 October, the official James Bond account posted on Twitter early on Friday.
The movie had been due to come out in April 2021, with the crew claiming they pushed it back from November 2020 so it could "be seen by a worldwide theatrical audience".
It was originally planned for release a year before that in April 2020, but an open letter from fans saw the London premiere cancelled as COVID-19 cases began to emerge across the UK.
The virus has caused chaos in Hollywood, with productions constantly forced to stop in the event of a positive case among cast or crew.
Actors and crew members are expected to "bubble" together and not have contact with anyone outside the production or their household.
But with cinemas closed in many countries, film bosses are also unable to make any money at the box office.
Earlier this month, Warner Bros announced it was delaying the release of the Sopranos prequel Many Saints Of Newark with large parts of the US still in lockdown.
Superhero film Morbius, which features Jared Leto, sci-fi epic Dune and action sequel Top Gun: Maverick have also suffered coronavirus delays.
Frustrated Bond fans were already waiting for the latest 007 film before the pandemic started – with Danny Boyle's decision to quit as director in 2018 resulting in a delay.
No Time To Die, the 25th film in the franchise, finds Bond after he has left MI6 and is enjoying a peaceful life in Jamaica when an old friend from the CIA turns up asking for help.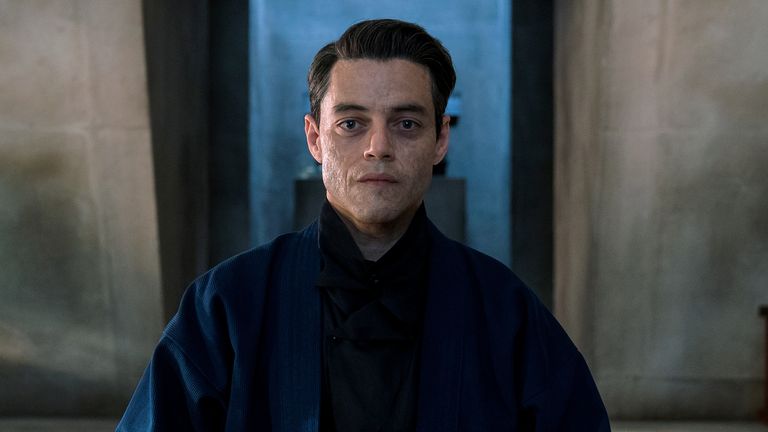 As well as Craig, 52, it also stars Lea Seydoux, Rami Malek, Lashana Lynch, Ana De Armas and is directed by Cary Joji Fukunaga, with a script co-written by Fleabag creator Phoebe Waller-Bridge.
Ralph Fiennes, Ben Whishaw, Rory Kinnear and Naomie Harris all reprise their roles.
BBC criticised for spending more than £1m fighting legal battles over discrimination and pay | UK News
The BBC has admitted it spent over £1m on legal fees fighting equal pay and race discrimination cases brought by staff.
It did not say how much in-house lawyers dealing with the allegations had cost, but estimated they had spent 2,452 hours dealing with the claims.
Tory MP Julian Knight, whose Commons Media Select Committee was told the information in a letter by the BBC, called it "unbelievable" and "shocking".
But a BBC spokesperson said the broadcaster was a "truly inclusive employer" and that the complexities of these types of cases "mean they need to be managed by qualified professionals".
The new figures relate to the last three-and-a-half years.
They show the BBC spent £1,121,652 on legal representation in equal pay and race discrimination cases brought by its own staff, with external lawyers spending 2,688 hours on the legal fights.
But ongoing tribunal costs are not counted in the figures, because the BBC said that information was "commercially prejudicial".
While the corporation said it could not calculate in-house lawyers working on the cases had cost, it said the salary for a lawyer was £46,210 to £68,800, while a senior lawyer makes £66,740 to £102,680 a year.
Mr Knight MP said the licence fee payers' money "could have gone into making programmes".
He added: "This disclosure sits uncomfortably against the BBC's claim that it offers value for money.
"It must now offer a full explanation of how legal costs were allowed to escalate to such levels.
"We will be calling on the newly appointed BBC Chair Richard Sharp to investigate as a priority."
A BBC spokesperson said: "The BBC is committed to being a truly inclusive employer.
"While we aim to manage costs efficiently and proportionately, the complexities of these cases mean they need to be managed by qualified professionals – not least to ensure fairness."