COVID-19: Circus star Gerry Cottle dies of coronavirus aged 75 | UK News
Circus star Gerry Cottle has died of coronavirus aged 75, his agent has said.
Cottle died in hospital in Bath after contracting COVID-19, Mark Borkowski said in a statement.
Writing on Twitter, he described him as the "greatest circus showman" and said he would "never forget all the mad adventures we shared".
"Gerry was a loving family man who is survived by his wife Betty and three daughters and a son, seven grandchildren and two great-grandchildren," the post added.
Cottle found fame in the 1970s with his own show the Gerry Cottle Circus, which he ran until 2003.
He also presented the Moscow and Chinese State Circuses in the UK and appeared at Glastonbury Festival.
Cottle first decided on a career in the circus after seeing a performance at London's Earl's Court at the age of eight.
He abandoned his O-Levels at 15 and left his family in Surrey to pursue his dream.
Starting out with just five performers and a second-hand tent previously used to sell flowers, he described his first show as "terrible".
He gave up his life in the circus in the early 2000s when he bought Wookey Hole, a museum and amusement attraction in Somerset.
Larry King: US talk show host dies weeks after testing positive for COVID-19 | US News
US talk show host Larry King has died at the age of 87.
The TV star was taken to hospital in Los Angeles in late December after testing positive for coronavirus.
King, whose career spanned more than six decades, had Type 2 diabetes and had suffered from lung cancer, angina and heart attacks in recent years.
King's broadcasting fame began in the 1970s with his radio programme The Larry King Show, which he hosted on the network Mutual Broadcasting System.
He then went on to have his own television show, Larry King Live on CNN, between 1985 and 2010, where his guests included politicians, celebrities, sports stars and well-known conspiracy theorists
You Me At Six: 'Everything is at stake' over visa-free touring in Europe | Ents & Arts News
You Me At Six frontman Josh Franceschi has told Sky News "everything is at stake" over the issue of visa-free travel for musicians in Europe – and has called on the government to "prove us all wrong and show they care".
The singer-songwriter spoke out about the issue as the British rock band's seventh studio album, SUCKAPUNCH, claimed the number one spot in the UK album charts.
A massive 85% of the first-week sales were physical copies of the record, the band's second to top the UK charts, and more than half were purchased from independent record stores – something of a boost for the industry while COVID-19 lockdown restrictions are still in place.
Like all other musicians at the moment, You Me At Six are unable to tour due to the pandemic. But in recent weeks, the issue of playing shows in Europe following Brexit has also made headlines, after it emerged the government's deal did not include visa-free travel for performers.
"Everything is at stake" if the problem is not solved, Franceschi said.
"Touring is kind of the lifeblood of the music industry. It's kind of always been that way, in particular for bands like ourselves.
"I mean, we're experiencing right now, we've got the number one album in the country. And for us, the thought of not being able to go on tour in mainland Europe and [that] not be an accessible, viable option is not one that we know that we're comfortable living with.
"So hopefully the government can prove us all wrong and show us that they do actually care about what people like myself and our peers have made a life out of doing, which is being performers and touring the world doing so."
Since leaving the European Union, British performing artists hoping to tour the continent must now seek separate permits to work in many of the 27 member states.
They will also have to pay for expensive carnets (permits) to cross borders with their equipment and trucks carrying kit, or they could have their journeys capped.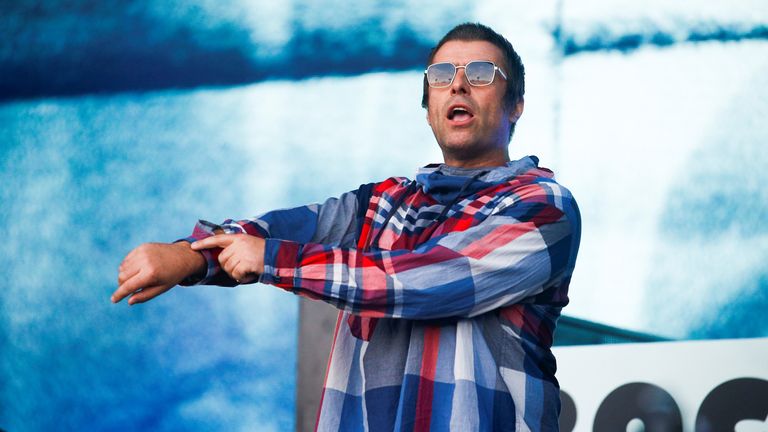 Earlier this week, more than 100 artists, from pop singers to classical composers, signed a letter calling on the government to resolve the "gaping hole where the promised free movement for musicians should be".
Stars including Ed Sheeran, Liam Gallagher, Brian May and Sting were among the signatories.
So too was The Who star and Brexiteer Roger Daltrey – who questioned what leaving the EU had "to do with the rock business" during a Sky News interview with arts and entertainment reporter Bethany Minelle in 2019.
After his decision to sign the letter saw Daltrey accused of hypocrisy on social media, he denied changing his opinion of the EU.
"I have not changed my opinion on the EU," he said in a statement. "I'm glad to be free of Brussels, not Europe.
"I do think our government should have made the easing of restrictions for musicians and actors a higher priority.
"Every tour, individual actors and musicians should be treated as any other 'goods' at the point of entry to the EU with one set of paperwork.
"Switzerland has borders with five EU countries, and trade is electronically frictionless. Why not us?"
Downton Abbey star Dan Stevens: I want to challenge myself and surprise other people | Ents & Arts News
There is no rhyme or reason to the kind of roles actor Dan Stevens chooses, just as long as he remains challenged by the experience.
Following his breakthrough role as Matthew Crawley on the worldwide phenomenon that is Downtown Abbey, Stevens has taken on the big budget live action adaptation of the Beast in Disney's Beauty And The Beast and played a homicidal war veteran in the cult film The Guest.
In 2020 alone he starred alongside Harrison Ford in the adventure film The Call Of The Wild and showcased his version of blue steel as Alexander Lemtov in the comedy Eurovision Song Contest: The Story Of Fire Saga.
Now in early 2021, he has two very contrasting lead roles hitting the screens in the breezy take on Noel Coward's 1941 classic Blithe Spirit and a vacation gone creepily wrong with The Rental.
Stevens tells Sky News: "I've always admired actors that have frequently been unrecognisable.
"I don't necessarily want to show up and be like, 'Hey, it's me again.' Actually, disappearing into these roles and finding something totally different by challenging myself and surprising other people is all part of it as well."
In The Rental, Stevens takes on the role of Charlie, a successful entrepreneur who books a weekend getaway with his wife (Alison Brie), his brother (Jeremy Allen White) and his sibling's girlfriend (Sheila Vand) – who also happens to be Charlie's business partner.
The two couples find themselves in an isolated cliffside mansion, but quickly discover the space brings up multiple tensions within the group and may not have been the ideal choice for a weekend away.
Directed by actor turned director Dave Franco (who's also the younger brother of actor James Franco), it's a bold choice for the novice filmmaker to opt for horror for his debut movie.
But it's a decision that's paid off – The Rental was number one in the US box office for two weeks during its release.
Stevens explains: "I thought it was particularly interesting that [Dave] wasn't going for a comedy, as that is what he's known for.
"But he's steeped in genre cinema too. A lot of filmmakers take genre as their first move, because there's a fixed set of rules that you get to play with, and you can learn which ones you can stick with and which ones you can break and will entertain your audience.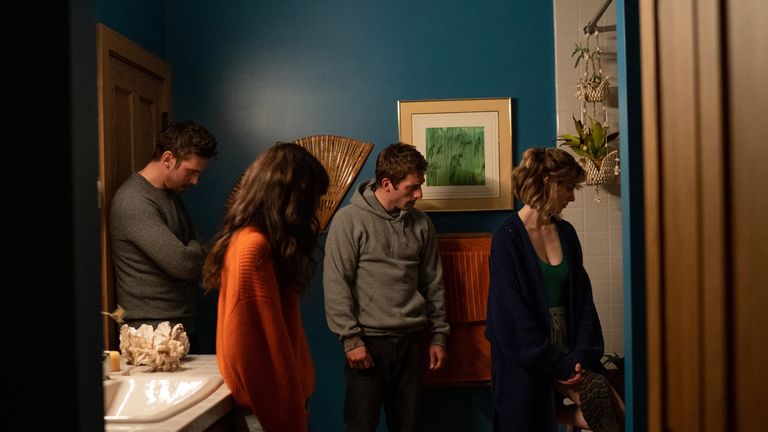 "He's very clever at lacing an unsettling atmosphere that kind of goes underneath it so you don't know if it's going to be a drama between two brothers, or a relationship drama, or there's these racial microaggressions against Sheila Vand's character. It's all of these things."
And despite enjoying his time playing in a horror film, Stevens also has fond memories of a much more light-hearted shoot for Sky Cinema's Blithe Spirit.
Co-staring Isla Fisher, Leslie Mann and Judi Dench, Edward Hall's reimagining of the Noel Coward classic revolves around three women who help – and hinder – a screenwriter with a bad case of writer's block.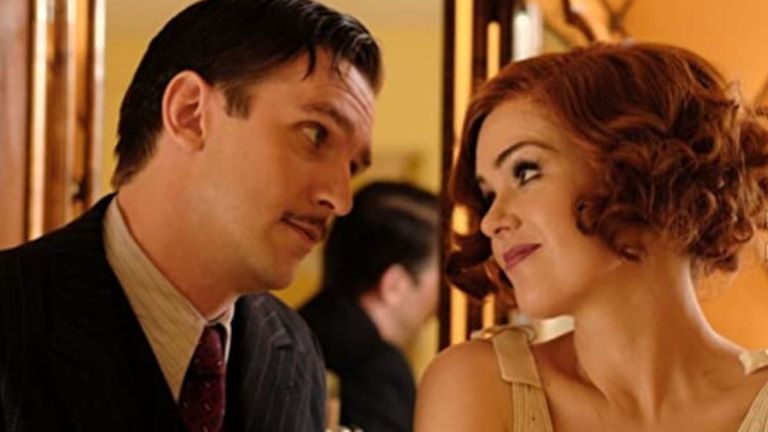 Originally performed in the West End as World War II raged outside, the current film adaptation takes on a supernatural tone in which Stevens has to work against the three comedic powerhouses.
He admits: "It was quite a vortex. What was really interesting with [Blithe Spirit] was trying to actively blend a classic feel with modern comedic sensibility. I think we've come up with a really nice bright funny adaptation."
When asked if national treasure Dame Judi Dench would let her hair down during down time on set and swear like a sailor, Stevens teases, "Only when she's talking about the film Cats."
Subscribe to the Backstage podcast on Apple Podcasts, Google Podcasts, Spotify, Spreaker
So, after such a successful year on screen, has the 38-year-old performer got any aspirations to try his hand behind the camera?
"You mean like directing Avatar 9? Move over James Cameron!" Stevens jokes.
"I can't imagine that happening. There's a couple of things brewing, but I think it will be a smaller scale, possibly with a genre slant. It's a playful way to introduce yourself into that world."
Listen to more of Dan Stevens's interview on this week's Sky News Backstage podcast.
The Rental is streaming now on Amazon Prime and Blithe Spirit is available on Sky Cinema and NOW TV.