COVID-19: Care homes at risk of being overwhelmed again as outbreaks triple | UK News
Care homes risk being overwhelmed by the coronavirus once again, the government has been warned, with the number of outbreaks having tripled in the past month.
Public Health England figures reveal they went up by 60% in one week alone, as the UK as a whole battles a major surge in COVID cases and growing concerns about staffing levels.
A survey by the National Care Forum found care homes were operating staff absence rates of up to 50%, with increased testing revealing more positive cases and forcing staff to isolate.
Others are having to shield or look after children during lockdown.
Northfield Nursing Home in Sheffield is among those now in crisis mode.
There is too much to do and not enough hours in the day to do it.
The care staff are running around trying to keep on top of all the buzzers. Each buzzer is a patient in need of care and a panel on the wall is lit up with green lights, each one needing attention.
This is a specialist nursing home that offers what the NHS calls "intermediate care" – that's a hospital-style bed for patients who should no longer be in hospital but who are not ready to go back to their homes.
These days, intermediate care is being used as a valve to relieve pressure on an NHS that is bursting at the seams.
"Just as we get one patient discharged another comes straight through the door," says clinical lead nurse Tracy Hobson, who worked for the NHS for 30 years and now runs this department.
"It's a bit like Groundhog Day – it just keeps repeating itself and we just need to keep going for our residents."
She tells me that the floor we are on is full with patients sent to them from hospitals. Thankfully, no-one in the home has COVID at the moment, she says.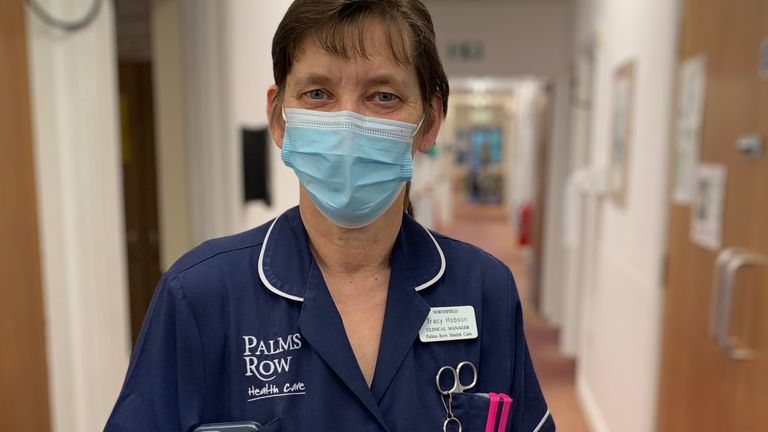 This care home is trying to help the NHS from being overwhelmed by taking as many patients as possible. The nursing staff and carers are doing their best to hold back a new surge in this crippling pandemic.
Eva Koffi is a third-year medical student and part-time carer. The 21-year-old says the situation can change dramatically from week to week.
"One week I had a shift and I left on the Friday night and all was well. On my next shift I came in and the whole floor was full of COVID positives. I was terrified," she said.
"The vaccine can't come quickly enough. Until then. We don't know what happens from one week to the next."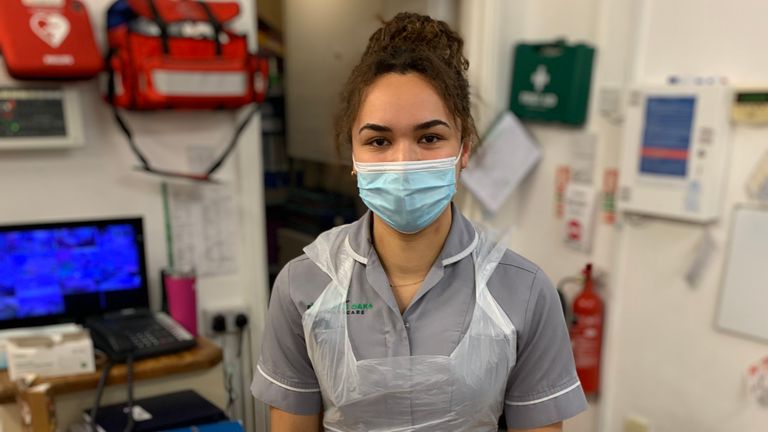 Pressure on health and social care is rising, with demand for beds higher than it has ever been.
And care homes like Northfield have never been busier, full of patients sent from hospitals that are desperate to free up bed space.
Vic Rayner, National Care Forum executive director, told Sky News: "It's a really important early warning flag that we must pay absolute attention to.
"Action is needed now to ensure social care services can provide the care and support so desperately needed."
A Department of Health and Social Care spokesperson said: "The NHS and social care systems are working closely together to ensure that patients are discharged as quickly and safely as possible.
"All patients will be tested on discharge from hospital and must have their result prior to admission to a care home."
Mitch McConnell: Capitol rioters 'provoked' by Donald Trump | US News
One of the most senior US Republicans has accused Donald Trump of feeding supporters lies that led to the deadly Capitol riot.
Mitch McConnell, leader of the GOP in the Senate, accused the outgoing president on his last full day in office of having "provoked" those who stormed the building where legislators narrowly escaped a baying mob.
And in a further snub to Mr Trump, who has claimed without evidence held up in court that last November's election was rigged, Mr McConnell vowed the inauguration of Joe Biden on Wednesday will be "safe and successful".
The intervention comes ahead of tomorrow's transfer of powers in the White House, with a markedly different ceremony than usual planned for Mr Biden and Vice President-elect Kamala Harris.
Coronavirus and the serious security breaches that led to five deaths two weeks ago mean participation at the event in Washington DC will be drastically reduced.
Ahead of it, Mr McConnell opened the Senate on Tuesday – also his final day as Majority leader, before Ms Harris takes over and swings its political make-up in favour of the Democrats.
"The mob was fed lies," he declared about the Capitol riot.
"They were provoked by the president and other powerful people, and they tried to use fear and violence to stop a specific proceeding of branch of the federal government."
Mr McConnell added that "we'll move forward" after Mr Biden's inauguration on the Capitol's West Front – what he noted former president George HW Bush has called "democracy's front porch".
COVID-19: 'Saving lives is an act of worship' – leading scholar urges Muslims to have COVID vaccine | UK News
A leading Islamic scholar is calling on Muslims to ignore disinformation campaigns aimed at discouraging them from taking the COVID-19 vaccine. 
Sheikh Muhammad Tahir ul-Qadri says a series of conspiracy theories circulating on social media is leading to vaccine hesitancy in Muslim populations, which goes against the tenets of Islam.
"Saving lives is an act of worship," he told Sky News in an exclusive interview. "At the start of the pandemic, Muslims around the world were among those in the forefront.
"They put their maximum efforts into saving lives, providing people with food and every kind of necessary support. In the same way, they should come forward now."
Live COVID news from UK and around the world
Canadian-based Sheikh Tahir seeks to reassure his three million followers on social media, in an effort to counter the spread of fake news about the COVID-19 vaccines.
"Some people are saying that there is alcohol in it, or pork or other things forbidden (in Islam). Some say these vaccines may affect certain parts of the brain. What can I say? These are totally baseless claims."
"This is a matter of medicinal development, of life, and it is just the same as when we take paracetamol, antibiotics, or aspirins despite their side effects.
"Believing in the medical process is one of the basic teachings of Islam. Islam and the teachings of the Koran the Prophet Muhammad, peace be upon him, is focused on reason, intelligence, scientific research, and intellectual development."
Vaccine hesitancy is increasingly being seen as one of the reasons why groups described as BAME, many of who are Muslim, may not receive the COVID-19 vaccine at the same level as the rest of the population.
Dr Winston Morgan, a leading researcher in medical outcomes based on race and ethnicity, says this is yet another way COVID-19 is harming BAME communities.
"What is described as vaccine hesitancy is more a lack of enthusiasm or faith in the system that has failed certain groups in the past," he said.
"If you do not believe from past experiences that medical treatments will work well for people like you and in certain cases could actually harm you, not because of genetics linked to race, but because of structural disadvantages, you are unlikely to be enthusiastic when a new, and what could be described as a controversial, vaccine comes along."
Dr Morgan cites research which shows that BAME groups generally say they are less likely to take the vaccine. In one study 72% of black people said they are unlikely or very unlikely to be vaccinated. He warns against overstating the case about hesitancy.
"The temptation will be to blame hesitancy rather than the structural problems based on class and race which have always plagued healthcare delivery to BAME communities.
"Based on the government's past records, it is likely they will also fail to meet vaccination targets. Having a ready-made excuse like vaccine hesitancy amongst BAME groups would be a convenient excuse."
Much was made of the Muslim husband and wife scientists behind the German company BioNTech, which teamed up with Pfizer to produce one of the world's leading COVID-19 vaccines.
Doctors Ugur Sahin and Ozlem Tureci are children of Turkish migrants who moved to Germany in the late 1960s.
The British Islamic Medical Association (BIMA) has urged Muslims to take the vaccine on the advice of their medical practitioners and following informed consent.
"It is important to make sure they participate in the vaccine campaign. This is a health issue, not a faith issue." said Dr Sharif Kaf Al-Ghazal, president of BIMA.
Muslims who want to travel to Saudi Arabia for pilgrimage are being advised by the country's Hajj and Umrah Minister Mohammed Benten to take the coronavirus vaccine before traveling. Dr Al-Ghazal agrees this could help convince more Muslims.
US National Guard troops removed from inauguration duty due to 'far right' links, reports | US News
Two US Army National Guard members have been removed from duty during Joe Biden's presidential inauguration because of ties to far-right militias, according to Associated Press.
A US Army official and a senior US intelligence official confirmed the decision to AP on the condition of anonymity due to Defense Department media regulations.
They did not say what fringe group the Guard members belonged to or what unit they served in.
Live updates on the final preparations for Joe Biden's inauguration
A spokesman for the National Guard Bureau told AP: "Due to operational security, we do not discuss the process nor the outcome of the vetting process for military members supporting the inauguration."
Speaking from Washington DC, Sky's US correspondent Cordelia Lynch said: "We haven't been told what groups these two individuals are members of – but it is an indication of a level of concern in Washington DC."
She added there were "threats of an inside job", but the National Guard is not commenting on what the vetting process is.
Lynch said the FBI are looking at a large number of organisations and there is "heightened security and a heightened sense of alarm".
The heightened security comes after the riots on 6 January when Donald Trump supporters stormed the Capitol Building.