COVID-19: Boris Johnson says lockdown 'starting to show signs of some effect' – but doesn't rule out tougher action | Politics News
Boris Johnson has told MPs that recent coronavirus restrictions "are starting to show signs of some effect" – but he refused to rule out even tougher measures.
The prime minister came under fresh pressure from Labour on Wednesday to tighten COVID rules in order to drive down infections.
Live COVID updates from UK and around the world
Labour leader Sir Keir Starmer, addressing Mr Johnson at the first session of Prime Minister's Questions this year, said the current lockdown in England was "not strong enough".
"Every time there's a big decision to take, the prime minister gets there late," Sir Keir told MPs.
"The next big decision is obvious, the current restrictions are not strong enough to control the virus.
"Stronger restrictions are needed."
Responding to the reaction of Conservative MPs, Sir Keir added: "There's no point members opposite shaking their heads, in a week or two the prime minister is likely to be asking members to vote for this."
He then asked Mr Johnson to explain – with COVID infection rates, hospital admissions and death rates higher than the first lockdown last year – "why on earth are restrictions weaker than last March?"
The Labour leader has previously pointed to how nurseries remain open and how house viewings can continue, as examples of how the current lockdown – England's third national shutdown – could be strengthened.
In reply to Sir Keir, Mr Johnson said: "We keep things under constant review and we will continue to do so.
"And certainly if there is any need to toughen up restrictions, which I don't rule out, we will of course come to this House."
However, the prime minister told MPs that the lockdown measures – and the Tier 4 restrictions that preceded then in many areas of England – are "starting to show signs of some effect".
"We must take account of that too, because nobody can doubt the serious damage that is done by lockdowns to people's mental health, to jobs, to livelihoods," Mr Johnson said.
He accused Sir Keir of having "absolutely no other policy except to plunge this country into 12 months of lockdown".
The prime minister and Sir Keir spoke in the House of Commons at the same time as First Minister Nicola Sturgeon announced the tightening of COVID rules in Scotland – including a ban on drinking alcohol outside in some areas, and the limiting of click and collect services.
Mr Johnson also faced a demand during PMQs to set out the point at which lockdown measures in England would begin to be lifted, once the most vulnerable had been given vaccines.
Conservative backbencher Julian Sturdy urged the prime minister to "consider drawing a line in the sand in terms of vaccination of sufficient numbers of the priority group – the reaching of which will trigger a phased relaxation of controls as immunity widens".
Mr Johnson replied: "I can confirm that we're going to go down the top four priority groups who account for 88%, sadly, of COVID deaths.
"The target is, as he knows, by 15 February there will then be an opportunity to look very carefully at the measures that we have in place and we'll try to reverse the restrictions as soon as we reasonably can in a way that doesn't involve overwhelming the NHS."
Subscribe to the Daily podcast on Apple Podcasts, Google Podcasts, Spotify, Spreaker
Earlier, Health Secretary Matt Hancock told Sky News it was "impossible to know" how long current COVID restrictions might be in place for.
Mark Harper, the chair of the COVID Recovery Group of Conservative backbenchers, has suggested that from 8 March – giving three weeks for those 15 million of the most vulnerable to develop significant immunity to coronavirus – the government should begin to lift "severe" restrictions.
But, asked about that timescale being proposed by Tory MPs, Mr Hancock replied: "Well, great. But I'm the health secretary."
Professor Anthony Harnden, deputy chairman of the government's advisory Joint Committee on Vaccination and Immunisation, told Sky News that COVID measures will be needed "for a while yet".
"We must be very clear that vaccination will prevent disease in individuals but it may not prevent those individuals from transmission to others," he said.
Meanwhile, England's deputy chief medical officer, Professor Jonathan Van-Tam, dismissed suggestions the "two-metre rule" could be increased to three metres.
COVID-19: Schools to get two weeks' notice before reopening – says Education Secretary Gavin Williamson | Politics News
Education Secretary Gavin Williamson has signalled pupils could be told in a week's time if they will be returning to classrooms after the February half-term.
Appearing on Sky News, Mr Williamson said his Department for Education would "want to give all schools a clear two weeks' notice period" ahead of their full reopening.
Live COVID news from UK and around the world
"What we will be wanting to do is to give schools as much notice as possible so teachers can get ready, children can prepare, and parents know in order to manage their lives," he said.
"We would want to give all schools a clear two weeks' notice period in order to be able to ready themselves."
Asked if that meant schools would be informed of the government's plans in a week's time – ahead of February half-term beginning for most pupils on 15 February – Mr Williamson said: "We'll be wanting to give people as much notice as possible in order to prepare, in order to get ready, in order to welcome children back."
However, he added that "one of the key criteria" as to whether schools reopen to all pupils will be whether the pressure on the NHS has started to lift.
"That's why we had to take the national decision, very much in the national interest, one that I personally never would have wanted to take – to see schools closed again," he added.
"We had to make that decision because the pressure on the NHS and needing to reduce movement in society and in communities.
"But schools were the last to close and schools will very much be the first to open."
Subscribe to the Daily podcast on Apple Podcasts, Google Podcasts, Spotify, Spreaker
When he announced England's third national lockdown at the beginning of this month, Prime Minister Boris Johnson set out his hope that schools might begin to reopen after the February half-term.
Earlier this week, England's deputy chief medical officer Dr Jenny Harries suggested schools might not all reopen at the same time across England as lockdown restrictions are eased.
She raised the prospect of schools reopening earlier in some parts of the country than others, depending on infection rates.
Joe Biden's climate goals already have activists breathing a sign of relief | Climate News
Environmentalists and those on the front line of climate change have told Sky News of their relief at seeing Joe Biden sworn in as America's new president.
The inauguration of a new world leader who describes climate change as an "existential threat" is a lifeline for countries whose people and land are being devastated by global warming.
Analysis: Biden wastes no time in undoing Trump's work
Tina Stege is climate envoy for the Marshall Islands, a group of atolls lying just two metres above sea level in the northwestern Pacific Ocean.
She said: "For a country like mine which is really on the front lines of climate change, we now have optimism. It's got to be cautious optimism when the challenges are this big.
"But with a partner like the US and with all the resources that the US can bring to bear, with this president we are at the start of a process that provides some hope."
Immediately after taking office, Mr Biden signed executive orders to rejoin the landmark Paris climate agreement (which Donald Trump pulled out of), when countries came together in 2015 to pledge to reduce devastating levels of global emissions.
Mr Biden has also rolled back a host of executive orders put in place by Mr Trump which weakened efforts to tackle climate change.
They include revoking the presidential permit granted to the controversial Keystone XL pipeline delivering hundreds of thousands of barrels of crude oil each day from Canada to be refined in the US.
Joye Braun has been fighting the pipeline for a decade and was – as she calls it – "boots on the ground" from day one "until we were evicted".
A member of the Cheyenne River Sioux Tribe and Indigenous Environmental Network, she said: "To have Keystone Pipeline XL go through is a climate changer – we've always said that. It's an absolute necessity that the Keystone XL pipeline be stopped.
"Watching the inauguration, I felt a huge sigh of relief. For 10 years I've been working on this. We've gone cold, we've gone hungry. Thank you President Biden."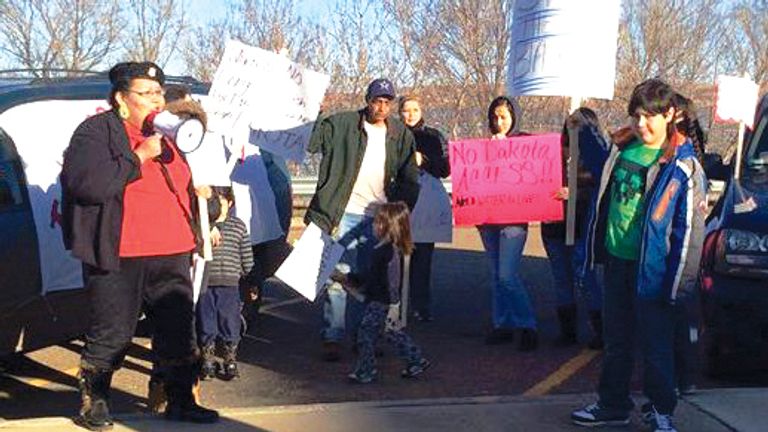 Throughout his campaign Mr Biden had promised rejoin the Paris agreement on "day one" of his presidency.
America will be back in the club in 30 days after notifying the United Nations.
Remy Rioux, the head of the French development agency, was a lead negotiator for the Paris agreement.
He said: "I remember in 2015 it was an executive order by President Obama which had the US joining the Paris agreement so there's no need for Congress approval to join or to come back within the agreement. President Trump withdrew by a single executive order as well so it can be very fast."
Subscribe to the Daily podcast on Apple Podcasts, Google Podcasts, Spotify, Spreaker
While Mr Biden wants to be a global leader on the climate, his credibility rests on transforming decarbonising the US.
He's promised a $2tn plan to create millions of jobs in clean energy and energy retrofits.
His climate strategy is underpinned by the belief that the climate is inextricably linked to America's health, wealth and national security.
He subscribes to a global recovery from coronavirus being green and will likely announce net zero goals.
COVID-19: New mums take government to court over financial support scheme | UK News
The government is being taken to court over claims its COVID financial support scheme discriminates against women who have had babies recently.
The Pregnant Then Screwed charity say that around 75,000 self-employed women who have taken maternity leave in the last few years are getting less help than those who have not.
The COVID Self Employed Income Support Scheme (SEISS) was introduced in March last year alongside the furlough scheme.
Live coronavirus updates from UK and around the world
Payments are calculated on average profits made between 2016 and 2019, meaning tens of thousands of women are estimated to have lost out on a proportion of the money.
Campaigners say that maternity leave should not be treated as "time off" or as a "holiday", but as work "integral" to a "well-functioning" society.
A judicial review is being brought against the government on Thursday for indirect sexual discrimination.
Joeli Brearley, founder of Pregnant Then Screwed, wants periods of maternity leave to be exempt from calculations and for women affected to be given a rebate.
"In (the government's) legal letter they correlated maternity leave to being the same as a sabbatical or sick leave," she said.
"What is particularly disappointing to these women is that they feel the role that they have played for perhaps a year of raising a new human, and all the work that that entails, is not valued at all by the government and by society."
"This court case is about defending women's rights and showing the government that they cannot ride roughshod over the Equality Act," she added.
Particular concern is also being raised for single self-employed mothers who are struggling "to put food on the table" and "keep a roof over their head".
Cara Bowen went on maternity leave between 2018 and 2019, which brought her three-year average income down "significantly".
While "glad" to be receiving any grant, her male counterparts "in a similar position" have qualified for higher payments.
"I have undoubtedly been penalised for having a child," she told Sky News. "Maternity leave is not a holiday or sick leave, it is totally accounted for and the government know exactly why my income was lower for one year.
"They should easily be able to take this into account. I've constantly been made to feel like a second class citizen, both as a self-employed person and as a woman trying to make ends meet, and it's simply not fair to be penalised for something that only mothers have to go through.
"Perhaps I would feel differently if men were able to claim Paternity Allowance as self-employed but they can't (and that's a problem in itself), so therefore it is clear that this pure discrimination against working mothers."
The Treasury has in the past described SEISS as one of the "most generous" schemes of its kind in the world.
When asked to comment on the campaign, an HM Treasury spokesperson said: "We have submitted our arguments to the court this week on the Motherhood Judicial Review, ahead of the hearing on 21 January.
"We cannot comment further on ongoing litigation."