COVID-19: Birmingham 'test and dine' scheme offers hope for closed Tier 3 restaurants | UK News
Restaurants in Tier 3 could have a route to reopening if a pilot project in Birmingham gets the go-ahead.
The idea put forward by Birmingham City Council would see diners booking a table before having a rapid coronavirus test.
If the result is negative they could bypass Tier 3 rules, which say hospitality venues can only operate as takeaways, and head out to eat. As long as it was within six hours of the test.
Although the plan will need to be approved by the government to go ahead, the proposal has been welcomed by the deputy manager of The High Field, a restaurant in Edgbaston.
"We think it's brilliant," said Charlotte Carter.
"Our main focus has been keeping people safe and that has always been our core value and if this will help us get our guests back safely, we are 100% behind it."
The idea was outlined by Councillor Ian Ward, the leader of Birmingham City Council, during a regional COVID-19 briefing on Friday.
The plan is in its early stages and would involve a small number of restaurants to start with, but the hope is it could be extended to the arts and events industries as well as hospitality.
"This is an innovative way in which we can help these sectors," said Mr Ward.
"It wouldn't cost the government any more than they are already spending and it may open up a solution not only here in Birmingham but across the country.
"We are now waiting for government to give us an answer and we are very much pushing them to be positive about this."
Birmingham is one of the Tier 3 areas who will begin a community coronavirus testing programme, using quick-turnaround tests, from Monday.
The enhanced testing programme follows a successful city-wide testing pilot in Liverpool.
Health Secretary Matt Hancock said testing everyone, regardless if they have symptoms, will be a "vital additional tool" in finding asymptomatic cases.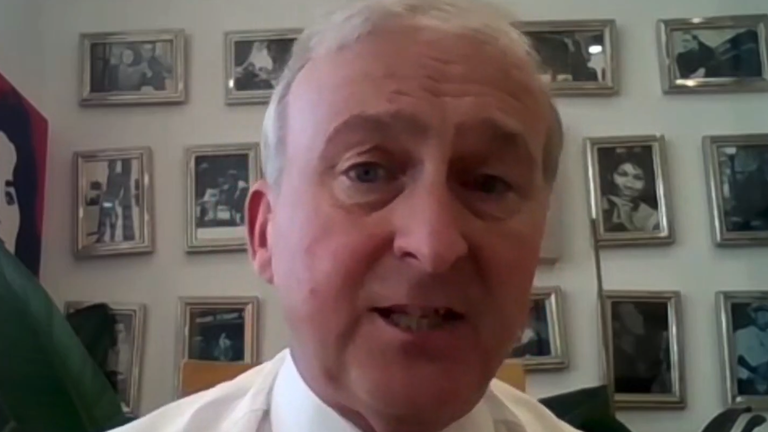 Sam Morgan, the owner of the restaurant Craft (which is completely shut for now), said the plan to test diners was too big a business risk.
"Naturally, being closed, we are unprofitable, but it could actually pan out to be considerably worse if a business was expecting a hundred guests to arrive and it subsequently, as a result of testing, only had half of those guests arrive," said Mr Morgan.
"The cost around the wastage of stock and additional manpower would be significant.
"I'm also concerned that our staff will start to sway into some sort of enforcement capacity."
However, concerns have been raised about the effectiveness of the quick-turnaround lateral flow tests which deliver results in under an hour.
Phil Innes owns a cheese and wine tasting business in the city called Loki, and while he is desperate to get everything back to normal, he said safety had to come first.
"If the science works and the tests work, I think it's a really important thing to try to get hospitality moving again," he said.
"But first and foremost it needs to be proven that it's safe to do so because we don't have another wave of infections."
'Ground-breaking' unmanned combat aircraft project in Northern Ireland | Science & Tech News
More than 100 jobs will be supported by production of a new unmanned combat aircraft in Northern Ireland.
Work on the aircraft, nicknamed the "loyal wingman", is set to begin after £30m of government investment and Spirit AeroSystems in Belfast has been selected to lead Team Mosquito in the next phase of the project.
The aircraft will be designed to fly at high speed alongside fighter jets, the Ministry of Defence said.
It will be armed with missiles, surveillance and electronic warfare technology.
It will be the UK's first uncrewed platform able to target and shoot down enemy aircraft and survive surface-to-air missiles.
Team Mosquito will aim to produce a full-scale vehicle flight-test programme by 2023.
The director of Future Combat Air at the MoD, Richard Berthon, said: "Project Mosquito is a vital element of our approach to Future Combat Air, rapidly bringing to life design, build and test skills for next generation combat air capabilities.
"Autonomous 'loyal wingman' aircraft create the opportunity to expand, diversify and rapidly upgrade Combat Air Forces in a cost-effective way, now and in the future."
Northern Ireland Secretary Brandon Lewis said: "This is fantastic news and underlines the distinct strengths in Northern Ireland's economy, through its advanced engineering and manufacturing capabilities.
"This ground-breaking project will involve significant investment which will not only support local employment, but also reinforce Northern Ireland's contribution to the security of our nation."
Defence Minister Jeremy Quin said: "This is a great win for the Northern Ireland defence industry and will showcase some of the most pioneering engineering work currently being undertaken in the UK.
"The £30m project will accelerate the development of the UK's future air power by delivering cutting-edge uncrewed aircraft, maintaining our position as a world leader in emerging technologies."
Is Trump's impeachment trial worth the trouble if it's likely to renew rancour and division? | US News
The starting gun for Donald Trump's second impeachment trial is fired today with the Article Of Impeachment sent to the US Senate.
Republicans and Democrats have agreed on the start date for the trial – 8 February – but not much else, it seems. The ground rules for the trial are still being discussed.
Democrats had hoped to run the trial concurrently with the opening legislative business of the Biden presidency, in a kind of split screen politics, but Republicans would not play ball. The Senate will need to have confirmation hearings for Biden cabinet appointees and the discussion of a $1.9trn COVID relief bill out of the way before the trial begins.
The key question now: How many Republicans are likely to join Democrats to convict the former president? A two-thirds majority is required for conviction. That would need all 50 Democrat senators and 17 Republicans to join them.
On the Sunday morning talk shows Mitt Romney was prepared to countenance the idea, saying: "No question that the article sent over by the House suggests impeachable conduct.
"I will do my best to apply justice on the merit of the argument."
But Senator Marco Rubio, no fan of Donald Trump, was not.
"The first chance I get to vote to end this trial I will, because it's a really bad move for the country. This is a political trial, it's not a criminal trial – it will continue to fuel divisions and has turned us into a country that hates each other."
Republican senators may be tempted to convict the ex-president because it would bar him from seeking re-election in 2024. But on the other hand they must weigh the damage he can do to their careers. Donald Trump still has a huge following and considerable political power which he can wield at will to undermine their chances of being selected and elected.
Outgoing Senate Majority leader Mitch McConnell is said to be pleased about Mr Trump's trial, hopeful it could make it easier for the former president to be purged from the Republican Party. A conviction is not out of the question, once all the evidence has been heard.
Subscribe to Divided States on Apple podcasts, Google Podcasts, Spotify, and Spreaker
On the streets of Washington DC, most were enthusiastic about Mr Trump being tried, hoping for a conviction. They also accept it could be very divisive for the country. Only a handful in this Democrat-controlled city opposed the idea, with some insisting the charges against Trump were "fake news".
The trial is guaranteed to overshadow the start of the Biden presidency and likely to renew the rancour and division of the last four years. For some, that is a price worth paying to hold Mr Trump to account and set an example to others. For others, it is time to move on.
Winter tightens its grip on the UK: More sub-zero temperatures and treacherous conditions | UK News
The icy weather is not over yet, with Britain warned to expect sub-zero temperatures and treacherous conditions in the early days of this week.
It comes after a Sunday during which much of the country was covered in snow, bringing some relief for Britons bored with the stay-at-home rules of the coronavirus pandemic.
The Met Office said parts of the Midlands should prepare for -10C (14F) going into Monday, with the rest of the country expected to see between -4C (24.8F) and -6C (21.2F).
An amber weather warning for snow is in place between Nottingham and Stoke On Trent, with the threat of power cuts, travel disruption and rural communities being cut off.
There are also five yellow warnings for snow and ice in the southern part of England, eastern Scotland and Northern Ireland.
The snow is likely to continue for parts of the Midlands, where up to 15cm could fall by the end of the day.
Even places without snow are likely to see widespread frost with icy roads and other wintry hazards.
Meteorologist Simon Partridge said: "The band of snow that came through overnight stalled over the Midlands and will then track its way back over southeast England.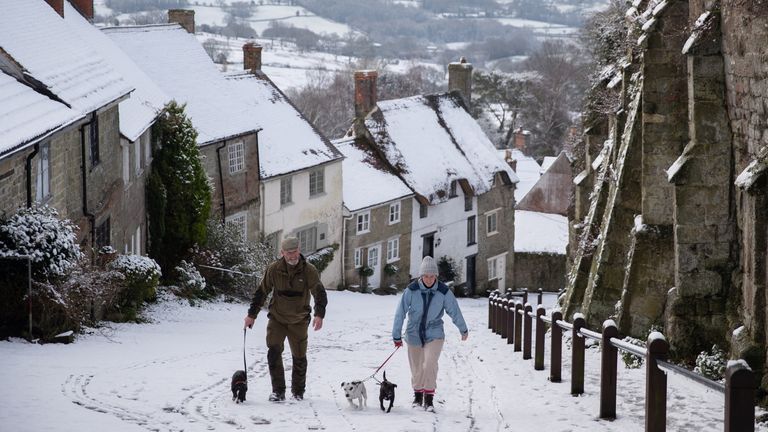 "Our main focus is that it is going to be a really cold night, particularly across central and southern parts of the UK – so the whole of Northern Ireland, all of Wales, most of the southern half of England from the Midlands and southwards."
On Sunday, the snow forced four vaccination centres in Wales to close and some centres in England needed specialist vehicles to clear access paths.
Temperatures are expected to be milder next week, however, with England's south likely to reach between 10C (50F) and 12C (53.6F).
Mr Partridge said: "It's a bit of a rollercoaster from cold and wintry conditions to wet and windy ones.
"We are keeping an eye on rainfall totals because there are some areas that are very sensitive to rainfall and there is further possible flooding as we go through the second half of the week."