COVID-19: About 2.2 million unemployed in 'very difficult period' for economy, says Bank of England governor | Business News
The governor of the Bank of England believes the UK's jobless rate has climbed to around 6.5% – higher than official figures suggest – as the coronavirus pandemic continues to wreak havoc on the economy.
In a speech to business leaders at a virtual event in Scotland, Andrew Bailey was also guarded on whether negative interest rates could be deployed to help boost growth following the latest COVID-19 lockdowns amid economists' warnings the UK is heading for a double-dip recession.
His 6.5% estimate for the unemployment rate equates to around 2.2 million people, though there is uncertainty surrounding the numbers deemed economically inactive.
The latest official figure for the rate stands at 4.9% but covers only up to the three months to October.
Mr Bailey told the Scottish Chambers of Commerce that the extension of the Treasury's Job Retention Scheme since the Bank's last major forecasts would mean that its predicted 7.5%-8% jobless peak would be missed this year.
His remarks chimed with the admission, on Monday, by Chancellor Rishi Sunak that the economy was likely to get worse before it gets better as coronavirus vaccine roll-outs slowly accelerate.
Mr Bailey said that he expected output in the final quarter of the year had been flat to slightly negative, calling into question forecasts of double-dip doom.
Economists widely expect negative growth in the current first quarter of 2021 as the effects of the latest lockdowns resonate across the economy.
Such a scenario puts pressure on the Bank to provide further support – on top of aid including record low interest rates and quantitative easing to maintain the flow of cheap credit.
He has previously said that negative interest rates are in the Bank's toolbox but is still working with banks, and others, on the potential effects of such a move – already used in the likes of the eurozone and Japan.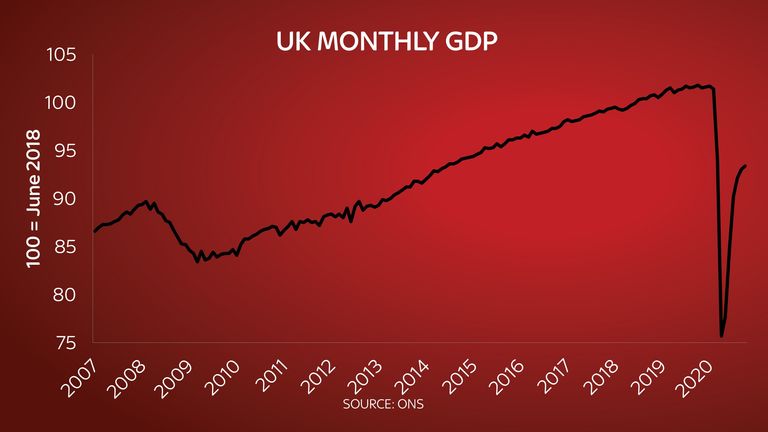 Mr Bailey struck a more sceptical tone on the possibility of bringing negative interest rates to Britain than fellow BoE rate-setter Silvana Tenreyro a day earlier, who outlined possible benefits from such a policy.
"In simple economics and maths terms, there is nothing to stop it at all. However there are a lot of issues with it," he said.
He said they would complicate banks' efforts to earn a rate of return, potentially hurting their lending to companies.
Daisy tycoon Riley in bid approach to rival Maintel | Business News
One of Britain's most successful telecoms entrepreneurs has approached a listed cloud services rival about a potential takeover.
Sky News has learnt that Daisy Group, which is run by Matthew Riley, has lodged a preliminary 450p-a-share offer for Maintel Holdings, which is quoted on London's junior AIM stock market.
City sources said the approach had been made by Daisy earlier this month, valuing Maintel at close to £70m.
Maintel provides managed cloud and IT services to corporate customers, including a number of public sector clients such as NHS hospital trusts.
The company said in results last September that it had had a "challenging" first half because of the coronavirus crisis, but added that it had "played a key role during the pandemic to date in ensuring that hospitals, care homes, local authorities and other key front-line services have been able to function to maximum potential".
"We have also enabled hundreds of thousands of UK office workers to transition smoothly and efficiently to home working."
One analyst said the business would be a natural fit with Daisy's core operations.
If he succeeds with an offer, it would be the latest in a string of takeovers and disposals overseen by Mr Riley.
He recently sold a minority stake in Daisy's Digital Wholesale Solutions arm to the private equity firm Inflexion in a deal valuing it at £1bn.
Maintel shares were trading on Friday morning at about 393p, giving it a market capitalisation of £55m.
Daisy declined to comment, while neither Maintel not its advisers at Finncap could be reached for comment.
Virus lockdown and Brexit bureaucracy hit UK economy – PMI | Business News
Business activity saw its sharpest drop in the UK since May, according to a closely-watched survey.
The preliminary IHS Markit/CIPS Flash UK composite purchasing managers' index (PMI) fell to a reading of 40.6 in January, down from 50.4 in December.
Anything below 50 signals a contraction and the flash survey covers around 75-80% of the total survey.
The survey blamed the latest shutdown brought in by the government to limit the spread of the coronavirus and the post-Brexit shift to a more bureaucratic trading arrangement with the European Union.
Chris Williamson, chief business economist at IHS Markit, said: "Services have once again been especially hard hit, but manufacturing has seen growth almost stall, blamed on a cocktail of COVID-19 and Brexit, which has led to increasingly widespread supply delays, rising costs and falling exports."
The pace of job losses accelerated in January, despite an easing in December.
It comes as the number of UK deaths from COVID-19 nears 100,000 – the highest in Europe and the fifth-highest in the world after the US, Brazil, India and Mexico.
But, with the vaccine programme continuing to expand, there are hopes for an economic rebound later this year, with the number of companies feeling optimistic about the year ahead hitting a 6.5-year high.
The PMI for the services industry, which accounts for 80% of Britain's economy, fell to 38.8 in January from 49.4 in December, its lowest level since May and the third month of contraction.
The manufacturing PMI fell to 52.9 in January from 57.5 in December.
Ruth Gregory, senior UK economist at Capital Economics, said the drop in the composite flash PMI was "far larger than the consensus forecast".
On a more positive note, the manufacturing PMI "only" dropped from 57.5 in December to 52.9, and a third of that decline was due to the "stocks of purchases" balance falling to a more normal level.
"Admittedly, the PMI received a boost due to the lengthening of suppliers' delivery times, caused by Brexit supply chain disruptions and COVID-19 border closures. Longer delivery times are usually associated with strong demand and raise the headline index.
"But the output balance remained above the 50 no-change mark.
"Overall, the composite PMI points to a fall in GDP in January of about 5% month-on-month. That would be much bigger than November's 2.6% month-on-month fall in GDP, but at least it would be mild in the context of the 18.8% m/m decline seen during the first lockdown in April 2020."
Retail sales for 2020 show largest annual fall in history – ONS | Business News
Retail sales in 2020 saw the largest annual fall in history as retailers continued to suffer from the effects of the coronavirus pandemic.
Despite a 0.3% rise in sales volumes during December, the figure for 2020 as a whole saw sales down 1.9%, with clothing sales slumping by more than a quarter.
The slight rise in December was far less than the 1.2% increase expected by economists and left sales 2.9% higher than a year earlier, according to the official figures.
Spending online, however, surged by 46.1% in 2020.
Ian Geddes, head of retail at Deloitte, said: "Some consumers will have permanently converted to the convenience of online shopping, accounting for 29.6% of all retail sales this month, and the highest annual growth since 2008.
"For retailers, this doubles down the importance of an online shopfront and engaging virtual shopping experience. Whilst the role of the physical store will remain competitive, the wider retail landscape will likely see reinvention. A new era of 'hyper-localisation' and 'fast fail' shops could herald a revived and more relevant high street longer-term.
"For now, pent-up demand is likely to see shoppers out in force once restrictions lift, as we saw in summer at the end of the first lockdown. Crucially, the reopening of the high street will this time coincide with the ongoing vaccine rollout, which should boost consumer confidence and see them return to stores once more."
The UK economy has been harder-hit than any other advanced country during the coronavirus pandemic – in November the economy shrank by 2.6% mainly thanks to a four-week lockdown in England and similar measures in other parts of the UK.
With non-essential retail still closed under government rules, most economist expect a further contraction in the next financial quarter.