'Con Queen of Hollywood' accused of duping actors with fake film scams is arrested in UK | US News
A suspected con artist who allegedly impersonated top female Hollywood executives and tricked aspiring stars out of hundreds of thousands of dollars has been arrested in Manchester after a US extradition request.
Dubbed the "Con Queen of Hollywood", the suspect was identified in court papers on Thursday as Hargobind Tahilramani, a 41-year-old Indonesian man.
The Department of Justice and FBI unsealed the seven-page grand jury indictment, according to entertainment news website The Hollywood Reporter, outlining eight federal charges including wire fraud, conspiracy to commit wire fraud and aggravated identity theft.
It is alleged Tahilramani swindled scores of victims by luring them to Indonesia on the promise of work.
Once there, they were duped into handing over cash for up-front costs and expenses – but the projects never materialised and the money was never reimbursed.
It is also alleged Tahilramani – also known as Gobind Lal Tahil – threatened violence if people questioned his assumed identity.
He would threaten to "dismember" them or send pictures to them of their children, the indictment alleges.
The series of impersonation scams started in 2015 and continued for five years, even during the coronavirus pandemic. He had also set up shop in the UK by 2016, before he was unmasked last month.
"The defendant has been arrested in the United Kingdom based on a request for his provisional arrest submitted by the United States with a view towards his extradition," an FBI spokesman in San Diego, California, told AFP.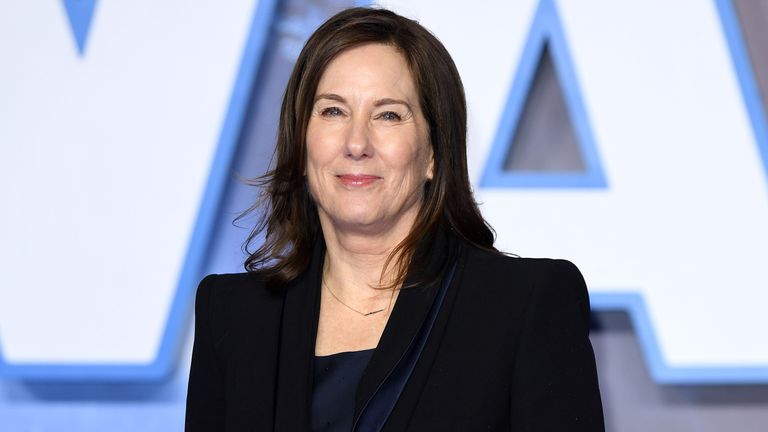 Among the Hollywood moguls Tahilramani allegedly impersonated were Lucasfilm boss Kathleen Kennedy, former Sony movie chief Amy Pascal, and ex-Paramount boss Sherry Lansing.
He also claimed to be Wendi Murdoch, the ex-wife of News Corp executive chairman Rupert Murdoch, Christine Hearst Schwarzman, the intellectual property lawyer and wife of billionaire Blackstone Group CEO Stephen Schwarzman, and prominent Singapore business magnate and so-called "Boss of Bond Street" Christina Ong.
He would "use fake accents and alter his voice to sound like a woman" – the documents state.
According to The Hollywood Reporter, Tahilramani was arrested by Manchester police last week with the assistance of private investigators.
In a statement to AFP, co-founder Jules Kroll said K2 had helped US, British and Indonesian authorities in "bringing the individual known as the 'Con Queen of Hollywood' to justice".
Pamela Anderson says Donald Trump is 'debating' pardoning Julian Assange | Ents & Arts News
Pamela Anderson has called on Donald Trump to pardon Julian Assange in his final days as US president, saying the move could be the "perfect way" to end his term.
The former Baywatch star is one of WikiLeaks founder Assange's most high-profile supporters, and has visited him several times in London, including at Belmarsh prison in May 2019.
Assange won his fight to avoid extradition to the United States earlier in January but was denied bail on mental health grounds. He is wanted to face an 18-count indictment, alleging a plot to hack computers and a conspiracy to obtain and disclose national defence information.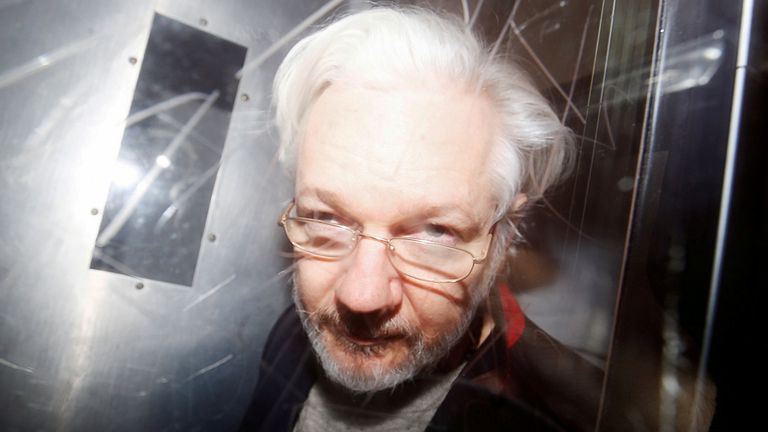 The 49-year-old has not been seen in public as a free man since June 2012, when he rang the doorbell of the Ecuadorean embassy in London and asked for sanctuary. In April 2019 he was carried out by police ahead of a 50-week jail sentence for jumping bail in 2012.
If Mr Trump were to pardon him, it would need to happen quickly, with his time at the White House due to end when Joe Biden is inaugurated as the 46th president of America on Wednesday.
In an interview on ITV's Good Morning Britain, Anderson, 53, claimed she has access to Mr Trump and that he is considering the pardon.
"I know that I am in his ear," the actress said. "I know he is debating and we will see what happens.
"He has until midday on the 20th and I hope he makes that decision because I think that could add a positive to his legacy.
"I think that he is obviously against fake news and WikiLeaks is anti-fake news. It would be a perfect way to go out."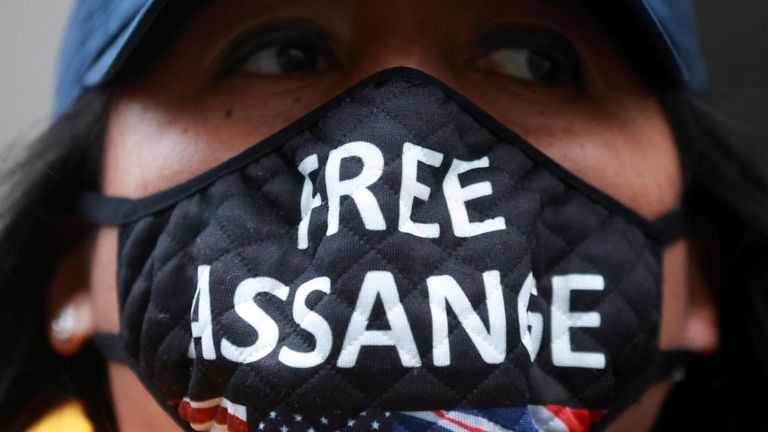 The Americans claim Assange's receipt and publishing of tens of thousands of classified military and diplomatic documents about the Iraq and Afghanistan wars put lives in danger.
The raw data appeared on the WikiLeaks website in 2010, while edited versions were published in newspapers, including the UK's Guardian.
When GMB presenter Susanna Reid suggested to Anderson that a pardon for Assange is unlikely, the actress replied: "I have been supporting him for a very long time and freedom of speech is really important.
"I think this would be a monumental position that Trump could take, that would help with human rights and the rights of a free press because it is a very dangerous situation if we don't have a free press."
Anderson described Assange as a "very mild-mannered, funny, sweet man with two children".
She added: "He wants all of us to have that right to be able to know what is going on in the world."
Anderson is not the only high-profile supporter of the WikiLeaks founder, with famous figures including fashion designer Dame Vivienne Westwood, artist Ai Weiwei and rapper MIA all having spoken out in various forms for the Free Assange campaign.
Justin Timberlake reveals name of his 'awesome' second baby son with Jessica Biel | Ents & Arts News
Justin Timberlake has confirmed he and his wife Jessica Biel are now parents to a second "awesome" baby boy – and revealed his son's name for the first time.
The couple, who are already parents to five-year-old Silas, celebrated their new arrival in 2020.
Timberlake, 39, confirmed the happy news during an appearance on The Ellen DeGeneres Show, due to air on Monday, following speculation since July that Biel had given birth.
Asked by DeGeneres to share "vaguely his name and vaguely how old he is", Timberlake said: "Yeah, I'll tell you his name. His name is Phineas. He's awesome and he's so cute and nobody's sleeping.
"But we're thrilled. We're thrilled and couldn't be happier. Very grateful."
The couple, who married in 2012, made headlines in December 2019 when Timberlake publicly apologised after he was pictured holding hands with a co-star.
He was photographed hand in hand with Alisha Wainwright while filming their movie, Palmer, in New Orleans.
Writing on Instagram at the time, he said: "A few weeks ago I displayed a strong lapse in judgement – but let me be clear – nothing happened between me and my costar.
Subscribe to the Backstage podcast on Apple Podcasts, Google Podcasts, Spotify, Spreaker
"I drank way too much that night and I regret my behaviour. I should have known better. This is not the example I want to set for my son.
"I apologise to my amazing wife and family for putting them through such an embarrassing situation, and I am focused on being the best husband and father I can be.
"This was not that."
Timberlake is among the many stars set to play a part in the inauguration of Joe Biden on Wednesday.
Lady Gaga, Jennifer Lopez, Jon Bon Jovi, Bruce Springsteen, Demi Lovato and John Legend are also among the performers appearing at the ceremony.
Jennifer Lopez, 51, says she has 'never done Botox or surgery' after Instagram comment on her youthful looks | Ents & Arts News
Jennifer Lopez has hit back at an Instagram user who claimed the star's youthful looks are down to "tons" of Botox.
The 51-year-old responded to a post to clarify "for the 500 millionth time" that she has "never done Botox or any injectables or surgery".
Lopez had posted a video on the social media site, showing her glowing skin after saying she had used a Limitless face mask from her own J Lo Beauty range, which sparked the exchange.
"Honestly, I cannot even see a line on my face," she says in the clip, with the camera close-up to her skin. "It is glowy and gorgeous and tight and yummy."
She continues: "I feel like it took 10 years off my face."
The video has been viewed more than 7 million times, with many fans commenting on how Lopez achieves her youthful looks.
While many said it was down to her healthy lifestyle, others were not convinced.
"But can I just mention that brows and forehead doesn't move at all when you talk or try to express," one commenter said. "You definitely have Botox. And tons of it. And it's all good. Just saying."
Lopez responded by saying: "LOL thats just my face!!! ….For the 500 millionth time… I have never done Botox or any injectables or surgery!! Just sayin."
Subscribe to the Backstage podcast on Apple Podcasts, Google Podcasts, Spotify, Spreaker
After encouraging fans to try her beauty range, the star added: "And here is another JLO Beauty secret: try spending your time being more positive, kind and uplifting of others don't spend your time trying to bring others down that will keep you youthful and beautiful too!!!
"Sending you love. #beautyfromtheinsideout #beautyhasnoexpirationdate."
One fan replied: "It's just envy that makes people disbelieve other people. Jennifer don't let that get you down. Stand over such comments. All the best!"