Co-op Bank shareholders shake up board after failed Cerberus bid | Business News
The American investors which control the Co-operative Bank are lining up their first board nominees weeks after talks about a sale of the self-styled ethical lender were abandoned.
Sky News has learnt that the syndicate of hedge funds, which includes GoldenTree Asset Management, are finalising the appointment of two heavyweight City figures as non-executive directors of the company.
City sources said on Sunday that Sebastian Grigg, a former Credit Suisse banker who advised the government during the 2008 financial crisis, and Richard Slimmon, a partner at the independent advisory firm Gleacher Shacklock, were likely to be appointed as soon as this week.
The decision to install them is said to have been taken by the hedge funds to help ensure that the Co-operative Bank is well-placed to participate in a looming round of UK bank consolidation.
TSB, which is owned by the Spanish group Sabadell, and Sainsbury's Bank are two of the British lenders which are expected to change hands in the coming months.
The Co-operative Bank, which has retained a surprisingly resilient customer base despite a torrid decade during which it twice came close to collapse, recently received a takeover approach from Cerberus Capital Management.
Its shareholders rejected the bid, which is understood to have been pitched as low as £200m, according to insiders.
The investors, which also include BlueMountain Capital and Silver Point Capital, are now keen to evaluate their options for the Co-operative Bank's future.
The lender, which is racing to cut costs, still has 3.3m personal banking customers across the UK, making it an important yet sub-scale player in the country's banking sector.
Nick Slape was recently appointed as the Co-operative Bank's sixth chief executive in a decade, and has already overseen a successful effort to issue £200m of loss-absorbing capital.
The bank also has a relatively new finance chief, while chairman Bob Dench has been in place since 2018.
Its potential role in UK bank consolidation would come after a turbulent period in which it almost disappeared from the industry landscape altogether.
In 2013, it almost collapsed after trying to buy more than 630 branches from Lloyds Banking Group, only to discover a £1.5bn hole in its finances that had to be plugged by the hedge funds and the Co-op Group.
Subsequent investigations by the Treasury Select Committee and the City watchdog exposed a string of failings in management, corporate governance and regulatory supervision – including, infamously, the exposure of its chairman Paul Flowers' private life, which led to him being dubbed "the crystal methodist".
Four years later, it was forced to turn to its owners again for £700m in new funding that saw retail investors swallowing heavy losses.
The Co-op Group subsequently sold its 20% stake in the bank.
A Co-operative Bank spokesman declined to comment on Sunday.
Shake-up of further education in England to focus on needs of businesses | Business News
A planned shake-up of further education and training in England will tie courses to the needs of employers in local communities, under government plans.
The Department for Education (DfE) said the Skills for Jobs White Paper, broadly welcomed by business groups, aims to put an end to the misconception that a degree is the only route to a rewarding career.
It demands that the existing links between post-16 colleges and employers are bolstered to develop tailored plans to meet local skills needs – replacing the current 'one size fits all' approach.
This would be done with support from a £65m Strategic Development Fund, the government said, alongside improved oversight to ensure training is relevant to the demands of companies.
The White Paper also plans to allow people of any age access to flexible student finance from 2025 and seeks to bolster the numbers of technical education specialists through a recruitment campaign.
However, a union for school and further education heads warned the proposals had to be backed up with some serious investment after years of "severe under-funding" of the post-16 education sector.
The plans build on Boris Johnson's Lifetime Skills Guarantee, revealed last autumn.
A £2.5bn scheme already announced promises to give adults without an A-level or equivalent qualification the chance to take a free vocational college course.
It is due to get underway in April as the economy looks to recover from the effects of the coronavirus crisis and build a new post-Brexit future, with green energy and wider technology among the areas deemed critical.
The government's separate Plan for Jobs has, since August last year, offered financial incentives to employers for each apprentice they take on under the age of 25 as part of the COVID fightback.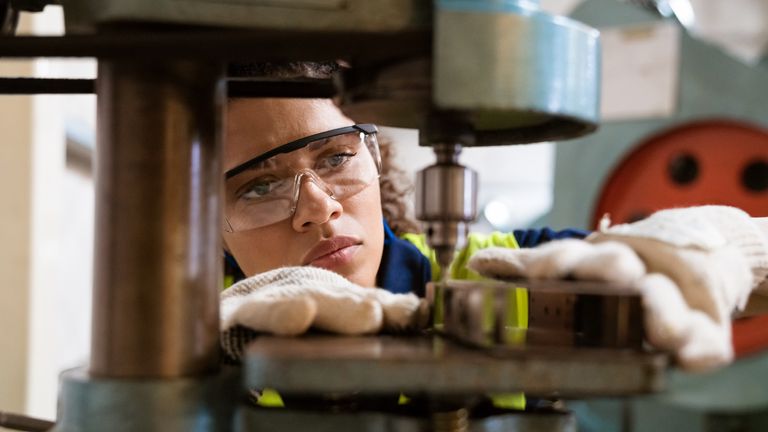 But, despite the furlough scheme, it is predicted that the worst is far from over for employment prospects given continuing lockdowns and their effects on education.
The PM said of the latest announcement: "Our Lifetime Skills Guarantee means that everyone will be given the chance to get the skills they need, right from the very start of their career.
"In the years ahead, the reforms we have announced today will deliver high quality technical education across the country – and help people retrain and secure better paid jobs."
The director general of the British Chambers of Commerce, Adam Marshall, said a partnership was crucial if good jobs were to be created.
He said: "We welcome these ambitious plans to put the skills needs of businesses at the heart of the further education system.
"As local business leaders look to rebuild their firms and communities in the wake of the coronavirus pandemic, it is essential to ensure that the right skills and training provision is in place to support growth."
Geoff Barton, general secretary of the Association of School and College Leaders, responded: "We continue to be concerned about the severe underfunding of the post-16 sector, which plays such a vital role in delivering
the technical and vocational education that the government says it is so keen to boost, as well as academic routes which are also of the utmost importance."
'Strong smell of cannabis' near Bank of England leads to drugs factory | Business News
More than 800 plants have been seized after a tip-off about a "strong smell of cannabis" led to a raid on a building close to the Bank of England.
City of London Police said it was the first find of its kind in the financial district – currently largely deserted because of the COVID-19 crisis.
A statement said: "This is the first cannabis factory in the City, no doubt being set up in response to fewer people being out and about during the pandemic who might have noticed any unusual activity.
A total of 826 cannabis plants were found and destroyed a week ago, it added, though there was no information on exactly where the raid took place.
Two suspects were arrested.
News of the police operation drew attention from Bank of England governor, Andrew Bailey.
He told an online event hosted by the Bank on Wednesday: "We are now going to be the subject of endless jokes about now we know what the Bank of England has been on.
"I'm sure there will be many other jokes. It is very quiet around the Bank of England, I should say."
COVID-19: Pressure mounts on UK and France to agree on financial aid for Eurostar as it fights for survival | Business News
Pressure is mounting on the UK and French governments to agree financial aid for Eurostar, the cross-Channel rail operator, as it fights for survival.
The company admitted late last year that the continuing COVID-19 crisis, which has forced it to slash services from a normal level of more than 50 trains a day to just four, had taken a 95% toll on its revenues.
It appealed at the time for UK government aid, arguing that it was being treated unfairly as airports had secured tax relief to help them cope with the collapse in demand for overseas travel.
Eurostar is majority-owned by the French state rail firm SNCF – potentially leaving the French taxpayer most exposed to its needs for aid.
The lifeline issue is complicated by the fact that the UK government sold its stake to an Anglo-Canadian consortium in 2015.
A campaign for financial aid gathered pace in the UK this week when a letter, backed by businesses, was sent to the Treasury and Department for Transport (DfT) urging them not to threaten the UK's economic recovery and post-Brexit future by letting Eurostar "fall between the cracks of support".
Tory MP Huw Merriman, who chairs the Transport Select Committee, added his voice to their effort on Wednesday when he argued the cross-Channel train operator plays a vital role in enabling low-carbon international travel.
He said: "We simply cannot afford to lose Eurostar to this pandemic. The company contributes £800m each year to the UK economy."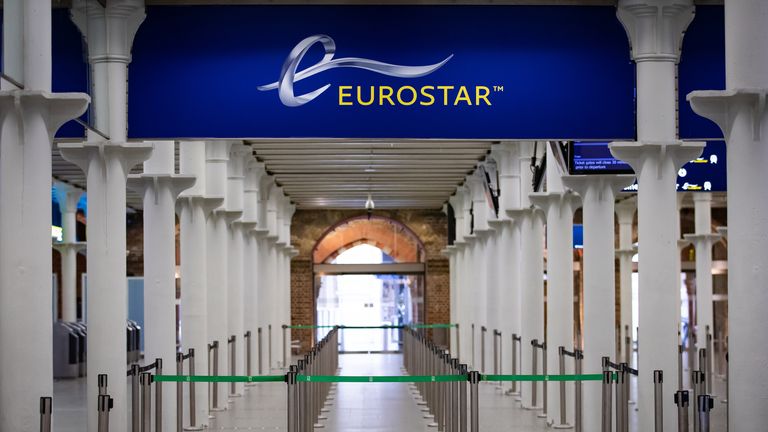 Mr Merriman urged both the UK and French governments to act.
The DfT has said it has been in "engaging extensively with Eurostar on a regular basis".
A French transport economist, Professor Yves Crozet, told the committee: "I suppose that the French government will support Eurostar, but not alone.
"We will have probably an arm wrestling between the UK and France about that.
"But clearly Eurostar is a subsidiary of SNCF, and SNCF has the majority of the capital. So clearly the money will come from France in a very important part but maybe France will ask the UK to give also some hand to the system."