Christian Pulisic left out of Chelsea starting lineup for Champions League final
Christian Pulisic will not get a chance to start the match against Manchester City after helping Chelsea reach the UEFA Champions League final: Manager Thomas Tuchel has kept him out of the starting lineup. The 22-year-old American will instead come off the bench.
Had he started, Pulisic would have been the first male American player to appear in a UEFA Champions League final, considered the biggest stage in the world when it comes to club soccer.
The U.S. national team star was a big reason Chelsea reached the final, contributing a goal and an assist in the two-leg semifinal series against Real Madrid. He started the first match in that series and came off the bench for the second.
Chelsea manager Thomas Tuchel explained his decision to leave Pulisic out: 
"Tough choice to leave him out, but very strong from the bench," Tuchel said. "I have to choose from 23 [players] a starting XI, but we need 15 or 16 [players] to finish this game, hopefully in a positive way. I hope we start strong and we finish stronger."
WATCH: Champions League final streaming on fuboTV (free 7-day trial)
Why is Pulisic not starting the Champions League final?
Pulisic has been in and out of the starting lineup under Tuchel since the German manager took over from Frank Lampard in late January. In 25 competitive matches, Tuchel, who knows Pulisic well from their days together at German club Borussia Dortmund, has opted to start Pulisic in 13 of them. He came off the bench in the other 12.
But Pulisic hasn't been entirely happy with the situation. After the second leg against Real Madrid, against whom he came off the bench, Pulisic did not hide his discontent.
"Very frustrated," he said. "Um, yeah. There's not much else to say. I wanted to play from the beginning, as I always do. I've had to continue to prove myself, over and over again. But, as always I just reach out to God, and he gives me strength. With that behind me, nothing can stop me, really."
MORE: The case for Pulisic to start the Champions League final
As one of the most expensive, star-studded squads in the world, Chelsea clearly has plenty of attacking talents on its roster. All of them bring different qualities to the game, giving Tuchel several tactical options, depending on the challenges a game might present.
The Chelsea manager has rotated the likes of German attacker Kai Havertz ($82 million transfer fee), Moroccan star Hakim Ziyech ($43 million transfer fee), academy product Mason Mount and Pulisic ($73 million transfer fee) in the attacking positions alongside center forward Timo Werner. But when it comes to the UEFA Champions League, Pulisic has shown he's a big-game player. The graphic below tells the story:
Ziyech and Pulisic will be the ones starting on the bench. Havertz is the one who gets the nod with Tuchel probably favoring his chemistry with German compatriot Timo Werner. 
While Pulisic has had to overcome niggling injuries along the way — and that could have been a good reason for Tuchel to manage his minutes in past games — it's obviously not a factor in the final game of the club season before the summer break.
Pulisic as a spark off the bench
What's more likely at play is that Tuchel believes Pulisic can change the game with his pace and skill, should Chelsea need to come from behind in the game.
Pulisic is strong at beating defenders 1-on-1 and exposing gaps in opposing defenses. Should Manchester City take the lead, Tuchel will need to rely on Pulisic's attacking ability to break down the stingiest defensive team in England.
But even if Chelsea jumps ahead in the game, it would be enticing for the manager to throw Pulisic in with 20-30 minutes left against tiring defenders. That Pulisic can impact a match off the bench is a part of his game that has caught the eye of observers, including Belgian national team manager Roberto Martinez:
"Christian Pulisic is one of the very few players that can be really strong as a starter or as a substitute," Martinez said in a conference call prior to the Champions League final. "In the two games against Real Madrid, in the first leg he starts and makes a difference. And in the second leg he comes on as a substitute and he's got that incredible intelligence to adapt to the role. You don't get that many players like that."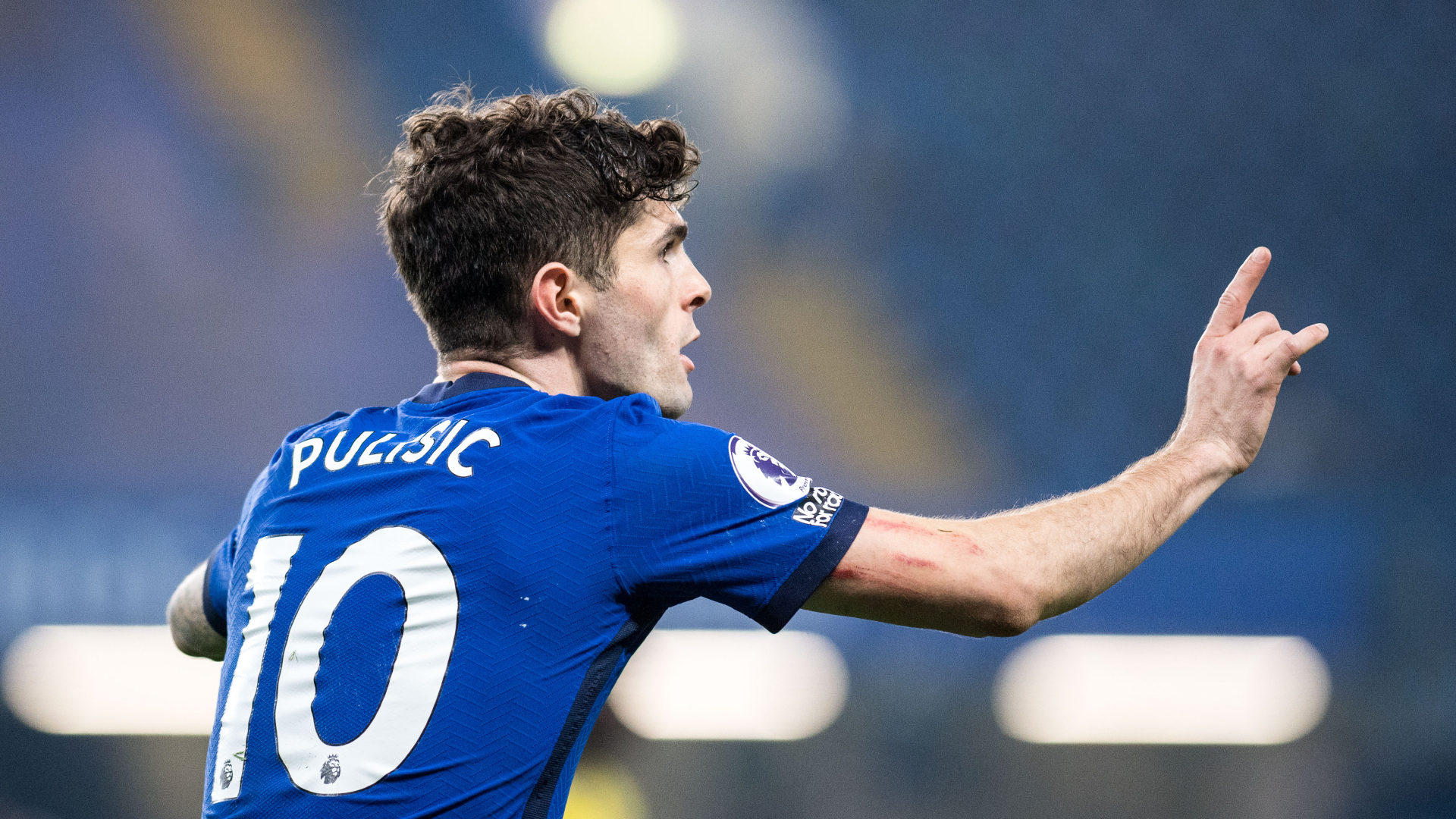 Why it matters for Pulisic to play Champions League final
Regardless of whether he starts, a Pulisic appearance in the game will be a big deal. No American male has ever set foot in the UEFA Champions League final.
Pulisic is on his way to becoming the best male American player in the history of the game. He's the most expensive U.S. player ever, after Chelsea forked over $73 million to sign him from German club Borussia Dortmund in 2019. He was only 20 years old at the time.
MORE: U.S. soccer pioneers on why Pulisic appearing in the final is a big deal
He's clearly the biggest U.S. men's soccer star today and has accumulated 36 appearances and 15 goals for the U.S. men's national team. He'll be a major contributor if the USMNT are to advance to the 2022 FIFA World Cup next year in Qatar.
Pulisic will face Zack Steffen, backup goalkeeper for Manchester City and his teammate on the U.S. national team. One of the two will raise the trophy in Portugal: It will go down as the biggest club achievement by an American male soccer player.
There is only one American male who has ever won a UEFA Champions League medal, and that was former U.S. national teamer Jovan Kirovski, who earned it playing in the group stage for Borussia Dortmund back in 1997. Nine American women have previously featured in the UEFA Champions League final.
NBA Mock Draft 2021: Pistons lock in Cade Cunningham pick; Cavs, Raptors win big with lottery jumps
Welcome to the 2021 NBA Draft. The Pistons are on the clock.
After winning Tuesday night's NBA Draft lottery drawing, Detroit is in position to land a franchise-changing prospect with the No. 1 overall pick. But the Pistons aren't the only team whose fortunes may have been changed by some ping-pong balls.
The Rockets, Cavaliers, Raptors and more could end up selecting key pieces of their rosters on July 29. This year's draft class has some tremendous talent at the top, and a few of these young players will be expected to contribute immediately upon entering the league.
With just over a month to go until the picks start rolling in, here is Sporting News' best attempt at a mock draft.
NBA DRAFT BIG BOARD: Ranking the top 60 prospects in 2021
NBA Mock Draft 2021, post-lottery edition
1. Pistons — Cade Cunningham, G, Oklahoma State (19 years old)
Cunningham is viewed as the consensus top pick because he has the size and skill set that all NBA teams covet. He averaged 20.1 points, 6.2 rebounds, 3.5 assists and 1.6 steals per game, and he shot 40 percent on 155 3-point attempts in his lone season with the Cowboys. The turnover numbers weren't great (4.0 per game), but it should be noted that Cunningham was carrying a largely limited roster.
2. Rockets — Evan Mobley, C, USC (19 years old)
Mobley is the kind of big man that is built to excel in the modern NBA. He can protect the rim (2.9 blocks per game) but moves fluidly enough to stick with guards in the pick-and-roll. He also has the potential to grow as a perimeter threat offensively. The key to his development will be adding muscle to his frame (7-0, 215 pounds).
3. Cavaliers — Jalen Green, G, G League Ignite (19 years old)
It wouldn't be a surprise to see Green emerge as the best pure scorer from this class, as he averaged 17.9 points on 46.1 percent shooting in 15 G League games. He is an outstanding athlete capable of finishing at the rim, even when he has to fight through contact. He needs to improve his playmaking and be more active defensively, but Green undoubtedly possesses tremendous upside.
4. Raptors — Jalen Suggs, G, Gonzaga (19 years old)
One of the biggest stars in college basketball last season, Suggs showed himself to be a terrific leader capable of functioning as a team's primary offensive creator. While Suggs isn't a long-range sniper (33.7 percent on 3-pointers), he should be able to develop into a more consistent shooter, and he is a smart off-ball cutter and screener.
5. Magic — Jonathan Kuminga, F, G League Ignite (18 years old)
Much like Green, Kuminga is one of the best athletes from this group of prospects. His size, strength and wingspan could allow him to eventually become a legitimate two-way wing, but he will need time to develop. Kuminga can be a ball-stopper offensively and doesn't always bring the required intensity defensively. His shooting splits weren't exactly inspiring (38.7/24.6/62.5 on field goals, 3-pointers and free throws), though it wouldn't be fair to say his shot is completely broken. 
6. Thunder — Scottie Barnes, F, Florida State (19 years old)
There is a future in which Barnes makes multiple All-Defensive teams. Florida State threw him on just about every type of player, from lead ball handlers to back-to-the-basket big men. He has demonstrated an ability to be a good facilitator, but his shot must improve in order for him to earn respect from opposing defenders (27.5 percent from beyond the arc, 62.1 percent on free throws).
7. Warriors (via Timberwolves) — Davion Mitchell, G, Baylor (22 years old)
Mitchell made a real impression during Baylor's championship run, stifling any player put in front of him. While he is known as a tenacious defender, Mitchell's most notable improvements came on the other end of the floor. He became an excellent playmaker (5.5 assists per game) and saw a dramatic jump in his 3-point shooting (32.4 percent in 2019-20, 44.7 percent in 2020-21).
8. Magic (via Bulls) — Keon Johnson, G, Tennessee (19 years old)
Perhaps the best word to describe Johnson is explosive. When this guy drives down the lane and takes off toward the basket, good luck trying to stop him. He also uses that quickness and athleticism well on the defensive end to give opposing guards problems. Johnson's main focus should be on extending his range, as he shot just 13 of 38 from beyond the arc at Tennessee. 
9. Kings — Franz Wagner, F, Michigan (19 years old)
Wagner displayed versatility on both ends of the floor while at Michigan. He is a smart team defender who can bang with frontcourt players but hold his own against smaller guards. He can also affect the game offensively without eating up possessions, operating as an elbow passer, screener or spot-up shooter. He may not have the ceiling of the guys in front of him, but he could play in the league for a long time.
10. Pelicans — Corey Kispert, F, Gonzaga (22 years old)
One of the top shooters in this class (44 percent on 6.5 3-point attempts per game last season), Kispert's accuracy and quick trigger should allow him to make an immediate impact at the next level. He isn't an exceptional athlete, but he battles on the defensive end. He must continue to develop his dribbling skills so he can punish opponents who close out hard to the 3-point line. 
11. Hornets — Alperen Sengun, C, Besiktas (18 years old)
An old-school, post-up big man, Sengun dominated the Turkish Super League, averaging 19.2 points, 9.4 rebounds and 2.5 assists per game while shooting 64.6 percent from the field. He has great touch around the rim and has shown a willingness to hit the open man. There are questions about his lack of shooting and defensive limitations.
12. Spurs — Jalen Johnson, F, Duke (19 years old)
Johnson only played 13 games at Duke, leaving the team in February in order to focus on preparing for the NBA Draft. His tantalizing talent was on full display at times, particularly his ability to create for himself and others in the open floor. Will those flashes of brilliance outweigh possible concerns about his maturity?
13. Pacers — Josh Giddey, G, Adelaide (18 years old)
Giddey won NBL Rookie of the Year after averaging 10.9 points, 7.5 assists and 7.4 rebounds per game. He understands how to manipulate defenses and create passing lanes. He isn't a lights-out shooter (29.3 on 3-pointers) or out-of-this-world athlete, but there is reason to believe he will develop into nice piece of an NBA rotation.
14. Warriors — James Bouknight, G, Connecticut (20 years old)
Bouknight gets buckets. A natural scorer (18.7 points per game), the UConn star can find his way to the basket and hit contested jump shots off the dribble, an important skill for NBA guards. He will have to work on his passing and provide more consistent resistance on the defensive end, but he should provide plenty of offensive firepower.
USA Olympic gymnastics trials 2021: TV schedule, live streams to watch qualifying for Tokyo
There may be somewhat of a changing of the guard on the U.S. Olympic gymnastics team for the 2021 Summer Games in Tokyo. Simone Biles will be a constant for the women's team, but aside from her, little will remain the same.
That's why there will be a level of intrigue surrounding the U.S. Olympic gymnastics trials, which take place from June 24-27 at The Dome at America's Center in St. Louis, Mo. Notably, competitors like Jordan Chiles, Jade Carey and Suni Lee will look to earn spots on the four-gymnast women's team while two others compete for individual specialist roles.
For the men, all four qualifiers will be chosen as well. Only Sam Mikulak remains from the 2016 Olympic team, so there will be a few new faces on that team, too.
Sporting News has you covered on how to watch each of the gymnastics qualifying events throughout the entirety of the trials:
MORE: Watch the Olympic gymnastics trials live with fuboTV (7-day trial)
How to watch USA Olympic gymnastic trials
TV channels: NBC, NBC Sports
NBC owns the exclusive rights to all Olympic broadcasts in the United States and will be airing the gymnastics trials from June 24-27.
TV Schedule
The USA Olympic gymnastics trials will take place in St. Louis, Mo. from June 24-27. Each day consists of several rounds of each of the four women's events and six men's events in gymnastics.
Here's NBC's full scheduled TV coverage for the USA Olympic gymnastic trials. For a full schedule of events for the trials, click here.
Thursday, June 24
| | | |
| --- | --- | --- |
| Event | Time (ET) | Channel |
| Men Day 1 | 6:30-9 p.m. | NBCSN |
Friday, June 25
| | | |
| --- | --- | --- |
| Event | Time (ET) | Channel |
| Women Day 1 | 7:30-8 p.m. | Olympic Channel |
| Women Day 1 | 8-10 p.m. | NBC |
Saturday, June 26
| | | |
| --- | --- | --- |
| Event | Time (ET) | Channel |
| Men Day 2 | 3-4 p.m. | Olympic Channel |
| Men Day 2 | 4-6 p.m. | NBC |
Sunday, June 27
| | | |
| --- | --- | --- |
| Event | Time (ET) | Channel |
| Women Day 2 | 8-8:30 p.m. | Olympic Channel |
| Women Day 2 | 8:30-11 p.m. | NBC |
Olympic trials gymnastics schedule 2021
The gymnastics trials are unique compared to other Olympic qualifiers, as they will largely consist of the same 4-6 events on a daily basis with different gymnasts participating in them each day.
For the men, there are six Olympic events:
Vault
Pommel horse
Floor
Rings
Horizontal bar
Parallel bars
For the women, there are four:
Vault
Floor
Uneven bars
Beam
Throughout the televised coverage, you will see these events in action. Here are the big competitors to watch on each day of the 2021 U.S. Olympic gymnastics trials.
For a full look at the events and start lists, click here.
Thursday, June 24
Sam Mikulak
Brody Malone
Yul Moldauer
Akash Modi
Donnell Whittenburg
These five men will compete in all six events during Thursday's competition.
Friday, June 25
Simone Biles
Jordan Chiles
Suni Lee
Jade Carey
MyKayla Skinner
These five women will compete in all four events during Friday's competition.
Saturday, June 26
The same five men will bear watching on Saturday during the finals, including any other gymnasts that make noise during the qualification process.
Sam Mikulak
Brody Malone
Yul Moldauer
Akash Modi
Donnell Whittenburg
Sunday, June 27
The same five women will bear watching on Saturday during the finals, including any other gymnasts that make noise during the qualification process.
Simone Biles
Jordan Chiles
Suni Lee
Jade Carey
MyKayla Skinner
USA gymnastics live streams
All of Team USA's gymnastics events will be available to stream on Peacock, NBC's streaming platform. You can also stream the events with fuboTV when they are aired on NBC or NBC Sports. NBCSports.com and NBCOlympics.com will carry some of the earlier qualifying events. 
Olympic gymnastic trials results 2021
The top two all-around women's gymnasts at the U.S. Olympic trials will automatically qualify for Team USA. The U.S. women's Olympic gymnastics team will consist of a four-competitor team along with two additional individual slots, which the United States earned the right to bring to the Summer Games as individual athletes to compete as specialists in line with new rules that allow smaller nations to be competitive.
The men's side is simpler. The top four finishers at the Olympic trials will make the roster, while they have earned one extra spot for a specialst. 
Women's
| Event | Top Scorers |
| --- | --- |
| Vault | — |
| Uneven bars | — |
| Beam | — |
| Floor | — |
Men's
| Event | Top Scorers |
| --- | --- |
| Vault | — |
| Pommel horse | — |
| Floor | — |
| Rings | — |
| Horizontal bar | — |
| Parallel bars | — |
Islanders, Anthony Beauvillier force Game 7 in (possibly) last game at Nassau Coliseum
UNIONDALE, N.Y. — The Islanders staved off closure of the Nassau Coliseum for at least a little longer with a 3-2, come-from-behind overtime win Wednesday night. Whether the ice can be melted one final time at the Old Barn is now labeled as "to be determined" as the home team forced a Game 7.
"We're obviously a resilient group and we knew we had a lot of time on the clock still, so, just stuck with it and fortunate to get two goals and tie it up and obviously win in overtime," said Mathew Barzal. 
Things started a little better for the Islanders than they did two nights prior when they were blown out of Amalie Arena in Tampa 8-0. The first goal of that game came just 45 seconds after the drop of the puck. In this game, they came out matching the tempo with the Bolts in front of a loud and boisterous crowd. But the fans were all hushed when Brayden Point did, well, Brayden Point things — again.
The Calgary, Alta., native lit the lamp for the ninth consecutive game; only Reggie Leach's 10 straight games with a goal stands in his way of the record.
In the second period, the Lightning killed off a 5-on-3 for about a minute before Anthony Cirelli gave them a two-goal lead. His fourth goal of the postseason went five-hole through netminder Semyon Varlamov. But the Islanders, with the crowd fully behind them, got one back with under six minutes left in the middle frame. Jordan Eberle, who entered Game 6 with just three goals in the postseason and amid a six-game goal drought, threw a backhander on net and past the blocker of Vezina Trophy finalist Andrei Vasilevskiy.
The Islanders had their chances after that. Barzal controlled the puck for a Steve Yzerman amount of time in the first few minutes of the third period. Kyle Palmieri pulled Vasilevskiy out but couldn't tuck the puck in behind him. Eberle had a chance for his second with just over 12 minutes to go.
Maybe they got a jump from Jets guard Greg Van Roten pounding a beer and then smashing the container on his head. Maybe it was because it seemed as if the crowd was standing the rest of the way. 
With 8:44 left on the clock, Scott Mayfield — who probably should have been called for cross-checking Nikita Kucherov in the back and knocking him out of the game after one shift— became an unlikely Islanders hero. He went down the right wing and beat Vasilevskiy top shelf to even things. It was just his third career playoff goal and his first since Game 3 of the first round against the Penguins.
The building was hopping after that, although things got dicey for the hometown team when Matt Martin took a high-sticking penalty with 5:57 remaining. Varlamov and his crew held the Lightning at bay, and with the fans chanting a deafening "Let's Go Islanders," the game went to a nail-biting overtime.
New York didn't need much time in the extra session, however.
Just 68 seconds in, Anthony Beauvillier intercepted a pass deep in the offensive zone — he said postgame that he blacked out — and buried it.
"Feels amazing, to be honest. That building coming into overtime was smelling like cigarettes and now it smells like beers," said the goal scorer. "That place was going crazy so everyone is happy we're going back to Tampa."
The building erupted as the Islanders flew off the bench to swarm the overtime hero. And as the team celebrated, so did the fans — by throwing beer cans and bottles onto the ice and sticking around long past the team had left the ice.
"I've never seen anything like that," said Barzal with a smile before adding it was "a little dangerous."
"It's one of the best [moments]," said bench boss Barry Trotz when asked where Game 6 will rank among his career hghlights. "I love this group, the character of this group. And this building and what it's meant to a number of players and more than anything, our fans. These are great moments. Going off the ice, everybody's hugging each other, there's beer cans flying all over. It's quite a sight.  
"These are great memories to have. But we've got to get another one."
It'll now come down to that Game 7 on Friday night in Tampa to determine who will play for the Stanley Cup.