Carrefour shows not even Europe's largest retailers are immune to takeover talk | Business News
It is a name instantly recognisable to anyone who has visited France.
Carrefour is as ubiquitous in the French grocery market as Tesco – the company with which it has vied for years for the title of Europe's largest retailer – is in the UK.
Yet even a company the size of Carrefour, which employs 320,000 people in more than 30 countries, is not immune from the threat of takeover.
It confirmed today it has received an approach from Alimentation Couche-Tard, the Canadian convenience store operator, sending its shares up by nearly 15%.
Carrefour, which – with 105,000 employees in France – is the country's biggest private sector employer, said talks were at a very preliminary stage but that the approach was friendly.
That may go some way to assuaging the concerns of the French government which, interventionist at the best of times, has been even more deeply involved in private sector matters than usual as it seeks to protect the public from the economic impact of COVID-19.
Carrefour is one of 10 French companies – others include the bank Societe Generale – put on a list compiled by the then-prime minister, Dominique de Villepin, in 2005 that he intended to keep French. That was in response to unwanted interest from PepsiCo in Danone, the yoghurt maker, which is also on the list.
Governments of all complexions in France have traditionally been very suspicious of mergers and takeovers and especially when a French company has attracted the interest of a would-be foreign buyer.
Moreover, Carrefour is a national champion, a mainstay of the CAC-40 index and a pioneer in its field. Founded in 1959 by Marcel Fournier, a novelty shop owner from Annecy, and brothers Denis and Jacques Defforey, who owned a food wholesale business, it was responsible for bringing the concept of the hypermarket, first dreamed up in the 1930s in the US, to France.
It was a concept that has stood the test of time and which remains immensely popular with the French public: a survey in 1987 by L'Expansion, the French business magazine, found that the hypermarket was regarded as the greatest innovation of the previous two decades, ahead even of the contraceptive pill and the high-speed train.
So this is not just any old company – it is one that has been at the very heart of French culture for more than half a century.
By comparison, its would-be buyer, Couche-Tard, is a relative upstart. It was founded by the entrepreneur Alain Bouchard from a single store in St Jerome, a city 30 miles to the north of Quebec, in 1980.
Mr Bouchard, who is now one of Canada's richest people, has an inspirational story. His father, Jean-Paul, had owned a successful road construction business in the early 1950s but, when a key client went bust, so did the company.
The family were forced to move from living in fairly comfortable circumstances to living in a mobile home. Although Jean-Paul later rebuilt his career, successfully inventing a cement-injecting pump after taking work on a hydro-electric dam, the episode gave his son the drive to run his own business and enjoy the living standards he enjoyed as a child.
He certainly achieved that. Couche-Tard now employs 131,000 people worldwide from 14,200 stores, including more than 2,700 in Europe, where it operates in Scandinavia, the Baltics, Russia, Poland and Ireland. With a stock market valuation of C$45.7bn (£26.3bn), it is valued at more than twice as much as Carrefour, which even after today's share price rise has a market capitalisation of €12.4bn (£11.1bn).
Interestingly, Couche-Tard's rapid growth story strongly resembles that of EG Group, the petrol station business founded by Mohsin and Zuber Issa, the two brothers who recently bought Asda. It has based its breakneck expansion on buying petrol forecourts and operating the convenience stores that sit alongside them.
The pair even went head-to-head last year in a takeover battle for Caltex, one of Australia's biggest petrol station operators, which has yet to be resolved even though Couche-Tard walked away.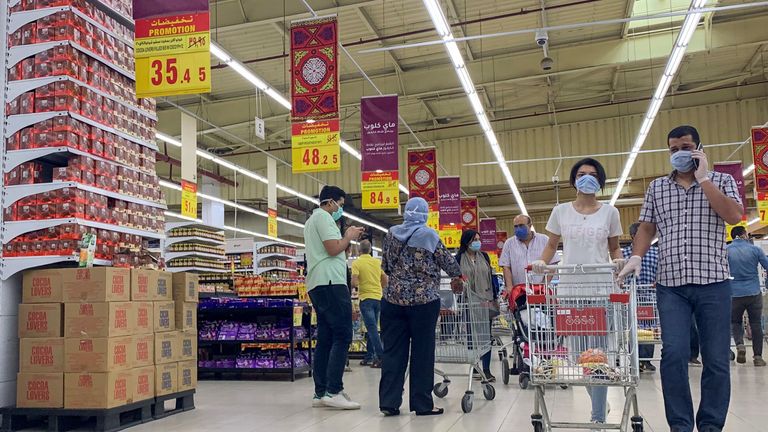 It may well be that the move by the Issa brothers for Asda has inspired Couche-Tard to go for Carrefour. While there is not too much geographic overlap between Couche-Tard's operations and those of Carrefour, some analysts believe the Canadian company is interested in Carrefour as a way of protecting revenues should they fall at its forecourt outlets, whose sales are seen as less predictable with the advent of electric vehicles.
The company has taken the issue seriously for years and, in 2013, it expanded into Scandinavia partly to study closely the market in Norway, not only because it is particularly competitive, but also because it is a country where electric vehicles have been adopted by the population far more readily than elsewhere.
Ironically, at the time, Mr Bouchard told Toronto's Globe and Mail newspaper that France was bottom of the list of countries into which Couche-Tard wished to expand because the sale of tobacco – which makes up two-fifths of Couche-Tard's revenues – is barred in convenience stores there.
It is also possible that Couche-Tard has decided to pounce given the weakness in Carrefour's share price which, from April 2015 until Tuesday night when the takeover approach was first reported, had fallen by 53%. The company's performance has disappointed investors for a number of years now, with sales sluggish in its home market, where it has faced fierce competition from rival supermarket operators such as Auchan, Leclerc and Casino.
It has also suffered falling sales in a number of key overseas markets including Argentina, Belgium and China, where – like Tesco and Walmart – it has given up control of its business to a local partner.
That said, as with other supermarkets around the world, the company enjoyed a fillip to sales last year from COVID-19. Its sales grew during the July-September quarter at their fastest pace for 20 years.
That should guarantee it a hearing from long-suffering shareholders should Couche-Tard go hostile.
How the saga unfolds will be fascinating. Apart from Carrefour's shareholders, who include Bernard Arnault, France's richest man, the French government is likely to take a close interest. And so, too, are the trades unions. Carrefour is heavily unionised while Couche-Tard has fought for years to prevent unionisation in its business.
EDF ignites stock market spark with plan for Pod Point float | Business News
EDF, the French state-backed energy giant, is drawing up secret plans for a stock market flotation of one of Britain's biggest providers of electric vehicle charging infrastructure amid soaring demand from motorists.
Sky News has learnt that EDF, which bought a controlling stake in Pod Point less than a year ago, has instructed investment bankers at Barclays to begin working on the timing and structure of a public listing.
City sources said this weekend that an initial public offering (IPO) could value Pod Point at many hundreds of millions of pounds, crystallising a big paper fortune for Erik Fairbairn, the company's founder.
EDF's plans are at an early stage, but underline the burgeoning interest in capitalising on the accelerating shift to electric cars, with the government now having established a 2030 target for banning the sale of new petrol and diesel vehicles, and 2035 for phasing out hybrids.
Sources said that EDF would be likely to retain a large stake in Pod Point after an IPO as it seeks to meet its target of becoming the leading energy company for electric mobility in the UK, France, Belgium and Italy.
Pod Point says it has powered more than 459m miles of electric driving, and has a public network of nearly 4000 charging bays.
According to recent parliamentary research, nearly 29,000 charging points will be required across Britain by 2030 to meet demand, with the number of public chargers for top-up charging needing a tenfold increase by the end of the decade from 2016 levels.
The Society of Motor Manufacturers and Traders said recently that 2020 had been the best ever year for electric cars in the UK, with the market share of battery and plug-in hybrid vehicles reaching 10.7%.
"Investment in charging infrastructure and battery gigafactories [is] now essential to reboot industry and meet post-Brexit electrification challenge," the SMMT said..
Pod Point was backed by a group of venture capital funds and other early-stage investors prior to EDF announcing the takeover of the company last February.
As part of that transaction, Legal & General (L&G), the FTSE-100 insurance and pensions giant, retained a 23% stake in the technology company.
By drawing up plans to float, Pod Point will join an unprecedented queue of promising British tech companies which have set their sights on a London listing as investors embrace a wave of coronavirus winners.
In a statement, a Pod Point spokeswoman said: "We are of course very pleased that the market for electric vehicles has continued to grow so strongly over the course of a very challenging year.
"Unfortunately, we are unable to comment on questions relating to investment as these enquiries are handled directly by our parent company EDF."
EDF declined to comment on the possibility of an IPO.
Its UK country manager, Simone Rossi, said at the time of the takeover of Pod Point: "Electric vehicles will be crucial in reducing the UK's carbon emissions and fighting climate change.
"With the addition of charge points, we can help our customers to reduce their carbon footprints and benefit from lower fuel costs by going electric.
"The additional electricity demand from EVs will require urgent investment in low carbon generation from renewables and nuclear."
Pod Point, which was founded in 2009 by Mr Fairbairn, competes with rivals such as Chargemaster, which is now a subsidiary of BP.
It has partnerships with Tesco and Lidl, with charging points installed at their supermarket car parks, and counts British Land, Gatwick Airport and Pepsico among its other corporate partners.
EDF data published last year suggested that a low carbon grid, featuring new renewables and nuclear, and switching the 32million petrol and diesel cars on UK roads to electric, would avoid 65m tonnes of CO2 emissions, and shrink Britain's overall carbon footprint by more than 10%.EDF ignites stock market spark with plan for Pod Point float
Barclays weigh £3bn float of online retailer Very Group | Business News
The proprietors of The Daily Telegraph have begun exploring plans for a £3bn-plus flotation of Very Group, their booming online retail operation.
Sky News has learnt that the Barclay family is at the early stages of examining whether to take Very to the public markets in order to capitalise on exploding investor interest in digitally led retailers.
Insiders said that the family had started evaluating such a move prior to the unexpected death this week of Sir David Barclay, who with his twin brother Sir Frederick had built one of Britain's biggest private business empires.
A decision about an initial public offering (IPO) of Very Group is not thought to be imminent, but sources close to the family acknowledged that it was under more serious contemplation than at any previous point.
It was unclear on Friday evening whether Very's board had formally appointed bankers to help advise on a potential listing plan, although one source said that UBS – which has advised the company in the past – was likely to be involved.
If the owners did decide to pursue a public listing, it would expose a Barclay-owned business to the glare of public equity markets for the first time, marking a significant departure for a family which has – despite the profile of the assets it owns – always sought to protect its privacy.
In addition to the Telegraph titles, the Barclays also own the logistics business Yodel.
Last year, the family sold London's Ritz hotel following a bitter dispute between the twins over its valuation.
A legal battle involving allegations of corporate espionage may yet continue despite Sir David's death.
Last year's Sunday Times Rich List estimated that the brothers had amassed a combined fortune of about £7bn.
A flotation of Very Group would be a logical step for a business which, like many online retailers, has been among the big beneficiaries of the coronavirus pandemic.
While high street chains have invariably been struggling to stay afloat, Very reported this week what it described as a record-breaking Christmas and Black Friday trading performance.
The company is run by Henry Birch, a former boss of the casino operator Rank Group, and chaired by Aidan, one of Sir David's sons.
In a trading update published this week, Mr Birch said the Christmas trading period had "started early at Very and our committed team worked tirelessly to deliver for our customers".
"Because we sell everything our customers could possibly want except food, are online only and offer a range of payment options, we were perfectly placed to help a record number of people make the most of the festive period."
The company said it had seen more than 500,000 new customers use the Very Group platform, with 139m website visits – a year-on-year rise of nearly 50%.
"Our record-breaking performance was supported by our new fulfilment centre, which processed 3.9m orders during peak; an incredible achievement for a facility that only launched in March this year, when the first national lockdown was announced," Mr Birch added.
"While the economic picture remains unpredictable, we have strong momentum as we begin the year."
Very Group last explored the possibility of bringing in external investors in 2017, when it held talks with a number of large private equity firms.
At the time, it sought a roughly-£3bn valuation for the business, which at the time was called Shop Direct, but ultimately decided not to pursue a sale.
A Very Group spokesman declined to comment on Friday.
ITV picks firm to screen successors to chairman Bazalgette | Business News
ITV is kicking off a search for a new chairman as Sir Peter Bazalgette prepares to step down next year after almost a decade on the broadcaster's board.
Sky News has learnt that ITV's nominations committee, led by the former Jupiter Fund Management boss Edward Bonham Carter, has appointed Spencer Stuart to oversee the search.
Sir Peter, who has chaired the commercial television group since 2016, is not expected to leave until his term expires in May 2022.
In total, he will have served for nine years on ITV's board, having been a non-executive director for three years prior to replacing Archie Norman.
Sir Peter, a former chief creative officer at the TV production company Endemol, is a respected figure both at ITV and in the wider broadcasting industry.
A number of the company's leading shareholders are said to be disappointed that he has effectively been "timed out" by the corporate governance code, which stipulates that chairs are no longer deemed independent after nine years in total on a listed company's board.
His successor as chair will inherit a company that, like many others, is grappling with rapid changes convulsing the media landscape.
ITV's stock price has been hit by the coronavirus pandemic, with the company's chief executive, Dame Carolyn McCall, revealing last summer that advertising revenue had been hit by the sharpest fall in its history.
During the last 12 months, shares in ITV have fallen by nearly a quarter, giving the company a market value of £4.37bn.
ITV declined to comment on the search for a new chairman.