Brexit: UK and EU in 'final throw of the dice' as trade talks set to resume | Politics News
British and EU negotiators will return to the negotiating table today in a "final throw of the dice" as they try to secure a post-Brexit trade deal.
With time running out before the Brexit transition period ends at the end of the month, Britain's chief negotiator Lord Frost will reconvene talks with his EU counterpart Michel Barnier in Brussels to try to resolve "significant differences".
But British sources have warned that the process may still conclude without an agreement.
"This is the final throw of the dice," said one source close to the talks.
"There is a fair deal to be done that works for both sides, but this will only happen if the EU is willing to respect the fundamental principles of sovereignty and control."
Today's meeting follows an hour-long call on Saturday between Prime Minister Boris Johnson and European Commission President Ursula von der Leyen, in which they agreed on a final push to get an agreement.
In a joint statement following their discussion, Mr Johnson and Ms von der Leyen said that while "progress has been achieved in many areas… significant differences remain on three critical issues: level playing field, governance and fisheries".
The level playing field refers to state subsidies and standards: the EU fears that Britain could become a low-regulation economic rival, cutting standards and heavily subsidising its industries.
In the statement, Mr Johnson and Ms von der Leyen said: "Both sides underlined that no agreement is feasible if these issues are not resolved.
"Whilst recognising the seriousness of these differences, we agreed that a further effort should be undertaken by our negotiating teams to assess whether they can be resolved.
"We are therefore instructing our chief negotiators to reconvene tomorrow in Brussels.
"We will speak again on Monday evening."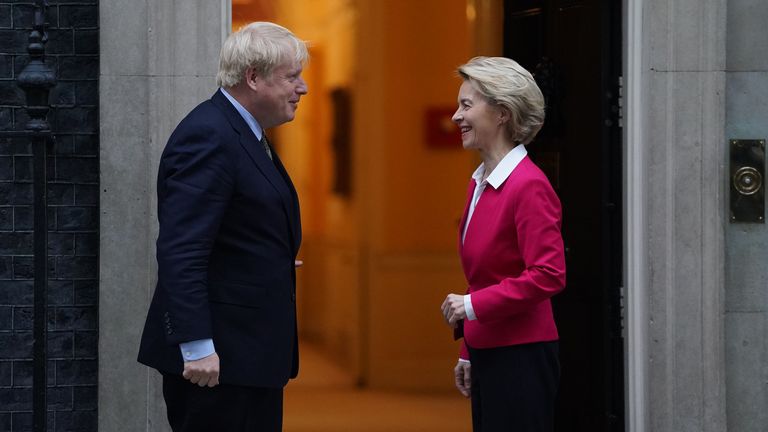 The negotiations on a potential trade deal between the UK and EU have gone down to the wire, with time for an agreement rapidly running out.
It comes after a week of intense negotiations in London, with late night sessions fuelled by deliveries of sandwiches and pizza.
Britain wants to "take back control" from Brussels and set its own economic policies.
The fishing industry is another obstacle – a small part of the European economy at large, but very important to nations such as France.
The EU wants to continue to fish in British waters, but the UK wants to control access and quotas.
What is unclear from the joint statement from Mr Johnson and Ms von der Leyen is whether either – or both – of the two leaders was prepared to shift ground during the call in a way that would enable their negotiators to bridge the gaps.
In the run up to the call, the UK accused the EU side of seeking to introduce "new elements" into the negotiations at the 11th hour.
The British side was angered by reported demands by Brussels that EU fishermen should continue to enjoy the same access to UK waters for another 10 years.
There was concern that Mr Barnier was coming under pressure from French President Emmanuel Macron at the head of a group of countries which feared he was giving too much ground to the UK.
Ireland's Prime Minister Micheal Martin said he welcomed news that negotiators would resume their discussions in Brussels on Sunday.
"An agreement is in everyone's best interests," he tweeted. "Every effort should be made to reach a deal."
Analysis: A deal remains favourite – but it's not certain
By Adam Parsons, Sky News Europe correspondent
On the face of it, this is like putting a cup more petrol in an empty fuel tank. The car might trundle on for a mile or two, but it won't get you home.
Brexit talks have been stuck for months now over the familiar themes of fishing, governance and competition rules, known as the level playing field.
For day after day, negotiators have wrestled with how to find an agreement – and have consistently failed. So how will a few more days help?
If it was just down to the pressure of time, that would have worked by now.
What's required now is for new instructions from above – and in the case of the EU, that means giving more wriggle room to chief negotiator Michel Barnier.
The problem is that some countries – including France, the Netherlands and Belgium – have already complained that they think he's giving away too much to the UK. Would they really be happy to let him make further concessions?
The same challenge faces Boris Johnson and Lord Frost (the UK's chief Brexit negotiator) – how to strike a deal that looks sufficiently hard-won to satisfy Brexiteers, but is also palatable to the EU.
It will take compromise, and at pace. Proper diplomatic high-wire stuff and, among senior sources I speak to, there is no consensus about what will happen.
Most still expect a deal, but perhaps because that's how negotiations often work – crisis, anger, broken deadlines and then agreement at the last minute. The choreography, they insist, is part of the process.
But there has never been a deal quite like this one.
On Monday, the Internal Market Bill, which is utterly hated by the EU, is back in the House of Commons.
The European Council meets on Thursday. And the French have already said they would be prepared to veto a Brexit deal if they hate it.
The truth is that, right now, nobody knows what's going to happen. A deal remains favourite, perhaps because no-deal is seen as so economically damaging. But it's not certain.
Appeal after 'gentle soul' road safety officer Allan is 'kidnapped' | UK News
Road safety officer Allan has been "kidnapped" from his post and residents of Braemar are appealing for his return.
The mannequin has been stationed on the A93 in Aberdeenshire for two months reminding drivers to slow down for the village's 30mph speed limit.
Geva Blackett, councillor for Aboyne, Upper Deeside and Donside, said Allan was last seen at 1.30pm on Saturday before disappearing "not of his own volition".
In a Facebook post, she wrote: "Allan took great pride in his role of reminding people driving into Braemar from Glenshee on the A93 that they were in a 30mph speed limit.
"Children, elderly folk and red squirrels are all at risk if people forget. Now he has gone – and not of his own volition.
"Someone has taken him!
"Have you seen Allan?
"Whoever kidnapped him, please give him back – he was last seen at 1.30 this afternoon (Saturday) and is a gentle soul, never offends anyone and well liked here in Braemar."
Ms Blackett said she had initially asked the local police inspector if a cut-out police officer could be placed at the roadside to warn the speedsters.
But there were none spare, so Allan was drafted in.
There is no word on a replacement during Allan's unplanned absence.
COVID-19: Vaccinated people must stick to lockdown rules as they may spread coronavirus, says Jonathan Van-Tam | UK News
Getting your COVID-19 vaccination does not mean you can liberate yourself from lockdown or other restrictions.
That is the warning from England's deputy chief medical officer Professor Jonathan Van-Tam, who says the millions of people who have received their jab must still obey social-distancing rules.
Those who refuse risk prolonging the pandemic and its associated restrictions, he said, adding that they could also be putting at risk those who are vulnerable but further down the priority list.
Some 478,248 people received a vaccine dose on Saturday, meaning 5.8 million people have had the first of two required doses.
But Prof Van-Tam said that, while the vaccination can prevent serious illness, it is not yet known if it prevents transmission of the coronavirus.
He wrote in The Sunday Telegraph: "Even after you have had both doses of the vaccine you may still give COVID to someone else and the chains of transmission will then continue.
"If you change your behaviour you could still be spreading the virus, keeping the number of cases high and putting others in danger who also need their vaccine but are further down the queue.
"Regardless of whether someone has had their vaccination or not, it is vital that everyone follows the national restrictions and public health advice, as protection takes up to three weeks to kick in and we don't yet know the impact of vaccines on transmission.
"The vaccine has brought considerable hope and we are in the final furlong of the pandemic but for now, vaccinated or not, we still have to follow the guidance for a bit longer."
Prof Van-Tam also repeated the reasoning between the government's vaccine strategy following growing concerns from some medical experts about the decision to extend the gap between the first and second doses to 12 weeks.
The British Medical Association has called for a re-think of the policy, saying the Pfizer vaccine is recommended with a gap of six weeks between doses.
Prof Van-Tam said the government's aim was to get a first dose to as many people as possible, meaning that more people would have at least some protection rather than fewer people having stronger protection.
He said: "But what none of these (who ask reasonable questions) will tell me is: who on the at-risk list should suffer slower access to their first dose so that someone else who's already had one dose (and therefore most of the protection) can get a second?"
Meanwhile, Education Secretary Gavin Williamson is expected to rule out a return to the classroom for pupils after the February half-term break.
The Sunday Times reported that parents should be prepared for a long period of home-schooling, possibly until after the Easter holidays.
Ministers are also expected to meet this week to discuss a proposal to require UK arrivals to pay for quarantine in a designated hotel for 10 days, similar to schemes that operate in Australia and New Zealand.
Government sources say while complete closure of the border is not the likely outcome of the talks, it is still an option.
From Monday, a further 32 vaccine sites are set to open across England, including one at the Black Country Living Museum in Dudley, which featured in the hit TV series Peaky Blinders.
The new vaccination centres will be focusing on offering jabs to health and social care staff, before opening their doors to other priority patients.
Moves are also being made to provide thousands of rapid turnaround tests to businesses so workers with no coronavirus symptoms can be tested.
Subscribe to the Daily podcast on Apple Podcasts, Google Podcasts, Spotify, Spreaker
The tests will be aimed at those who cannot work from home, such as those in the food, manufacturing, energy, retail, transport and military sectors.
Health Secretary Matt Hancock said: "Lateral flow tests have already been hugely successful in finding positive cases we would not otherwise find and I encourage employers and workers to take this offer up to help protect essential services and businesses."
On Saturday, the UK recorded another 1,348 coronavirus-related deaths and 33,552 cases, according to the latest government figures.
Biden-Johnson call: The 'special relationship' is off to a good start | US News
The state of the special relationship between Britain and America under a Biden presidency has been the focus of intense speculation.
Joe Biden and Boris Johnson are not political bedfellows. Mr Biden has referred to Mr Johnson as the physical and emotional clone of Donald Trump and is no fan of Brexit.
But Saturday's phone call and its timing will be encouraging news for Downing Street.
President Biden did contact Mexico's President Andrés Manuel López Obrador and Canadian Prime Minister Justin Trudeau on Friday and only got round to Mr Johnson the following evening but American presidents always contact their immediate neighbours first.
The fact the prime minister is the first world leader outside of North America to be called by President Biden suggests the so-called special relationship is in better shape than some had feared.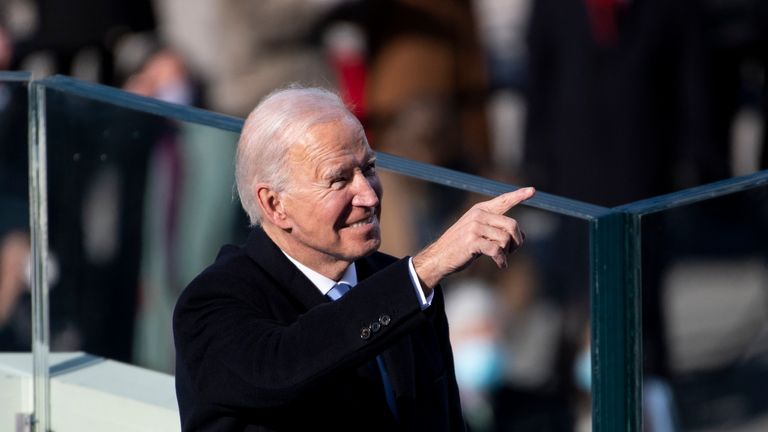 It was a wide-ranging call and focussed on what the two leaders can agree on, primarily tackling COVID-19 and climate change. Both leaders have made it clear they regard the two crises of paramount importance.
In a statement after the call, the White House said: "The president conveyed his intention to strengthen the special relationship between our countries and revitalise transatlantic ties, underscoring the critical role of NATO to our collective defence and shared values."
And it stressed the need for co-operation on shared challenges including "combatting climate change, containing COVID-19 and ensuring global health security".
Notably absent from the White House readout was any mention of discussion of a free trade deal.
A Downing Street spokesman put the emphasis on COVID-19, saying the leaders "noted the significant challenges facing the world during the pandemic, but also the unparalleled opportunities to build back better and greener together".
"The prime minister warmly welcomed the president's decision to re-join the Paris Agreement on climate change, as well as the World Health Organisation and the COVAX programme to ensure equitable access for vaccines."
Security, defence, human rights and protecting democracy were also discussed, we are told.
In contrast with the White House readout, Downing Street says the two men talked about "the benefits of a potential free trade deal between our two countries, and the prime minister reiterated his intention to resolve existing trade deals as soon as possible".
Subscribe to Divided States on Apple podcasts, Google Podcasts, Spotify, and Spreaker
Mr Johnson is hoping for a free trade deal in the wake of Brexit – something he had pursued with president Donald Trump. Both White House press secretary Jen Psaki and Treasury Secretary Janet Yellen have in the last week poured cold water on hopes for a free trade deal, saying the administration would be too busy dealing with COVID-19 to make it a priority.
Fears of tensions in the special relationship may have been exaggerated, however.
Those who know President Biden well say he is not a vindictive man and is keen to start afresh with allies at the outset of his administration. Mr Johnson may have more to worry about with the people around Mr Biden who resent his description of president Barack Obama as part-Kenyan in a newspaper article.
The omens from this call are good. The two leaders have decided to focus on what they can agree on. The world is in too parlous a state to let minor differences get in the way. The two men can continue developing their own special relationship when they meet at the G7 summit in June.