Australia to kill US racing pigeon which survived 8,000-mile trip across Pacific | World News
A racing pigeon that survived an 8,000-mile (13,000km) journey across the Pacific Ocean from the US to Australia, is to be put to death over fears it may be carrying disease.
The exhausted traveller "rocked up" at the Melbourne home of the appropriately-named Kevin Celli-Bird on Boxing Day.
Mr Celli-Bird said: "I've got a fountain in the backyard and it was having a drink and a wash. He was pretty emaciated so I crushed up a dry biscuit and left it out there for him.
The following day he noticed a blue band on his leg.
"Obviously he belongs to someone, so I managed to catch him," he added.
Mr Celli-Bird discovered the pigeon, which he named Joe after the US president-elect, Joe Biden, had disappeared from a race in the US state of Oregon on 29 October and later tried unsuccessfully to contact its owner in Alabama.
But if you're wondering how he managed to fly the whole way, experts suspect Joe hitched a ride on a cargo ship.
Joe's feat put the local media in a flap and his story attracted the attention of the notoriously strict Australian Quarantine and Inspection Service.
They contacted Mr Celli-Bird to ask him to catch the bird.
"They say if it is from America, then they're concerned about bird diseases," said Mr Celli-Bird.
"They wanted to know if I could help them out. I said, 'to be honest, I can't catch it. I can get within 500 mil (millimetres or 20 inches) of it and then it moves'," he said.
The quarantine service, which did not immediately respond to a request for comment, is considering employing a professional bird catcher, Mr Celli-Bird added.
Australia's strict enforcement of its quarantine laws hit the headlines in 2015, when Johnny Depp and his ex-wife Amber Heard were told their dogs, Pistol and Boo, which they had smuggled in illegally, had to be removed or they would be euthanised.
The mutts made it out in a chartered jet.
Mr Celli-Bird, who says he has no interest in birds "apart from my last name", said he could no longer catch the pigeon with his bare hands since it had regained its strength.
The bird spends every day in the backyard, sometimes sitting side-by-side with a native dove on a pergola. Mr Celli-Bird has been feeding it pigeon food since it arrived.
"I think that he just decided that since I've given him some food and he's got a spot to drink, that's home," he said.
Australian National Pigeon Association secretary Brad Turner said he had heard of cases of Chinese racing pigeons reaching the Australian west coast aboard cargo ships, a far shorter voyage.
It is claimed that the greatest long-distance flight recorded by a pigeon is one that started at Arras in France and ended in Saigon, Vietnam, back in 1931, according to pigeonpedia.com
The distance was 7,200 miles (11,600km) and took 24 days.
COVID-19: The nightmare of one father as coronavirus hit his family | UK News
Imagine being told to prepare for the worst: your pregnant partner and the unborn baby inside her, are unlikely to survive. 
That is exactly what Tommy Larkins was told.
The young father rushed his wife Elsa to Kingston Hospital just after Christmas.
She was critically ill with COVID-19.
Elsa is just 34 years old. She has no underlying health issues – but she was heavily pregnant.
"It was a life-threatening situation for her and our unborn baby.
"It was terrifying, the most terrifying thing I've been through", Tommy tells me. "To potentially lose the pair of them on the same night was terrible.
"I'd never wish it on anybody else."
Once in hospital, Elsa's health deteriorated quickly. She was moved to one of the hospital's two intensive care units.
Here she was put into a coma and intubated and Tommy was told to prepare for the worst.
"She was really sick. I'd been told to say my last goodbye to my other half – and to my unborn baby as well. Your world comes crashing down," he said.
These painful, difficult, heart-breaking conversations are happening all the time.
Rene Coles, a 74-year-old grandmother, has spent a week on one of Kingston Hospital's high dependency wards.
She coughs heavily into the oxygen mask strapped to her face before telling me she has been to hell – and she is not sure she is back.
"I thought I was dead," Rene says. "I've never felt like that in my life.
"For these nurses to get me through it, and the doctors, I cannot believe what they did to me.
"I'm 76 and I have COPD and I still got through – they are marvellous people."
But at one stage it was feared Rene might not make it.
"My daughter was asked to come up the hospital to say goodbye to me with my son because I might be dying," she said.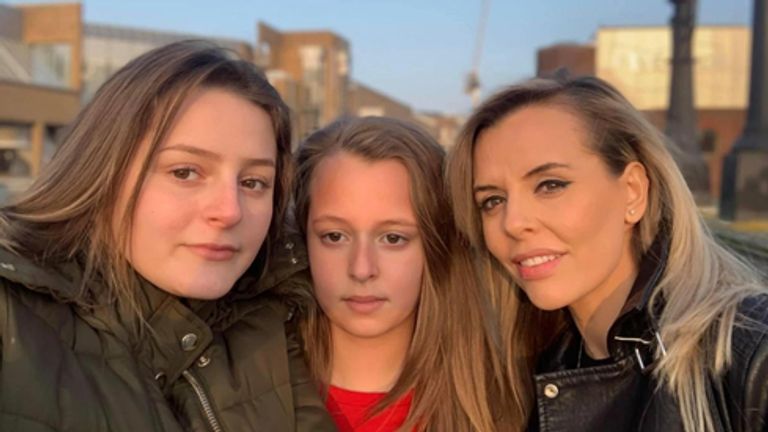 Tommy had the same devastating conversation with the rest of his his family. He broke the news to his young daughters Melisa and Alba.
He told the girls: "Mummy's on a knife edge. I'm sure she is going to be okay, but she's on a knife edge. We all need to hope."
Gags Sekhon, an ICU nurse, was one of the critical care nurses who cared for Elsa.
He said: "Thankfully, we have not seen many pregnant women, but Elsa was particularly sick when she came in.
"She was struggling to breathe. I think the difficulty with that was because she was heavily pregnant.
"The big bump she had was pushing on her lungs. As COVID had infected her lungs she was finding it difficult to breathe anyway and then with the added pressure of baby squeezing on the bottom of her lungs it was making it even more difficult.
"So she did require quite a lot of support all the time she was here."
On 5 January the decision was taken to deliver Elsa and Tommy's baby by emergency C-section: a full two months before the baby was due.
The operation could save Elsa's life but it carried a huge risk.
Tommy said he was "absolutely petrified".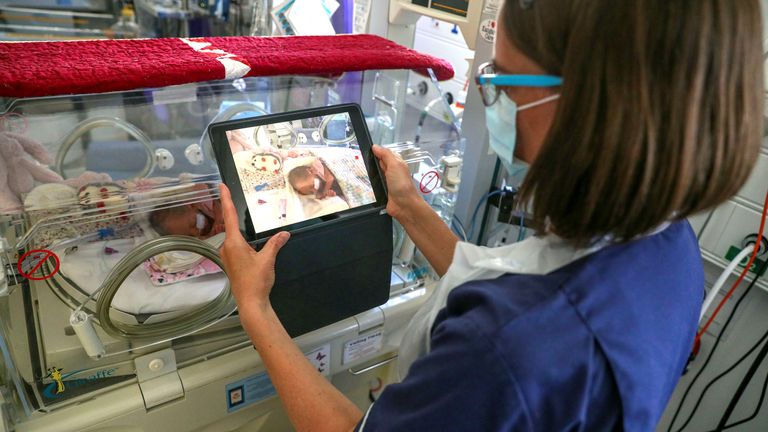 "The baby was due the second week in March. To have an emergency C-section, and a baby potentially born with COVID – it was awful.
"It was all very dark. A horrible place to be in."
The operation to deliver the baby was successful.
Elsa and Tommy's daughter weighs just 1.4kg and needed life support in those first critical few weeks of her birth.
Tommy was allowed to visit his daughter in hospital on compassionate grounds for the first time yesterday but Elsa is still COVID positive and has yet to meet her beautiful, tiny, fragile daughter.
It could be weeks before all three are together.
Tommy said the first few hours were the most difficult. " It was day-by-day, hour-by-hour. She had ups and downs.
"She's tiny and is still tiny. Basically a ventilator the same size as her body attached to her. And seeing her like that is heart-breaking.
"When doctors and clinicians tell you it could be the worse, you could lose everything here, to worry about the kids, to worry about everything, home life, work, everything we had planned, to lose all of that in one fell swoop for everything to be cut short was really difficult.
"To come through and to see that light at the tunnel, it was amazing.
"We still have little way to go.
"Hopefully we will keep pushing forward and she'll keep fighting."
The pandemic baby who survived against all odds has a name.
She's called Florence – a tribute to the nurses and doctors who saved her and her mother's life.
COVID-19: US president Joe Biden signs 10 executive orders to curb spread of coronavirus | US News
Joe Biden has signed 10 new executive orders in a bid to curb the spread of coronavirus across the United States.
On his first full day in office, the newly-inaugurated president launched new measures on vaccines, masks and testing.
He hit out at Donald Trump's handling of the pandemic, saying his predecessor lacked the "urgency, focus and co-ordination we needed".
"We have seen the tragic cost of that failure," Mr Biden said.
He warned that "things are going to continue to get worse before they get better", predicted the death toll will reach 500,000 next month and said the roll-out of vaccines in the US had been a "dismal failure" so far.
The US has seen the highest number of COVID-19 cases and deaths of any country in the world.
Mr Trump, who left the White House for Florida on Wednesday, was much-criticised for his handling of the pandemic.
He caught the disease in October, after hosting a reception where guests were seen not social distancing or wearing masks.
And when a US journalist said Mr Trump told him he knew how dangerous the virus was but liked "playing it down", former first lady Michelle Obama accused him of trying to "gaslight the American people by acting like this pandemic is not a real threat".
Scottish govt official 'asked for account of when they knew about Salmond complaints to be changed' | UK News
Sky News has learned of claims that a Scottish government official asked to change an account of when they knew about harassment complaints against former first minister Alex Salmond.
They concern a senior official whom we are not identifying, but who works with the current First Minister Nicola Sturgeon.
Ms Sturgeon's political opponents have described the revelations as an "abuse of power" and a "clear attempt at a cover-up".
The official allegedly asked for a press statement to be changed and feared they faced consequences for their career if this was not done.
The statement was a record of a conversation they had been involved in. It indicated when, and what, they knew about complaints against Mr Salmond, which pre-dated the day that Ms Sturgeon says she was first informed.
The amendment request was allegedly made after a draft copy of the statement was sent to the Scottish government, prior to its publication.
Upon receipt, it is claimed the official contacted the author and asked for the record of when they said they "knew" of the complaints to be reduced to when they had a "suspicion" of them.
The official indicated that without the change, they feared their career could be negatively impacted.
The date on which senior members of the Scottish government learned of an investigation into the complaints against Mr Salmond is a point of contention which has embroiled Ms Sturgeon in controversy.
The first minister has told the Scottish Parliament she first knew on 2 April 2018.
However, Alex Salmond has accused her of misleading parliament, claiming the complaints were discussed in a meeting she attended four days earlier, on 29 March 2018.
This is refuted by Ms Sturgeon, whose spokesperson has accused Mr Salmond of "spinning false conspiracy theories".
The involvement of the official, and their request for changes, is contained in a submission made to the ongoing Scottish Parliament inquiry into the government's handling of harassment complaints against Mr Salmond.
Sky News has spoken to four people familiar with the content of the submission, which has not been made public.
All of the sources corroborate the details of the official's request to change the account of what they said.
Ms Sturgeon's political opponents say the revelations present her with serious questions.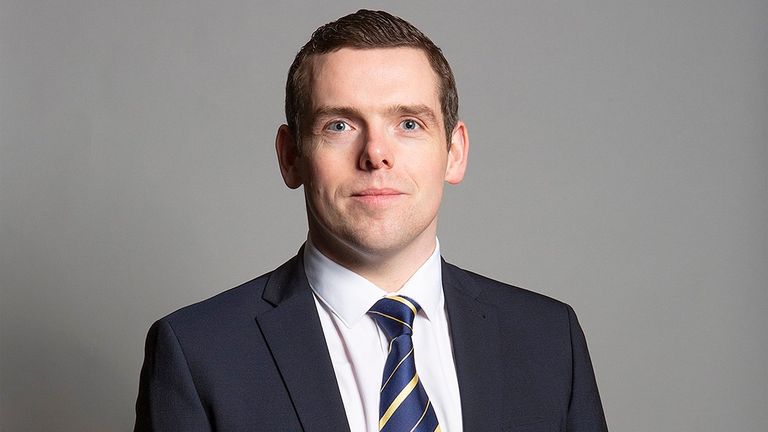 Scottish Conservative leader Douglas Ross said: "The first minister has done everything in her power to evade scrutiny and dodge questions of her involvement in this scandal.
"It is outrageous that her staff acted to prevent facts reaching the public.
"Statements have been manipulated and the truth has been deliberately hidden.
"This is a clear attempt at a cover-up and an abuse of power at the heart of government. The first minister must answer for it."
A Scottish government spokesperson said: "We can't comment on written submissions that have not been published by the committee and that we have not seen."