Arsenal's misery continues but furious fans give Kroenke a glimpse of what's to come
Match statistics: Arsenal 0-1 Everton
Sometimes the game just doesn't really matter.
It doesn't happen often, but that's how it felt at Emirates Stadium on Friday night.
Arsenal played Everton and they lost 1-0 – but as the match meandered on, the main event was still taking place outside the ground.
Throughout the first half you could hear the chants rippling through the crisp north London air from the thousands of Arsenal fans who had spent the past two hours protesting outside against the ownership of Stan Kroenke.
"Kroenke Out", "We want our Arsenal back", "Stan Kroenke, get out of our club."
It was an ever-constant hum, punctuated from time to time by the sound of police sirens or fireworks being set off amongst the crowd.
This was the biggest protest seen at Arsenal in years. The fans wanted their voices to be heard – and they were heard loud and clear.
"Tonight the Arsenal fans made me so proud," said 61-year-old Arsenal fan John Williamson. "Thousands demonstrated against the owner without a hint of trouble. 
"If Stan Kroenke could hear us from his ranch 3,000 miles away, he'd be in no doubt that he isn't wanted."
Whether Kroenke listens is another thing. But if Arsenal's billionaire owner is sitting over in the United States hoping that tonight's scenes were a one-off, then he would be wrong.
This was just the start. There will be more protests, more pressure put on Government to introduce legislative change when it comes to owning football clubs in this country.
It feels like a movement has started at Arsenal and the momentum that has built up during the past chaotic week is not going to fall away any time soon.
This was the first real chance for Arsenal fans to have their say following the Super League debacle.
A select few left Josh Kroenke in no uncertain terms about how they felt during a fans forum conference call on Thursday afternoon, but this was an opportunity for the masses to get involved.
They started to arrive from 5pm onwards, three hours before the Everton game was due to get underway.
Within an hour the numbers gathered outside the stadium had made it into the thousands.
Flares were sent up in the air and fans clambered on top of the roof of the Armoury Megastore. This was their chance to make a stand and they wanted to make sure they took it.
Mikel Arteta had said in the build-up to the game that it was his job to keep his players focused despite all the distractions that were going on outside.
The Premier League may be playing second fiddle to the Europa League for Arsenal right now, but this was a game he desperately wanted to win to build some sort of momentum ahead of Thursday's semi-final against Villarreal.
But while the fans protested outside at mistakes that have been made off the pitch, the on-field mistakes that have littered Arsenal's season once again cost them dear against Everton.
This was a game they should have won. They were comfortably the better side and had Pierre-Emerick Aubameyang or Alexandre Lacazette been fit, you feel one of them would have stuck away one of the chances that came the home side's way.
But they weren't and having failed to take advantage of their dominance, Arsenal shot themselves in the foot in customary style 14 minutes from time.
There seemed to be little threat as Richarlison skipped his way towards the byline, but as he sent in a tame cross towards Bernd Leno, the German keeper somehow managed to throw the ball through his own legs and into his goal.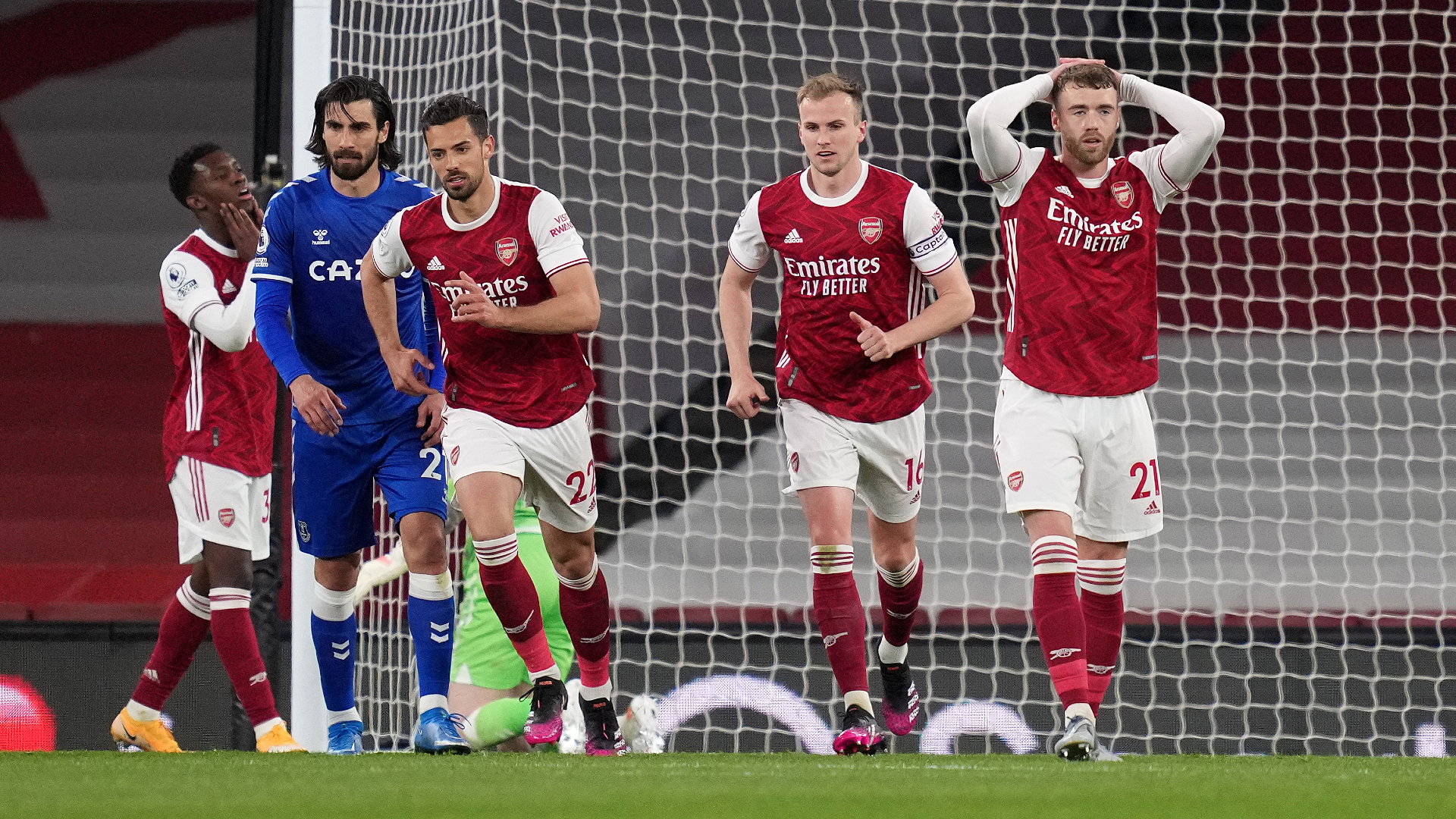 It was enough to give Everton the win. The fact that Leno's clanger came soon after Arsenal had seen a penalty awarded for a foul on Dani Ceballos ruled out for the slightest of offsides against Nicolas Pepe will have done little to improve Arteta's mood.
Arsenal have now lost 13 league games this season and they could end the weekend as low as 11th in the Premier League.
While their fan base is full of momentum when it comes to their protests against the owner, the team has none of it ahead of their Europa League semi-final against Villarreal.
That's a tie which will make or break Arsenal's season. On the evidence we saw tonight, Unai Emery will not be overly worried ahead of his return to the Emirates on Thursday night.
Twitter reacts to Russell Westbrook's NBA-record 182nd career triple-double
Russell Westbrook made history Monday night, notching his 182nd career triple-double — and moving past Oscar Robertson for the all-time NBA record.
Robertson's record lasted 47 years, from 1974 through Monday night when a fourth-quarter rebound in front of a reduced-capacity crowd in Atlanta gave Westbrook sole possession of the record. It took him 12 years to surpass Robertson's record after he achieved his first triple-double (17 points, 10 assists, 10 rebounds) in 2009 as a rookie with the Thunder.
MORE: Jaylen Brown injury update: Celtics star out for rest of season with torn wrist ligament
Monday's triple-double was Westbrook's 36th of the year. That insane output is helping him average, for the fourth time in his career, a triple-double over the course of the season. The previous such campaigns came in 2016-17 through 2018-19.
Westbrook finished with 28 points, 21 assists and 13 rebounds in the Wizards' 125-124 loss to the Hawks; the loss dropped Washington to 32-37 on the season, but the team still ranks 10th in the Eastern Conference standings. The Wizards' playoff hopes pale in comparison to the history Westbrook made, however.
He even made sure to get the game ball from officials so he could be certain to commemorate the historic achievement.
Here are some of the best reactions to Westbrook's history-making feat:
CONGRATULATIONS, RUSSELL WESTBROOK, FOR BREAKING OSCAR ROBERTSON'S 47-YEAR-OLD CAREER TRIPLE-DOUBLE RECORD. NOBODY HAS EVER PLAYED HARDER EVERY SINGLE POSSESSION. NOBODY HAS EVER BEEN ABLE TO DOMINATE A STAT SHEET IN ALL 3 CATEGORIES THE WAY THIS MAN CAN.

— Skip Bayless (@RealSkipBayless) May 11, 2021
Congratulations from Oklahoma City to @russwest44 on becoming the all-time triple-double leader!

There's been some debate whether it is still "Russell Westbrook Day"… Tonight, let's just say that it is.

We love you, Russ!

— Mayor David Holt (@davidfholt) May 11, 2021
Career triple-doubles:

Russell Westbrook: 182

Michael Jordan, Kobe Bryant, Chris Paul, Kevin Durant, Bob Pettit, Scottie Pippen, Kevin Garnett, Steph Curry, Allen Iverson, Giannis Antetokounmpo, Derrick Rose, Bill Russell, Gary Payton and Kawhi Leonard COMBINED:
181

Combined.

— Tommy Beer (@TommyBeer) May 11, 2021
Kenny Mayne's ESPN cover letter was perfect precursor to his incredible career
ESPN's Kenny Mayne, one of the most recognizable talents in sports broadcasting, is leaving the network, he announced on Monday.
The 27-year ESPN anchor broke the news on Twitter, describing his exit from the worldwide leader in sports as a "salary cap casualty." Naturally, he could only include some of the dry humor that helped him become a beloved presence in the studio and on millions of sports fans' TVs.
I am leaving ESPN.
Salary cap casualty.
Thanks for the opportunity Vince Doria & Al Jaffe & for taking my solicitations
Herman/Stinton/Lynch.

I will miss the people.
I will miss the vending machine set up over by the old Van Pelt joint.
We had everything.

IntoTheGreatWideOpen#

— Kenny Mayne (@Kenny_Mayne) May 10, 2021
MORE: ESPN anchors get emotional over laid-off co-workers: 'We are all hurting'
The longtime "SportsCenter" host's final day will be on May 24, bringing to an end a 27-year stint at ESPN that began in 1994. His absence will undoubtedly be noted among fans who appreciated his humor and presence in ESPN's studios — but his Monday announcement is as good a reason as any to remember the incredible cover letter that first landed him the gig in 1994.
Mayne sent a short and sweet cover letter to ESPN's John Walsh in 1994, offering him three checkboxes in the former's bid to land a job with ESPN:
Old tweet…thanks for re-post.

I'm on 📺 till May 24 here…including tonight with @espnSteveLevy

Steve- I'm stopping for Japanese..do you want any.. or Deryk or anybody..call & add to my order. https://t.co/LY6POpGvdx

— Kenny Mayne (@Kenny_Mayne) May 10, 2021
Unsurprisingly, Mayne made Walsh smile. Walsh wouldn't be the last person to smile at Mayne's humor and creativity.
Jaylen Brown injury update: Celtics star out for rest of season with torn wrist ligament
The Celtics will have to fight for a playoff spot without one of their most important players.
Boston announced Monday night that All-Star forward Jaylen Brown has suffered a torn scapholunate ligament in his left wrist and will miss the rest of the 2020-21 season. He is expected to undergo surgery later this week.
MORE: Will LeBron James return vs. Knicks?
The Celtics offered no specific timetable for Brown's return to the court, but as The Athletic's Jared Weiss noted, Boston guard Romeo Langford suffered the same injury last year and took about six months to recover. If Brown stays roughly on that timeline, he should be available to rejoin the lineup for the start of the 2021-22 campaign.
Brown dealt with injury and COVID-19 issues throughout the season, but the 24-year-old still managed to earn his first All-Star selection with some of the best individual numbers of his career. He averaged a career-high 24.7 points per game while shooting 48.4 percent from the field and 39.7 percent from 3-point range.
Brown set many career highs this season in which he made his 1st All-Star appearance. PPG (24.7), APG (3.4), Steals PG (1.2), Blocks PG (0.6), FG pct (48.4) and 3-pt FG pct (39.7).

He had 11 games with at least 30 pts after having just 8 such games in his 1st 4 seasons combined https://t.co/pTBqNo0Ck3

— ESPN Stats & Info (@ESPNStatsInfo) May 10, 2021
Without Brown available, Boston will rely heavily on Jayson Tatum and Kemba Walker to produce offensively. The Celtics will also need more from trade deadline acquisition Evan Fournier, who most recently scored 30 points in a loss to the Heat on Sunday — his highest scoring output since joining the team.
Even if other players step up in Brown's absence, the Celtics, currently the No. 7 seed in the Eastern Conference standings, are unlikely to make a deep run in the 2021 NBA playoffs. They would face an uphill battle in a potential first-round series against the 76ers, Nets or Bucks, the top three seeds in the Eastern Conference.