Andy Murray tests positive for COVID-19 ahead of Australian Open | UK News
Andy Murray has tested positive for coronavirus just weeks before he is due to play in the Australian Open, Sky News understands.
The former world number one was due to travel on one of 18 charter flights laid on by tournament organisers but is still isolating at home.
Sir Andy is understood to be in good health despite the infection.
The tournament – the first grand slam of the year – doesn't begin until 8 February and Murray is thought to be hoping to travel at a later date.
Organisers have spent months negotiating with authorities to allow more than 1,000 players and personnel into Australia.
Players are due to begin arriving in the next 24 hours.
They will then do two weeks' quarantine, during which they are allowed out of their rooms to practise for five hours a day.
Three-time grand slam winner Murray is a five-time finalist at the Melbourne event and was given a wild-card entry for this year.
In the days before the 2019 competition, he cried at a news conference after saying he feared the tournament would be the last of his career as he struggled to recover from hip surgery.
The 33-year-old former Wimbledon champion has continued to try to get back to full fitness.
He made his grand slam return at the US Open and French Open last year but was knocked out in the early rounds and is currently 123rd in the world rankings.
Sir Andy joins a list of tennis stars who have had the virus, including Novak Djokovic and Grigor Dimitrov.
COVID-19: Town's rapid coronavirus testing centres close as snow sweeps across parts of England | UK News
All three rapid COVID testing centres in Luton have been shut because of snow in the area, the council has said, while other parts of England have also woken up to snowfall.
Confirming the decision on Twitter, the council said it would be closing the centres "for the safety of the public and our staff".
But social media users have complained of a lack of snow, with some branding the council's move "utterly embarrassing".
"Just been to the shop….more 'snow' in a snow globe!!!" wrote one Twitter user, while others said closing the testing sites was a "bizarre decision".
Luton had a rate of new COVID cases in the seven days to 11 January of 808.3, according to Public Health England data. That was down from 961.7 on the previous week.
It comes after the Met Office warned that parts of southeast England and East Anglia will continue to see further snow on Saturday, with between 2cm and 4cm falling over the coming hours.
An amber snow alert was put in place for the east of England until 2pm, with yellow snow warnings for the South East until 8pm.
A further yellow snow and ice warning has been issued in a band stretching from the Midlands to the top of Scotland until 6pm on Saturday.
The Met Office said there was a likelihood of "delays or cancellations to rail and air travel, possible travel delays on roads stranding some vehicles and passengers".
TikTok video showing car parked across live railway line investigated by police | UK News
Police are appealing for information after a video posted on TikTok showed a car parked across a live railway track for a photoshoot.
The short clip shows the vehicle across the tracks in Bolton, Greater Manchester, with the caption: "Would you take the risk to get the shot no one else would?"
Network Rail's North West route director has condemned the behaviour as "sheer stupidity at a staggering level".
British Transport Police is investigating the footage.
Inspector Becky Warren from the force said: "No picture or video is worth risking your life for.
"There is simply no excuse for not following safety procedures at level crossings. The behaviour shown by the individuals in this video is incredibly dangerous and reckless."
The video showed the car across tracks at The Oaks level crossing, at Bromley Cross near Bolton.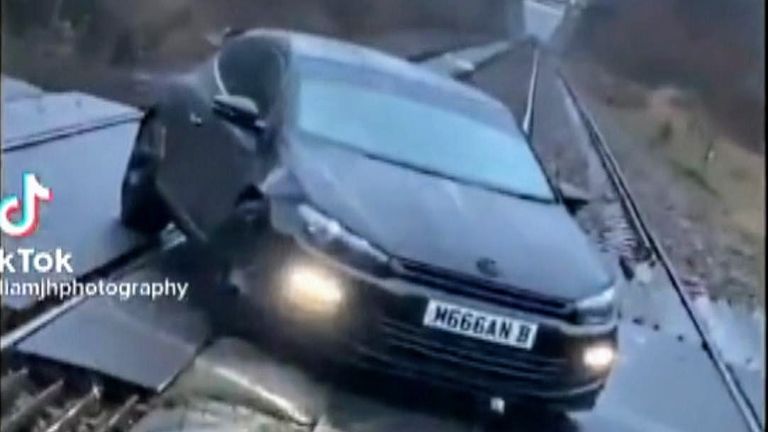 Phil James, Network Rail's North West route director, said: "The danger this person has put themselves and passengers in is sheer stupidity at a staggering level.
"Trespassing on the railway is a crime, as is endangering the lives of rail users.
"No-one should ever trespass onto the railway – so for it to be used as a backdrop for a photo shoot beggars belief.
"Lives could so easily have been lost by this reckless behaviour and we will be working closely with British Transport Police to make sure the person responsible for the video is brought to justice."
Anyone with information is asked to contact the British Transport Police on 61016 quoting the reference number 122 of 14/01/21.
Alexey Navalny: Poisoned Putin critic faces jail on return to Russia | World News
Alexey Navalny is flying back to Russia and straight into the hands of the authorities.
Not only does he face a slew of fresh criminal charges against him but he will also once again be at the mercy of Russia's domestic spy agency, the Federal Security Service (FSB), which he says tried to poison him.
It is an extraordinarily brave and risk-filled undertaking. It is also true to form.
Arrest for Alexey Navalny is nothing new. Nor is carving out a life of activism between court appearances, house arrest and prolonged periods in detention.
He has repeatedly said he would return to Russia after his convalescence in Germany.
Had he not been poisoned by a novichok nerve agent, with treatment abroad the only way to keep him alive, he never would have left in the first place.
He is now on the Federal Wanted List and is implicated in a number of criminal and administrative cases which give law enforcement broad scope to keep him under prolonged investigation, most probably well beyond September's parliamentary elections which the powers that be in the Kremlin do not want him around for.
Russia's Federal Penitentiary Service has submitted a request to revoke a three-and-a-half-year suspended sentence which wrapped up in December and imprison him instead.
They say he "systematically and repeatedly violated" the terms of his probation both whilst he was in Germany and on a number of occasions before.
If the court agrees, he could serve three-and-a-half-years in jail, minus a few months already spent under house arrest.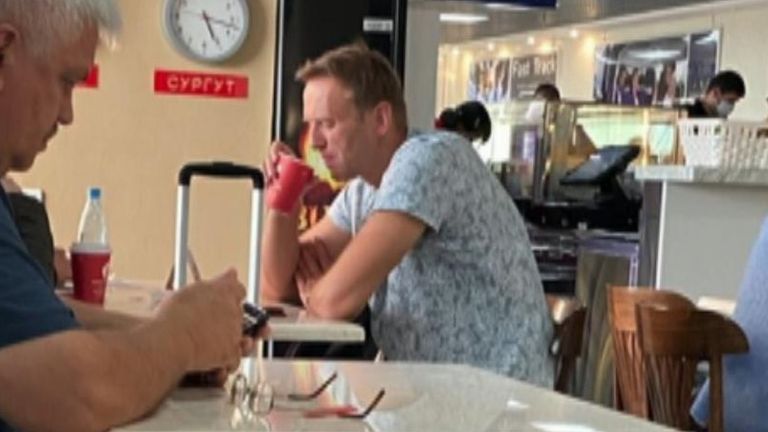 On top of that, Russia's investigative committee has opened a new criminal case accusing him of the supposed misallocation of crowd-sourced funds at his RBK anti-corruption foundation.
"If they really want to go after him, this would be the worst case scenario," says his lawyer Vadim Kobzev.
"Three-and-a-half-years and then 10 years on top of that which is the maximum he can get for this new criminal case."
He thinks a jail term of that length is unlikely. Recent cases against Mr Navalny have all resulted in suspended sentences, "but we're all trying to read the tea leaves here," Mr Kobzev says.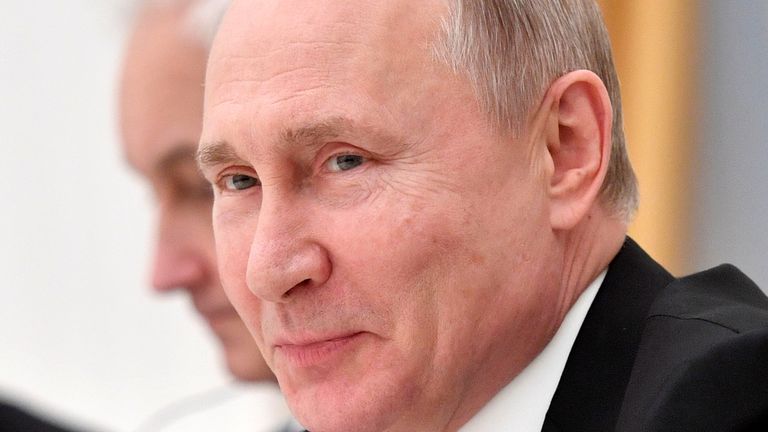 The authorities' most likely course of action – at least in the medium term – will be extended periods under house arrest with restrictions placed on, for example, his use of the internet.
Mr Navalny off-line is far less of a threat to Mr Putin's cronies than the anti-corruption investigations he posts to his YouTube channel. His team will endeavour to keep those going but it is not the same.
And suffice to say, despite the slew of investigations into Mr Navalny's own alleged wrong-doing, authorities have still refused to open any kind of inquiry into how exactly the symbol of Russia's democratic opposition ended up fighting for his life on a work trip to Siberia, with a deadly novichok nerve agent coursing through his veins.
:: Subscribe to Into The Grey Zone podcast on Apple Podcasts, Spotify, Spreaker
President Vladimir Putin's glib comment that the FSB would have finished the job if they had really wanted him dead is no substitute.
Nor, as Mr Navalny so convincingly proved in a telephone call with one of the FSB officers tasked with cleaning up the evidence of his poisoning, is it true.