Alabama vs. Ohio State live score, updates, highlights from 2021 College Football Playoff championship
No. 1 Alabama and No. 3 Ohio State are facing off in the final game of the 2020 college football season.
The top-ranked Tide (12-0) will be looking for Nick Saban's seventh career national championship, and his sixth at Alabama; that mark would tie him for the most by an Alabama coach, while the former would give him the all-time lead. Ohio State (7-0), meanwhile, will look for its second of the College Football Playoff era, having won the inaugural title in 2014.
Who will persevere in this, only the fifth all-time meeting between these teams (and first ever with a championship on the line)? Alabama, Saban and the terrific trio of quarterback Mac Jones, receiver DeVonta Smith and running back Najee Harris? Or Justin Fields and Trey Sermon lead Ryan Day's Buckeyes to one more victory?
Sporting News is tracking live scoring updates and highlights from Alabama vs. Ohio State in college football's national championship game. Follow below for complete results from the College Football Playoff final.
MORE: Watch Alabama vs. Ohio State live with fuboTV (7-day free trial)
Alabama vs. Ohio State score
| | | | | | |
| --- | --- | --- | --- | --- | --- |
|   | Q1 | Q2 | Q3 | Q4 | Total |
| Alabama | 7 | — | — | — | 7 |
| Ohio State | 7 | — | — | — | 7 |
Alabama vs. Ohio State live updates, highlights
(All times ET)
Second quarter: Alabama 7, Ohio State 7
End of first quarter: Alabama 7, Ohio State 7
8:52 p.m.: Alabama tries to get another play right before the first quarter ends, but Harris is tackled for a 4-yard loss at the Buckeyes 6. The Tide will have third-and-goal from there at the start of the second.
8:51 p.m.: It's Harris again, and again he gets the first down. It's first-and-goal Alabama at the 7.
8:50 p.m.: Ohio State stops John Metchie III a yard short of the line to gain. It's fourth-and-1 at the 10. Alabama's still on the field.
8:46 p.m.: There's a timeout on the field as Ohio State defensive lineman Jerron Cage is down. He's the backup to starter Tommy Togiai, who's missing this game due to COVID-19.
8:44 p.m.: Looks like Ohio State's content giving up underneath yards to make Alabama score from inside the red zone. Tide driving at the 22 after three plays, currently.
8:43 p.m.: Ohio State somehow lost Smith deep in the zone. Jones finds him for a 27-yard gain to Ohio State's 48.
8:43 p.m.: There's a flag on the kickoff, which Jahleel Billingsley returned a few yards to Alabama's 20.
8:38 p.m.: TOUCHDOWN, OHIO STATE. One play later, Teague takes it off left tackle for an 8-yard touchdown. We're knotted at 7-7 with 4:55 left in the first quarter. The Buckeyes need only eight plays to go 75 yards in 3:12 of game clock.
Ohio State ties it up! 🙌

Buckeye fans – Join your squad in Miami by using #CFPTwitterCam for an on-field pic from the CFP National Championship! 👀

— ESPN College Football (@ESPNCFB) January 12, 2021
8:38 p.m.: And there's tight end Jeremy Ruckert. He pulls it in one-handed for a 36-yard gain to the Alabama 8-yard line.
8:36 p.m.: Fields finds Chris Olave for a 20-yard gain into Alabama territory. The Buckeyes are driving at the Tide 44.
8:36 p.m.: Fields overthrew receiver Garrett Wilson on the crossing route. Could have been a big gain with a linebacker in coverage.
8:35 p.m.: Teague gets 2 yards on the third-and-1 carry, netting the Buckeyes their first third-down conversion.
8:34 p.m.: Master Teague's in at running back for Sermon; he gets a 6-yard gain on the first run of the drive.
8:34 p.m.: Ohio State's back at it from its 25.
8:29 p.m.: TOUCHDOWN, ALABAMA. Harris breaks the plane with ease, giving Alabama the first points in the game. That makes it 7-0 Crimson Tide with 8:07 left in the first quarter. The Tide's drive took 12 plays, traveled 78 yards and took 5:32 off the clock.
8:28 p.m.: Call confirmed. Alabama's offense still on the field on fourth-and-goal with inches to gain.
8:26 p.m.: Bolden's feet were in the end zone, but officials will review whether Bolden caught the ball with it in the end zone. It's right on the line.
8:25 p.m.: Jones finds receiver Slade Bolden at the 1. Will they review this?
8:24 p.m.: Jones had Smith open in the end zone but just overthrew him. Second-and-goal from the 6 upcoming.
8:23 p.m.: There's Waddle, in his first play of the game. Jones finds him on an underneath route for a 15-yard gain down to the 6-yard line. He's a little gimpy heading off the field, however. First-and-goal Alabama.
8:22 p.m.: Bama facing its first third down at Ohio State's 24. Harris tried to bounce it out again and cornerback Shaun Wade caught him for a 2-yard loss.
8:21 p.m.: There's another run by Harris; he takes it 13 yards off right tackle for a first down to the Ohio State 29.
8:21 p.m.: Meanwhile, Jones checks down to Najee Harris, and he gets another first down at Ohio State's 44.
8:20 p.m.: Uh-oh. Trey Sermon heading to the locker room. His left arm's hanging at his side. That'd be a big loss for Ohio State.
8:19 p.m.: Jones' hits Smith on the swing route, and he finds the edge for a 21-yard gain to the 44.
8:17 p.m.: Alabama forces a quick three-and-out; Justin Fields nearly scrambled on third-and-8, but Christopher Allen got him from behind. Buckeyes punt on fourth-and-7, and Jameson Williams tackles DeVonta Smith immediately on the punt return. Now it's Alabama's turn from the 23.
8:16 p.m.: Ohio State calls fair catch on the opening kickoff and will take over at its 25. Here we go.
8:14 p.m.: Alabama center Landon Dickerson serving as Alabama's captain at the coin toss, by the way. Linebacker Tuf Borland doing it for Ohio State.
8:13 p.m.: Alabama wins the toss and defers. Ohio State's offense will receive the ball first.
8 p.m.: Ohio State players out for Monday's game:
Ohio State's availability report just hit: Unavailable

CB Cam Brown
DL Jacolbe Cowan
K Dominic DiMaccio
DT Ty Hamilton
WR Jaylen Harris
K Blake Haubeil
OT Dawand Jones
LB Cade Kacherski
LB Mitchell Melton
DE Tyreke Smith
DT Tommy Togiai
SAF Kourt Williams
RB Miyan Williams

— Dan Wolken (@DanWolken) January 12, 2021
Alabama vs. Ohio State start time
Date: Monday, Jan. 11
Time: 8 p.m. ET | 5 p.m. PT
The College Football Playoff national championship between Alabama and Ohio State is scheduled to kick off at 8 p.m. ET on Monday, Jan. 11.
How to watch college football championship game
TV channel: ESPN
Live stream: ESPN app, fuboTV
The College Football Playoff national championship between Alabama and Ohio State will be broadcast nationally on ESPN. Chris Fowler and Kirk Herbstreit will serve as play-by-play announcer and analyst, respectively, while Maria Taylor will work the sideline.
Holly Rowe, who was also scheduled to work the game, is no longer able after testing positive for COVID-19.
In addition to the main broadcast on ESPN, viewers have a few alternative options to watch the CFP championship game via ESPN's "Megacast," including:
CFP Live (ESPN2)
Skycast (ESPNU)
Film Room (ESPNEWS)
National radio broadcast (ESPN Radio)
Spanish language (ESPN Deportes)
Hometown Radio (SEC Network/ESPN App)
Command Center (ESPN App)
Data Center (ESPN App)
Refcast (ESPN App)
Skycast (ESPN App)
All22 (ESPN App)
High Skycam (ESPN App)
Lil Wayne releases 'Green and Yellow' remix ahead of Packers playoffs push
Packers superfan Lil Wayne has released a remix of his "Green and Yellow" hype track ahead of the Packers' playoff push and — no surprise — it slaps.
Lil Wayne originally released the song with the same title in 2011, days before Green Bay's Super Bowl 45 matchup with the Steelers. In a moment of artistic appreciation — and gamesmanship — he sampled Pittsburgh fan Wiz Khalifa's song "Black and Yellow" to make the track. Both teams used the respective tracks as their fight songs for the game, but it was the Packers who prevailed, 31-25, to win their first Super Bowl since the 1996 season.
The new rendition includes nods to several Packers legends and players on the team's 2020 roster, including running back Aaron Jones, receiver Davante Adams, offensive lineman David Bakhtiari, tight end Robert Tonyan, linebackers Preston Smith and Za'Darius Smith, safety Darnell Savage — even kicker Mason Crosby.
Lil Wayne also includes several references to quarterback Aaron Rodgers, including his ability to draw teams offside, his penchant for Hail Marys and the State Farm Rodgers Rate commercial.
MORE: Who is Aaron Rodgers? This Packers quarterback is getting an opportunity to host 'Jeopardy!'
Here's the song in all its cheesehead glory:
Lil Wayne discussed his production of the remix in a Friday episode of "Undisputed," saying he spent three days on the song where normally it would take hours — a testament to his Packers fandom:
.@LilTunechi on the theme song he made for the Packers playoff run:

"I want them to hear it and be ready to run through a wall. Me and Coach Matt been cool. I put a lot of time into it. I worked on it for 3 days and I usually don't do that." pic.twitter.com/yd5IkvKSD0

— UNDISPUTED (@undisputed) January 15, 2021
Whether Rodgers and Co. can win another Super Bowl with the "Green and Yellow" song at their back remains to be seen. The Packers (13-3) are the top seed in the NFC playoffs and have the second-best odds (+500) to make Super Bowl 55. They only trail the 14-2 Chiefs (+190).
Green Bay begins its playoff push on Saturday against Jared Goff and the Rams at 4:35 p.m. ET on FOX.
Dest, Cannon, Reynolds: How USMNT's position of weakness became a strength
Steve Cherundolo is one of the best players American soccer has ever produced.
However, 'The May or Hannover', as he was affectionately known due to his long career with the Bundesliga club, was among the most underappreciated members of the U.S. men's national team.
His importance only became more apparent in the years that followed his retirement from international football in 2012, because the U.S. struggled to replace the right-back.
For years, the USMNT simply made do, shifting players to fill the gaps amid a revolving door of new faces coming in and out of the team.
But that is changing. What was once a position of weakness is now arguably American soccer's biggest strength. For the first time in recent memory, there's not just one top-level fullback in the U.S. player pool; there are several.
There's Sergino Dest at Barcelona, a Swiss Army knife that can feature on either side. There's Reggie Cannon at Boavista, a player bound for higher levels of the game sooner or later. There's Antonee Robinson, starting at Fulham, and Bryan Reynolds, the soon-to-be Juventus signing who will have his say at one point or another
And they're not the only ones. Suddenly, the U.S. has legitimate depth at outside back.
"Sometimes, it's a generational thing, but a lot of times, it's just timing," Cherundolo said when asked about how his old position suddenly became one of strength. 
"I wouldn't use the word luck. I just think it's maybe a combination of, when a position opens on a national team, a lot of players gun for that position, and some players adapt to that position.
"It's a number of things coming together at once. And it's great that things don't happen like clockwork."
This coming together follows years of difficulties out wide. At the 2014 World Cup, the last one the U.S. participated in, converted wingers Fabian Johnson and DaMarcus Beasley were the primary fullbacks. Those two very much remained in the picture in the following years, while Graham Zusi, Tim Ream and Matt Besler were converted to play out wide at one point or another.
Players like Jorgen Villafana, Justin Morrow and Eric Lichaj were also involved, but none truly shined like the current crop. The one player who really stood out was DeAndre Yedlin, who earned a Premier League move after going toe-to-toe with Eden Hazard at the 2014 World Cup.
But none have locked down the position as steadily as Cherundolo, who currently works as a youth coach for the German federation and is charged with helping educate the next generation of stars. Most of German soccer's top players call the Bundesliga home, at least at the start of their career, and that gives clubs in big countries an advantage.
"One of the challenges the U.S, national team has is that we have players in Europe, we have players all around the world," Cherundolo said. "And one of the advantages, maybe, the DFB has or the [English] FA has is that you have all of your top talents already playing in your country.
"It's very easy to keep tabs on clubs, moving forward to say, 'Hey listen, we need an outside back, maybe we can push this player', and that's something that the U.S. national team has always battled. It's always been difficult. So, I think these generational gaps are only natural because one half of our team plays on the other side of the globe and one half plays in the States."
Knowing that, the USMNT's current core of right-backs is, for lack of a better word, astounding. Dest, Cannon and Reynolds aren't anywhere near the primes of their careers and are already playing at or headed to the highest level.
And, as the saying goes, a rising tide lifts all boats. Julian Araujo, who started on the right in a December win over El Salvador, has been linked to Tottenham and Juventus in recent weeks as teams overseas are beginning to eye America's top defenders more and more.
Yedlin, at just 27, is the elder statesman of this group. Just a month or two ago, it appeared Yedlin was pretty far out of the picture at Newcastle but, in recent weeks, he has battled back, pushing his way back into Steve Bruce's starting XI in the Premier League.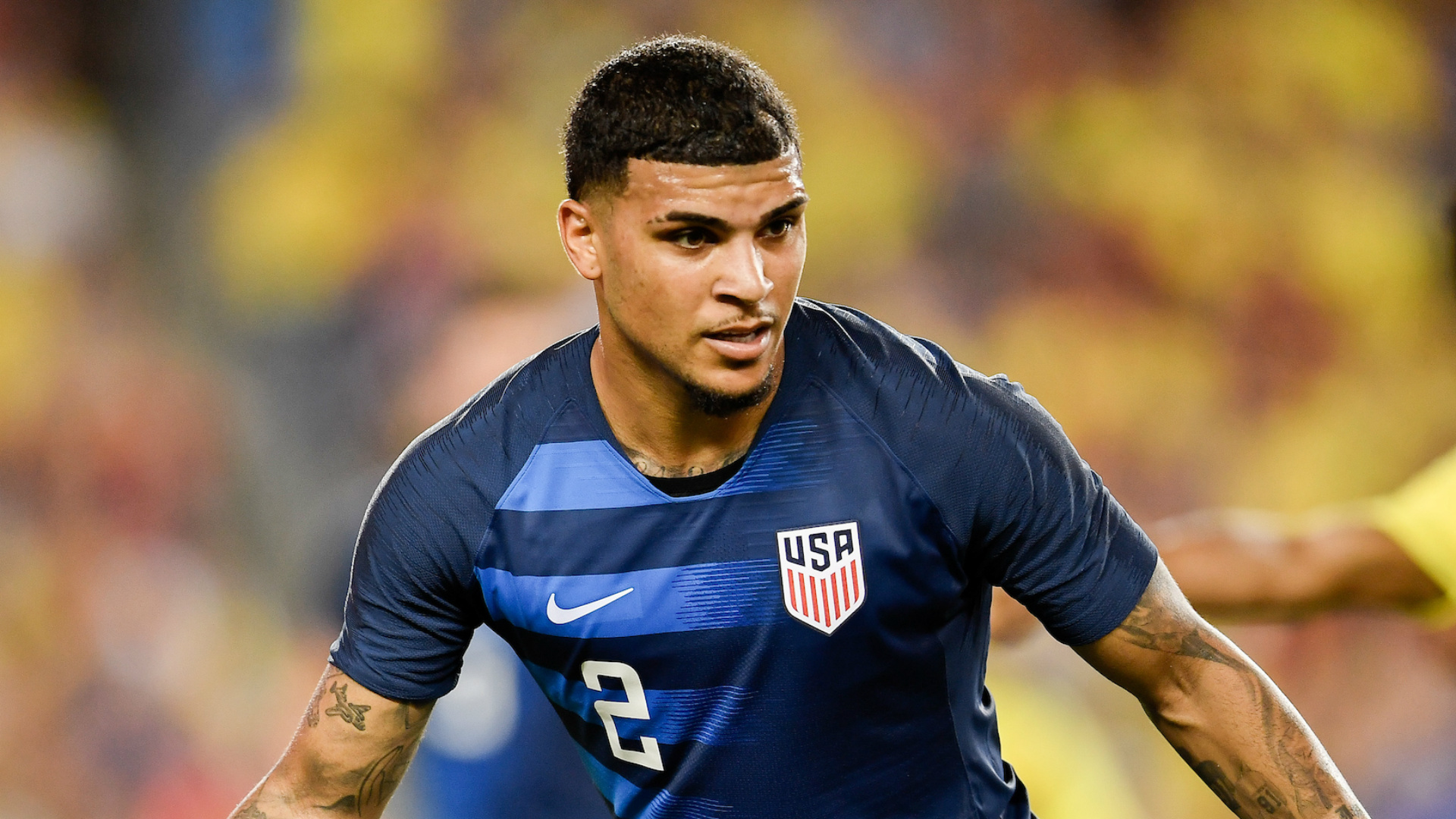 With his contract set to expire this summer, Yedlin's future remains uncertain, but his performances over this last month have served as evidence that he still may have a part to play, even if it is just as a game-changing super-sub due to his still-electric pace. 
Left-back, meanwhile, isn't quite as strong. Robinson is the front-runner, having been a bright spot for Fulham this season, while Dest may shift out to that side given the depth on the right. Sam Vines, who started against El Salvador, is a young option as well, at just 21.
While there are certainly more names on the right than the left, there are still plenty of options to choose from when it comes to arranging this puzzle, and virtually all of them are Olympic-eligible, which is very good news for U.S. U-23 boss Jason Kreis.
"I'm a little unsure of how it could have all happened at the same time, as far as fullback is concerned… I look at it a little bit more globally and say that that the amount of young super, super high potential players that have been produced in our soccer system right now is fantastic," Kreis said.
He added: "I think that we've done a lot of complaining over the past, however long it is, about lack of development and lack of good coaches in our country, et cetera, so I think, when we can, we need to take a moment and say all of the people out there that have been involved in our youth development program have done an amazing job, in my opinion, to get all of these players to the level they're at right now."
With several of these top fullbacks playing at top clubs, Cherundolo says they already do have one advantage on players like him.
During his time at Hannover, Cherundolo's teams were never among those competing at the top of the Bundesliga. Instead, they were more often the team fighting to survive. And, with that, comes a more defensive style of play.
With the USMNT, though, fullbacks will need to be attacking more often than not. Aside from a few big games a year, the U.S. will almost always be on the front foot, especially in World Cup qualifying.
Having that extra player in the attack that can make something happen could be the difference between escaping Central America with extra points or being left out of the World Cup fun altogether like in 2018.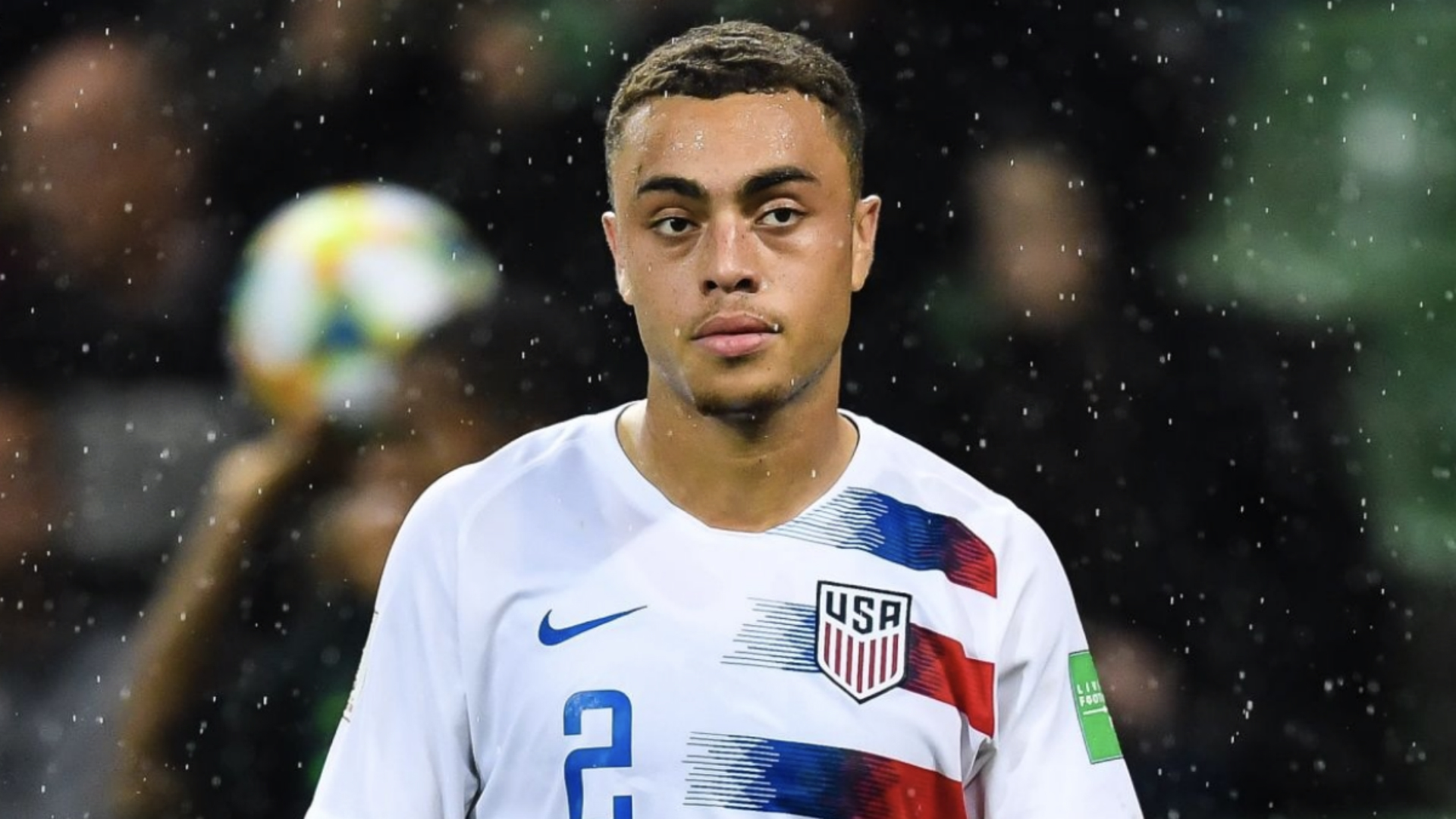 "My job as an outside back was mostly defensive," Cherundolo explained, "and going into the national team, aside from playing in World Cups, playing against Mexico and friendlies in Europe, it's mostly offensive.
"It's really a very different position. I think it's unique for outside backs in the United States for the U.S. national team because you're going to need those more offensive players. I know Gregg [Berhalter, USMNT head coach] and how he wants to play.
"You look at Sergino Dest, who grew up in Holland, his soccer career in Holland playing for Ajax, it's certainly a very offensive way to interpret that position. It fits in perfectly with the U.S. national team."
Fullback isn't the USMNT's only strength. You only have to turn on the Champions League to see players like Christian Pulisic, Gio Reyna, Weston McKennie and Tyler Adams starring at the highest level the game has to offer. 
But the rise of the American fullback has been particularly sweet given the struggles of years past. For years, the U.S. has been crying out for a Cherundolo replacement, and they'll have a few to spread around during a loaded 2021 with World Cup qualifiers, the Gold Cup, Nations League and the Olympics all on the schedule.
"Looking back on my own career, I didn't think I was a complete player until I was 31," Cherundolo said, "where I was physically still able to run with the best, but mentally and tactically I had kind of seen everything and I was mentally ready for everything. My best soccer was played when I was 31, so sometimes these things take time."
Robinson is 23. Cannon is 22. Dest is 20. Reynolds? Just 19. Time is very much on the USMNT's side.
After waiting nearly a decade to find an heir apparent, it appears there are now several ready to set a new standard in the decade to come.
USWNT star Abby Dahlkemper joins Manchester City
Manchester City have announced the signing of Abby Dahlkemper from the North Carolina Courage, with the defender signing a two-and-a-half-year deal.
Dahlkemper won the Women's World Cup with the United States in the summer of 2019 and is a three-time NWSL Championship winner, picking up two of those titles with the Courage.
The 27-year-old, who ranked at No.20 in last year's Goal 50, joins USWNT team-mates Rose Lavelle and Sam Mewis at Man City, with the pair having joined the Women's Super League club last summer. She is the club's first signing of the January transfer window.
"I am so excited to join Manchester City. It's a world-class club full of incredible players and I can't wait to get started," Dahlkemper, who will take the No.13 shirt for her new club, said.
"With all the talent in the WSL, I know that each game will present a new challenge and the opportunity to grow both as a player and as a person in England is going to be amazing, alongside having the chance to play Champions League football too.
"Sam and Rose have been saying nothing but brilliant things about the club and hearing them speak so highly about the facilities, the staff and the players as well as their experience of a new technical and tactical challenge is something that was really appealing to me.
"I just can't wait to get over and help the team in whatever way I can and be successful on the field."
Dahlkemper won the NWSL Shield three times with the Courage, as well as the Championship twice in 2018 and 2019, adding to the 2016 title she collected during her time with Western New York Flash.
The USWNT star has also been named in the last three NWSL Best XIs and was named the league's Defender of the Year back in 2017.
She has won 62 caps for her country since making her debut in October 2016, winning two SheBelieves Cup titles, the Concacaf Women's Championship and the World Cup in that time.
"We're delighted to welcome Abby to Manchester City, another exciting addition to our squad," Gareth Taylor, City's head coach, said.
"She is a very talented defender who has been successful both domestically and internationally – with her desire and hunger for victory, we know she'll fit into our team ethos perfectly.
"We're really looking forward to working with her over the coming seasons."
Man City are currently fourth in the WSL table and progressed to the last 16 of the Women's Champions League with a victory over Swedish champions Goteborg in December.
The club also won the Women's FA Cup earlier this season, with Dahlkemper's compatriot Mewis scoring in the final at Wembley as they beat Everton 3-1 after extra-time.