Air Canada latest airline to cut capacity as COVID pandemic continues to hurt aviation | Business News
Air Canada will cut its capacity by 25% in the first quarter of the year, resulting in the loss of around 1,700 jobs.
The airline said its capacity in the first three months of 2021 will be about 20% of what it was over the same three months in 2019.
The changes will "better reflect demand" and "reduce cash burn", Canada's largest carrier said.
The airline is one of many to be struggling with the coronavirus pandemic and its effect on the aviation industry.
But its position has been worsened by a slump in demand and confusion over rules introduced on 7 January requiring a negative coronavirus test for travellers before they board a flight to Canada.
Its rival, the privately-owned WestJet, said last week it will also reduce capacity, meaning furlough, layoff, unpaid leave or reduced hours for about 1000 workers.
A spokeswoman for the Canadian government said they were "disappointed" by the airlines' "decisions to cancel more regional routes".
"COVID-19 has led to an unprecedented situation in the aviation sector," said Allison St-Jean, a press aide for the country's new transport minister, Omar Alghabra.
"We are fully seized with the issue of how hard the air sector has been hit because of COVID-19, and we are committed to providing assistance to Canada's air sector."
According to its website, in 2019, Air Canada, together with its Air Canada Express regional partners, carried more than 51 million passengers, offering direct services to nearly 220 destinations on six continents.
The airline's move follows a similar decision by Irish carrier Ryanair to reduce flights, which it announced along with criticism of the Irish and UK governments' travel restrictions.
The no-frills carrier said it was to "significantly cut" services from Thursday 21 January which would result in "few, if any, flights being operated to/from Ireland or the UK from the end of Jan".
Wizz Air also said it would cut services, expecting capacity in January to be at 25% of normal services – down from 35% flown in December.
Rival airlines including British Airways and easyJet are also reviewing their flight schedules.
Inflation ticks higher as clothes prices edge up | Business News
Inflation rose to 0.6% last month as clothing prices edged higher following extended Black Friday discounting the month before.
The consumer price index (CPI) measure of inflation was up from 0.3% in November and a little higher than the expected figure of 0.5%.
Clothes prices increased fractionally during December over a period when they usually fall.
Price movements "have been unusual" in 2020 "and appear to have been affected by the impact of coronavirus", the ONS said.
"The overall price rises in December 2020 follow increased discounting in November 2020, as Black Friday sales may have spread further across the month," it added.
Also contributing to the uptick in inflation were higher air fares – despite travel restrictions – as well as increased petrol prices, according to the ONS.
Jonathan Athow, ONS deputy national statistician for economic statistics, said: "Clothing prices put upward pressure on inflation in December, despite some evidence of continued discounting.
"Transport costs, including air, sea and coach fares, as well as petrol prices, rose as some travel restrictions eased during parts of the month.
"These were partially offset by falling food prices, most notably for vegetables and meat."
Inflation remains well below the Bank of England's 2% target but some experts think it could climb above that level later in the year as the economy reopens while supply chains remain under pressure.
However the Bank is unlikely to want to raise interest rates to tackle price rises for fear of choking off the recovery from the COVID-19 crisis that has crushed activity over the past year.
Jeremy Thomson-Cook, chief economist at Equals Group, said: "We are going to be talking a lot more about inflation in 2021 than we did 2020.
"Both Brexit and COVID-19 are factors that have caused substantial pain for businesses and their supply chains.
"Rising prices as demand works against supply constraints is already being seen in certain imports."
Yellen urges Congress to 'act big' on virus stimulus and not worry about debt | Business News
President-elect Joe Biden's choice as US Treasury secretary has urged Congress to "act big" and ignore surging national debt in the face of the continuing coronavirus crisis.
Janet Yellen, the former chair of the US central bank, made her remarks at a Senate finance committee hearing to confirm her appointment as the Trump administration nears its end.
She told lawmakers that the incoming administration would focus on winning quick passage of its $1.9trn pandemic relief plan, which is to be funded by borrowing, on top of the near $3trn in support delivered during the crisis to date.
Republicans on the committee argue the package, which includes sending cheques of $1,400 (£1,030) to individual Americans earning less than $75,000 annually, is too big given the size of the US budget deficit.
That hit a record $3.1trn last year with US national debt standing at $27trn (£19.8trn).
Critics also pointed to fears that the package of measures, which need the approval of Congress, would also include Mr Biden's plan for a $15-per-hour minimum wage.
Ms Yellen dismissed suggestions the wage proposal could spark a wave of redundancies, saying she expected little to no effect.
She added that many of the lowest-paid had done the most to keep the country's supply chain functioning during the COVID-19 pandemic.
On the broader issue of financial support for consumers and businesses she said: "More must be done.
"Without further action, we risk a longer, more painful recession now and long-term scarring of the economy later."
She said of budget concerns: "Right now, with interest rates at historic lows, the smartest thing we can do is act big.
"In the long run, I believe the benefits will far outweigh the costs, especially if we care about helping people who have been struggling for a very long time."
Ms Yellen, set to be the first woman to become Treasury secretary, is expected to win confirmation of her appointment on Thursday following a vote in the Democrat-controlled Senate.
In financial disclosure forms filed with the committee ahead of Tuesday's hearing, she listed more than $7m in speaking fees she had received from several Wall Street firms including Goldman Sachs and Citigroup since leaving the Federal Reserve two years ago.
Ms Yellen has agreed to recuse herself from Treasury matters involving firms that have paid her for talks.
Biden inauguration: Watch and follow events on Sky News from 1pm on Wednesday, with the ceremony starting at 4pm
Superdry's efforts to beat COVID blues are yet to convince investors | Business News
The UK high street is in the deep freeze and Superdry, the fashion retailer, emerged on Tuesday as one of the major casualties of coronavirus.
The company, a stock market darling after it first went public in 2010, reported a half year pre-tax loss of £18.9m – up from £4.2m in the same period a year earlier – on the back of a 23.4% drop in sales to £282.7m.
The period covered is up to 24 October last year and, accordingly, does not take into account the COVID-19 national lockdown in November or the tiered restrictions in much of the country which had a similar affect in December, let alone the latest national lockdown.
Superdry also issued a so-called "going concern" statement, warning shareholders: "The risks of the recovery in consumer demand, the group's ability to capture this during the autumn/winter 2020 season, and the ability of the group to meet the new covenants from debt providers represent material uncertainty and may cast significant doubt on the group's ability to continue as a going concern."
Shares of Superdry fell by 19% at one point before rallying.
These are hardly the circumstances that Superdry's founder, Julian Dunkerton, could have hoped for or expected when, in April 2019, he masterminded a coup which reinstated him on the board of the company he founded with his business partner, James Holder, in 2003.
His return to the board was followed by the departures of the company's chairman, chief executive, chief financial officer and the head of its remuneration committee.
Mr Dunkerton, who had left in 2018 because he was unhappy with the strategy, engineered the coup because, he said, "seeing my life's work being destroyed was destroying me".
He moved from being interim chief executive to permanent chief executive shortly before Christmas.
Ever since the boardroom coup, investors have had one question: can Mr Dunkerton, whose career in fashion began with a single clothing store at Cheltenham market in 1985, restore the fortunes of what was once one of Europe's hottest fashion brands?
Answering that question is impossible given the current situation.
However, speaking to City analysts today, Mr Dunkerton did his best to accentuate the positives.
Firstly, he played down the 'going concern' issue, stressing that it was a technicality which had also appeared in the company's last results announcement, in September last year, while also highlighting the £70m facility Superdry has with its lenders – which is currently undrawn – and its net cash of £54.8m.
Secondly, he sought to address some of the issues arising from the pandemic, citing the actions being taken to cut costs and access government support.
The former came to £13.5m during the period while the latter came to £11.5m – £8.1m in rates relief and £3.4m in furlough money.
Further savings are expected during the second half of the financial year but, with nearly three-quarters of the group's 170 outlets currently closed, it will clearly be a slog.
Benedict Smith, the interim chief financial officer, told analysts the company is "modelling a return to UK business rates from April" but said that, due to the ongoing uncertainty, Superdry would not for now be guiding the market on its expectations for the full year results.
Interestingly, given the vital importance to fashion retailers of not being left with stock and having minimising the amount that is put on sale, Mr Dunkerton revealed Superdry was "phasing" its stock purchases all the way through the season – giving it more flexibility in May and June than it would traditionally have – and was now sitting on less inventory than it was a year ago.
That said, due to store closures, there was still a need for a "tactical clearance" to clear excess stock.
Online sales, as might have been expected, grew strongly during the period but the importance of physical stores to Superdry is underlined by the fact that, even though the business lost more than two-fifths of available store trading days due to lockdown closures, ecommerce still only accounted for half of all retail sales during the period.
The company is also trying to renegotiate store rents so more of them are based on turnover and has also dropped some wholesale contracts – including one with the US department store Macy's – which, in Mr Dunkerton's words, "just didn't make any sense, didn't make any money".
The third thing Mr Dunkerton had to address is, longer term, probably the most important – the "brand reset" he promised when he returned to the business. Central to this is reconnecting with the group's target customers, 16-24 year olds, via initiatives such as campaigns on the social media platform TikTok with Zara Larsson, the singer and influencer, as well as launches of sustainable products such as vegan trainers.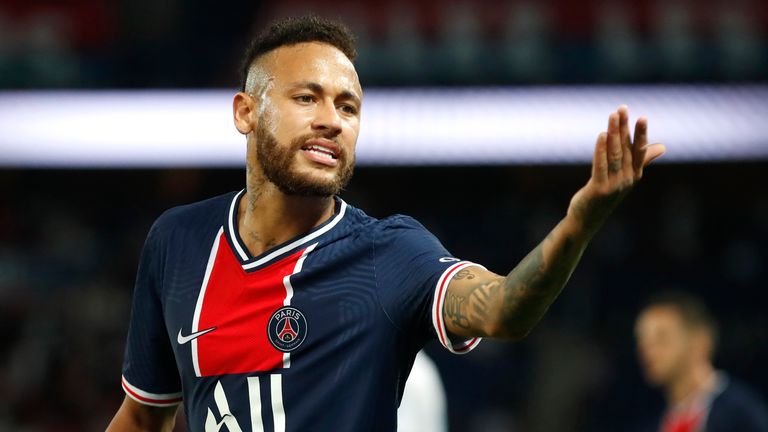 Mr Dunkerton said that Superdry was now working with more than 100 influencers across the UK, France, Germany and Sweden that was already driving more traffic to its social sites.
Another key strand of this reset is the partnership, announced shortly before Christmas, Superdry has signed with the Brazilian footballer Neymar Jr.
Mr Dunkerton explained: "This is a genuine statement of our intent for the brand's ambition… we have secured a three year deal which will focus on championing sustainability through our organic cotton underwear and sleepwear.
"Neymar provides us with the ability to communicate with his global audience of 143 million social media followers…and, with the World Cup in 2022 maximising this exposure, this will drive a step change in digital marketing activity."
He said the partnership with Neymar was only "a start" on what Superdry hopes to achieve with its marketing.
Seizing back share of the sport fashion and 'athleisure' markets, into which Nike and Adidas have been successfully encroaching, will also be another strand to the strategy in addition to building on the brand's share of the streetwear market.
Clearly, then, this is a company trying to do an awful lot – although it is very difficult to peer through the fog of COVID-19 right now and assess the progress being made. Mr Dunkerton highlighted improvements in Superdry's "net promoter score" – the likelihood of a customer recommending a company's products or services to friends or colleagues – and a recent report from KPMG, the business services group, suggesting it is outperforming peers in both menswear and womenswear.
But it is early days.
In the meantime, the share price – which had rallied after the traumatic sell-off last March that the whole market suffered – has started to drift again. The shares are now less than half the price that they were when, shortly after his return, Mr Dunkerton issued Superdry's third profits warning in a year.
From a peak of £1.7bn, the company's stock market value is now just £196m. Mr Dunkerton, who owns 20.3% of the business, has been buying shares in recent months – showing that he backs himself to pull off a turnaround.
If investors fail to share that faith, it would be no surprise to see him taking Superdry private again.