9,000 children died at 'brutally misogynistic' homes for unmarried mothers in Ireland | World News
Unmarried mothers in Ireland faced a "brutally misogynistic culture" for decades, a minister has said after the publication of a report into the deaths of 9,000 children and babies.
A five-year investigation by a judicial commission of investigation details how the children died at 18 institutions for unmarried mothers and their babies between 1922 and 1998.
The commission's 3,000-page report confirms that 9,000 babies died – about 15% of all the children who were in the institutions – and a figure far higher than the national mortality rate at the time.
Irish Prime Minister Micheal Martin will make an official state apology to those affected on Wednesday in the Dail.
He said the report describes "a dark, difficult and shameful chapter of very recent Irish history", and called on the Church to issue its own apology.
The Irish government will also provide financial recognition to the specific groups identified in the report, and push ahead with laws to support excavation, exhumation and, where possible, identification of remains at burial sites.
Additionally, the government has established a counselling support service for survivors, who were given access to it for the first time earlier on Tuesday.
Children's minister Roderic O'Gorman said the report, which contains 53 government recommendations, makes clear that unmarried mothers faced a "stifling, oppressive and brutally misogynistic culture" for decades.
Mother and baby homes were institutions where young pregnant women were sent, often under pressure from local clergy. There, they would give birth and eventually be separated from their children, who were offered up for adoption, sometimes in the United States.
Irish society in the mid-twentieth century was deeply intertwined with the teachings of the Catholic Church, and pregnancies out of wedlock were seen as scandalous.
There were about 56,000 unmarried mothers and about 57,000 children in the mother and baby homes investigated by the commission.
The greatest number of admissions was in the 1960s and early 1970s.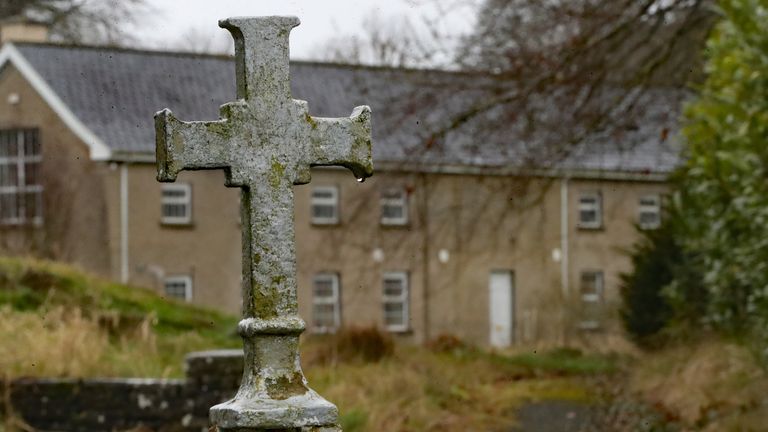 The commission said: "While mother and baby homes were not a peculiarly Irish phenomenon, the proportion of Irish unmarried mothers who were admitted to mother and baby homes or county homes in the 20th century was probably the highest in the world."
The investigation commenced after a local historian discovered the existence of a mass children's grave at the site of a former home, run by the Bon Secours nuns, in Tuam, Co Galway.
Through painstaking research, Catherine Corless established that 796 children had died at the home, and were interred in chambers in a former sewage tank. Local boys playing at the site had previously discovered human bones under a concrete slab.
The revelation shocked Ireland, and made international headlines. The Irish government was spurred into establishing the commission of inquiry.
Speaking to Sky News at the Tuam site, where the childrens' remains lie below a memorial garden, Ms Corless said that so many children died due to the attitudes towards unmarried mothers and their babies at the time.
"The Roman Catholic church created this culture of women being in sin if they had a child out of marriage", she said.
"That was strongly enforced in everyone's mind at the time, people were afraid of saying anything against the Church or the local priest.
"There was very little respect for illegitimate children at the time – there was a lot of neglect of the babies. I believe with a little bit of hygiene and a little bit of care, a lot of the babies could've been saved. It screams of pure neglect."
In the 1930s and 1940s over 40% of children in the homes died before their first birthday, the commission found.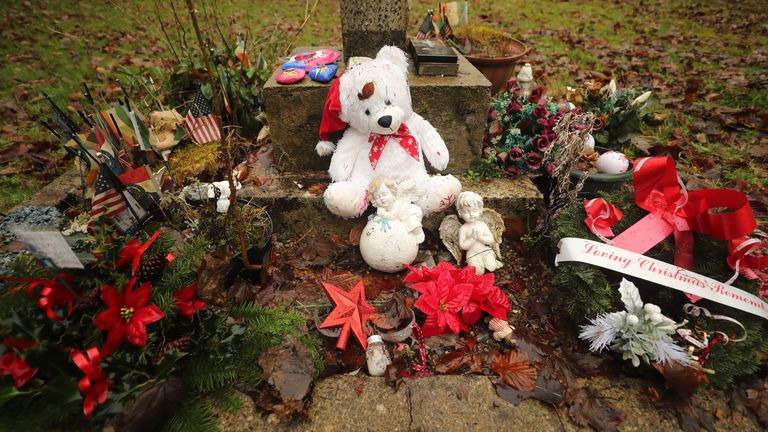 But it found little evidence that politicians or the public were concerned about the children, despite the "appalling level of infant mortality".
Some of the institutions investigated were owned and run by the local health authorities – including the county homes, Pelletstown, Tuam and Kilrush.
Others were owned and run by religious orders, for example the three homes run by the Congregation of the Sacred Hearts of Jesus and Mary – Bessborough, Sean Ross – where the story of Philomena Lee began – and Castlepollard.
Many were in very poor physical condition. Kilrush and Tuam had "appalling physical conditions", the commission said, and were lacking basic sanitary facilities like running water.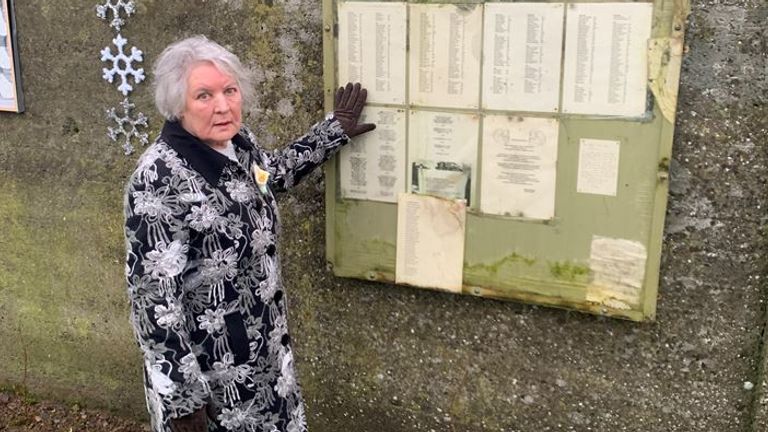 Winnifred Carmel Larkin, was born at the Tuam home in 1949, and remained there for five-and-a-half years before being fostered.
She remains angry at how her mother, who she hasn't seen since she was a baby, was treated.
Ms Larkin said: "Well it's our holocaust isn't it? They had the holocaust in Germany but the mother and baby homes were our holocaust."
She has never seen a photograph of her mother, or knows where she is buried.
"I was horrified," she said of discovering how mothers were treated at Tuam.
"Horrified that any human being could treat babies and mothers like that. The mothers walked in here and they were sinners. To give birth to a baby is the most previous gift any woman can have."
Some of the women in the homes were pregnant as the result of rape; others had mental health problems and some had an intellectual disability, the commission found. The homes investigated revealed reports of physical and emotional abuse.
Felicity-May Harvey: Family pay tribute to baby girl after murder arrest | UK News
The family of a two-week-old girl who died in hospital say she "melted the hearts of everyone who met her" after a man was arrested on suspicion of her murder.
Felicity-May Harvey, from Heywood, Greater Manchester, died in hospital on 11 January.
Three days earlier, medics at the hospital called police to report their concern for her.
A 24-year-old man was arrested on suspicion of murder and has since been released on bail pending further inquiries, Greater Manchester Police said.
In a tribute released on Saturday, the little girl's family said: "Our hearts are broken after losing our precious baby girl, Felicity-May.
"She was a gorgeous baby and always so alert, looking around with her big blue eyes.
"She was absolutely beautiful and incredibly brave and she melted the hearts of everyone who met her.
"What made her extra special was her cleft lip and palate and despite the challenges of this she was the most happy and content little girl.
"She was and always will be loved by her mum, sisters and family and there is a huge void in all our hearts and lives now that she has been taken from us.
"She was our special star, and it is not fair that she shone brightly for only a short time. When we look up at the sky, we will look through the clouds and know that the brightest star shining is our Felicity-May.
"Rest in peace baby girl. Sleep tight. Until we meet again, our precious angel."
Laurence Fox criticised after showing off mask exemption badge 'he bought online' | Ents & Arts News
Actor Laurence Fox has been criticised after posting a photo of himself wearing a mask exemption badge which he says he bought online.
The 42-year-old has been a vocal critic of the government's coronavirus face covering rulings and social distancing regulations.
Along with a selfie showing him wearing his new purchase, Fox wrote: "After a long period of consultation with myself, an extended review period and proper due diligence conducted with myself, I've received the badge that I ordered from Amazon. Thank you for being there for me."
After a long period of consultation with myself, an extended review period and proper due diligence conducted with myself, I've received the badge that I ordered from Amazon. Thank you for being there for me. #anxiety pic.twitter.com/D3bp3M7kY9

— Laurence Fox (@LozzaFox) January 15, 2021
The blue and yellow laminated badge, worn on a green lanyard, reads: "I am exempt from wearing a face covering".
Smaller print below also reads: "Be kind. Keep your distance. Thank you for understanding".
Fox signed off his post with the hashtag "anxiety".
A pack of two similar badges with two lanyards costs around £7.99 on Amazon.
Some social media users questioned his decision as Fox did not say whether he had bought the badge due to a medical condition.
One person wrote: "Not sure at all why you (are) taking this stance Laurence but I think it's disappointing.
"Let's all get with the programme and not undermine the best efforts of the (government) and our people for doing the right thing. Try sending the right message out."
However others backed up Fox's stance, pointing out that face coverings do not have to be worn by everyone.
Face masks must be worn in the majority of indoor settings and on public transport, unless you are exempt or have a reasonable excuse.
Those who are exempt from wearing a face covering include children under 11, those with a physical or mental impairment which stops them from using a mask and those who need to communicate with someone who relies on lip reading.
People not wearing a mask do not need to show any form of evidence by law, but the government says they may "feel more comfortable" showing proof exemption. It also says a home-made sign is an acceptable exemption card.
:: Subscribe to the Backstage podcast on Apple Podcasts, Google Podcasts, Spotify, Spreaker
Earlier this month, Fox criticised the government for shutting schools, and in November he ignored lockdown rules by throwing a dinner party.
The controversial actor has recently entered the world of politics himself, launching the Reclaim political party late last year after raising large sums from ex-Tory donors.
He says the party will "fight the culture wars" and "reclaim" British values.
Fox is the ex-husband of actress Billie Piper, and the son of actor James Fox and part of the Fox acting dynasty along with his brother, Jack, and cousins, Emilia and Freddie.
COVID-19: UK records 1,295 more deaths and another 41,346 cases | UK News
The UK has recorded another 1,295 coronavirus deaths and a further 41,346 infections, latest government figures show.
It brings the number of deaths within 28 days of a positive coronavirus test to 88,590.
A total of 3,357,361 cases have now been recorded.
The latest daily death figure is the UK's third-highest of the pandemic, although the figures are based on the dates when deaths were reported and not when they occurred.
The chart above shows deaths by the date they happened throughout the pandemic.
On Friday, 1,280 coronavirus-related deaths were recorded along with 55,761 new cases.
The government also revealed the latest number of COVID-19 vaccinations, with a total of 3,559,179 people given their first jab across the UK.
Despite the promise of the vaccines, the sharp rise in cases and deaths has prompted officials to take restrictions further by ending the travel corridor system.
People travelling from some countries with low coronavirus case rates had been allowed to enter the UK without self-isolating, but all foreign travellers will have to quarantine for 10 days from Monday – or receive a negative test at least five days after landing.
All flights from South America, Portugal and Cape Verde have been banned following the emergence of two new coronavirus variants from Brazil that have worried authorities.
Eight cases of the first variant have already been discovered in the UK, while leading epidemiologist Professor John Edmunds has warned the second is already likely to be circulating – although it has not been detected so far.
There are concerns the second variant could be more transmissible and reinfect those who have already had COVID-19, but this is not yet known.
There have been some signs of a small reduction in COVID-19 cases in parts of the UK over recent days, although infections remain high at around 40,000 per day and some local areas are still seeing rises.