49ers' Jimmy Garoppolo relying on his own experience to help Trey Lance make jump from FCS to NFL
During the 2021 NFL Draft, the 49ers made a move to solidify their future at the quarterback position. After trading up to the No. 3 overall pick well ahead of the draft, they used the selection to take a player with a lot of upside: North Dakota State quarterback Trey Lance. The 20-year-old QB has one full year of starting experience at the FCS level and, though he's raw, the sky is the limit for him as he looks to develop into a long-term starter. For the 49ers, he figures to eventually replace starting quarterback Jimmy Garoppolo.
Garoppolo, 29, has spent three and half seasons with the 49ers and has posted a 22-8 record. He did help the team reach the 2020 Super Bowl where they lost to the Chiefs, but he has also had a tough time staying healthy. Because of that, the 49ers decided they wanted to go in a different direction long term at QB.
That said, Garoppolo will likely be sticking around and starting this year while Lance develops at the NFL level. His main task will be to serve as a bridge to Lance, but he's taking it upon himself to mentor Lance as he makes the jump from the FCS to the NFL like Garoppolo did back in 2014.
"I try to use my own personal experiences and just what I went through, what helped me, what challenged me as a young player," Garoppolo said on the "Keyshawn, JWill & Zubin" show on ESPN Radio. "I'm going to use those tools that helped me and try to help Trey out. It's hard to come into this league; I know how it was coming from an FCS school to the NFL. It's a bit of an adjustment, the speed, whatever you want to call it, it's just different. So, whatever I can do to help him, I'll be more than happy."
MORE: NFL Power Rankings — 49ers on the rise after strong 2021 NFL Draft
In that regard, Garoppolo is the perfect mentor for Lance. He's the only current starting quarterback who played at an FCS school, so that unique experience of coming up from the FCS to the NFL will be something that Lance can tap into. It's also something that Garoppolo did very well, as he was game-ready earlier in his career than most expected.
Of course, part of that was thanks to the fact that Garoppolo did spend his first couple of seasons learning behind Tom Brady. Jimmy G even credited his competition with Brady as something that helped him to improve greatly in his early years and allowed him to find success when he first saw the field.
"It's kind of coming full circle," Garoppolo said. "You go through this NFL career and you start as a young guy coming in. Tom kind of showed me the ropes. The competition between us was awesome. It really made me grow as a rookie and as a young player. So, that's kind of what me and Trey, we'll mold our relationship into that. But it will happen naturally. It's one of those things (where) you can't force anything. Just let it come as it may."
It's nice to see that Garoppolo is willing to help mentor Lance. He was clearly prepared for the 49ers to take his eventual successor and he seems to be hopeful that the competition will help to reinvigorate his career as well. While Garoppolo may not be long for San Francisco, especially with there being easy outs in his contract this year and next, he can certainly prove that he's still a quality starting quarterback.
And as we've seen in Alex Smith and Ryan Fitzpatrick, NFL teams are always willing to take on veteran bridge quarterbacks that are willing to serve as mentors. That's part of what gave those two passers longevity in the NFL. Garoppolo could be the next in that mold — if he doesn't immediately re-emerge as a solid starter.
We'll soon see how the Garoppolo-Lance relationship plays out on the field, but given that Jimmy G is coming into it as a willing mentor, the 49ers should have a strong, connected quarterback room this season. 
NFL Thanksgiving football schedule 2021: NFL releases holiday games, opponents for Cowboys & Lions
There's no better Thanksgiving tradition than football, and with the 2021 NFL schedule now available, the six teams in action on the holiday are known.
There wasn't a ton of mystery surrounding the games. After all, we knew that the Lions and Cowboys would be playing. But seeing their opponents is always exciting, as is seeing the marquee Thursday night game that has become a staple in the Thanksgiving rotation.
Here's an in-depth look at the 2021 Thanksgiving Day NFL games as well as a brief history of the holiday tradition.
Thanksgiving football schedule 2021
As always, the Lions and the Cowboys will be in action on Thanksgiving with the Lions playing the earlier of the two afternoon games. The Lions will be playing against the Bears at 12:30 p.m. ET. The Cowboys will take on the Raiders in their customary 4:30 p.m. ET spot.
MORE: 2021 prime-time schedule | Week-by-week schedule
For the night game, viewers will be treated to a game between the AFC runner-up Bills and the post-Drew Brees Saints. That game will kick off at 8:20 p.m. ET.
| | | |
| --- | --- | --- |
| Game | Kickoff time | TV channel |
| Bears at Lions | 12:30 p.m. ET | Fox |
| Raiders at Cowboys | 4:30 p.m. ET | CBS |
| Bills at Saints | 8:20 p.m. ET | NBC |



Bears at Lions
Kickoff time:  12:30 p.m. ET
TV channel:  Fox 
The Bears and Lions are longtime divisional rivals and play twice per year, but this game will have a decidedly different feel to it.
Matthew Stafford isn't with the Lions anymore; Jared Goff is their new quarterback. Meanwhile, the Bears have moved on from Mitchell Trubisky, and by Thanksgiving, 2021 first-round draft pick Justin Fields will likely have emerged as the starter over Andy Dalton. So the QB advantage in this matchup may, for the first time in over a decade, belong to the Bears.
It's worth noting that the Bears have maintained a 5-1 advantage over the Lions the last three years as Matt Patricia's squads frequently fell victim to the Bears' strong defense. Will that change with coach Dan Campbell now at the helm in Detroit? It certainly could.
The last five games between the Bears and the Lions have been decided by one possession, so either way, this game figures to be tightly contested and should be a nice way to kick-start Thanksgiving in 2021.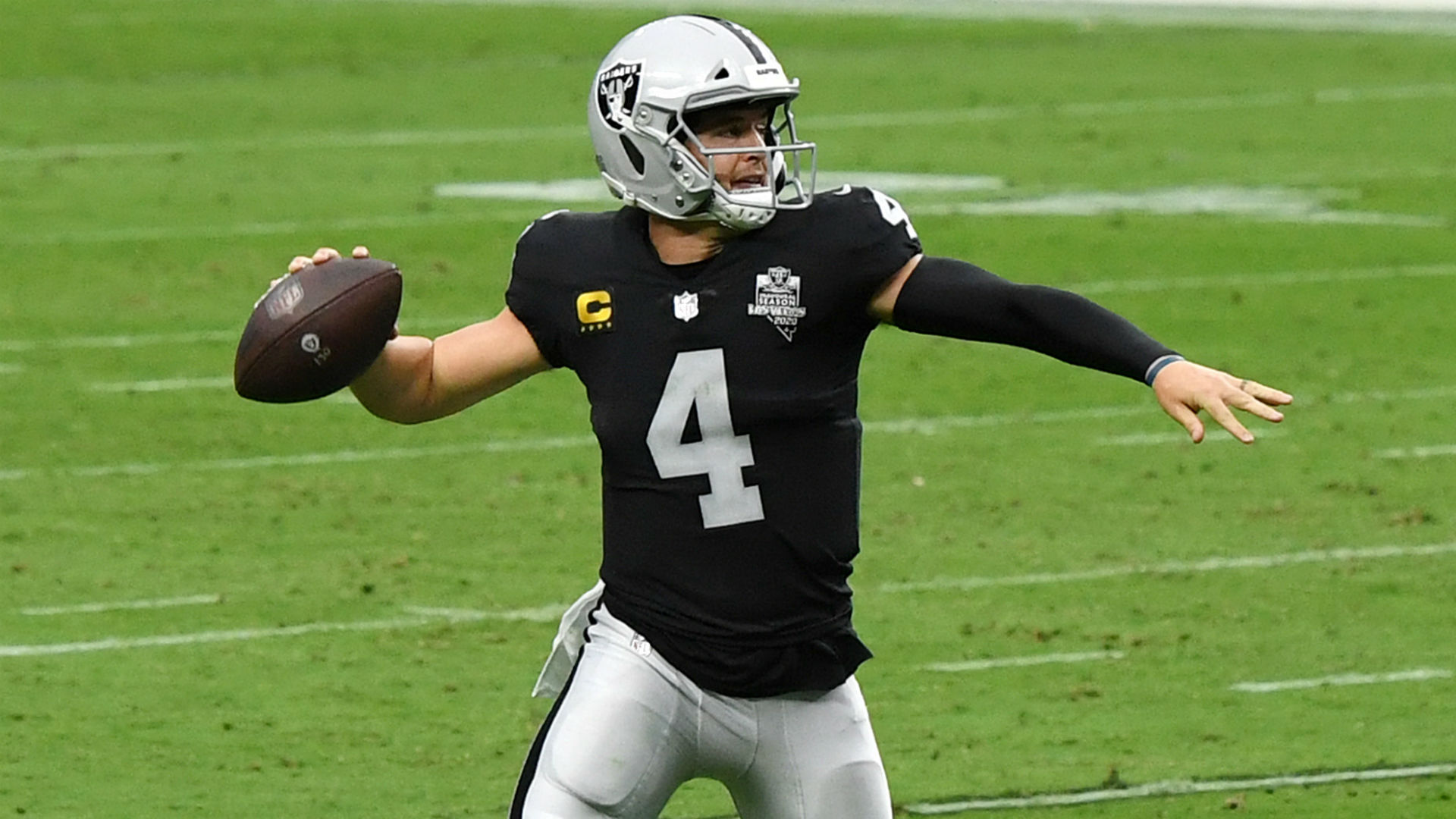 Raiders at Cowboys
Kickoff time:  4:30 p.m. ET
TV channel:  CBS
Though they're long-established NFL brands, the Raiders and Cowboys have met just 12 times in their respective histories. Each squad has won six games.
Dallas has won the last three meetings dating to 2009, so the Raiders will be looking to reverse their recent history against the Cowboys on Thanksgiving.
This game could end up being the highest-scoring of the three games on this slate. Both the Raiders and Cowboys finished among the bottom five scoring defenses in the NFL last season. While each side has added to its respective stop unit this offseason — the Raiders, notably, signed defensive end Yannick Ngakoue as a free agent, while the Cowboys spent their first-round pick in the draft on linebacker Micah Parsons — it also still has issues in the secondary. That should bode well for Dak Prescott and Derek Carr.
Mike McCarthy and Jon Gruden are facing pressure to have their teams take the next step and reach the playoffs, so this game could be important to both coaches, whether their teams are fighting for division titles or just fighting to stay alive in the wild-card race.



Bills at Saints
Kickoff time:  8:20 p.m. ET
TV channel:  NBC
In recent years, the night game has become the marquee game on Thanksgiving. That's partly because the Lions and Cowboys have been up and down, but it's also because the evening matchup has often contained two playoff contenders or divisional rivals.
This year, it will be the former. The Bills were the AFC runner-up last season while the Saints won the NFC South. The Bills should be a contender again in 2021, but there are questions about how the Saints will fare without quarterback Drew Brees. Still, as long as Sean Payton is in charge of the team, New Orleans will have a chance to compete with the league's best.
It won't be easy for the Saints to contain Josh Allen, Stefon Diggs and the Bills' other receiving weapons. The Bills, meanwhile, will have to focus on slowing down Alvin Kamara, Michael Thomas and whoever the Saints' QB ends up being (Taysom Hill or Jameis Winston). On paper, the Bills should have the better chance to succeed, but Kamara did have a six-touchdown game last year, so he could go off against a Bills team that was middle-of-the-pack against the run in 2020.
This game could have massive playoff implications for both sides, which means it will be a great capper to the Thanksgiving slate. At the very least, seeing Payton and Sean McDermott duel will be fun to watch.
What football teams always play on Thanksgiving?
For 43 consecutive years, both the Lions and the Cowboys have played on Thanksgiving Day, but the Lions' tradition dates back much further than that of the Cowboys.
Detroit's tradition began in 1934 and, save for a six-season span from 1939-44, the team has always played on Thanksgiving since then. The game was started by team owner George A. Richards as a stunt to draw attention for the Lions and away from MLB's more popular Tigers.
This will be the Lions' 82nd Thanksgiving Day game; they have put up a 37-42-2 record in the previous 81. They'll be looking to snap a four-year losing streak on the holiday; their last victory was a 16-13 triumph over the Vikings in 2016.
As for the Cowboys, they started their Thanksgiving game tradition in 1966 to help improve the team's popularity. That year, the Cowboys broke their attendance record at the time by drawing 80,259 fans to the Cotton Bowl, where they earned a win over the Browns. 
Since '66, the Cowboys have played on all but two Thanksgivings. The only two they didn't play were in 1975 and 1977 as a result of the NFL awarding a Thanksgiving game to the St. Louis Cardinals to boost their national profile. The Cowboys' annual tradition resumed in 1978. Dallas is 31-21-1 on Thanksgiving.
What teams have never played on Thanksgiving?
Only one current NFL team has never played on Thanksgiving. That would be the Jaguars.
Since coming into the league in 1995, the team has yet to get the call for a Thanksgiving game. With Trevor Lawrence in tow, maybe it'll happen at some point in the not-so-distant future. Since they didn't have a game against the Lions or the Cowboys this year, the odds of them playing on Turkey Day were low.
A few teams have only logged just one Thanksgiving appearance: the Panthers, Buccaneers and Bengals. The Panthers, an expansion franchise in '95 with the Jaguars, made their lone appearance in 2015. They beat the Cowboys.
Here is the all-time leaderboard for Thanksgiving games, with the Lions, Cowboys and other members of the NFC North unsurprisingly topping the list. 
| | |
| --- | --- |
| Team | Appearances |
| Detroit Lions | 81 |
| Dallas Cowboys | 53 |
| Chicago Bears | 36 |
| Green Bay Packers | 36 |
| Arizona Cardinals | 21 |
| New York Giants | 15 |
| Washington Football Team | 12 |
| Denver Broncos | 11 |
| Kansas City Chiefs | 10 |
| Buffalo Bills | 9 |
| Minnesota Vikings | 8 |
| New York Jets | 8 |
| Pittsburgh Steelers | 8 |
| Las Vegas Raiders | 7 |
| Miami Dolphins | 7 |
| Philadelphia Eagles | 7 |
| Tennessee Titans | 7 |
| Los Angeles Chargers | 5 |
| Los Angeles Rams | 5 |
| New England Patriots | 5 |
| San Francisco 49ers | 5 |
| Atlanta Falcons | 4 |
| Indianapolis Colts | 4 |
| Seattle Seahawks | 4 |
| Cleveland Browns | 3 |
| New Orleans Saints | 3 |
| Baltimore Ravens | 2 |
| Houston Texans | 2 |
| Carolina Panthers | 1 |
| Cincinnati Bengals | 1 |
| Tampa Bay Buccaneers | 1 |
| Jacksonville Jaguars | 0 |
NFL schedule 2021: When is Tom Brady returning to New England to face the Patriots?
For the first time in his 21-year NFL career, Tom Brady is going to get a chance to play against the Patriots. Because of the way the NFL's rotating schedule works, the teams from the NFC South will be playing all four of the teams from the AFC East this year.
That, of course, means that Brady's Buccaneers will be taking on Bill Belichick and the Patriots during the 2021 campaign. Needless to say, the stakes will be high in that game as both members of the long-time coach/quarterback duo will look to out-duel one another on the field.
By virtue of the 2021 NFL schedule release, we now know when Tampa Bay is traveling to New England for the contest. And luckily, fans won't have to wait long to see a game that many never thought we'd see.
MORE: Full Buccaneers schedule for the 2021 season
Here's everything to know about Tom Brady's return to New England, including the date, time and TV channel for the contest.
When is Tom Brady playing against the Patriots?
Date: Sunday, Oct. 3
Kickoff Time: 8:20 p.m. ET
TV Channel: NBC
Tom Brady will be returning to New England to play the Patriots in Week 4 of the NFL season. The Oct. 3 game will be shown on NBC's "Sunday Night Football" and will be one of the marquee matchups of the season.
It won't just be Brady's return to New England either. Tight end Rob Gronkowski also will be in action against his former club for the first time in '21. That will mark two likely Hall of Famers who are set to suit up against New England for the first time. Belichick will certainly cook up some plays in an effort to slow them down.
It's unclear who the Patriots will be starting at quarterback by that point in the season, but it seems likely that it will either be Cam Newton or Mac Jones. If it's Jones, then the first-round rookie will have a chance to endear himself to Patriots fans early if he can beat the team's former star and earn Belichick and the Patriots some bragging rights.
The Buccaneers will be on the second game of a two-week road trip and will have just taken on the Rams in Los Angeles before this contest. It may not be easy for them to go coast-to-coast for this matchup, especially given how tough an opponent the Rams may be. Meanwhile, the Patriots will be coming off a home game against the Saints, which should be easier for them to bounce back from in the post-Drew Brees era.
No matter what happens in this game, it's sure to be great. Brady and Belichick are two of the NFL's ultimate competitors, and this could be the only time they face off as they enter the twilights of their careers. They'll each be sure to bring their A-games to this matchup of all-time greats.
Broncos schedule 2021: Dates & times for all 17 games, strength of schedule, final record prediction
The Broncos, despite finishing 5-11 and falling into last place in the AFC West last season, are giving coach Vic Fangio a chance to redeem himself in 2021. Denver hasn't made the playoffs since 2015 — the season which ended with the team winning Super Bowl 50.
John Elway hired a GM, George Paton. But the Broncos, much to everyone's surprise, didn't go all in trying to replace third-year second-rounder Drew Lock at quarterback, settling to bring Teddy Bridgewater in the mix (for now). While the offense is hoping to perform better with the many talented pieces it already has around the QB, the defense continues its rebuild for Fangio.
Here is a complete breakdown of the Broncos' 2021 schedule, including dates, start times and analysis.
NFL OFFSEASON 2021:
Team-by-team draft grades | Latest power rankings
Denver Broncos schedule 2021
| | | | | |
| --- | --- | --- | --- | --- |
| Week | Date | Opponent | Kickoff time  | TV |
| 1 | Sept. 12 | at Giants | 4:25 p.m. ET | Fox |
| 2 | Sept. 19 | at Jaguars | 1 p.m. ET | CBS |
| 3 | Sept. 26 | vs. Jets | 4:05 p.m. ET | CBS |
| 4 | Oct. 3 | vs. Ravens | 4:25 p.m. ET | CBS |
| 5 | Oct. 10 | at Steelers | 1 p.m. ET | Fox |
| 6 | Oct. 17 | vs. Raiders | 4:25 p.m. ET | CBS |
| 7 | Oct. 21 | at Browns | 8:20 p.m. ET | Fox/NFLN/Amazon |
| 8 | Oct. 31 | vs. Washington | 4:25 p.m. ET | Fox |
| 9 | Nov. 7 | at Cowboys | 1 p.m. ET | Fox |
| 10 | Nov. 14 | vs. Eagles | 4:25 p.m. ET | CBS |
| 11 | BYE | – | – | – |
| 12 | Nov. 28 | vs. Chargers | 4:05 p.m. ET | CBS |
| 13 | Dec. 5 | at Chiefs | 1 p.m. ET | CBS |
| 14 | Dec. 12 | vs. Lions | 4:05 p.m. ET | Fox |
| 15 | Dec. 19 | vs. Bengals | 4:05 p.m. ET | CBS |
| 16 | Dec. 26 | at Raiders | 4:25 p.m. ET | CBS |
| 17 | Jan. 2 | at Chargers | 4:05 p.m. ET | CBS |
| 18 | Jan. 9 | vs. Chiefs | 4:25 p.m. ET | CBS |
The Broncos looked up to everyone in the division last season. The Chiefs are still daunting and the Chargers have some worthy buzz. Las Vegas provides the slight opening for Denver to get out of the cellar.
Outside of the AFC West six games, the Broncos join those rivals in also playing all of the AFC North and NFC East. The Jaguars and Jets are the extra last-place games in the AFC. The depleted Lions are a helpful simliar reprieve as the 17th opponent, from the NFC North.
MORE: Strength of schedule for all 32 teams in 2021
Broncos strength of schedule
The Broncos, on paper, have the sixth easiest schedule in the NFL, tied with the Dolphins. Denver's opponents combined to go 127-143-2 last season, or a .471 winning percentage. A lot of that comes from Jacksonville, the two New York teams and Detroit.
Despite that, the Broncos still face returning playoff teams in six of their 17 games.
Toughest tests: The Broncos' road schedule is brutal with trips to Cleveland and Pittsburgh offsetting a date in Jacksonville. They also have to play in Dallas and go to the Giants.
It's a little different at home, where the Chiefs, Ravens and Washington represent the Broncos' three toughest games out of nine total.
Biggest breaks: The Broncos get the "earned" breaks of the Jaguars, Jets and Lions, three teams in simliar situations. There also are the Bengals, Eagles and Raiders coming to Denver.
Bottom line: The Broncos are a mixed bag with offensive limitations and defensive overhauling. Fangio needs to win now after being saved despite his team's dismal performance in 2020. 
If the QB situation changes dramatically, then it would be OK to consider the Broncos doing a complete 180 into contention. But in the current state, there's little from Lock's or Bridgewater's recent play that inspires.
Record prediction: 6-11